Best Cycling Routes to Lhasa from China inland and Nepal
Having a bicycle tour to Lhasa gives cyclists a challenging way to see Tibet. It requires planning, discretion, good judgments, stamina and money to fulfill a long-distance bike tour to Tibet.
There are four main routes to enter Tibet from the mainland of China: Qinghai-Tibet Highway, Sichuan-Tibet Highway, Yunnan-Tibet Highway, and Xinjiang-Tibet Highway. Each route presents unique challenges due to their natural geographic conditions, but they also offer different scenic views during the tour.
Another popular biking route is from Kathmandu to Lhasa via the Sino-Nepal friendship highway, the only international highway to Tibet. Covering approximately 1000km in 13 to 20 days, you will cross six major passes, traverse the Himalayas' backbone, catch a glimpse of Mount Everest's North Face, and explore the amazing destinations on both side of Mount Everest.
Cycling to Lhasa via Qinghai-Tibet Highway
Qinghai-Tibet Highway is the most popular cycling route to Tibet from other provinces. The road starts from Xining to Lhasa with a distance of 2200km. The whole route is asphalt road and does not have many rises and falls. It is an easy route for cyclists.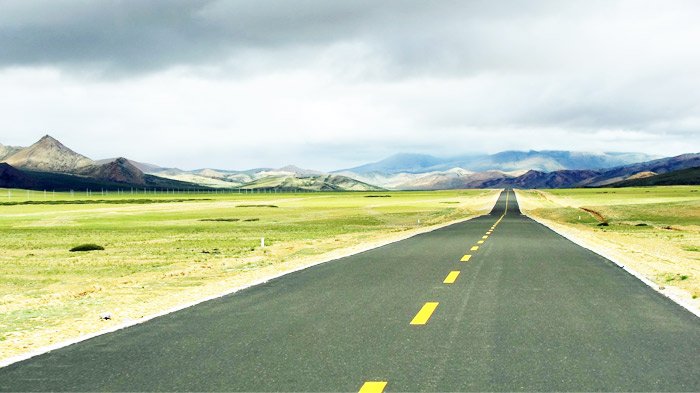 The whole Qinghai-Tibet highway is paved asphalt road
The natural landscapes you will see in Qinghai-Tibet highway
Along the Qinghai Tibet highway you could enjoy seeing the largest salt lake Qinghai Lake, Caka Salt Lake, snow-capped Kunlun Mountain Ranges, no man's land Hoh Xil, Tuotuo River in the upper reaches of the Yangtze River, the mysterious Tanggu La Pass, stretches of wide prairies in North of Tibet and the Yangpachen hot spring.
Cycling to Lhasa via Sichuan-Tibet Highway
Sichuan-Tibet Highway, the famous G318 national road, connects Chengdu (the capital city of Sichuan province) and Lhasa, and is categorized into north and south lines, both of which are surprisingly beautiful and attract thousands of photographers every year.
The highway has a distance of 2410km with many rises and falls and dramatic altitude changes. It must be one of the most complex and dangerous roads in the world with its notorious steepness but in the meanwhile, it offers magnificent natural landscapes to those who take this route.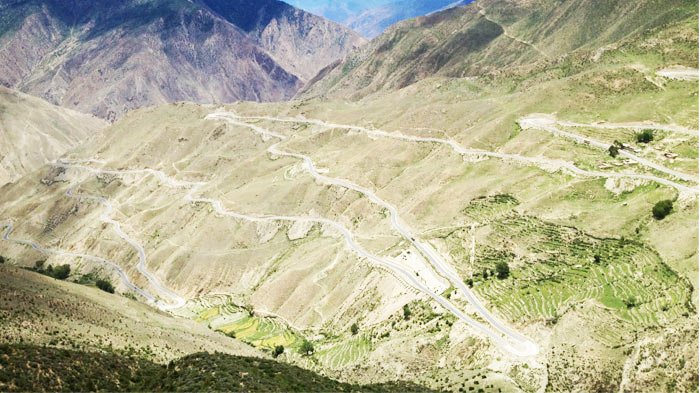 Sichuan-Tibet highway is most famous for its steepness
Along the Sichuan Tibet highway route cyclists may encounter four seasonal climate changes in just one day. The situation often goes like this: you meet snow at the mountain top and then you meet warm sunshine at the foot of the same mountain.
The road is often built according to the mountain with numerous zigzagging sections. The road is rugged and always blocked by landslides and falling rocks in rainy seasons.
The natural landscapes you will see in Sichuan-Tibet Highway
Some of the scenic spots along Sichuan-Tibet Highway are elegant Er'lang Mountain, Luding Bridge on the Dadu River, where the Chinese Red Army fought desperately for their life against the Kuomintang soldiers during the civil war, Kangding County where you could see extraordinary architectural buildings, The Jinsha River with rapid currents, Lake Rakwa Tso where the landscape is comparable to Switzerland, Tongmai town notorious for its landslides, Lulang village with pasture sceneries and Nyingchi county where you could experience four seasonal changes in one day.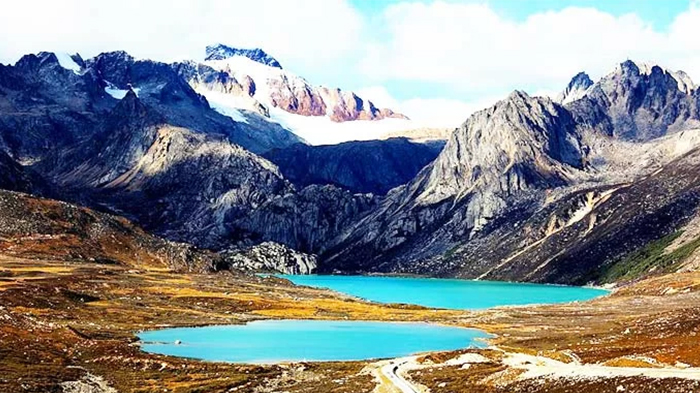 Sichuan-Tibet highway offers us the most magnificent sceneries along the route
Cycling to Lhasa via Yunnan-Tibet Highway
Yunnan-Tibet Highway, connects Xiaguan in Yunnan province and Lhasa with a distance of 1930 km. The altitude of the route averages above 4300m. It goes through primeval forests, Jinsha River and high mountains.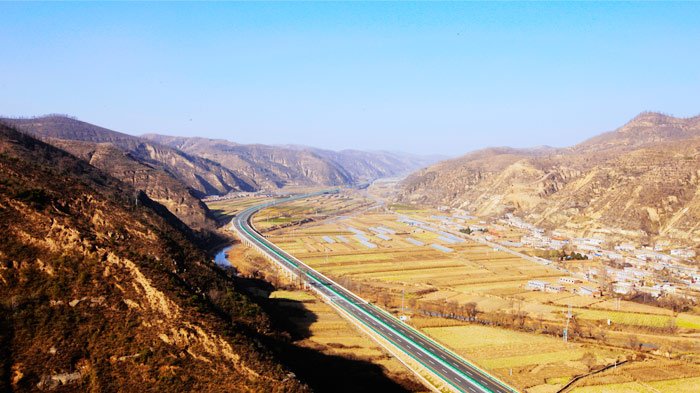 Yunnan-Tibet highway follows the Ancient Tea and Horse Route
The natural landscapes you will see in Yunnan-Tibet highway
During the route through Yunnan Tibet highway, cyclists may enjoy seeing many tourist attractions and landscapes such as Cangshan Mountain, Lake Er'hai, Lijiang the ancient city, Shangri-la the last paradise on earth and magnificent transverse mountain ranges. This route has rich cultural meanings because it was the ancient Tea and Horse Road in the previous times.
Cycling to Lhasa via Xinjiang-Tibet Highway
Xinjiang-Tibet Highway, also named as G219 national road, starts from Kashgar in Xinjiang autonomous region to Lhasa. It is known as the world's highest road with a total length of 2841km.
The Xinjiang-Tibet cycling route climbs 5 mountains over 5,000 m above sea level and 44 glaciers, passing hundreds of kilometers of no man's land and Mt. Kailash in western Tibet and Guge Kingdom relics.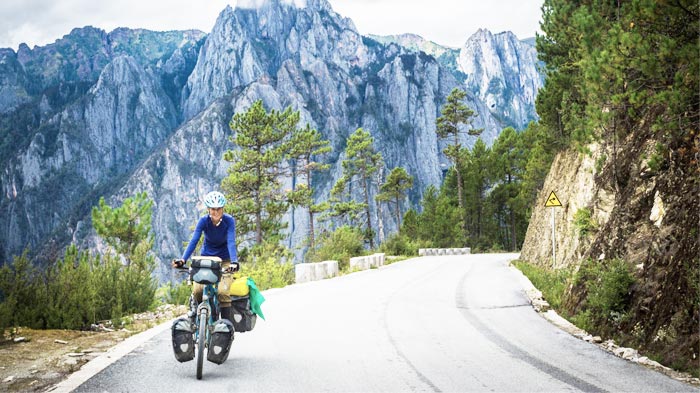 A girl cyclist on her bicycle tour along Xinjiang-Tibet highway
The road from Xinjiang to Lhasa is built at the highest terrain compared with the other three lines to Tibet. At the initial section of the line, there are big altitude differences while at the middle and final sections of the route is fairly flat and plane.
Most parts of the Xinjiang Tibet highway are within no man's zone without any gasoline station. The mobile phone signal here is also rather poor. It generally takes about half a month to finish the whole route.
The natural landscapes you will see in Xinjiang-Tibet Highway
Because of its remote geographic location, you could hardly see a man in a whole day in no man's zone, which makes the place the last paradise for wildlife. Here you could see magnificent views of stampeding wild Tibetan donkeys and Mongolian gazelles in groups.
You could also have a panoramic view of Karakorum Mountains, relics of the ancient Guge Kingdom, holly mountain Mt. Kailash, Lake Manasarovar, the birthplace of the Yellow Sect Sakya Monastery and Palcho Monastery mixed with different styles.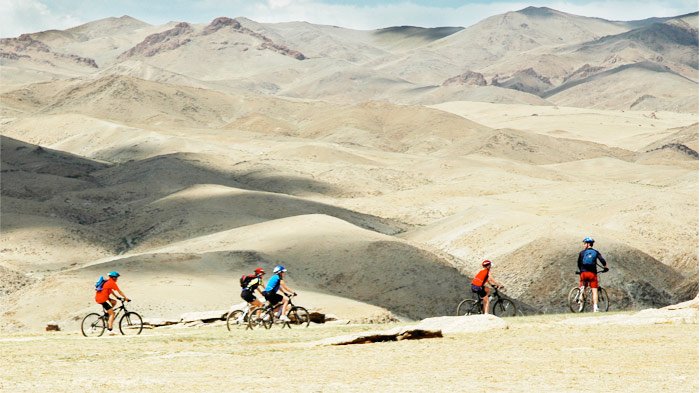 Magnificent Mountain views along the Xinjiang-Tibet highway
Tibet Cycling Tour from Kathmandu to Lhasa
There is also another popular bicycle tour from Kathmandu to Lhasa. The whole tour covers a total length 1,000km with a duration of 13 to 20 days.
The journey mainly goes like this:
Kathmandu - Zhangmu - Nyalam - Old Tingri - Everest Base Camp - Rongbuk - Tashi Dzong Village - Shegar - Lhatse - Shigatse - Gyantse - Nagartse - Chusul – Lhasa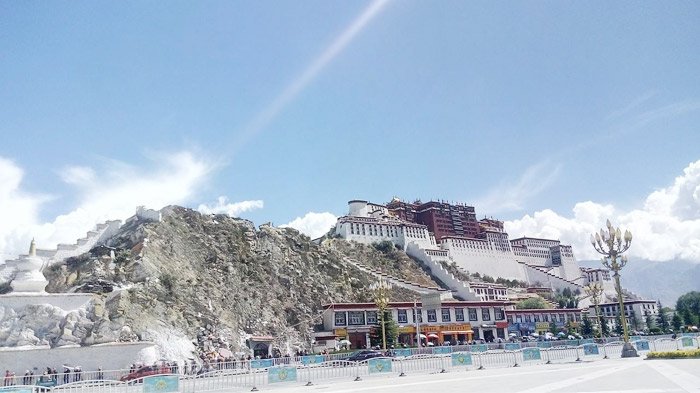 Potala Palace, the last stop of the Kathmandu to Lhasa bike tour
Attractions available from Kathmandu to Lhasa
You will pass Sino-Nepal Friendship Highway by bike linking Tibet highland plateau and Nepal valley across the Himalayas. In this route you could cycle to challenge the longest and greatest vertical descent and ascent in the world between Kathmandu and Lhasa.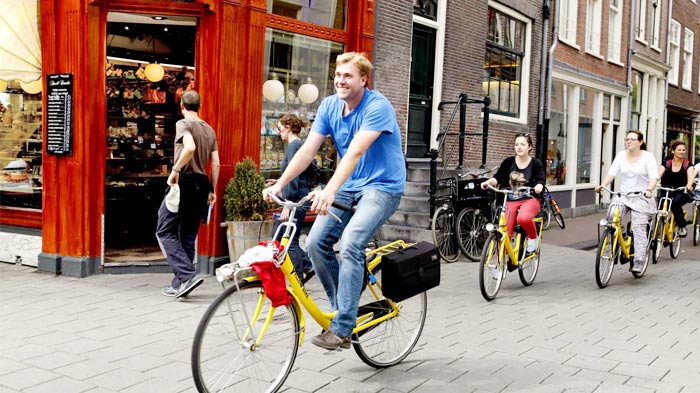 A cyclist enjoys his bike tour at Kathmandu street
Passes in a Kathmandu to Lhasa Cycling Tour
The mountain passes you have to get over during a Kathmandu to Lhasa cycling tour include Thang la mountain pass at 5,050m above sea level, Pang la pass at 5,200m above sea level, Lhaka Gyatso la pass (5,260m), Yulong la pass (4,560m), Sima la pass (4,730m), Karola pass (5,015m) and Khampa la pass (4,794m).
Travel Tips for Cycling to Lhasa
1. The Best Time for Cycling to Tibet
The best time for cycling to Tibet is from May to October, except for the rainy season during July and August. With less rainfall and pleasant weather, you can enjoy the marvelous landscape along your way to the holy city.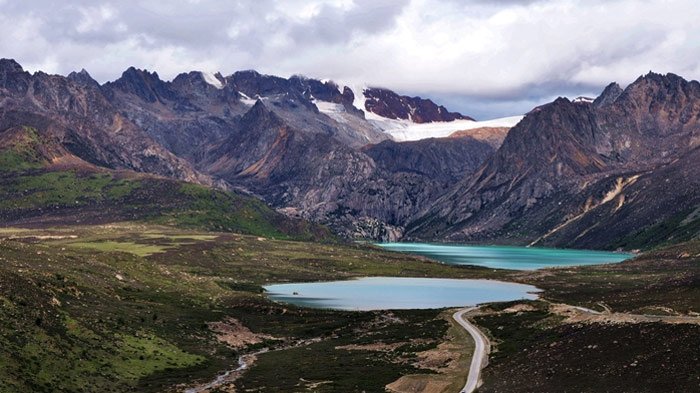 Beautiful landscapes you will see along the Yunnan-Tibet highway
2. Tibet Permit Required
Tibet travel permit is required for all foreign tourists entering Tibet.
To get the permit, you need to take a Tibet bike tour arranged by a local travel agency, which means you cannot cycle alone to Tibet.
3. Tibet Cycling Tours we Offered
We offer kinds of hassle-free Tibet bike tours covering the most popular routes to Tibet, which not only including the Tibet permit application but also Tibet cycling tour arrangement.
You will be accompanied by our 4WD vehicle along the whole cycle tour that carries your personal gear, camping equipment, cooking equipment, and food; you could also catch a ride if you're tired. And we suggest you that your bicycle tour will only cover a small part of the routes, for it would be unrealistic and time-consuming to cover the whole distance by bike.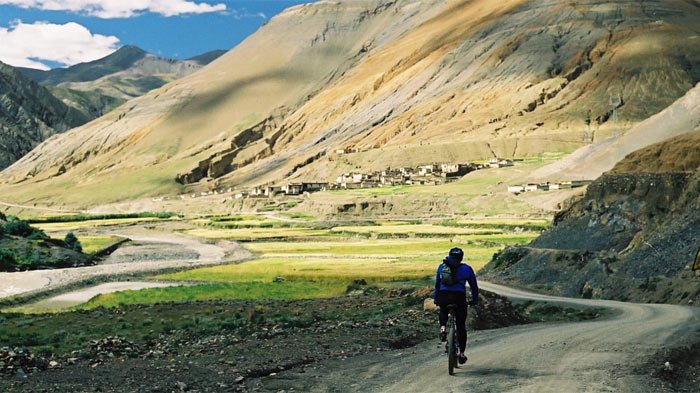 A cyclist having a bike tour in early summer in Tibet
4. Pay Attention to Your Safety
Slow down your speed when descent, for you may encounter a brake failure. There are too many cases where cyclists met accidents when descending too quickly downhill and collided to the hillside. You shall never ignore the possible dangers that may arise if you just seek pleasure when descending hills at a high speed.
5. Fitness Required
Another concern regarding bicycling in Tibet is your fitness for a journey of this nature. This is the highest mountain biking in the world. The demands of big ascents, rough roads (especially between Zhangmu and Tingri), remote surroundings, harsh weather (especially the strong wind in winter), and extremely high elevations must all be taken into consideration. You have to have the excellent physical condition to fulfill the long-distance bicycle tour.
6. Bicycle Required
Your bike should be of good quality, dependable, and in first-class mechanical shape. You are expected to be capable of handling a multitude of repairs on your own, carrying the necessary tools and spares parts in case of breakdowns.
Each cyclist should carry one tube and one spare tire for every two bikes at least, extra cables, an extra rear derailleur, chain, and free-wheel, extra spokes, a sewing kit, and a small, basic repair kit.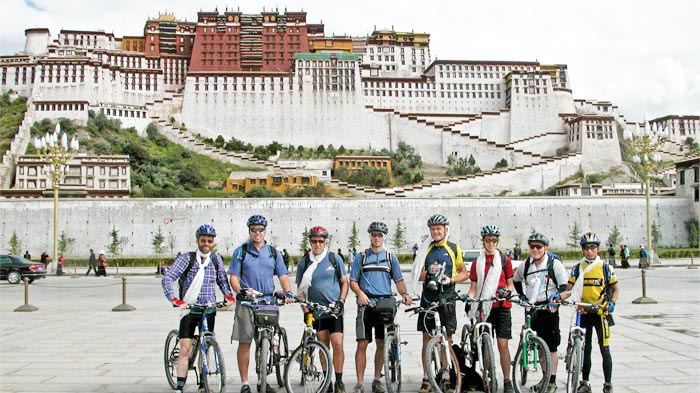 Foreign cyclists taking photos in front of the Potala Palace
7. Supply and Food
You will need a sturdy waterproof tent, a sleeping bag, a first-aid kit, and sufficient quantities of food and water.
Resupplying on the road can be quite difficult at times; the smaller villages may have only tsampa, yak butter, meat and Tibetan brick tea.
Some truck stops sell only instant noodles or simple rice dishes. Many villages do not even have a store in some most remote areas of Tibet.
8. Weather and Clothing
Summer in Tibet means cool nights and warm days. It can rain for days at a time in July and August, and frost in September is common.
Strong winds and sandstorms are not unusual, nor is snow on the passes. At higher elevations, freezing temperatures are common throughout the year.
In January night time temperatures can drop to -27 °C, and daytime temperatures often hover just below freezing.
You should bring enough clothing to meet all possible temperatures.
For spring, summer or autumn cycling, light cycling pants, and a short-sleeved shirt usually will be sufficient. If you add a pair of warm-up pants, a long-sleeved jersey, a wind shell, and gloves, you can handle most conditions in good weather.
For poor weather you should also have a fleece or down jacket, an extra layer of synthetic long underwear, a rain jacket, wind or rain pants, warm shoes, and a hat.
If you are camping, remember that you will require extra clothing to stay comfortable while sitting still in the cold night air.
9. Necessary Medicine
(1) Traumatic injury: Safflower oil, band-aid, merbromin, gauze, adhesive plaster, bandage, alcohol.
(2) Larynx needed: Careless Coral Lozenge, Watermelon Frost Lozenge.
(3) Clear heat and antiphlogosis: Radix Isatidis
(4) To fight anoxic: Dextrose
(5) A.P.C battery
(6) Antiphlogistic medicine: Helix mildew element
(7) Huoxiangzhengqi Soft-capsules
(8) Gastric bowel medicine
(9) Patulin: VC Yin Qiao piece
(10) Erythromycin Ointment
(11) Potassium permanganate (put into the washbowl)
(12) Eyedrops
Conclusion
Recently, there are five highways connecting to Lhasa, which allow you to take a cycling tour to Tibet. Each of the routes to Tibet offers different travel experiences with the different sceneries you could see en route. You can pick up one according to your own interests. Just remember to check the travel tips when planning your Tibet bike tour.
Most Popular Tibet Tour Packages