Best Time to Visit Tibet: the Ultimate Guide about When to Visit Tibet
When is the best time to visit Tibet? It's a question that pops up in the mind of every tourist who is planning the Tibet tour.
However, the simple question may not have a simple answer, since Tibet is an all-year destination that offers you kinds of experience at different times you go.
The Best Time to Visit Tibet: April, May, September, and October
The best seasons to visit Tibet are spring and autumn, during which you can appreciate the most pleasant weather in Tibet with less rainfall.
Spring comes late in Tibet, starting in early April and ends in May, while autumn in Tibet is also particularly short from September to October.
During these months, you will have a better chance to enjoy the grand summit of Mount Everest, as well as other mountains in Tibet without rainy and foggy weather during the summer.
Also, these months are the good time for trekking in Tibet. No matter you want to take a holy Kailash kora or just a leisure hiking around Ganden Monastery near Lhasa, you can see the most beautiful scenery in such sunny and warm weather during these months.
Tibet Weather in April
April is the beginning of spring in Tibet. At this time, the minimum temperature rises back above zero and the average maximum temperature is around 15 °C. The peach blossom blooming season in Nyingchi begins in late March or early April. The best Everest climbing season also begins in April. For general tourists, visiting Everest Base Camp in April could give you a better chance to enjoy a clear view of the Everest summit.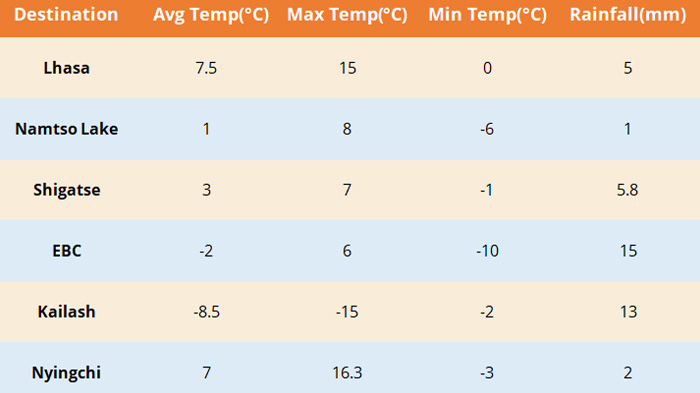 Average Temperature of Tibet Top Destinations in April
Tibet Weather in May
From April to May, the average daily maximum temperature in Lhasa and other major destinations of Tibet will gradually rise from 15 °C to about 20 °C, which is perfect for outdoor sightseeing. The temperature of Mount Everest region and Mount Kailash region also rises to 15 °C.The
With less rainfall, it is also good to visit Everest Base Camp or take a Mount Kailash Kora in May. You can have more chances to enjoy a clear view of these holy and great mountains.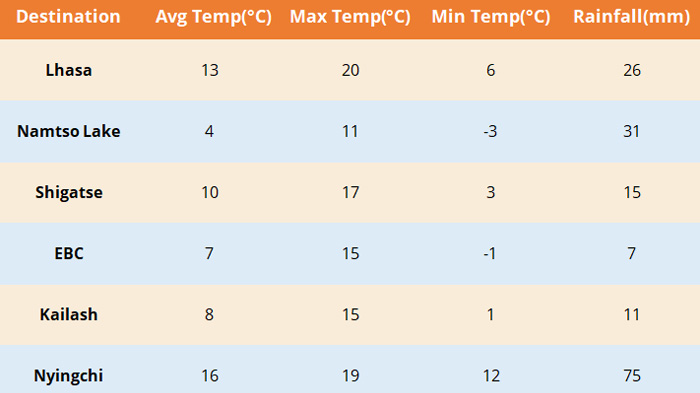 Average Temperature of Tibet Top Destinations in May
Insider Tips:
The lowest average daily temperatures in April and May are still below 10 °C, so you need to pay attention to the temperature difference between morning and evening and keep warm at night.
Tibet Weather in September
Since the average temperature of September ranges from 7°C to 21°C, it is very pleasant to visit Tibet in September.
It is also the harvest season in Tibet. If you travel to the Shigatse region along the Yarlung Tsangpo River, you can see endless fields of ripe golden highland barley. Perhaps you can have the opportunity to join the local farmers to work and feel the joy of harvest.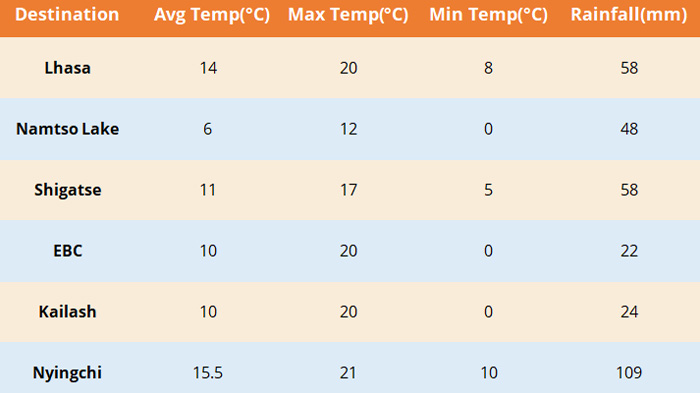 Average Temperature of Tibet Top Destinations in September
Tibet Weather in October
October is the last best month to travel before the long winter arrives. There is only 10mm of rainfall throughout October, with high visibility and plenty of sunshine. Although the temperature will start to drop at night, the daytime temperature is still around 18 °C, making it perfect for outdoor travel.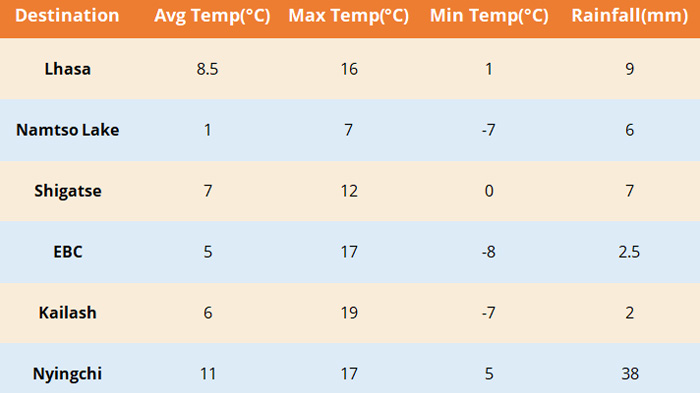 Average Temperature of Tibet Top Destinations in October
Recommended Tibet Tours in the Best Time
Summer (Jul & Aug) is the Peak Season of Tibet Tour
When the summer holiday (July and August) meets the warmer weather and higher oxygen content, it becomes the peak season of Tibet tours.
The average daytime temperature of Tibet in summer is around 23°C, and the maximum temperature usually does not exceed 30°C. At the same time, the oxygen content in the air reaches its maximum, accounting for 66.3% on average. The pleasant weather is quite suitable for Tibet family tours with the young kids as well as the elderly.
Moreover, summer is the best time to experience Tibet festivals. You can taste finger-licking Tibetan Yogurt when the Shoton Festival is observed. Also, you can enjoy the popular Nagqu horse racing festival, during which you can deeply experience the nomad culture in Tibet.
Best Tibet Travel Experience for Summer Holiday
Shoton Festival Tour - one of the most important festivals in Tibet that usually held in August.
Lhasa Namtso Lake Tour - enjoy the best view of the sacred lake in Tibet in the best summertime.
Horse Racing Festival Tour - one of the most popular and bustling festivals among Tibetans. It is the best chance to experience Tibetan nomadic culture.
Travel Tips for Visiting Tibet in Summer
It is suggested to book your Tibet tour in summer as early as possible, especially if you plan to take a train to Tibet, because the influx of tourists from both home and abroad and the limited reception capacity in Tibet makes it difficult to buy a train ticket to Tibet in peak season.
Although summer is the hottest time of the year, you still need to bring a jacket if you will visit the mountain areas, such as EBC, Mount Kailash, or Lake Namtso, because the temperature gets lower at higher altitudes.
Rainfall in Tibet increases in summer, but is mostly occurs at night and will not have much impact on daytime excursions. However, if you plan to take an overland trip to Tibet from Sichuan or Nepal, please be aware of the collapse, mudslides, or other geological disasters that may occur due to the heavy rainfall in mountain regions.
Winter is Worth a Visit for the Cheaper Price and Fewer Tourists in Tibet
The winter in Tibet is quite long, usually from November to late March or early April in the next year.
Many tourists will not choose to go to Tibet in winter, because they think that the winter in Tibet is too cold.
In fact, the average daytime temperature in places like Lhasa and Shigatse is around 14°C, which is even warmer than in Beijing. So it is still suitable to visit Lhasa, Shigatse, as well as Everest Base Camp in winter. Only Lake Namtso and Mount Kailash are likely to be inaccessible due to low temperatures and snow-blocking roads.
Due to fewer tourists, winter becomes the low season for Tibet travel, which allows you to enjoy fewer tourists and more discounts as to hotels, dining, train and flight tickets, etc. Also, it is easy to get a Tibet train ticket for Tibet train tours in winter.
It is quite pleasant to enjoy a Tibet winter tour including sightseeing in holy sites, like Potala Palace, on a warm sunny day in winter. However, it should be noted that the temperature of the winter night in Tibet is very low, usually around -10°C, so be sure to keep warm at night when you visit Tibet in winter.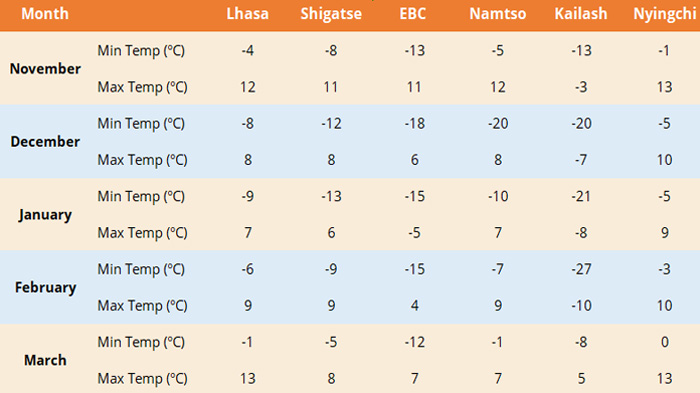 Temperature of Tibet Top Destinations in Winter
Recommended Things to Do in a Tibet Winter Tour
Visiting Lhasa in winter can be a different experience than visiting at other times. Since there are fewer tourists in Lhasa in winter, the low season for Tibetan tourism, you can immerse yourself in a more peaceful environment to feel the real Tibet. If you visit Lhasa on a snowy day, you can appreciate a very stunning and beautiful sight of the Potala Palace in the snow.
Winter is also the best time for Tibet bird watching tours. Areas around Lhasa and Shigatse are the best places for winter bird watching in Tibet. The vast rivers and wetlands with abundant food here make them ideal wintering places for birds.
Tibetan New Year, also known as the Losar Festival, is the most important festival for Tibetans. Usually, the celebration will last for 15 days. Since the Tibetan calendar is different from the solar calendar, if you want to experience Tibet New Year, please contact us in advance to confirm the date and availability of your trip.
Find More Best Time for Popular Activities in Tibet
If your goal of visiting Tibet is clear, like view the summit of Mount Everest, do a holy Kailash Kora, or experience a Tibet train tour, you can directly find the best time for these activities as below.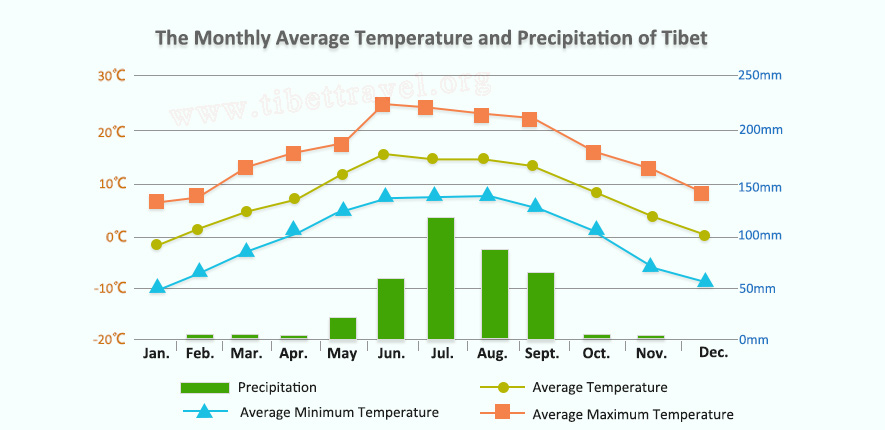 Once you have a general idea about Tibet weather, you can then find the best time for best experiences in Tibet.
Best Time to Visit Tibet for Everest Summit
April to early June and September to October is the best time for a clear view of the Everest summit. If you want to climb Everest, the best season is shortened to April to early June and mid-September to mid-October.
Although summer is the peak season for Tibet travel, it may not be a good time to see Mount Everest due to the rainy and foggy weather. No one can say you can't see Everest at all in summer, but it all depends on your good luck.
Best Time to Visit Tibet for Mount Kailash Kora
The best time to do Mt.Kailash kora starts from April to mid-June and September to mid-October. You can avoid the extreme snowfall and the bad impact of monsoon rain.
Religiously, another best time to visit Mt. Kailash is Saga Dawa Festival on the 15th day of April in the Tibetan calendar. To celebrate the birth, enlightenment, and death of Buddha Sakyamuni, numerous Tibetan pilgrims will join the group of pilgrimages around Mt. Kailash. You can experience many rarely-seen religious ceremonies at this particular time.
Best Time to Visit Tibet for Tibet Train Experience
The best time to take a Tibet train is from July to late October, during which you can enjoy the marvelous landscapes through the Tibet plateau from Xining to Lhasa. From the train window, you can see the picturesque Qinghai Lake, snow-capped Yuzhu Peak, glittering Tuotuo River, and vast Qiangtang prairie at their most beautiful time.
Best Time to Visit Tibet for Trekking
Particularly, the best time to trek in Tibet is from April to May and September to October. It is a bit too cold for mountain hiking since the roads may be closed due to snowfall. But if you just trek around Lhasa city or Shigatse, such as Ganden Monastery Trekking, then winter is fine.
Best Time to visit Tibet for Cycling
May to October are all good months for a cycle tour within Tibet, especially in Lhasa and surrounding areas. Please remember to take a rain jacket with you for a Tibet cycling tour in July and August.
If you plan to take a long-distance cycling tour to Tibet, such as a Chengdu to Lhasa cycling tour or a Kathmandu to Lhasa cycling tour, the best time to go would be May, June, late September, and early October.
Best Time to Visit Tibet for Photography
For Tibet photography tours of all kinds, the best time to go is from April to October. Among these months, July and August is the best time for both nature photography and humanities photography.
If you want to take the best photos of the Himalayas, it is suggested to go from April to early June or from mid-September to mid-October.
Conclusion
Only when you travel to the right place at the right time can you experience the best of Tibet.
For ordinary sightseeing tours in Tibet, the best time is from April to May and from September to October for the warm weather with less rainfall.
Regardless of the rainfall at night, summer is the peak season for Tibet tours as the summer holiday comes. Also, it is the best time to experience Tibetan festivals and appreciate the vibrant Tibet Plateau with green grassland, blue sky, and white clouds in the daytime.
Winter is not too cold to visit Lhasa and Shigatse. You can avoid the crowds and enjoy cheaper prices in the winter season.
After getting the basic ideas on when to visit Tibet, you can contact us for more pro advice on how to plan a Tibet tour according to your interests. With over 10-year experience running customized Tibet tours, we are ready to work with you and customize your perfect Tibet tour.
Most Popular Tibet Tour Packages