Best Time to Visit Tibet: the Ultimate Guide about When to Visit Tibet
When is the best time to visit Tibet?
It's a question that pops up in the mind of every tourist who is planning the Tibet tour.
However, the simple question may not have a simple answer.
In our local Tibetan eyes, every month is the best time to visit Tibet, because Tibet exhibits a distinct beauty every day.
The Best Time for Tibet Sightseeing
For tourists, the best time to travel Tibet is from April to the first half of November. During this period, the temperature is more suitable for traveling, with averaging above 10℃(50℉). The warmer weather and higher oxygen content make it the peak season of Tibet travel.
For different traveling themes and destinations, there are some differences about visiting time.
Best Time to Enjoy Majestic Himalayan Range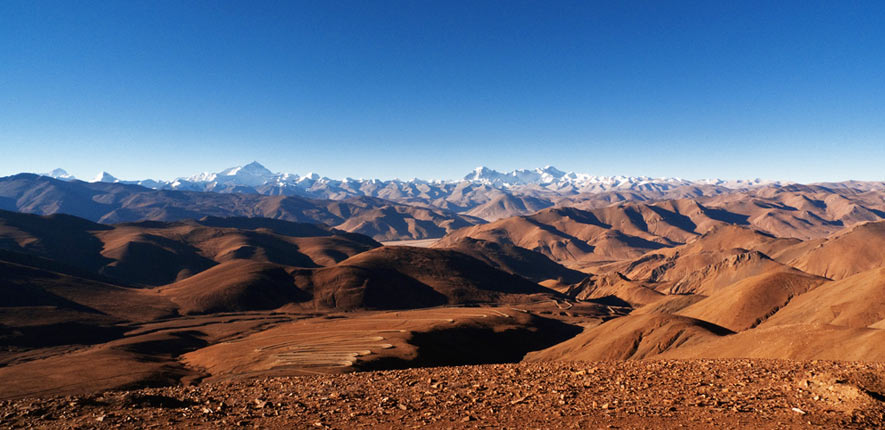 Incredible Himalayan Range seen from Gawu La Pass(5198m)
When asked, why do you want to visit Tibet?
As an insider of Tibet inbound tourism for over more than 10 years, we can assure you that over 60% of our international clients come for sublime view of Himalyan Range, esp. Closely gazing at Mt. Everest is the very reason to Tibet.
Home to some of the world's highest peaks, the Great Himalayas is the Holy Grail for fearless adventurers worldwide.
Averaging the elevation of above 8000m, over 14 lofty summits stand proudly along the epic Himalayan range. Some of the prestigious peaks are Mt. Everest (8844.43m), Mt. Cho Oyo(8201m), Mt. Lhotse (8516m) and Mt.Makalu(8463m), etc. They jointly make the highlights of Lhasa to Everest Base Camp tour in Mt. Everest National Nature Reserve.
For ordinary tourists who opt for awestruck Mt. Everest at EBC by trekking or tour vehicle, the best time would be from April to mid-June and Sept. to Oct. If you come within this particular time frame, your will have better chance to enjoy the grand panorama of the summit of Mt. Everest, free of the influence by rainy and foggy weather during monsoon weather.


The above graph shows the annual termperature and percipitation in Everest Region, Tibet (from National Meteorological Center)
Normally, monsoon season of Mt. Everest region comes from mid-June to early Sept over the north ridge of Mt. Everest. Much of the sporadic downpours and severe gale are seen from July to August. Though no one can say you can't see Everest at all in summer, it all depends on your good luck.
As a fixed time for Mt. Everest Mountaineering, April to early June and mid-Sept to mid-Oct. are the best time to summit the world's highest mountain.
It is a time when the wind speed on Mt. Everest becomes stablized, less than 39-49km/h, a relatively safe condition for mountaineering. And no extreme weather like heavy showers of rain and hail, and hurricane occurs. While the fatal wind speed could reach from 200km/h to 280km/h in Jan. to March and Nov. to Dec.
If you travel to Everest Base Camp sometime between Nov. to Dec in winter season, you will be able to enjoy the highest visibility in Everest region in the year. It's a perfect time for landscape photography.
With colorful Tibetan prayer flags fluttering in the foreground, the magnificent Himalayas will display its full grandeur before your eyes. Famous Gawu La Pass(5198m) and peaceful Rongbuk Monastery are two of the best places to take engaging photos of holy Mt. Everest.
Best Time to Take Engaging Photos

Stunning panoramic view of holy Namtso Lake on Tashi Dor Island
Passionate for photography? Brilliant! Tibet will quench your thirst for captivating photos.
From prostrating Tibetan pilgrims around golden roofs of Tibetan monasteries to glittering turquoise alpine lakes and snow-blanketed peaks, etc, you will find it hard not to press the shutter button. The ambient light penetrating through fluffy clouds at twilight changes in every minute and takes on different colors as time goes by.
Well, for photographers of all kinds, the best time to visit Tibet would be from April to early Feb next year.
In other words, whenever you come to Tibet, the feast to eyes awaits you.
Jan to Feb, the intense religious festivals like Losar (Tibetan New Year) and Butter Lamp Festival are great subjects for portrait shoot. Never miss the massive rosy peach blossoms in Yarlung Tsangpo Grand Canyon in Nyingchi in early April.
From May to Oct, the holy lakes like Yamdrok Lake, Namtso Lake,and Manasrovar Lake draw a huge number of global tourists.
Travelling from Lhasa to Everest Base Camp and further into Mt. Kailash region in Ngari becomes the hottest tour route in Tibet. People scramble to Mt. Everest National Nature Reserve to capture the epic vista of Himalayan Range, esp. the iconic golden summit of Mt. Everest in Everest Base Camp and spear-shaped summit of holy Mt.Kailash.
From idyllic Nyingchi to boundless prairie up in the northern Tibet and fertile Lhoka, animal kingdom in remote Ngari, whenever you visit Tibet, you will finally go back home with loads of stunning photos. And visiting Tibet once in a single season is far from enough to document the full beauty of Tibet.
Insider Tips: Traditionally, Tibet tour will have a recess for international tourists from mid-Feb to entire March.
The Most Comfortable Time for Family Tour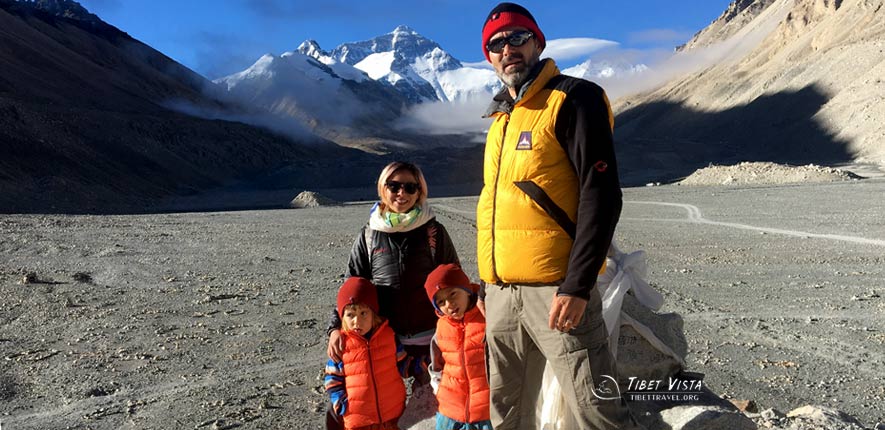 A Swiss Family made it to Everest Base Camp in Tibet
Before we jump into the perfect time for family tour, one thing needs to be clarified.
One of the biggest misbeliefs about Tibet family tour is that its harsh climate on Qinghai-Tibet plateau is way too risky for young kids and the elderly.
In fact, it is not the truth.
The real inhospitable regions center in remote areas in Ngari and part of Nagqu prefectures. As long as the kids and elderly do not have respiratory or cardiovascular disease, the Lhasa(3658m, capital of Tibet), Nyingchi(3100m, "Swiss Alps" of Tibet), Lhoka(3600m, cradle of Tibetan civilization) and Shigatse(3800m, gateway to Mt.Everest) are perfectly fine for a big family to visit.
Overall, the best time for a family to visit Tibet spans from May to Oct. It's the time when the oxygen content in air in Lhasa reaches its maximum, accounting for 66.3% on average. The pleasant weather is quite suitable for family tour, esp. with the young kids and the elderly.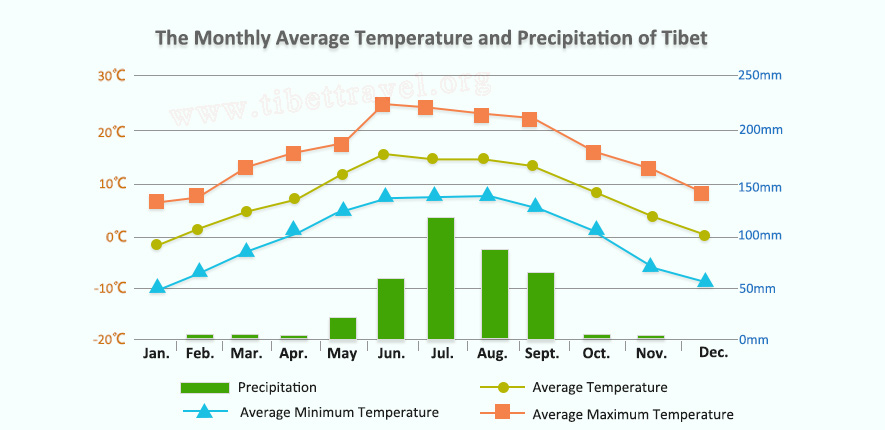 During summers, the average temperature remains well above 10 degree Celsius and it is way more pleasant here to have a trip. Do take down jacket even in summer because you will need it when passing the high mountain passes. There are variations in temperature between day and night but with proper garments and preparation, it isn't a big deal.
Tibet is known to have an awesome summer which is tourist friendly to say the least.So long as the blinding sunshine comes out, chilly temperature will be dispelled right away. You are instantly engulfed by the cozy warmth of holy Tibet.
Remember to bring sunglasses, sun screen and lip balm to protect your loved one from being over exposed to strong sunlight.
Best Time to Take Qinghai-Tibet Railway to Lhasa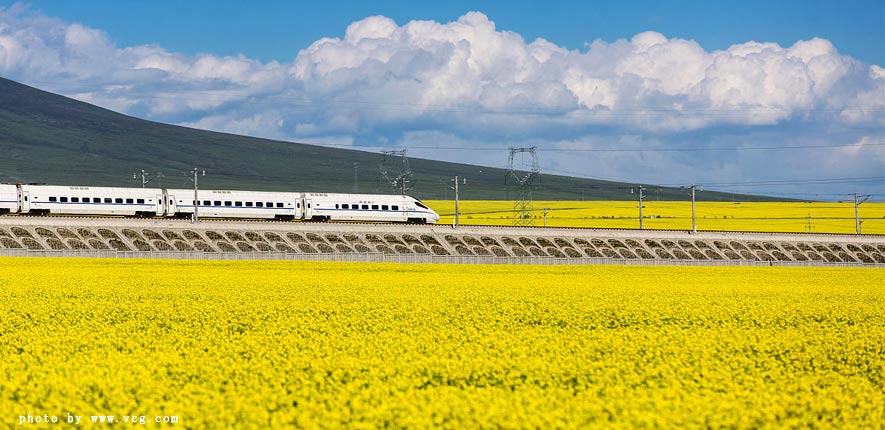 Tibet train sped along massive full-blossomed rapeseed flowers around Qinghai Lake in summer.
To big train buffs, Taking Tibet train from Xining to Lhasa will be a real treat.
The man-made wonder dashes 1,956 km on lofty Qinghai-Tibet plateau.
The highlight of train ride comes from Golmud to Lhasa. Since the train will pass picturesque Qinghai Lake, snow-capped Yuzhu peak, glittering Tuotuo River, vast Qiangtang prairie, etc, the best time to take Tibet train would be from July to the late Oct.
You will be able to enjoy the massive yellow rapeseed flowers in full blossom around Qinghai Lake, snow-blanketed mountains even in the mid of summer. The endless pastureland dotted with grazing Tibetan yaks around Nomads' tent forms an idyllic oil painting.
While in winter, the entire plateau will be slicked with shimmering pure snowflake, making upward train journey on the snow land, truly holy and spiritual.
Best Time to Enjoy Buddhist Festivals and Cultural Events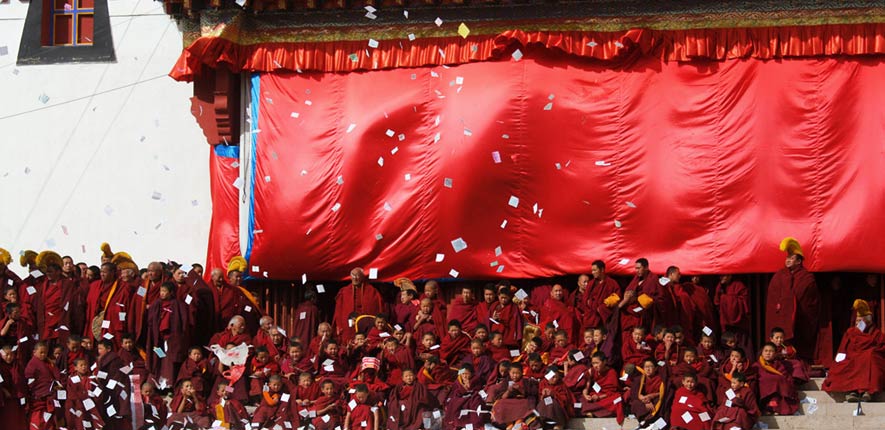 Tibetan monks tossed wind horse flags in the air during Losar.
Everyone wants to squeeze the best part of their holiday.
If you happen to visit Tibet during its grand celebration of traditional festivals, you just hit the jackpot, my friend.
Instead of visiting Tibet during its high season (April-Oct.), touring Tibet in winter season from Jan to Feb would be the perfect timing to experience the carnival atmosphere of Buddhist festivities and varied cultural events.
You will closely witness how local Tibetans make traditional soup Guthuk, dispel evil spirits and visit their relatives and friends during Losar, Tibetan New Year. Besides, you can join Tibetan pilgrims at night to enjoy the massive butter lamps being lit on Jokhang Temple and rooftop of houses during Butter Lamp Festival.
In addition, do visit Tibet from May to August.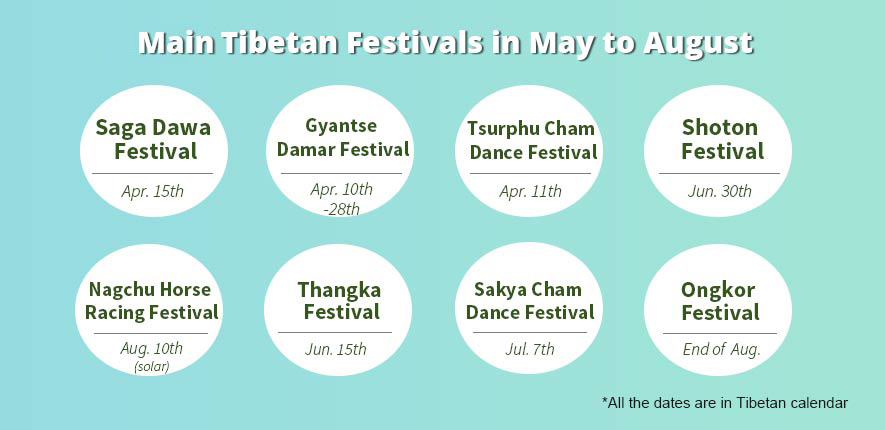 Since there is a variation betwteen Tibetan calendar and solar Calendar, please double check the tour date with our travel consultants.
You can enjoy the gigantic Buddha unfolding in Drepung and Ganden monasteries during Saga Dawa festival, and taste finger-licking Tibetan Yogurt when Shoton festival is observed.
If you want to explore Tibetan nomads, never miss Nagqu horse-racing festival in Nagqu Prefecture. Be the guest in the spacious yak tents of hospitable Tibetan nomads, and savor the best dried Tibetan yak meat and roam around the farm produce bazaar, etc. You will tell yourself how lucky I'm to come to Tibet at the right time.
Insider tips: for budget travelers, winter season is the best bargain you can get. You will enjoy many discounts as to hotels, dining, train and flight ticket, etc.
Best Time to Walk the Kora around Mt. Kailash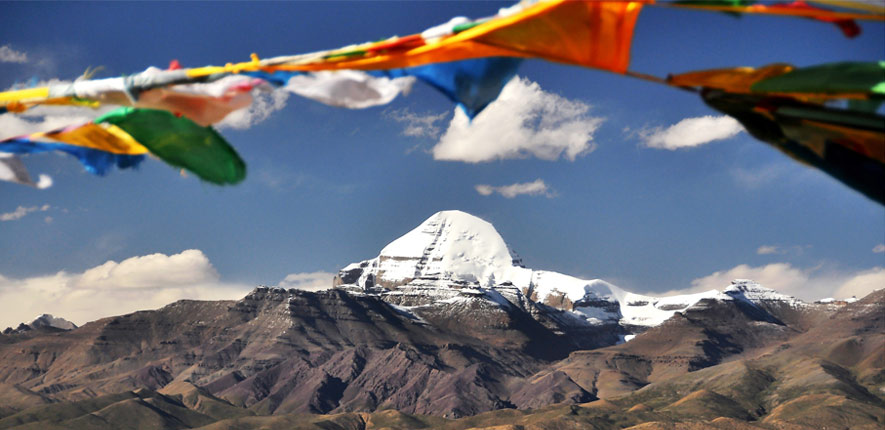 Heading towards the legendary pilgrimage route of 3-day Mt.Kailash Kora
To Tibetan pilgrims and Hinduists, to be able to closely worship holy Mt. Kailash is the holiest and most glorious moment in their lifetime.
And the best way to do so is by continuous full-body prostration and sincere praying.
However, wildly believed to be the ultimate pilgrimage route in Tibet, 3-day Mt. Kailash kora is never a pushover.
With thin air and extreme altitude, one has to brave the cold and wind by walking on arduous mountain trails. It's truly a spiritual experience that tests the body and soul.
Traditionally, the best time to do Mt.Kailash kora starts from April to mid-June and Sept to mid-Oct. You can avoid the extreme snowfall and bad impact of monsoon rain.
However, a full-preparation such as warm clothes and UV protection, yak caravan, and supply and coordination of staff and guide, etc. remains indispensable.
Religiously, another best time to visit Mt.Kailsh is around the 15th day of April in the Tibetan calendar. It happens to be the celebration of Saga Dawa Festival, a festival to celebrate the birth, enlightenment and death of Buddha Sakyamuni. Numerous Tibetan pilgrims will join the army of pilgrimage around Mt. Kailash. Many rarely-seen religious ceremonies can be seen at this particular time.
Besides, travelling to Mt.Kailash in the Chinese year of horse is thought to be extreme auspicious. Not only will you easily get your blessings but your praying can be 12 times powerful than other years.
Now:

Got some basic ideas when to visit Tibet. Still need our pro advice? No worries!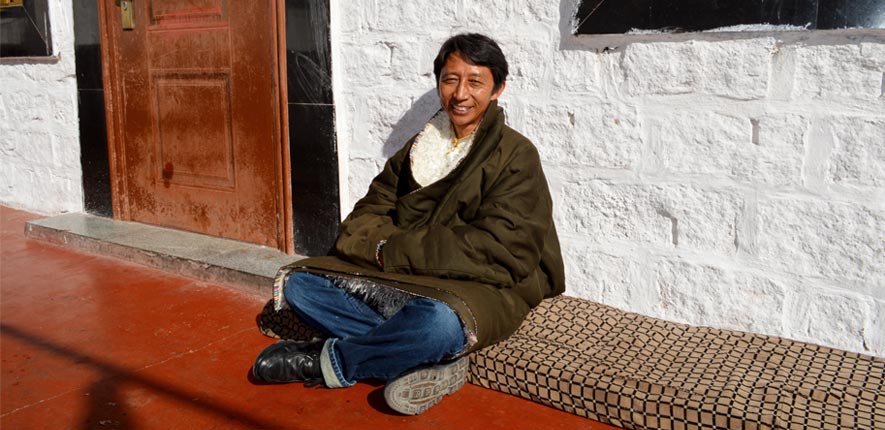 Probably, you are still planning your Tibet tour and yet decide any specific itinerary.
Only when you travel to the right place at the right time can you experience the best of Tibet. Why not?
Our travel consultants are readily available and will work with you to customize your Tibet tour.We have over 10-year experience running customized Tibet tour. Whether you choose our service or not, the consultancy is For Free.
One More Thing - Tibet Vista gives incentive policy to anyone who successfully gets other tourists to join a small tour group. The organizer gets a discount for his or her payment, or wins a free tour!
If you have some special interests or preferences, hopefully, you will find the following travel guide useful.
Other Most Useful Related Articles about this Topic