Best Time to Visit Kailash Mansarovar
Kailash is known as Ghang Rinpoche in Tibetan word, which means the Precious Mountain. Majorities of tourists and pilgrims are attracted here to enjoy the pure air and do the Kailash Mansarovar kora or the yatra trip every year. So what's the best time to visit Kailash and Mansarovar Lake?
Generally speaking, Kailash Mansarovar can be toured at any time during the months from April to October each year.
The best time to arrange your Kailash Mansarovar travel falls from April to June and September to October with high visibility and stunning beautiful views companied by comfortable temperature. Most of the days at Kailash Mansarovar during these periods are sunny with deep blue sky and very fresh air for circumambulating the holy Mountain.
In July and August came the Tibetan monsoon season which is characterized by intermittent light rains and fogs, and the infiltrated Kailash Mansarovar turns to be more mysterious with light fogs shrouding around, bringing you a whole new experience for trekking this sacred mountain.
From November to March, the icy coldness creeping from the Mountain top freezes this area with ice and heavy snows. Roads to the Mount Kailash has been blocked and the blizzard whirling in the air jeopardizes all the tours to Kailash Mansarovar.
Just follow our ultimate guide below to find out the detailed temprature and travel experience in each month, so that you could better plan a once-in-a-lifetime Mount Kailash trip (Check for our most popular 15 Days Kailash and Manasarova Small Group Tour).
Video about when is the best time to take a Mount Kailash tour
Planning A Kailash Mansarovar Tour According to Different Months
Kailash Mansarovar is distinctively featured by different seasons, so the varied climate and temperature may directly influence your experiences on the pilgrimage tour to Kailash Mansarovar. Just follow us to see the ultimate tour recommendations with the changing seasons.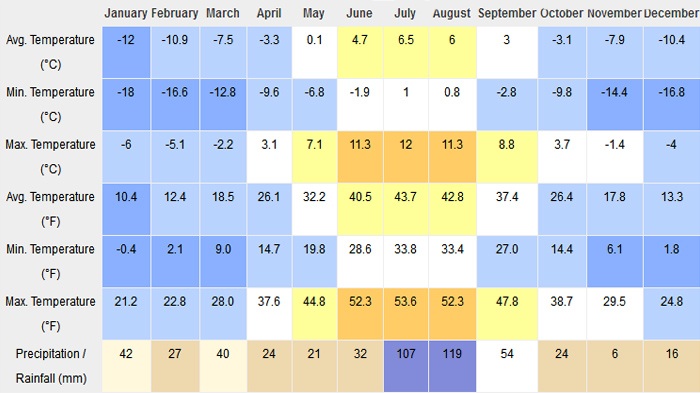 Annual temperature of Kailash Mansarovar
Best Time of the Year: April, May, June, Sept, October
April: Max. Temperature 3.1℃ (37.6℉); Min. Temperature -9.6℃ (14.7℉)
May: Max. Temperature 7.1℃ (44.8℉); Min. Temperature -6.8℃ (19.8℉)
June: Max. Temperature 11.3℃ (52.3℉); Min. Temperature -1.9℃ (28.6℉)
September: Max. Temperature 8.8℃ (47.8℉); Min. Temperature -2.8℃ (27.0℉)
October: Max. Temperature 3.7℃ (38.7℉); Min. Temperature -9.8℃ (14.4℉)
The consecutive sunny days with comfortable trekking climate at Kailash Mansarovar during these two periods are the most convincing evidence to conclude that April, May, June, September and October are the 5 best months for visitors to tour the sacred Kailash Mansarovar.
Comfortable sunlight scatters the cloud and shines down on earth, driving away the coldness which spirals around Kailash Mansarovar. With splendid weather and perfect visibility, views along the circumambulating way turns to be more grandeur and fascinating.
Just slow down your scurry steps and take some time appreciating the bestowed beautiful scenery. Kailash Mansarovar never disappoints any visitor coming to revere in these months.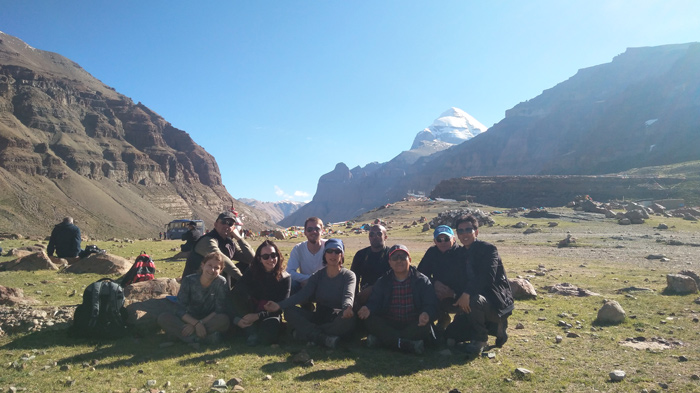 Kailash trekking morning with fresh air and soft sunlight
Tour Kailash Mansarovar in the Monsoon Season - July and August
July: Max. Temperature 12℃ (53.6℉); Min. Temperature 1℃ (33.8℉)
August: Max. Temperature 11.3℃ (52.3℉), Min. Temperature 0.8℃ (33.4℉)
From July to August each year came the monsoon season with intermittent rains in the western part of the Tibet. Temperature does not drop dramatically with the minimum temperature remaining above the freezing point even when rains begin to fall. So July and August can also be possible for visitors and pilgrims to visit and worship.
Rains do not make all the Kialash Mansarovar a mess place with muddy roads and turbid lake, instead, the light rain infiltrated Kailash Mansarovar turns to be more glittering and translucent with much fresher air, and the Kailash Mountain becomes much more mysterious than ever before with the light frog shrouding round, presenting all the visitors the illusionary feelings of walking in the heaven.
So if you want to experience a different view of the Kialash Mansarovar or you are not available in other months, a Kailash Mansarovar tour can be also possible and an extraordinary place we recommend.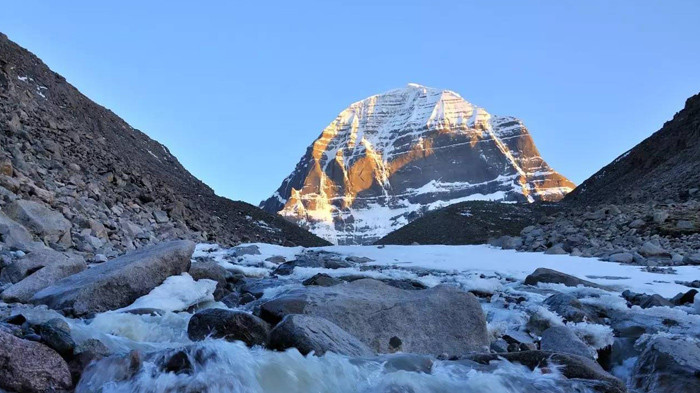 Mount Kailash with less snow-covered summit in the golden August afternoon
Insider tips: when you encounter a rainy day, wear on your rainproof jacket and make sure your backpack has been fully covered. Be careful to put covers on your trekking shoes since the light rain infiltrated road is easy to cause slippery. Slow down and watch your steps. Do not prepare an umbrella, for it does not do the trick for high altitude rains.
Impossible to Visit in Winter from Nov. to Mar.
November: Max. Temperature -1.4℃ (29.5℉), Min. Temperature -14.4℃ (6.1℉)
December: Max. Temperature -4℃ (24.8℉), Min. Temperature -16.8℃ (1.8℉)
January: Max. Temperature -6℃ (21.2℉), Min. Temperature -18℃ (-0.4℉)
February: Max. Temperature -5.1℃ (22.8℉), Min. Temperature -16.6℃ (2.1℉)
March: Max. Temperature -2.2℃ (28.0℉), Min. Temperature -12.8℃ (9.0℉)
Never underestimate the coldness at Kailash Mansarovar from November to March. The temperature falls dramatically and the howling wind outside in the daytime can make you feel faint with headache easily caused, let alone the freezing night.
Roads leading to Kailash Mansarovar are more likely to be blocked by the heavy snow and ice, making all the tours which go deeper in western part of Tibet jeopardized.
So never a wise choice to explore the western part of Tibet in these 5 most frigid months (Kailash Mansarovar included), but it definitely a splendid choice to explore the rarely-seen glamour in other eastern parts of Tibet like Lhasa and Shigates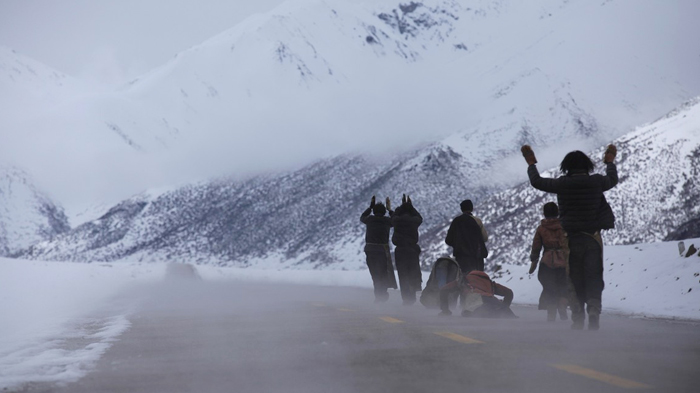 Severe cold shrouded Mount Kailash worshipped by a few of devout pilgrims
Insider tips:
1. Bathing in the holy river can wash out the evils and purify the soul, but bathing at high elevation lake at any time is much easier to cause health problems with serious symptoms, even in Tibetan summer months (July and August). Due to the cold lake water all the year round, it is recommended to do the related traditional rituals or worships at the bank of Mansarovar Lake.
As for devout pilgrims who insist on a Mansarovar Lake water bathing, it is firmly recommended not to stay in the water for a long time. Wrap your body immediately once you get out of the water in case of catching a cold.
2. Do not expect too much about the foods and accommodations provided at Kailash Mansarovar. No star-rated hotels are available there.
Planning A Kailash Mansarovar Tour According to Traditional Customs
Visiting Kailash Mansarovar during the Saga Dawa Festival
Saga Dawa Festival is held on April 15 of the year in Tibetan calendar (Approximately in May or Jun of our solar calendar) on which Sakyamuni, the founder of Buddhism, was born, got enlightened and achieved nirvana.
Religious rites are held constantly during this whole month to celebrate this special day, for local Tibetans believe that boundless merits would be accumulated by giving generosities on that day as well as the entire month.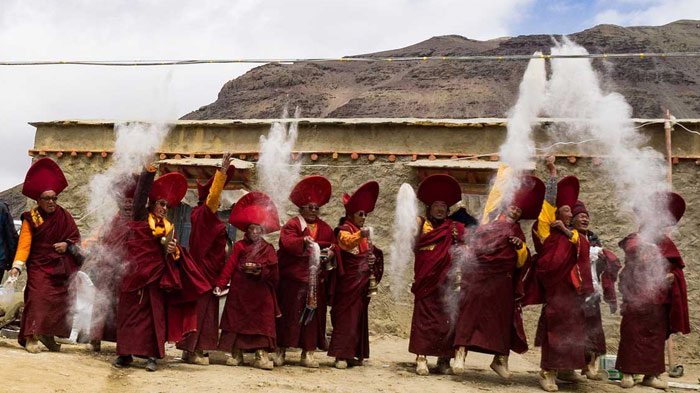 Furtively Celebrated Saga Dawa Festival with Roasted Barley Flour Cast into Sky at Kailash
During Saga Dawa Festival each year, thousands of devout Tibetan prayers gather spontaneously on the Borhkor Street and do the kora around the Jokhang Temple while other locals tend to do the Tsekhor and Lingkhor kora time and time again. In such important month, Mount Kailash ushers into the peak season to receive the worship by devout pilgrims all over the world. Besides, the perfect travelling climate also makes Kailash Mansarovar a wonderful place to go.
Insider tips:
1. Saga Dawa Festival is one of the most important festivals for the local Tibetans, and during this peak travel period, reservations for hotels in Darchen (A small village at the foot of the Kailash Mountain) and the guesthouses by the lake or along the Kailash trekking route can be full.
Book in advance with Tibet Vista to solve all the problems when you plan to take a pilgrimage tour to Kailsh Mansarovar with local Tibetans as well as believers from all over the world.
2. During Saga Dawa Festival, local believers stop killing livestock as well as other living creatures by liberating the captured animals and being a vegetarian even after their kora around Mount Kailash. So if you circumambulate Mount Kailash dring the Saga Dawa Festival and you are not a prayer, have some meat to regain your strength much more quickly and in case of altitude sickness.
Do Kailash Kora in horse years and the Mansarovar Lake kora in goat years
Doing the Manasarovar kora in years of the goat (The Chinese use 12 zodiac animals to represent years while goat is one of them; the next year of goat falls in 2027) and circumambulating Mt.Kailash in years of the horse (Also the animal among the 12 animals with the next year of horse falls in 2026) have long been regarded as one of the local traditions in Tibet.
Almost all the Tibetan believe that the merits and virtues accumulated by circumambulating the Kailash Kora for one single time in horse year equals to the effect achieved by the circumambulation of the sacred mountain for 13 times in normal years.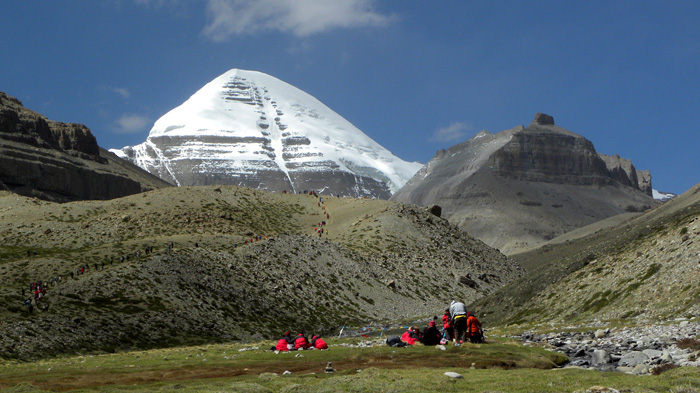 Visitors swarm to Kailash Manarovar to experience the trekking tour
With this big added bonus, more and more pilgrims as well as visitors all over the world swarm to the Kailash and Mansarovar Lake to thoroughly eliminate their evils and sins and liberate their spirits. So it is naturally to plan your pilgrimage tour to the Kailash and Mansarovar Lake in horse years.
Insider tips:
This is just a tradition of Tibetans, for world-wide tourists, you can visit Kailash and Mansarovar Lake in any year when you are ready.
What to pack according to Kailash Mansarovar climates
Follow us to find out the ultimate packing list for Kailash Mansarovar tour:
Pack practical clothing to circumambulate the Mount Kailash
Quick-drying underwear and socks: Breathe freely and easy to dry, pack at least 2 suites.
Sweaters/pull-overs: Prepare at least 2 sweaters, easy to wear and take off according to the changing weather
Jackets: Pack two high-quality waterproof and moisture permeable jackets and pants and at least one cotton-padded coat to keep warm at night, even in summer months.
Fleece: Do not wear the fleece on the trekking way, but you can find it's useful at the nippy night
Trekking shoes: Prepare a pair of durable and road-holding trekking shoes with one size bigger than your feet since in some situations, a good one prevents you from slippery and makes you walk very well
Hand gloves: Longtime exposure to the sun can arouse a sun burnt to your hands.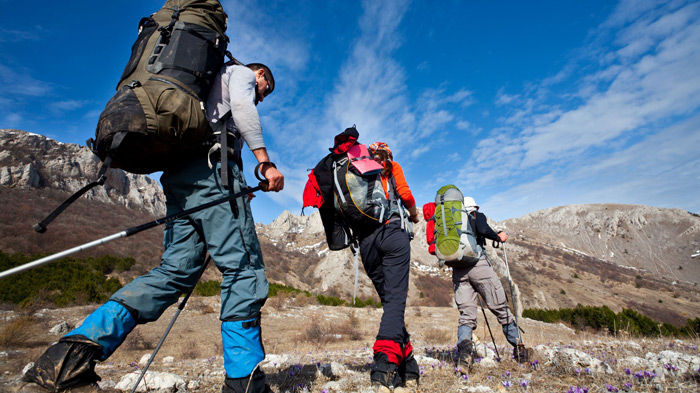 Fully prepared trekkers enjoy the long distance trekking tour
Pack the necessary trekking gears
Backpack: Choose a high-quality comfortable backpack with the total capacity no more than 50L
Trekking poles: when travelling on Tibetan Plateau, we offer helpful rental service with trekking pole, camping lantern and portable charger included. Find our friendly travel consultants underneath or check the added value for detailed information to remove your heavy Kailash Mansarovar pack.
Sleeping bag: With limited accommodation condition, we provide you some useful rental services and the sleeping bag for rent is among them. Well, you can also bring a good-quality sleeping bag to ensure a sound sleep during your visit to Kailash Mansarovar
Toiletries: Accommodation provided along the Kailash Kora and by the Mansarovar Lake side are almost guesthouses without independent toilet, your personal toiletries with wet wipes, toilet papers and hand sanitizer is a must to pack in advance
Moisture and sunscreen: Due to the intense sunshine and dry weather, moisture and sunscreen can effectively keep you from UV radiation.
A first-aid kit: Medicines including Ibuprofen sustained-release capsule (Deal with low altitude fever and headache), Multi-Vitamins, Quick Acting Heart Reliever, etc. or follow your doctor's instruction. Meanwhile, we also recommend you to bring some external used drug including band-aid, eye drops, cotton wool, gauze and bandage in case of injury.
High-calorie food: High-altitude and longtime trekking are easy to make visitors anorectic. Bring some dry snacks like dried beef, chocolate, mixed dry fruits, nuts, dates, biscuits, energy bars, etc. as supplementary food. Take them when you have rests on the Kora way.
Flashlight/headlamp: Besides one for normal use, we also recommend you to bring another glare flashlight as the fill-in light when you plan to document the starry night. When you go to the public toilet at night, do take the flashlight, for most of the toilets are filthy in case of emergency
Get phone international roaming enabled: we recommend you to get your phone international roaming enabled to stay connected with your family, for the signal strength in Kailash Mansarovar area is strong; Wi-Fi provided in some hotels are unavailable, so we also recommend you to install the VPN to ensure an unobstructed information exchange.
Sunhat and sunglasses: Very useful when it's sunny
Flasks and drinking bottles with hydration systems: help you replenish drinking water without taking the bottle out while walking.
Rain-proof gears: Besides the waterproof jackets and pants mentioned above, take some rain covers to ensure your backpack, shoes are dry. Do not bring the umbrella, for it doesn't do the trick on high-altitude rainy days.
Telescope: Bring a small and light telescope to observe animals by the holy lake and on the sacred maintain.
Insider tips: Kailash Mansarovar is located in the Ali Prefecture, so, besides the Tibet Travel Permit, you need to prepare all the following permits in advance: alien's travel permit, military permit, foreign affairs permit, and frontier pass before you heading for Kailash Mansarovar.
Tibet Vista will help you deal with all the must-have permits to ensure you a worry-free trip to Kailash Mansarovar. You just need to pack well and enjoy the wonderful journey.
Conclusion
Visitors pay the visit to the Kailsh Mansarovar in a fantastic sunny day
Best to arrange your tour from April to June and September to October. Most of the days at Kailash Mansarovar during these periods are sunny with deep blue sky and pleasant air which are comfortable for circumambulating the holy Mountain.
July and August are also the good time to have Mount Kailash and Mansarovar tour. During these period time, the monsoon season comes with intermittent rains in the western part of the Tibet. Light rain infiltrated Kailash Mansarovar turns to be more mysterious with the light frog shrouding round, presenting you another fresh experiences which still worth visiting.
No tourist visits Kailash Mansarovar from November to March. During this Period of time, Kailash Mansarovar is dominated by biting wind and icy coldness. Heavy snow blocks most of the route, making any journey to Mount Kailash Mansarovar jeopardized. So, it's not a wise choice to visit this area in these months.
Try visiting Kailash Mansarovar during the Saga Dawa Festival which is held on April 15 of the Tibetan year (Approximately in May or Jun of our solar calendar) to experience much stronger religious atmosphere and do the kora with local prayers as well as believers all around the world.
Local Tibetan prayers believe that circumambulating the Mount Kailash in horse years and Lake Mansarovar in goat years accumulate more merits than doing the kora in other years.
If you still have any question about Kailash Mansarovar climates or the best time to tour Kailash Mansarovar, feel free to drop us a line and we will response immediately to give you our most authoritative suggestions.
Join-in the Most Recommended Kailash Mansarovar Tours