Best Time for Tibet Photography Trip - July and August
Tibet is a holy tourist place, known as the nearest entrance to paradise or happiness. Each year, lots of travelers come from long distance to view its beauty, know about its culture and admire its secret power. Whatever purpose of those visits, they all want to record unworldly beauty with cameras.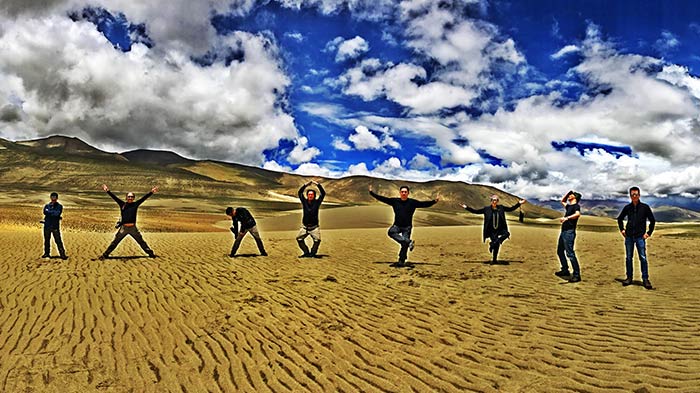 The landscape of Tibet in July will surprise you
It is said that best season for travelling to Tibet are April, May and September. However the best season for travelling to Tibet does not mean the best season for photographing. According to a professional photographer who spent 8 years in Tibet for photographing, the best season for taking picture actually lies in July and August.
Unique Weather Pattern of Tibet in July and August
Blue and clear sky with white clouds is never a rare thing in Tibet. We can see this almost throughout the year. But in July and August, you have to see the most extraordinary changes of clouds before or after the rain. Tibet has a distinctive weather pattern and certain weather characteristics because of its high altitude like strong sunshine, thin air, dry and cool atmosphere, and large temperature difference between night and day. These characteristics pertain no matter what the climate in Tibet is. In fact, mild climate and temperature make July and August best time for Tibet photographing for photographers, especially taking photos in remote sites. Photographers don't need to bring equipments as much as in winter for photograph tour.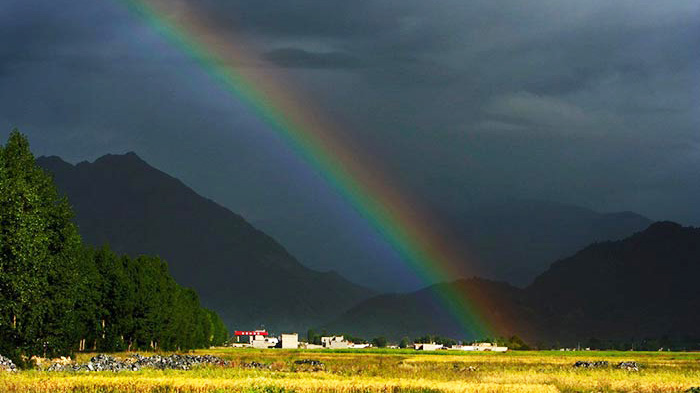 A rainbow rose against the dark sky after raining
So, when people say July and August are the rainy months in Tibet, it still sees strong sunshine during these months. The summer months in Tibet are from June - August. June still sees some summer showers. July and August are the months that Tibet sees highest rainfall in, but rains only at nights. In these two months the day still sees at least 4 hours of sunshine and the day time are windier. As it rains only at night tourist spots, attractions, and activities still happen. The iconic clear blue skies in the roof-of-the-world can still be seen in July and August.
It is a common misconception that July and August are not the best time for travelling and photography in Tibet. If anything, everything becomes a bit more beautiful. The rains fill the lakes and the water sparkles more than usual, the occasional rainbows cutting through the skies, painting the mountains, and the grasslands are something you don't get to see during other months. The rain bearing clouds may seem heavy but these clouds floating over the highest city in the world is a stunning sight, the clouds change color more often during these months providing more opportunities or photography.
Capture Amazing Alpine Lakes and Snowy Peaks in July and August
July and August are the golden time to travel in Tibet, especially to the north and southwest of Tibet. Both the natural scenery of lakes and mountains are in their best state. Special and abundant color for this season adds more to the reason for photographing Tibet in July and August.
Tibet is famous for its glistening, high-altitude, turquoise lakes nestled between the mountains or valleys. Must-visit and photographed beautiful lakes in Tibet are Namtso Lake, Mansarover Lake, and Yamdrok Lake. All these three lakes are considered holy and widely known for their beauty.The best time to take pictures in these lakes is 30 minutes before and after, sunrise and sunset. During the winter months these lakes get completely frozen and the best time to photograph the lakes are April to October.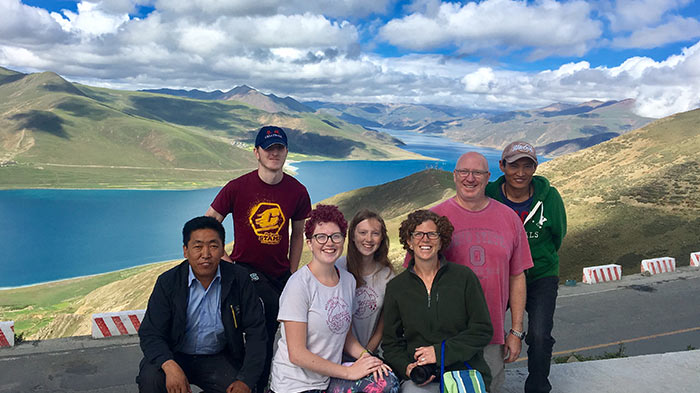 The blue sky, the white clouds and turquois lake constitute a natural oil painting
Tibet, being the land for some of the tallest mountains in the world, has a lot of mountain trek routes from Lhasa, some of the must-visit lofty mountains that are absolutely majestic are Mt. Kailash trek and Everest Base Camp trek. Capturing the mightiness of these daunting mountains is probably every photographer's dream. No experience can get as exhilarating as capturing the peak of the mountains from the roof of the world.
In EBC, you can capture the sunrise and sunset of Mt. Everest easily and you can get the full view of Everest from Rongbuk Monastery which is close to the base camp. From Lake Mansarover you can see the full view of the holy Mt Kailash. During the months of July and August, the windy atmosphere and the fluttering prayer flags just add on to the beauty. Be mindful to carry extra batteries while trekking to EBC or Mt, Kailash as the batteries tend to drain faster in high altitude regions.
Document Diverse Tibetan Festivals in July and August
Tibetans love to celebrate, and they love to celebrate grandly with music and dance. If you are interested in Tibetan culture and living style, seeing the festivals and celebrations will also give you insight about the culture and people of Tibet. July and August are months you'll never miss when a lot of grand festivals are celebrated, such as Shoton Festival, Choerchor Dhuchen Festival, Nagchu Horse Racing Festival, Ongkor Festival, and Tashilunpo Thangka Festival and so on.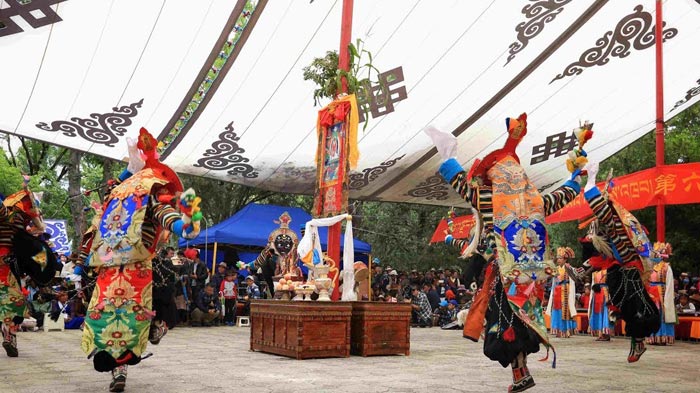 The locals are celebrating Shoton Festival
Shoton festival is one of the most popular festivals that happen in the month of August. Also known as the Yoghurt festival, it started as a tradition where pilgrims served yoghurt to the monks. Soon opera performances were added to the agenda and huge Thangkas of Buddha are unveiled. Tourists also have a grand time during this festival as there so much entertainment like dancing and singing.
Nagqu Horse Racing happens in the Nagqu prefecture in the month of August. Happening in the open grasslands, people from many villages come to witness this annual event. After the race, events like yak race, tug of war, and weight lifting tournament happen.
Tashilunpo Thangka Festival happens during the month of July, where monks unveil three big Thangkas of Buddha in the Tashilunpo Monastery. This is a tradition that has been followed for 500 years. The month of August sees peak tourism just because of the festivals. If you want to take pictures of the festivals, go early in the morning to the venue, before people start coming. Aside from getting to take some great pictures of life and culture, you will get to feel the vibes and immerse in a wholly holistic tour experience.
Join-in Most Popular Tibet Festival Tours
Other Suggestions for Photography in July and August
Apart from lakes, mountains, and people there are other things to photograph in Tibet. Some of the main attractions of Tibet that are known for their beautiful architecture are Potala Palace and Jokhang Temple.
Yarlung Tsangpo Grand Canyon, the deepest canyon in the world, is considered the most beautiful canyon in the world. There are many monasteries with beautiful murals and paintings. Tashilunpo Monastery, largest in Tibet is one of the must-visit monasteries.
Tibet also has great spots for stargazing. With thin air and less light pollution, the skies of Tibet at night shine like a thousand pearls. Some of the places from where you can capture the stars are Dark sky Reserve in Ngari, Changtang Grassland, Namtso Lake, and Yamdroktso Lake.
Travelers usually gather around Lhasa, Shigatse and Namtso Lake. When you move further to the East or West like Mt.Kailash, you could hardly see a soul along the road, you have all the mysterious nature to your own. Do make good use of your camera if you love to take pictures.
Perfect timing and perfect sceneries are two essentials for taking great pictures. Therefore, if you really want to catch what the others usually do not see and really worthy for picturing, come to Tibet in July and August.