Travel to Tibet in May: enjoy a fresh Tibet tour in early summer season
May is a beautiful month for Tibetan plateau with towering snow-capped mountains, beautiful grassland full of vitality, warm sunshine, blue sky, and colorful prayer flags. If you want to travel to Lhasa, Nyingchi, Gyantse, Shigatse, Yamdrok Lake, or Namtso Lake, May is one of the best times to visit.
In May, it rarely rains in Tibet and the visibility is pretty good. Tourists traveling to Tibet in May could enjoy a clear view of the majestic mountains in Tibet. May is one of the best seasons to see the world's highest peaks in Tibet, such as Mt. Everest, the highest peak on earth, Mt. Namche Barwa, the most beautiful mountain in China, and Mt. Kailash, the world's most sacred mountain.
In general, May is the most suitable time to visit any places of Tibet due to the mild climate and beautiful natural and cultural landscape.
Climate and Weather of Tibet in May
The weather of Tibet in May is quite pleasant because the temperature rises a lot compared that in winter. But there is still a great temperature difference between the daytime and at night. The temperature of Tibet in May at the daytime is around 20 Celsius, but may drop to zero or lower at night. Besides, the temperature in mountain areas of Tibet or a higher place is still very low, especially at night. Therefore, it is best to prepare a warm coat, even down coat.
In addition, the dazzling sunshine and strong ultraviolet in May also required tourists to prepare the sunglasses and sun-blocking cream in advance. It is very dry in May on the Tibetan Plateau. Travelers need to drink enough water or take some fresh fruits during Tibet tour.
Top Destinations for Tibet Tour in May
May is a great time to travel in Tibet, and for many people, it is the best time of the year, as the attractions are not yet that busy and the weather is pleasant and comfortable, if a little chilly at night.
Lhasa
May in Lhasa is not the warmest time of year, but it is a great time to travel to the Tibetan capital. The weather is dry and getting warmer, and while the nights can still be a little cold, a good sweater can solve that for you. The capital is also less busy still, which means you get a better time touring the major attractions without huge crowds, such as Jokhang Temple and Potala Palace.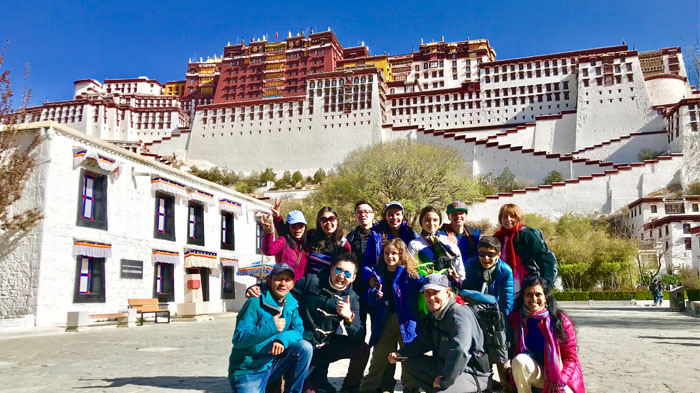 May is a good time to visit Potala Palace in Lhasa.
Namtso Lake
As May comes around, Lake Namtso in the north of Lhasa is finally unfrozen, and the pass to get to the lake over the Nyenchen Tanglha Mountains is open and easy to cross. Yaks are beginning to be seen in the grasslands around the lake, as the nomadic herders start moving their herds south to the better spring grazing.
Yamdrok Lake
Lake Yamdrok is one of the sacred lakes of Tibet, and as May comes around, the area sees an increase in the sheep and yaks that are often grazed along the shores of the lake. The waters are often a bright turquoise color, caused by the snow and ice melt from the surrounding mountains, and while it is still not too warm, it is pleasantly fresh and exhilarating.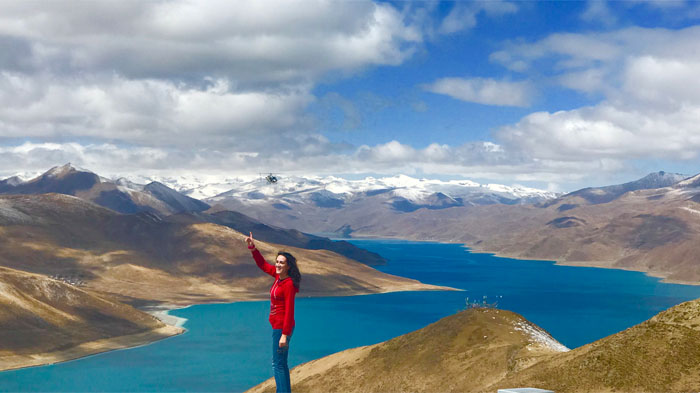 One of our clients were enjoying the beautiful Lake Yamdrok in May.
Mount Everest
Out in the west of Tibet, Mount Everest has already been open with the tent guesthouses running for a month, and the base camp has seen the last of its snow for now. Travel to the world's highest mountain is also easier, with clear dry roads and few travelers. And the weather is clear and bright, allowing for a better view of the peak of this great mountain, before the rainy season begins and brings the clouds.
Nyingchi in Eastern Tibet
The eastern prefecture of Nyingchi is the warmest area of Tibet, and while some areas of the plateau are still a little chilly, spring is well under way in Nyingchi, and the weather is nice can warm. May is also the second half of the period in Nyingchi when the peach blossom is out, and the area is still covered in pink and violet flowers.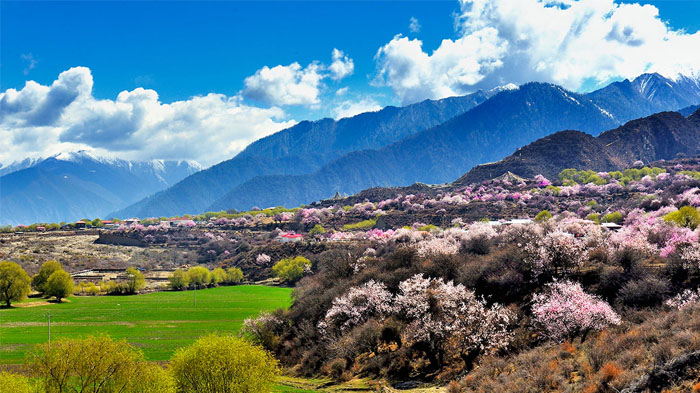 The eastern prefecture of Nyingchi is the one of the beautiful places of Tibet in May.
Tibetan Festivals in May
Saga Dawa Festival
The Saga Dawa Festival in May is one of the holiest festivals for Tibetan Buddhists, as three memorable events coincide on the same day: the birth, enlightenment, and nirvana of Sakyamuni Buddha. A swarm of sincere Tibetan Buddhists would circle around Jokhang Monastery and Barkhor Street for celebration. It is also the best time to travel to Mount Kailash, where the Saga Dawa Festival is held with huge ceremonial celebrations. The flagpole at Tarboche is taken down and new prayer flags strung on it, and he monks and lamas perform several hours of Buddhist rituals, before the pilgrims and visitors take to the trails and head around the 52-kilometer kora route around the mountain.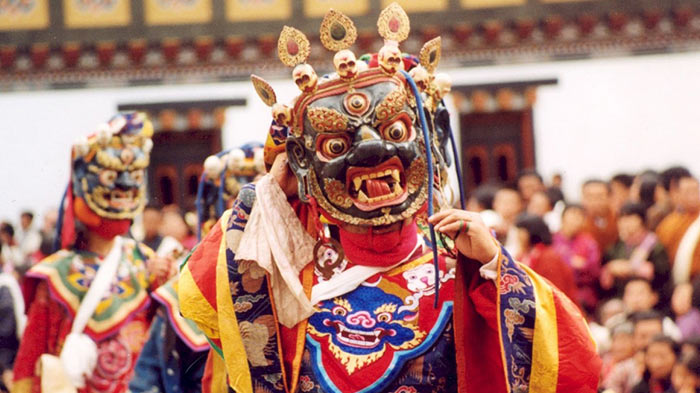 The Saga Dawa Festival in May is one of the holiest festivals for Tibetan Buddhists.
Chawalong Horse Racing Festival
One of the most remote areas of Tibet, with few resources and almost no access to electricity and phone signals, the Chawalong Horse Racing Festival is one of the first horse-racing celebrations of the year. And horses are also the best way to get to the area. The local horses are decorated with festive ribbons and colorful flags, and the festival features plenty of racing, as well as games, contests, and even a Tibetan market for traders.
Packing List for Tibet Tour in May
Travel Documents
Before you travel to Tibet, your Tibet Travel Permit and other relative permits are necessary, as well as your passport and visa. You will need the Tibet Travel Permit to get into Tibet and travel in the area of Lhasa, and the Alien's Travel Permit to travel to certain "unopened" areas outside Lhasa. For travel to other areas of Tibet, you may also need the Restricted Areas Permit, for military sensitive areas such as Nyingchi and Mount Kailash.
Clothing
May is not as warm as the rest of summer in Tibet, and you will still need to have some warm clothing, especially sweaters and down jackets, for the colder nights and chilly days. Long-sleeved tops are better for this month, and bring a few so that you can add or take off layers depending on the May temperatures, which rarely get above 10-12 degrees in most places, and can be even colder out in the west. Strong sturdy boots are a must, as the ground is rough and rocky, and warm socks, a good warm hat, and gloves are a necessity.
Others
As well as clothing, you may need to add a few other essential items to your general packing list. You should make sure you bring any regular medication that you will need, as well as a small first aid kit, just in case. You will also need to have a good sun block, moisturizer, lip balm, sunglasses, and protective headgear, as the harsh sun and biting winds can be damaging to your skin. Prepare spare batteries for your camera and enough cash as it is still not very convenient to draw money from ATMs or banks in Tibet, especially in remote areas of Tibet.
Tips for Tibet Tours in May
As it is close to the peak tourism season of Tibet, it is advisable to join in a group tour to cut down the cost. You can stay overnight in a family hostel as a good choice for a more authentic Tibetan experience. While they are low-cost form of accommodation, they are more than suitable for a good place to stay and are pleasantly comfortable.
It is recommended that you respect local customs when in Tibet, such as walking around the temples in a clockwise direction and not touching Buddha statues, relics, or the heads of Tibetan people. It is also advisable not to take pictures of people without their permission, or inside of the temples.
Trekking is one of the major activities in Tibet in the month of May, and while there are some amazing trekking trails to be found on the plateau, care must be taken when trekking at high altitudes. Altitude sickness can be a common illness in Tibet for foreign travelers, and you should take care to prevent it from ruining your trek by acclimatizing properly before you leave Lhasa and only ascending slowly and at the recommended limits.
It is recommended that you avoid booking a trip to Tibet in the first week of May, as this is the time of the May Holiday in China, and a popular time of year for domestic tourists to travel to the region.
Conclusion
May is the real start of spring in most of western Tibet, and is a great time for travel to Tibet for the clearer skies and less rain. Weather is comfortable, and with fewer tourists yet making it onto the plateau, it is a good time to make the most of the region before it gets overly busy.