What to Pack for the 2-day Tibet Train Journey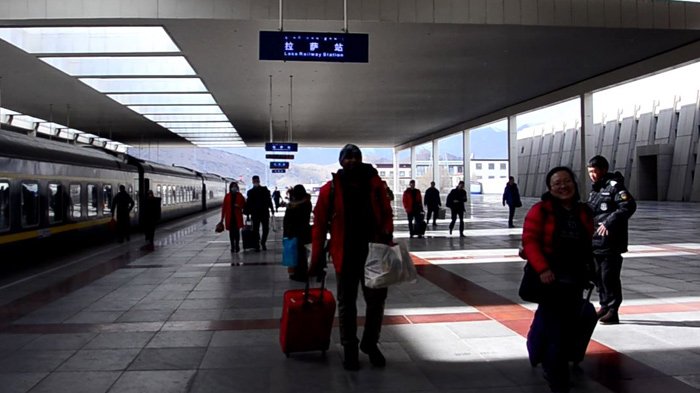 Newly arrived tourists in Lhasa Railway Station
For most of Tibet inbound tourists, you will spend 2 nights in the train. The Qinghai-Tibet Train is considered as a 3-star facility train in China, but it is not a hotel, so there are few things we highly recommed you to prepare for the stunning train ride. Packing list for 2-day train journey:
Clothes
Comfortable Pajamas
Light slipper: Slippers can make your feet more comfortable during the train ride.
Recreation
Smart phone
Camera
Battery recharger: You can find battery recharge socket inside train cabin.
Laptop or Ipad (optional)
Headphones: Listen to nice music while enjoying stunning window view outside the train; respect roommates
Tibet travel guide or novels: Books like lonely planet or other novels help you to kill time
Poker (optional)
Personal items
Travel documents (Your Chinese Visa, Tibet Travel Permit, and Passport, ID)
Personal medicines, or eye drops
Small change: You can prepare some small change to buy food sold in the train since there is no ATM in the train.
Ear plugs: Help you sleep well and avoid the noise in the cabin
Sleep mask/ eye blinder
Travel pillow
* Do remember to ask oxygen tube/set from the conductor to prepare for the possible altitude sickness symptom (such as shortness of breath, headache)
Toiletries
Toothpaste: There is no shower system in the train. It is not wise to have a shower yourself or wash hair, given the high risk of getting cold on the plateau.
Towel
Soap
Facial lotion
Wet tissue paper
Toilet paper
Female Tampon/ sanitary pads
Others
Snack
Fruit
Thermal mug/bottle: You can get hot water from water dispenser in the train.