Tangula Luxury Train
Tangula luxury trains are operated by Tangula Railtours Ltd., a joint venture between RailPartners Inc and the Qinghai-Tibet Railway Co,. The custom-built Tangula trains travel along two distinctive routes between Beijing and Lhasa across the Tibetan plateau, and between Beijing and Lijiang through the colorful Yunnan Province. Travelers can experience unprecedented luxury and comfort while enjoying the culture and natural beauty along the way.
Beijing-Lhasa Tangula Luxury Train Route
Beijing-Lhasa route, known as the northern route of Tangula luxury trains, is a five-day/four-night journey from Beijing to Lhasa, with a four-day/three-night journey from Lhasa to Beijing. En route, you can appreciate the spectacular scenery along the Qinghai-Tibet Railway, pass by the snow-capped Yuzhu Peak, the pristine Cuona Lake, and the boundless Qiangtang Grassland. The daily off-train excursions included in the journey will enable you to further immerse in local cultures and traditions.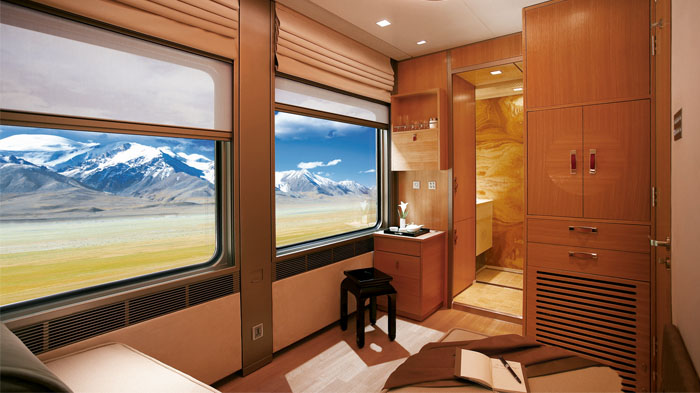 Tangula Luxury Train
Each Tangula luxury train carries a maximum of 96 guests in 48 spacious suites. It is comprised of 15 cars, with one scenic car, two dining cars, and 12 accommodation suite cars with 4 private suites per car. As for the suites on Tangula trains, they are designed to be like a cozy home with all technological conveniences including an entertainment system as well as comfortable beds, en-suite bathrooms with showers. Each suite car has its own bi-lingual 24-hour butler service to anticipate your every need, while a doctor is available to take care of those suffering from altitude sickness. Managed by Kempinski Hotels, Europe's oldest luxury hotel collection, all onboard hospitality, and world-class service will be highly ensured. International travelers need to show the passport as well as Tibet Travel Permit to board the train. After getting on such a train, you will feel like being in a five-star hotel.
The Food on The Tangula Luxury Trains
The food on the Tangula luxury trains is also pretty good. There are the best chefs of Western cuisine as well as Asian cuisine. You never need to worry about the taste of food, the seats, or the environment, for the dining car is designed to be able to serve all 96 guests while making sure that they feel comfortable in the dining car during the mealtime.
Dining Car in Tangula Luxury Train
Consultant
Tangula trains can provide passengers with unique and unforgettable luxury travel experiences. The journeys will enable discerning travelers to immerse themselves in the stimulating landscapes and cultural traditions of China. It is a pity that these luxury trains have already been out of service. However, you can still take other Tibet trains to start the Tibet journey to explore the roof of the world. Just feel free to share your travel plan with us, with more than 10 years' Tibet travel experience and 1:1 travel consultant service, we can customize the itinerary, apply for the permit, book the train tickets, and arrange a satisfying once-in-a-lifetime Tibet trip for you.
Most Popular Tibet Tour Packages