Is It Safe on the Tibet Train?
One of the questions that is asked quite often about travel in China is whether it is safe to travel by train. The simple answer to this is yes, it is perfectly safe to travel by train to Tibet. As with most of the trains in China, travel on the trains to Tibet is extremely safe and passenger friendly, including for international travelers to the country. Hundreds of thousands of travelers take the trains to Tibet every year, and for those international travelers that are riding the trains, there has never actually been an incident where the passenger's safety was put at risk. So, let's take a look at some of the frequently asked questions about the travel safety in Tibet train.
Will I Suffer Altitude Sickness in Tibet Train?
The chance of getting altitude sickness whilst riding the trains to Tibet is actually very low. This is not because of the myth that the slower train ride helps you to acclimatize during the trip to Tibet. This is not actually true. Acclimatizing to higher altitudes requires that you spend at least 24-48 hours at a lower elevation than Lhasa to aid in reducing the risk of altitude sickness once you reach the Tibetan plateau. While the train does take around 22 hours to reach Lhasa from Xining, you are still not subjected to the higher altitudes of the plateau on the journey to Lhasa, as the carriages are all pumped with additional oxygen from Golmud all the way to the capital. This means that the oxygen content of the air is higher than that of Xining and Lhasa, so you will arrive in Lhasa without any acclimatization at all, unless you spent a day or two in Xining to acclimatize there first.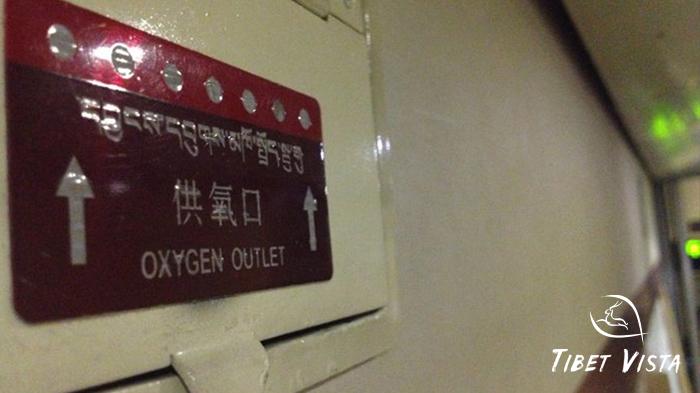 Oxygen ports in the Tibet train
There are rare occasions when travelers do feel the effects of altitude sickness when riding the train, and these instances can be easily overcome by using the inbuilt oxygen system on the train. All the carriages have personal oxygen ports in the cabins by each berth and in the corridor outside, which can be used by passengers for aiding in relieving the symptoms of altitude sickness. Oxygen tubes for personal use can be obtained from the train staff, and for those that require it, a doctor is available on all trains to Tibet. - Follow the expert's tips to avoid altitude sickness for Tibet travel.
In comparison to flights, there is actually little difference in traveling by train when it comes to acclimatization, unless you have already acclimatized in Xining before taking the train or flight. At 2,275 meters above sea level, Xining is ideally located for intermediate acclimatization to higher altitudes, which can help reduce the risk of getting altitude sickness once you arrive in Lhasa.
Is It Safe for International Tourists, esp. Single Traveler in Tibet Train?
Before you even get on the train the standard Chinese security protocols come into place, starting as you head from the station entrance to the platform. You and your bags will be checked against your ticket when you enter the platform, and again when you board the train. Guards will check your ticket as you board to ensure that you are in the right carriage and seat, and regular checks during the journey also ensure that passengers are in the carriages they are meant to be in.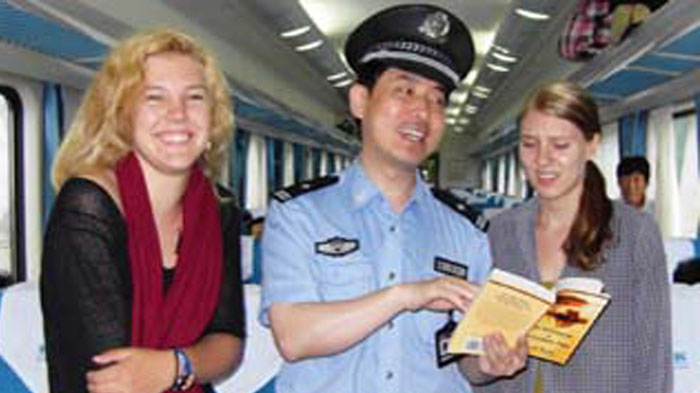 Policeman in Tibet Train
One of the main reasons travel on the trains are safe is the friendliness of the other travelers on these trains. China is well known for having low crime rates on its railway network. This is mainly due to being friendly people in general, and the fact that most Chinese are more interested in talking to westerners to learn more English than in anything else. Tibetan travelers you may meet on the trains are also extremely friendly and it is rare to find crime on the trains to Tibet for these reasons.
The trains also have guards and police officers that travel the routes, ensuring the safety of all passengers at all times. Guards patrol the train's corridors at night, and there are enough staff on the trains to have at least one guard or member of staff for every carriage. At night, all of the sleeper carriages are closed off, securing the inhabitants against any passengers not from those carriages from coming in. Every sleeper car has its own water, hot water, and toilets, so there is no need to go into another carriage at night.
There are three types of tickets for the trains, hard seats, hard sleepers, and soft sleepers. The hard seats are in open carriages that contain more than 100 seats in each. For international travelers and solo female travelers, these are not normally used at all. The hard sleeper carriages usually contain around 108 berths for passengers, in cabins of six bunks that are open to the corridor. However, while there is no door on your cabin, guards are stationed within the cabins throughout the night.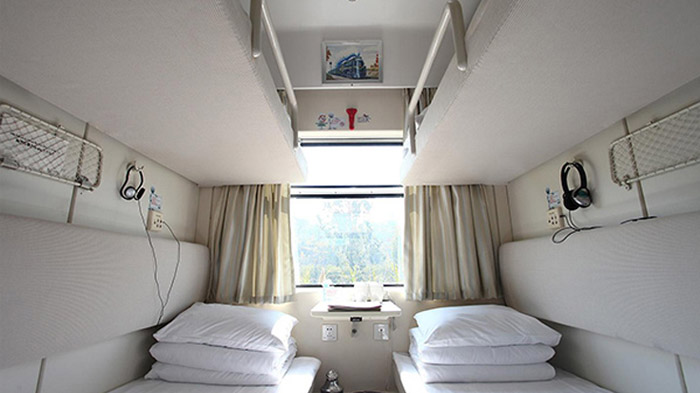 Soft sleeper of Tibet train
The soft sleeper is the obvious safest place on the trains, as the cabins contain only four berths and have a lockable door on each. Guards are still stationed in each carriage, but with the locking doors, it is impossible for strangers to wander into your cabin. Solo female travelers are normally placed in carriages with other female travelers, for their own safety, and if you are a female traveling alone, you can ask to be placed only with women for your trip. For single females, families with kids, and the elderly, the safest place on any of the trains to Tibet is the soft sleeper cabin. And if you want that ultimate privacy as well, you can pay for all four berths to have the cabin to yourself.
Is the Food Served in Tibet Train Safe?
While the food on the trains to Tibet may not be familiar to some travelers, there is little doubt that it is safe to eat. All of the trains to Tibet have dining cars as well as food trolleys that run up and down the train at meal times dispensing box meals for those that do not want to use the dining cars.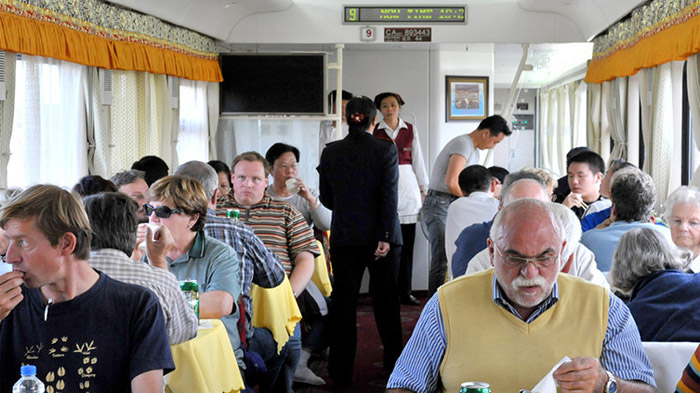 You can enjoy food in the dining cars.
The food on the trains to Tibet is normally a mix of Tibetan and Chinese cuisine, which depends on the departure location of the individual train. For example, trains from Chongqing and Chengdu will mostly carry Tibetan and Sichuan dishes. Most of the meals include such dishes as porridge, noodles, soups, stir-fry, eggs, steamed buns and momos, etc. Most dishes come with either rice or noodles, to your own taste, and are cooked fresh for customers in the dining car.
The lunch and dinner menus have both set meals and separates menus, and you can choose from such well-known dishes as Hong Shao Rou (Braised pork Belly), Kung Pao Chicken, Twice-cooked Pork, and a lot of others. The dishes are all freshly cooked for each mealtime, and the variations can also change depending on the season.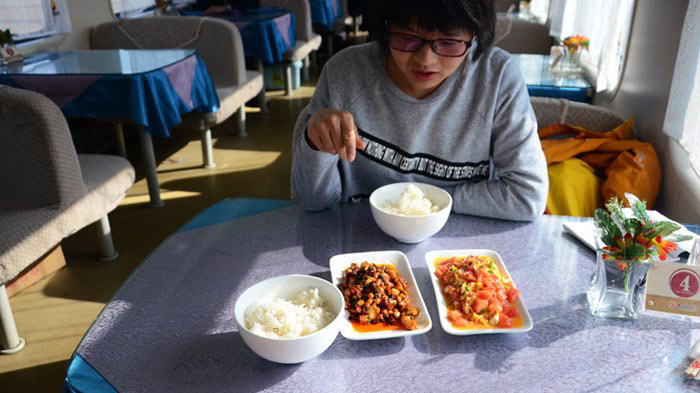 The train dining cars can offer you a wide range of dishes.
The box meals on the trolleys are similar to the meals in the dining car, and are set meals that you can buy hot and ready to eat. The trolleys also contain various pot meals, snacks, and drinks that you can purchase for the journey. There is actually very little in the way of western foods on the trains to Tibet, so if you are not able to eat the local Tibetan and Chinese dishes provided, you can bring your own food and eat that instead. However, there are no cooking facilities, so you can only heat things with hot water, such as pot noodles, and packet foods.
Other Dos and don'ts in Tibet Train for Safe Travel
While travel to the Tibetan plateau on the Tibet Trains is safe, there are a few rules and guidelines to remember to ensure the safety of your personal belongings and to abide by the general rules of train travel in China. The first thing to remember is that you cannot smoke on the Tibet Trains. If you do smoke, you can only do it when the trains stop at the correct smoking stations.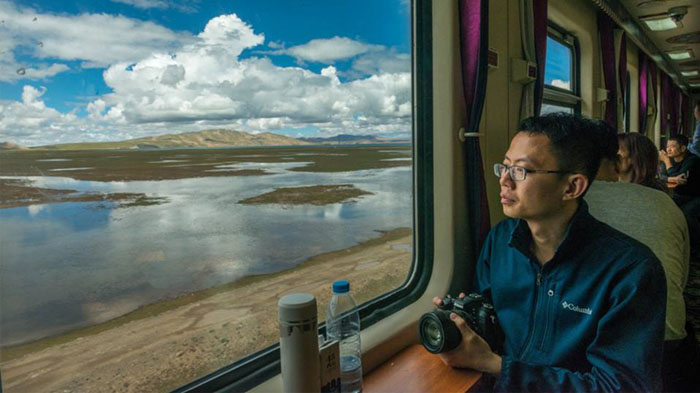 You can take photos of the stunning scenery out of the train window.
There are certain guidelines to help secure your luggage on the trains, and these are as important as your own safety. You do not want to get to Tibet only to find your gadgets are missing. While crime is not a serious issue on the trains, it does not hurt to add a little extra security measure, such as keeping your important items on your person. Passports, permits, and other documents should be kept on your person, and a bum-bag or belt-wallet is the best way to ensure they are kept safe. Money should also be kept on you, as well as your phones, laptops, tablets, and other gadgets.
If you have camera equipment, then this should be stored in a lockable hard case to prevent intrusion, and kept out of the way. Other luggage can be locked as well, and small padlocks are ideal to secure your backpacks and luggage while on the trains.
There are also a number of things that it is prohibited to bring to Tibet, whether in hand luggage or your main bags. Bags will be checked frequently during your trip to Tibet, and it is best not to hide things from the authorities if you want a trouble-free trip.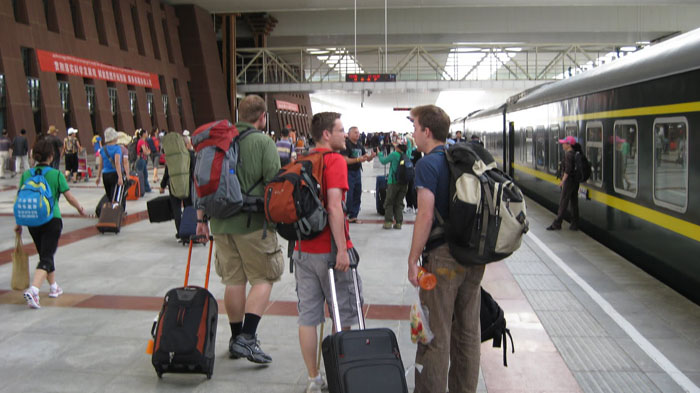 Passangers are ready to board the Tibet train to Lhasa.
Travelers have a limit of 20kg per person for adults and 10kg for kids, and should be within the measurements of 160cm x 160cm x 160cm maximum. Excess luggage weight normally costs around 1.6 yuan per kg over the limit. Items that are restricted for carrying on the trains include, but are not limited to:
Gas Lighters (up to 5)
Safety match boxes (up to 20)
Nail polish, delustering agents, hair dye at no more than 20 ml each
Alcohol (rubbing), perm lotion, etc. at no more than 100 ml each
Mousse, hair gel, pesticides, and air fresheners at no more than 600 ml each
Objects that are forbidden include objects forbidden by the nation or confined to transit only, dangerous goods as defined by the law, regulations, or rules, ammunition and weapons, or unidentifiable chemicals. Animals or any objects impeding public health including extremely odorous objects are also forbidden, as are objects able to destroy or contaminate the train. Forbidden objects also include books that are prohibited in Tibet, pictures of the Dalai Lama, the Tibetan flag, and anything else that can be construed as able to cause dissent.
Conclusion
Travel on the trains to Tibet is about as safe is it is possible to get on a train anywhere in the world. The culture and people of China and Tibet are such that you are as safe as you would be in your own home, and the likelihood of any serious incidents are very minimal. And if you keep a few things in mind concerning your own personal safety and the security of your belongings, then your trip will be completely hassle free.
Most Popular Tibet Tour Packages