Oxygen Supply on Tibet Train
Tibet train offers two sets of oxygen supply system: the "dispersion-mode" oxygen supply system and "distribution-mode" oxygen supply system. The former spreads oxygen made by the oxygen generator to the train's air through the air-conditioning system, it is used for increasing the oxygen content of the air to about 23%. While the latter is directly used by passengers through an independent port and a disposable pipe.
Video about how to use the oxygen outlet on Tibet train
Usually, the train conductor will turn on the oxygen supply system when arriving at Golmud (2,829m), and distribute the disposable tube to each passenger before it. Oxygen begins to be emitted to the whole carriage by temperature and air-pressure controlling system, it mostly releases the high altitude sickness such as headache, out of breath when traveling on high altitude area.
You can find the port or oxygen outlet near every berth and on the aisle wall in hard sleeper carriage and soft sleeper carriage once on board. Connect the disposable pipe to the oxygen outlet, put the other end of the pipe into your nostrils then and you can breathe the oxygen freely.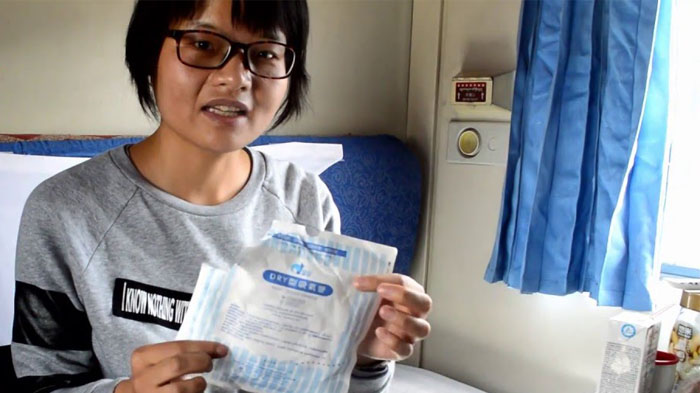 Oxygen tube will be distributed to each passenger by the train attendant.
The plastic disposable pipes are provided to every passenger whatever tickets you have. In sleeping berth carriage, you can find oxygen supply tube and mask for emergency. If you still feel uncomfortable or shortness of breath, you can ask the help from staff members and get timely medical service from the doctor on the train.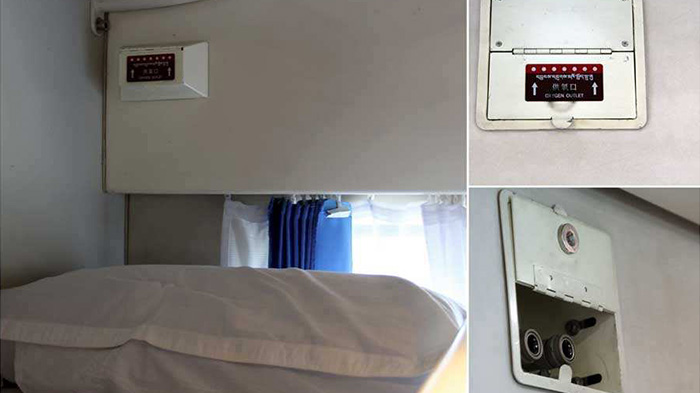 You can find oxygen outlets around the sleeper berths and along the aisle.
The air pressure inside train is auto-controlled to make you feel as traveling in low altitude zone when Tibet train heads its way up to Tibetan plateau. The altitude, temperature, and driving speed are shown in each carriage as well. More than these conveniences, the glass window of Tibet train is designed to anti ultraviolet rays.
In a conclusion, the oxygen supply on Qinghai-Tibet train is fairly easy to use. All you need to do is to connect the disposable pine to the oxygen outlet. With considerate facilities such as oxygen supply system, you can acclimatize to high altitude gradually and enjoy your train journey to the roof of the word.