Nepal to Tibet Train: Can We Travel from Kathmandu to Lhasa by Train?
Up to now, there is no direct train from Nepal to Tibet. However, the China-Nepal Railway is under the plan by China and Nepal. The plan is to extend the railway from Lhasa to Shigatse in Tibet, which opened in 2014, by 628km to reach Nepal's capital of Kathmandu via Gyirong Port. The railway will mostly follow the route of Highway 318 after Shigatse, then follow Highway 219 from Nyalam to Gyirong before reaching Kathmandu. The Shigatse-Gyirong section is expected to be completed in 2022, while a pre-feasibility study about Nepali section has been made in late 2018.
At present, if you are keen to experience the legendary sky train on Tibetan Plateau, here are the recommended Nepal Tibet routes for you:
If insisting on the sky train ride, how can I plan a Nepal Tibet train tour?
Fly from Kathmandu to Chengdu and board Chengdu-Lhasa train to Tibet
By taking this route, you can experience the tailor-made Tibet train and appreciate the breathtaking scenery along Qinghai-Tibet Railway. What's more, it will exempt you from applying for the China Group Visa in Kathmandu and effectively help you acclimatize to high altitude with its slow ascend to Tibetan Plateau.
The only direct Nepal-Chengdu flight CA438 departs every day from Kathmandu Tribhuvan International Airport at 14:55 (Nepal Time) and arrives at Chengdu Shuangliu International Airport at 20:30 local time after a 3.5 hours' flight.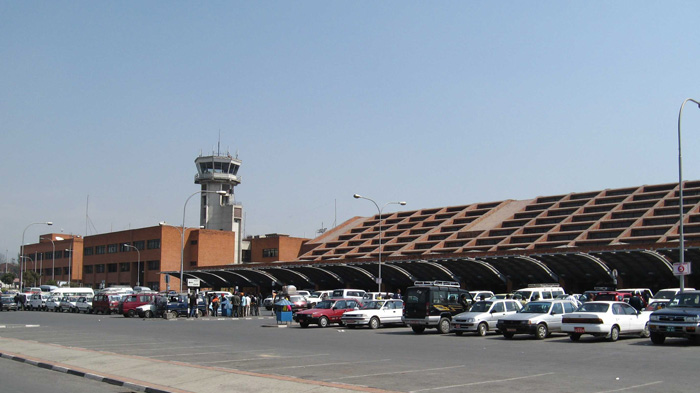 Tribhuvan International Airport in Kathmandu, Nepal
Tribhuvan International Airport is the sole international airport in Nepal. It is located in the Kathmandu Valley about 5km from the city center of Kathmandu and 1km from Pashupatinath Temple. The airport is connected to Kathmandu by city bus, shuttle bus, and taxis. Considering the bad traffic congestion and the lengthy security-check, it is advisable to take a taxi and arrive at the airport 2-3 hours before departure.
The train ride from Chengdu to Lhasa takes 36:18 hours from 21:37 to 9:55 on the third day. Since the Chengdu-Lhasa train Z322 departs every other day and its starting point Chengdu Railway Station is about 30km away from Chengdu Shuangliu International Airport, we are afraid that you need to stay at least one night in Chengdu. If time permits, we warmly suggest you spend more days to explore this famous city before boarding the Tibet train. The Research Base of Giant Panda Breeding, the historic Du Fu Thatched Cottage, the great Dujiangyan Irrigation System, and the delicious Sichuan cuisine in Chengdu will never let you down. - Check the details of Chengdu Tibet train tour packages.
You can just stay at hotels around Chengdu Railway Station because it is located in downtown. And the transportation from the airport to Chengdu Railway Station (also known as Chengdu North Railway Station) is very convenient, you can go there by taxi or metro:
By taxi: It takes about 40 minutes and 75 yuan.
By metro: Take Line 10 at Airport Terminal 1 of and get off at Taipingyuan (太平园), transfer to Line 7 and get off at Chengdu North Railway Station. It takes 50 minutes and 6 yuan.
Alternative easier way: combine Kathmandu to Lhasa overland/flight and Tibet outbound train
Besides entering Tibet from Chengdu by train, you can also drive overland or take a flight from Kathmandu to Lhasa, then take Tibet outbound trains to experience the marvelous Qinghai-Tibet train when the tour ends.
Travel overland from Kathmandu to Lhasa
The overland tour from Kathmandu to Lhasa is one the most epic cross-country adventures in the world. The overland distance between the two cities via Gyirong Port is about 1,000km, usually, it takes 7-8 days to complete the journey and you can experience Tibetan Buddhist culture and appreciate eye-catching scenery such as Mt. Everest when driving through the diverse landscape along the way.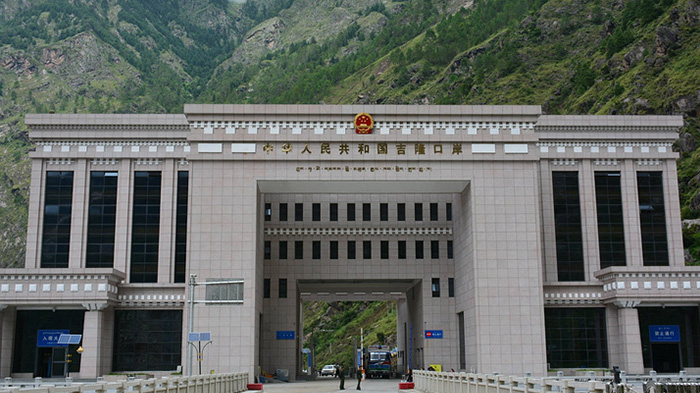 You must pass through Gyirong border if you travel from Kathmandu to Tibet by overland.
Departing from Kathmandu, we will drives north for about 140km to Syabrubesi, a Nepalese town about 15km from Gyirong Port, and stay overnight there. Due to the bumpy road condition, it takes us about 6 hours to reach there. On the second day, after passing the Gyirong Port with the assistance of our Kathmandu staff, you will be greeted by our Tibetan guide. Then we will drive on the asphalt-paved road and stay overnight at the alpine Gyirong Town to adapt to the coming altitude increase.
We will drive through the Gyirong Valley and visit Peikutso Lake on the way to Everest Base Camp. If weather permits, you can appreciate the splendid sunset and sunrise on Mt. Everest. Afterward, you will visit Tashilunpo Monastery in Shigatse, Perklor Monastery in Gyantse, and Yamdrok Lake successively before reaching the holy city Lhasa and exploring the iconic attractions such as Potala Palace, Jokhang Temple, Monastery of Drepung and Sera there.
Take direct flight from Kathmandu to Lhasa
Taking flight is the most convenient and fastest way to get to Lhasa from Kathmandu. The linear distance between Kathmandu (1,370m) and Lhasa (3,650m) is 609km and it takes a direct flight about 1:30 hour to fly from Kathmandu Tribhuvan International Airport to Lhasa Kongga International Airport.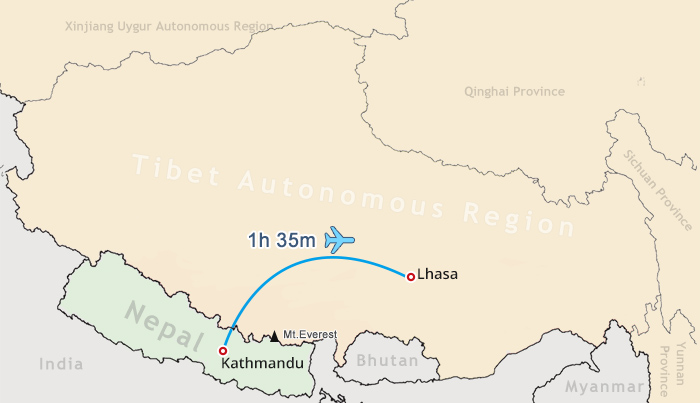 Kathmandu Lhasa flight map
The direct flights from Kathmandu to Lhasa are operated by Sichuan Airlines and Air China, two most experienced airlines in running flights above the high plateau. In peak season, there is at least 1 direct flight, while in the slow season, you can also take 3U8720 operated by Sichuan Airlines at 12:00 (Nepal Time) at Tribhuvan International Airport in Kathmandu and arrive at 15:30 local time at Lhasa Kongga International Airport after about 1.5 hours.
This air journey presents you with the unparalleled panoramic views of the soaring mountains such as Mt. Everest and other majestic peaks of Himalaya ranges. You can see the winding Yarlung Zangbo River clearly when getting close to Lhasa.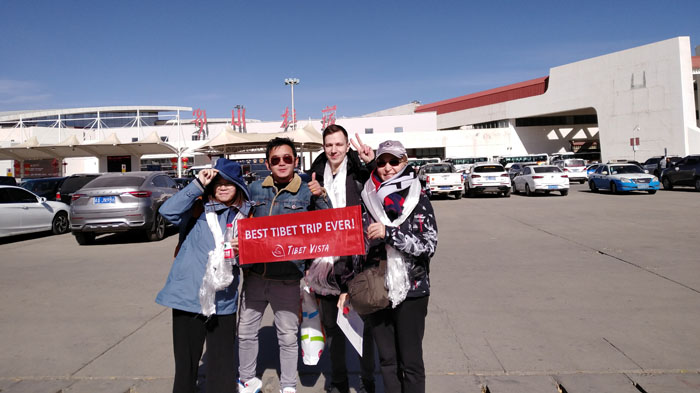 Our Tibetan tour guide will meet you at the Lhasa Gonggar International Airport.
Gonggar Airport is about 70km from the downtown of Lhasa and takes about 1 hour. Upon your arrival, our tour guide will pick you up at the airport and take you to your hotel in downtown. Then you can have a good rest at hotel to adapt to the high altitude before exploring "the Roof of the World".
When the tour ends, you can still take trains out of Tibet to experience the Sky Train and the highest railway in the world. At present, there are at least 7 trains from Lhasa Railway Station to gateway cities such as Beijing, Shanghai, Guangzhou, Chengdu, and Xian, and all the trains will stop over in Xining. That's to say, if you want to experience the Qinghai-Tibet Railway, you can board any of them. The most recommended Lhasa-Xining trains are Z6802, Z918 and Z166 because they depart before noon and will pass by the boundless Qiangtang Grassland, the sacred Cuona Lake, and the Tanggula Pass in the daytime.
Overland travel documents you need
No matter which route you choose, Tibet Travel Permit is always a necessity for international travelers. Tibet Vista can provide 100% guarantee travel permit service for you and deliver the permit to your hotel before your trip.
For foreign tourists who want to travel from Nepal to Tibet by overland/ flight, China Group Visa issued by the Chinese Embassy in Kathmandu will be required at the same time. Different from China Visa, the China Group Visa can only be applied by travel agency on behalf of tourists. Tibet Vista has a Kathmandu-based office and can help you get the needed travel documents.
Conclusion
Nepal has a distinct topography and is the global paradise of hiking, mountaineering, and tropical safari. Even though there is no railway available from Nepal to Lhasa so far, you can still experience the Tibet train via Chengdu, or take trains out of Tibet when the tour ends. We believe that with the completion of China-Nepal Railway, the Nepal Tibet travel will become more and more convenient and wonderful.