Medical Service on Tibet Train
To alleviate the altitude sickness symptom and provide timely treatment for passengers, Tibet trains provide medical service such as passenger health declaration form, emergency button, oxygen supply and medical care personnel.
Health Form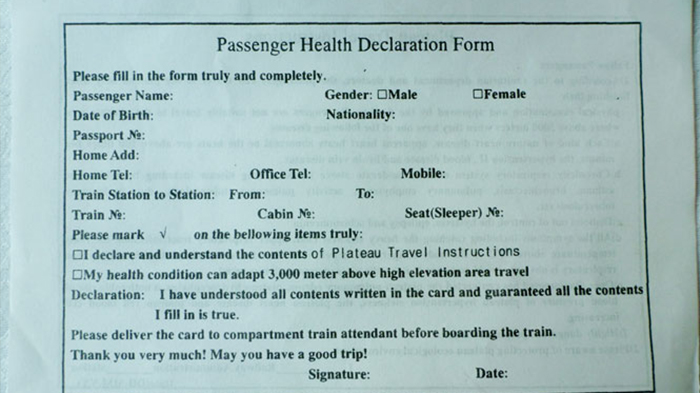 Passengers of Tibet train need to fill in a health declartion form.
Each passenger of Tibet train will be required to fill in a health declaration form to ensure a safe train journey. We warmly suggest you take a physical examination and consult doctor for advice and medicine before heading for Tibet.
Emergency Button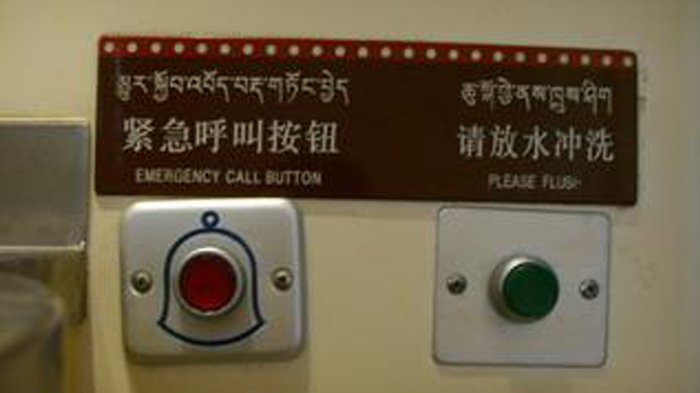 You can also find the emergency call button in toilets of Tibet train.
You can find the emergency button on the wall of each soft sleeper compartment. In the toilets, there are two buttons, the green one is for flushing the used toilets, and the red one next to it is for emergency. When you feel dizzy, sickness or out of breath, press the emergency button and the staff members will come to help you.
Oxygen Supply
The oxygen supply system can effectively reduce the altitude sickness symptom for mass passengers on Tibet train. It can increase the oxygen content of the train's air to about 23% when traveling in high altitude area. What's more, it allows passengers to inhale oxygen by connecting the plastic pipe to the oxygen outlet.
An illustration of how to use oxygen outlet on Qinghai-Tibet train
If you suffer from breathless, you can connect the tube to oxygen outlet. Usually, the oxygen supply works during Golmud- Lhasa section. The train attendants will distribute plastic tube in advance or you can ask them for oxygen tube when needed.
Medical Care Personnel
If you still feel uncomfortable after using oxygen supply, do not hesitate to ask the train attendant for medical service. Professional doctors and trained nurses are available on the Tibet trains. Passengers can get timely but limited first aid on Tibet train.
With the well-done prevention work and medical service on Tibet train, you can enjoy the Tibet train journey and prepare yourself well for the coming once-in-a-lifetime adventure on "the Roof of the World".