Tibet Train Luggage Allowed and Forbidden
Many people opt to take the Tibet train when planning a trip to Tibet due to its convenience and the scenic views along the route. However, it's important to learn the luggage requirements beforehand to avoid any inconvenience while traveling.
Luggage Regulations for Trains to Tibet
There are several luggage restrictions you need to know when you pack for your Tibet train tour.
Luggage Allowed for Trains to Tibet
The regulations for luggage allowance on a train to Tibet state that each adult is permitted to carry luggage weighing up to 20kg, while children are allowed up to 10kg.
The luggage rack on the Tibet train
Additionally, the sum of the length, width, and height of each piece of luggage should not exceed 160cm, and poles should not exceed 200cm in length.
It is permitted to take a clearly marked power bank with a capacity of up to 27,000 mA on board the train.
In terms of sprays, only those less than 120ml are allowed, including sunscreen and pharmacy sprays.
It's also advisable to prepare some food in advance for the long journey, but avoid carrying strongly flavored food on the train as the smell can linger in the closed space.
For those interested in a Tibet cycling tour, it's recommended to bring a folding bicycle as non-folding bikes are not allowed on trains.
Luggage Forbidden for trains to Tibet
Don't carry any dangerous goods that are prohibited by Chinese law, such as fireworks, explosives, flammable materials, unknown chemicals, gas tanks, tubing, and anything that could potentially interfere with the train signal. Sharp objects, like knives, are also prohibited due to safety concerns.
Specific luggage regulations at Lhasa Railway Station
To ensure a hassle-free departure from Lhasa Railway Station, it's important to be aware of the specific luggage regulations. For instance, each adult is allowed 20kg of luggage, while each child is permitted 10kg. Additionally, the total length, width, and height of the luggage must not exceed 160cm, and for rod-shaped luggage, it should not exceed 200cm.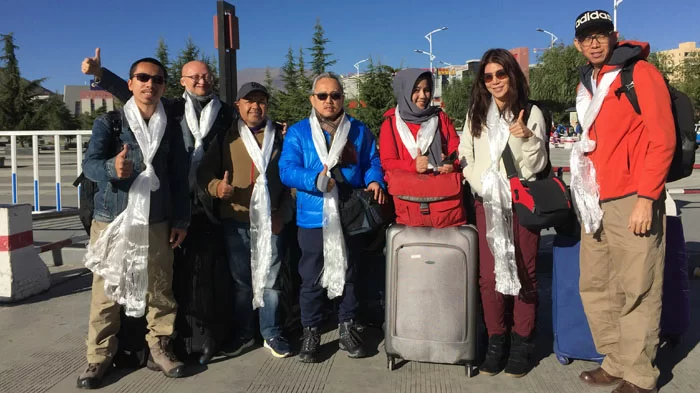 Each adult is allowed 20kg of luggage by Tibet train
During your stay in Lhasa, you can buy some local drinks, like canned Barley wine, but avoid buying too much as you are only allowed to bring a maximum of six bottles on the train. Tibetan beef is also a must-try, and you can bring sealed pastrami on the train.
On the other hand, certain local products like Tibetan knives are prohibited on the train. These items cannot be taken on board, but can be transported to your next destination via express.
Tips for Carrying Luggage during Tibet Train Tours
Keep valuables with you: Always carry important items such as passports, cash, and other valuables with you. It's a good idea to carry a small bag for this purpose.
Don't forget your charger: There may be limited charging points on the trains, so make sure to bring a charger for your electronic devices, such as your phone, camera, or laptop.
Use luggage locks: To ensure the safety of your belongings, it's best to use luggage locks to secure your bags.
Conclusion
When planning a Tibet train tour, it is essential to be aware of the luggage regulations to avoid any unnecessary trouble. You should keep in mind that they are allowed to carry luggage within a specific weight and size limit, and you should also be mindful of the items that are strictly forbidden on the train, such as dangerous goods and sharp objects. By following these regulations and guidelines, passengers can ensure a safe and hassle-free journey to Tibet.
Most Popular Tibet Tour Packages