Is There a High-Speed Train to Tibet from Beijing, Shanghai, Chengdu, Xian, or Other Cities of Mainland China?
While there are seven different cities that maintain a constant rail link with Lhasa in the Tibet Autonomous Region, none of them actually offer a high-speed service direct to the Tibetan regional capital. While it would definitely cut down the travel times from the larger cities in China, such as Shanghai, Guangzhou, and Beijing, the direct trains all run as a normal service.
Trains to Tibet run from seven gateway cities across the country, and are Guangzhou, Shanghai, Beijing, Chengdu, Chongqing, Lanzhou, and Xining. Travel times on these ordinary train services range from 22 hours for Xining, the shortest route to Lhasa, to as much as 55 hours from Guangzhou, the longest journey to Tibet. And while they may not be of the high-speed variety, they are definitely worth traveling on, as the journey to Lhasa by train is an adventure in itself.
What Is the High-Speed Train in China?
In China, high-speed trains are designated as either G-class or D-class, and are known locally as the "gaotie" and "dongche" trains. The gaotie trains are the designated "high-speed" train in China, and run at speeds of at least 250 kilometers per hour (km/h). They run on dedicated high-speed tracks, and can reach speed of up to 350 km/h. On average, the average speed of the high-speed gaotie trains for most journeys is around 300 km/h, overall.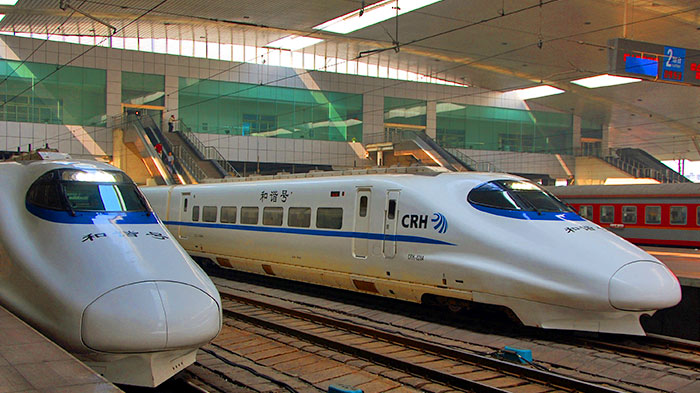 Dongche trains in China
The dongche trains are trains that run at lower speeds than the gaotie trains, and can run on either high-speed or low-speed tracks. The trains are Electrical Multiple Unit (EMU) trains, and have a design speed of up to 250 km/h. On the high-speed tracks, the average speed for most journeys with stops is around 207 km/h, while the average on normal tracks is much slower, around 121 km/h.
There is also a C-class train that sometimes runs on the high-speed tracks, which is known as the "chengji" or Intercity train. Only certain C-class trains have this intercity capability, and those that do have a design speed of around 350 km/h. On most of the high-speed lines, chengji trains can reach speeds of up to 330 km/h, and can average around 226 km/h during journeys with multiple stops.
High-speed trains were introduced into China after a visit to japan by the former Chinese leader, Deng Xiaoping in 1978. However, it proved to be another 20 years before proper high-speed trains began running, thanks to the electrified rails and the Swedish X2000 trains, which reached speeds of 200 km/h.
The high-speed rail network in China is classified into a grid of eight vertical (north to south) and eight horizontal (east to west) lines that connect many of the major population centers of the country. Known as the 8+8 grid, the tracks they follow are:
Verticals
Coastal Passageway - runs via Qinhuangdao, Tianjin, Dongying, Weifang, Qingdao, Lianyungang, Yancheng, Nantong, Shanghai, Ningbo, Fuzhou, Xiamen, Shenzhen, and Zhanjiang.
Beijing - Shanghai Passageway - runs via Tianjin, Jinan, and Nanjing.
Beijing - Hong Kong (Taipei) Passageway - is still under construction, but will run from Beijing to Hong Kong, via Xiong'an, Fuyang, Hefei, Jiujiang, Nanchang, Ganzhou, and Shenzhen. A branch line will also connect to Fuzhou and Taipei.
Harbin - Hong Kong (Macau) Passageway - is a proposed line that will run from Harbin in Heilongjiang Province to Hong Kong and Macau via Changchun, Shenyang, Beijing, Shijiazhuang, Zhengzhou, Wuhan, Changsha, and Guangzhou. The line is a merger of the two existing lines that run from Beijing to Harbin and Beijing to Hong Kong via Guangzhou and Shenzhen.
Hohhot - Nanning Passageway - runs via Taiyuan, Zhengzhou, Xiangyang, Changde, Yiyang, Shaoyang, Yongzhou and Guilin.
Beijing - Kunming Passageway - runs via Shijiazhuang, Taiyuan, Xi'an and Chengdu .
Baotou (Yinchuan) - Hainan Passageway - runs via Yan'an, Xi'an, Chongqing, Guiyang, Nanning, Zhanjiang, and Haikou.
Lanzhou (Xining) - Guangzhou Passageway - runs via Chengdu, Chongqing, and Guiyang.
Horizontals
Suifenhe - Manzhouli Passageway - runs from Suifenhe to Manzhouli via Mudanjiang, Harbin, Qiqihar, and Hailar.
Beijing - Lanzhou Passageway - runs via Hohhot and Yinchuan.
Qingdao - Yinchuan Passageway - runs via Jinan, Shijiazhuang, and Taiyuan.
Eurasia Continental Bridge Passageway - runs via Lianyungang, Xuzhou, Zhengzhou, Xi'an, Lanzhou, Xining, and Urumqi.
Yangtze River Passageway - runs via Shanghai, Nanjing, Hefei, Wuhan, Chongqing, and Chengdu.
Shanghai - Kunming Passageway - runs via Hangzhou, Nanchang, Changsha, and Guiyang.
Xiamen - Chongqing Passageway - runs via Longyan, Ganzhou, Changsha, Changde, Zhangjiajie, and Qianjiang.
Guangzhou - Kunming Passageway - runs via Nanning.
Compared to the normal trains that network the entire country, the high-speed trains make travel between the major cities of China much faster, and by reducing travel times can increase productivity of the railways. With faster trains, more people will use them to travel, and with the improved high-speed network, the trains are once again becoming a popular way of traveling in China.
Can I Take High-Speed Train to Tibet?
Currently, there is no high-speed train that can run all the way to Lhasa, the Tibetan regional capital, and there has been no notification of one being planned. Another railway line is being constructed along the route of the G318 from Chengdu to Lhasa, which will give more options for travel to Tibet once completed and is the only other planned track for the meantime.
For those wishing to travel to Tibet by train, there are several options that you can take to make the journey shorter. The trains from Xining, Lanzhou, Xi'an, Chongqing, and Chengdu, which are the shorter routes to Lhasa, taking between 22 hours (from Xining) to 36 hours (from Chengdu). To get to these prime gateway cities from your inbound destination, you can either choose to fly or take a high-speed train.
How to Enjoy both High-Speed Train and Tibet Train to Lhasa?
One of the easiest ways to get to Tibet when traveling from Beijing, Shanghai, or Guangzhou, the furthest cities for the trains to Tibet, is to take a high-speed train to a closer gateway city and join the trains to Tibet from there. With few travelers to Tibet being very interested in much of the countryside and cities that the trains pass through across China, making that part of the journey shorter is a major benefit for Tibet-bound tourists.
With Xi'an, Xining, and Lanzhou being the closest gateway cities to Tibet, it is possible to connect to the Tibet trains there using high-speed trains, in order to shorten the journey. With the high-speed rail network being so much more improved now, there are trains that run from the major cities to these three gateway cities daily, which can be used to reduce your total trip time.
From Xi'an
For Xi'an, the furthest of the three closer cities, the travel time would be reduced greatly when traveling to the city from Shanghai or Beijing, Chengdu. Currently, travel from Xi'an to Lhasa takes around 30-31 hours, as long as there are tickets. There are no trains that start in Xi'an, and all trains picking up there start their journeys in either Guangzhou, Beijing, or Shanghai. Travel from Beijing to Xi'an by high-speed train uses the open Beijing-Kunming Passageway, and the route to Xi'an from Beijing takes around 5-6 hours. If you want to enjoy both high-speed train and Tibet train journey, you may take high-speed train (dongche) from Chengdu to Xi'an, and it only takes around 3h54min and then take Xi'an to Lhasa train to reach Tibet.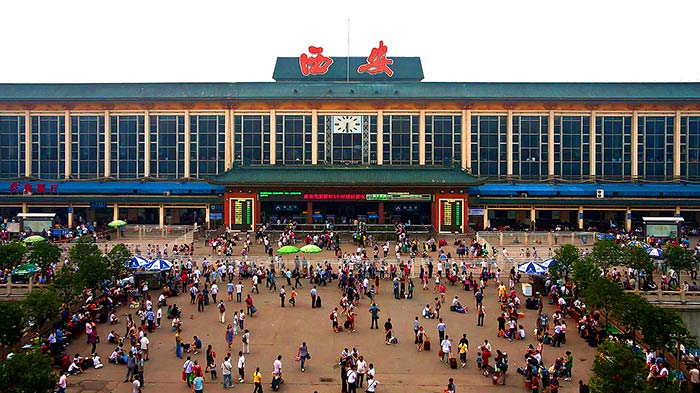 Take Tibet Train from Xi'an
With the trip from Xi'an to Lhasa taking around 30-31 hours, this would put the total train travel time from Beijing to Lhasa to around 35 hours, a five-hour saving on the direct Tibet train. And, there is also the added advantage of having a little time to spend in Xi'an, the ancient capital of China over 13 different Chinese imperial Dynasties. Renowned for the uncovered Terracotta Warriors, as well as its ancient City Wall and the stunning Wild Goose Pagoda, a stopover in Xian for a day or two makes for an exciting addition to your Xian Tibet tour.
From Lanzhou
For those traveling to Lhasa from Lanzhou, the Beijing to Lanzhou Passageway is a proposed direct high-speed line that connects the two cities, traveling via Hohhot and Yinchuan. The high-speed train, traveling at speeds in excess of 200 km/h, is expected to reduce the travel time from over 18 hours to around 7-8 hours. With the train from Lanzhou to Lhasa taking just 24 hours, this would reduce the travel time from Beijing to Lhasa to around 32 hours, not allowing for connecting times.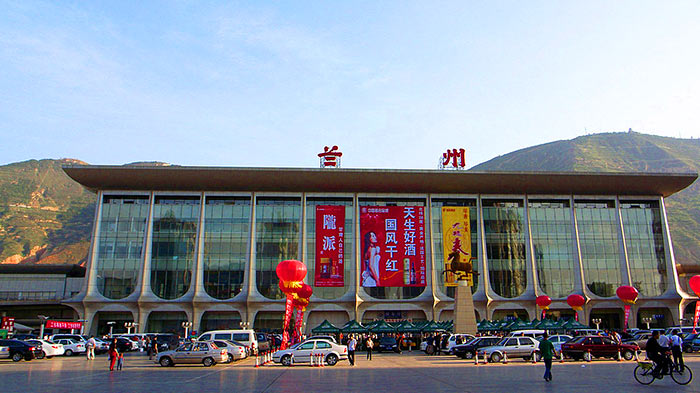 Take Tibet Train from Lanzhou
Currently, the train from Beijing to Lhasa takes around 40 hours of non-stop train travel. However, with Lanzhou being so close to Tibet, and lying on the banks of the Yellow River, this beautiful city is ripe for a few days sightseeing, and is not as tourist-oriented as many of the more popular Chinese gateway cities. Check out the stunning White Pagoda Park, with its massive 13-storey pagoda in the center, or visit the awesome Bingling Temple Grottoes, a series of ancient caves filled with Buddhist statues and paintings.
From Xining
Traveling to Lhasa from Xining by train is the preferred route for most people, as it is the shortest of all the routes, and as most trains leave in the afternoon, it means that when you wake up in the morning, you are just getting to the Tibetan plateau, and the world's most spectacular scenery.
From Beijing or Shanghai, you would first need to travel to Lianyungang, on the eastern coast in order to get the direct high-speed train to Xining, which actually travels all the way through to Urumqi in Xinjiang. Known as the Eurasia Continental Bridge passageway, the route takes around eight hours from Lianyungang to Xining, making the total trip time around 30 hours, the shortest yet.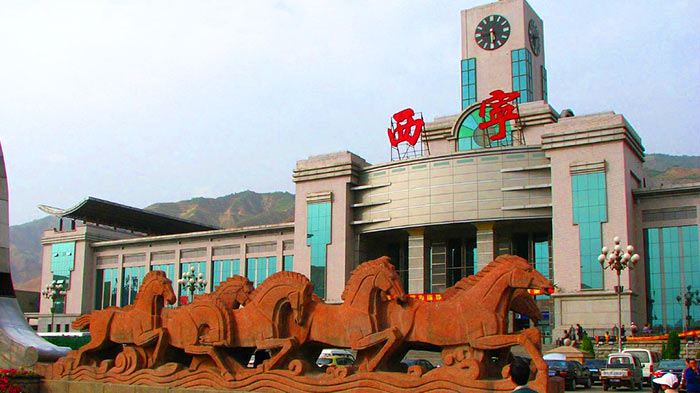 Take Tibet Train from Xining
You can also get a high-speed train direct to Xining from Guangzhou, in the southern Chinese province of Guangdong, close to Hong Kong. While the trip does take around 11 hours to get to Xining, it is still much shorter than the normal Tibet train from Guangzhou, which takes around 55 hours to get to Lhasa. Using the high-speed train from Guangzhou to Xining can cut 20 hours off the total train travel time.
There is also another advantage of taking the high-speed trains to Xining, and then transferring to the normal Tibet train to Lhasa. Xining lies at an altitude of 2,275 meters, which is an ideal altitude to begin acclimatization to the higher altitudes of the Tibetan plateau. Spending a day or two in Xining can help you to acclimatize easier once you reach Lhasa and makes the trip easier with a little break in the middle. See the detailed itineraries of Xining Tibet tour
Most Popular Tibet Tour Packages