Hard Sleeper on Tibet Train
Hard sleeper on Tibet train is very popular because of its lower ticket price, comfortable berth, safe and clean environment. Usually, a hard sleeper costs about two thirds of a soft one and has relatively soft beddings. The sleeper carriage can't be visited by passenger without a relevant ticket and will be swept by cleaners several times a day.
In most cases, a Tibet train has 8-11 hard sleeper carriages and each carriage contains 11 compartments. Each compartment includes 6 berths, a small table, and ladders. You can also sit on the foldable seats with tables at the aisle running down the carriage if you are not ready to climb into bed.
Which Berth Should I Choose: Upper, Middle, or Lower?
The 6 berths in each hard sleeper compartment are: 2 upper berths, 2 middle berths, and 2 lower berths. Each berth is supplied with basic bedding sets including a mattress, a sheet, a quilt and a pillow. Between the two lower berths is a small table on which you can place small items such as boxed food and bottled water. Beneath the table, you can find a thermos bottle to fill hot water and a small dustbin to throw in waste paper etc.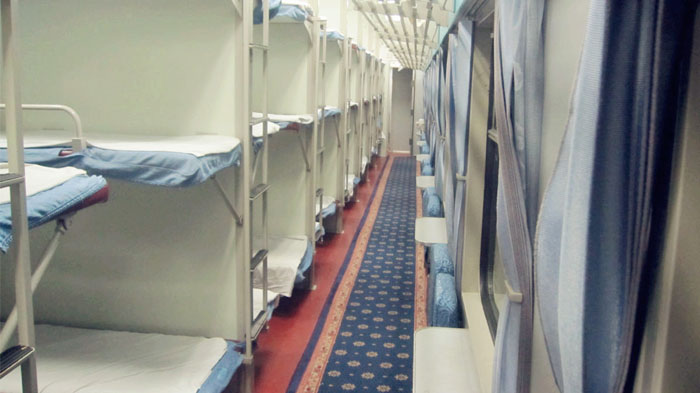 Each hard sleeper compartment has 2 upper berths, 2 middle berths, and 2 lower berths.
Every hard sleeper berth is 60cm (24 inches) wide and 180cm (71 inches) long, and can bear a weight around 300kg (661.4ponds). However, ticket price and travel experience vary for the three kinds of berths.
Upper berth: It is not easy to climb up to the upper berth. With a limited headroom of 65cm (26 inches), you can't sit straight on the bed. However, it is the quietest and cheapest option, suitable for those who are agile and don't want to be disturbed.
Middle berth: Middle berth is the go-between option. With headroom of 70cm (28 inches), it is more comfortable and expensive than the upper one but not as spacious as the lower berth.
Lower berth: This is the only berth allowing you to sit straight (headroom 90cm) and move around conveniently. Though it is a little noisy and the beddings is not as tidy as the other two because passengers from higher berths may sit on it in the daytime, the lower berth is preferred by many travelers especially those travel with kids or elderly despite of its highest price.
Luggage Service in Hard Sleeper Carriage
The hard sleeper carriage has enough room for your luggage. You can put your luggage under the lower sleeper or on the luggage rail above the window of the aisle. The space under lower sleeper is about 30cm (12 inches) high and 60cm (24 inches) wide, while the luggage is about 53cm (20.9 inches) wide. You can put your water flask on the table and put carry-on bag on the berth if you like. However, we still suggest you take valuable belongings with you whenever you go.
Facilities in Hard Sleeper Carriage
Air conditioner: All the trains to Tibet are air conditioned to maintain an agreeable temperature so passengers can enjoy the breathtaking scenery along the Qinghai-Tibet Railway.
Oxygen supply: As the distinctive facility to alleviate altitude sickness when traveling on Tibetan plateau, the oxygen supply on Tibet train can increase the oxygen content of the carriage through air-conditioning system and provide oxygen to individual passenger by connecting a plastic tube to the oxygen outlets around berths and on the wall of aisle. Attendant Room: The attendant room is located at the end of each carriage. You can resort to the train staff there if you need medical service or other assistance.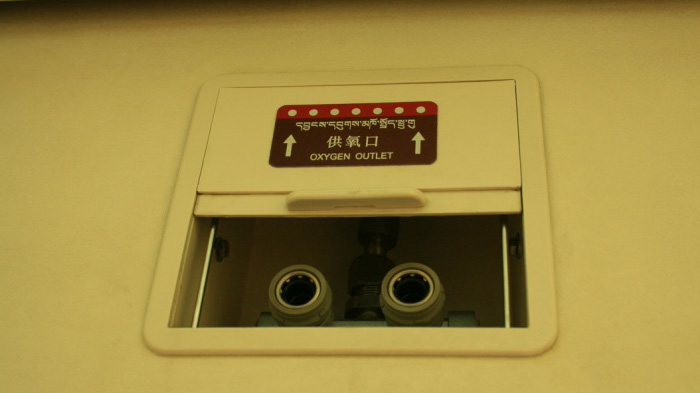 You can find oxygen outlets in sleeper compartment and along the aisle on Tibet train.
Hot water dispenser: The electric water boiler at the end of carriage supplies free boiled water for 24 hours a day. Bring your own water flask and get boiled water when the light on the dispenser turns green.
Lights: According to the schedule, main lights inside the hard sleeper carriage turn off at approximately 10:00pm while aisle lights, toilet lights and light at the connection joint keep on the whole night.
Sockets: In hard sleeper carriage, you can find sockets beneath the compartment table, on the wall of the aisle, and around washstands. Since each carriage can hold up to 66 passengers, we warmly suggest you bring portable chargers. By the way, you can't count on the WIFI on Tibet trains and the cellphone signal is unstable when traveling through mountainous areas.
Toilets: Toilets in hard sleeper carriage are squat style and are located at the end of each carriage. Passengers can push the "Flush" button on the wall every time after using it, and cleaner will come to clean it from time to time.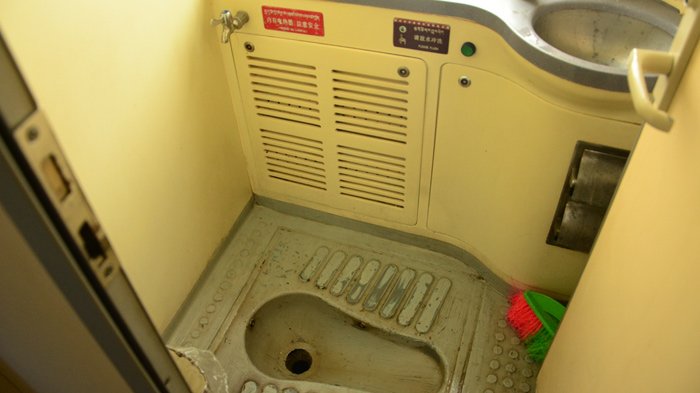 Chinese style bathroom
Washstands and large trash can: Both of them are adjacent to toilets. You need to bring your own towel, wet paper tissue and toilet articles. The trash can will be emptied by train attendant once it is full.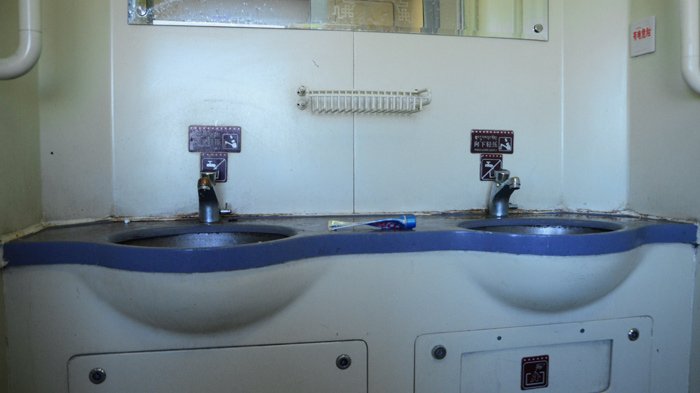 Public Sink Area
Which Kind of Ticket Fits Me Best: Hard Sleeper or Soft Sleeper?
There are three types of tickets on Tibet train: the hard seat, the hard sleeper and the soft sleeper tickets. Since the Tibet train journey is really long, most travelers prefer the sleeper tickets.
Both the soft sleeper and hard sleeper are soft and comfortable. Generally speaking, besides the ticket price, the main difference between them is that hard sleeper compartment has 6 berths in 3 levels, while soft compartment has a sliding door and 4 berths in 2 levels.
Price list of Tibet trains
Train Number
Departure
Arrival
Duration
Distance
Frequency
Ticket Price
Z322(Chengdu-Lhasa)
Chengdu West(21:08)
Lhasa (10:24)
37:16hrs
3,070km
Every other day
¥627.5
¥997.5
Z223(Chongqing-Lhasa)
Chongqing West (22:03)
Lhasa (10:24)
36:21hrs
3,030km
Every other day
¥627.5
¥997.5
Z6811(Xining-Lhasa original)
Xining (21:50)
Lhasa (19:56)
22:06hrs
1,956km
Every other day
¥495.0
¥781.0
Z917(Lanzhou-Lhasa)
Lanzhou (08:55)
Lhasa (11:17)
26:22hrs
2,188km
Every other day
¥522.0
¥823.0
Z21(Beijing-Lhasa)
Beijing West (19:55)
Lhasa (12:29)
40:34hrs
3,757km
Daily
¥720.0
¥1144.0
Z264(Guangzhou-Lhasa)
Guangzhou (10:32)
Lhasa (16:56)
54:24hrs
4,980km
Daily
¥876.0
¥1490.0
Z164(Shanghai-Lhasa)
Shanghai (20:02)
Lhasa (18:46)
46:44hrs
4,373km
Daily
¥793.5
¥1262.5
Notice: The ticket prices above are the net prices. In reality, since the demand for Tibet train ticket far exceeds the supply, to successfully book the train ticket for you, an additional service fee is involved. However, we will manage to secure the ticket and ensure you a seamless Tibet train journey.
If you are agile and want a closer distance with others especially local Chinese, the economical hard sleeper is a great choice for you. What's more, since there are about 600 hard sleeper berths in one train, so the tickets are relatively easier to be reserved.
Travel Tips on Tibet Train
Tibet Travel Permit: Tibet Travel Permit is needed for collecting the train ticket and boarding the Tibet train. Once you book the train ticket with us, we will guarantee to get the Tibet permit for you. We will deliver the permit to your hotel or any other place you prefer in China. For some emergency circumstances, we can hand it to you personally at the railway station before your train trip.
We provide 100% guarantee Tibet Travel Permit service.
Berth token: Soon after boarding the train, you will be requested by the train attendant to exchange the hard sleeper ticket to a berth token. The attendant will walk to your berth and return your ticket when the train approaches your destination. So please keep the berth token and don't throw it away, you also need to keep your ticket because it will be checked when exiting railway station.
Food and Drink: You can pay cash to get 3 meals from dining carriage in the middle of the train or from the trolley pushed in by train staff during the mealtime. You can also bring instant noodles, snacks, and beverage on your own.
When you are in a hard sleeper compartment, you can chat with fellow travelers and see many locals, sit at the aisle to appreciate the scenery or have a rest on the bed. The train climbs up to Tibetan plateau gradually, giving you more time to adapt to high altitude and preparing you for your coming legendary trip on the Roof of the World.
Don't hesitate to share your travel plan with us, as the only Lhasa-based travel agency with offices in Lhasa, Chengdu, and Kathmandu, we can book the train ticket, apply for the Tibet Travel Permit, arrange the most suitable itinerary and offer a satisfying Tibet tour for you.