Bathroom on Tibet Train
Toilets on Tibet trains are not as dirty as many people thought to be, they are flushed after use at the press of a button and cleaned regularly by the train attendant. There are two toilets and public washing sinks areas at the ends of each carriage on the Tibet train.
Toilets on Tibet Train
In soft sleeper carriage, at one end is a Chinese-style toilet (squat type) and at the other end is a Western-style toilet (seat type). While in hard sleeper carriage, both toilets are squat type. Toilets for the disabled are also available on Tibet train.
Video of toilets on Tibet train
The red sign on the toilet door means the toilet is occupied while the green sign means vacant. You can also know the toilet status from the small LED boards hung on the ends of each carriage. "有人" means occupied, while "无人" means vacant. Avoid using toilet when the train is coming to the station because it will be locked by the staff member.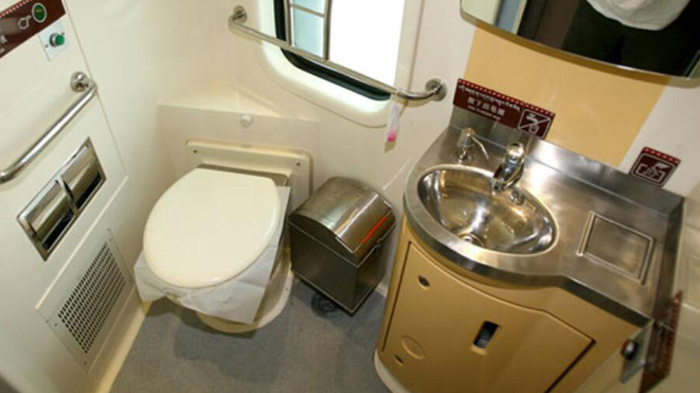 Soft sleeper carriage has one Western style toilet and one Chinese style toilet.
Inside the toilet, there is one water basin, one dustbin, a green flush button, and a red emergency button. You can push the green button to flush the toilet after using it. If you feel sick or need medical service, just push the red button to seek help and the staff members will come. Toilet paper may be available at the beginning but will be used out soon, you'd better bring your own tissue or toilet paper in case you need.
Hard sleeper carriage has two Chinese style toilets.
Public Washing Sinks
Public washing sinks are adjacent to the toilets, and the train attendants always keep the sink areas reasonably clean. Each sink area is equipped with 2-3 sinks which have push type faucets and supply room-temperature water. A big mirror on the wall can be used for shaving and makeup, and you can put small items on the shelf in case it gets wet.
Video of public washing sink area on Tibet train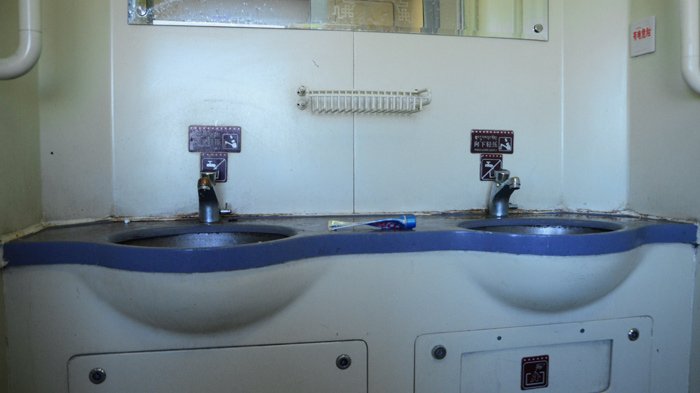 Public washing sink area is adjacent to toilet.
The sink area is always busy in the morning because it is shared by all passengers. It is better to buy a towel at a supermarket before you get on the train for there is no toiletries and hygienes supply on Tibet train.
Unlike the conventional thought that the bathroom facilities in the train are often filthy, the facilities on the Qinghai-Tibet trains are clean and well-designed, they can meet the demand of passengers and ensure a pleasant Tibet train journey.