FAQs on Altitude Sickness When Taking Train to Tibet
1. Can Train to Tibet help you to release the symptom of altitude sickness?
It is said that train to Tibet can help you adapt to the high altitude slowly by the smoothly ascending elevation; of course, it works but this is not absolutely correct. Because when a train goes through Qinghai-Tibet Plateau, the air pressure inside train is not as low as the outside as the cars are always close.

The altitude is displayed in the train.
In addition, Oxygen will be fulfilled the cars after passing Golmud. Actually, the passengers live in a different environmen from the actual plateau environment outside; it does not help you too much in acclimating.
In our experience, the major purposes for travelers taking a train to Tibet are the cheap price and to experience the famous train itself. Therefore, you may consider taking a train leaving Lhasa after your Tibet tour in peak travel season when the tickets booking for going into Lhasa trains are too busy.
2. What kind of diseases is dangerous for passengers who take the train to Tibet?
According to the sanitarian department and doctors, the passengers can travel to Tibet only after, finishing their physical examination and being approved by the doctors.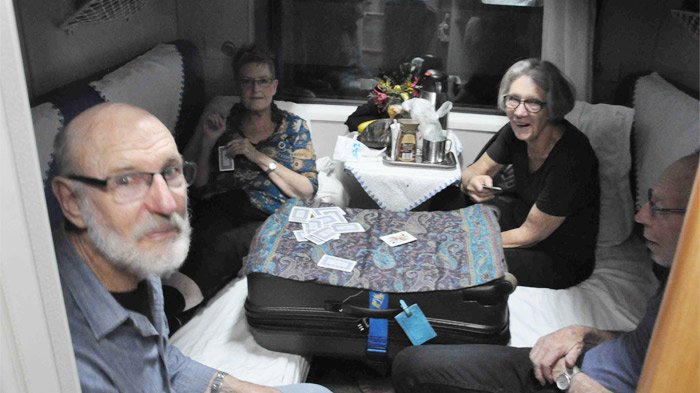 Physical examination the passengers can travel to Tibet
Passengers do not suitably travel to the plateau area where above 3,000 meters when they have one of the following diseases: Each kind of nature heart disease, apparent heart heat abnormal or heat above 100 times per minute, hypertension II, blood disease, and brain vein disease. Chronicity respiratory system disease moderate above blocking lung disease including bronchia tube asthma, bronchiectasis, pulmonary emphysema, activity pulmonary tuberculosis, dust pulmonary tuberculosis, etc.
3. Does the Tibet Train supply Oxygen?
Being warmly considerate of the Oxygen supply, Tibet Train offers two sets of the Oxygen supply system. One is full cabin Oxygen supply, the other is private Oxygen supply.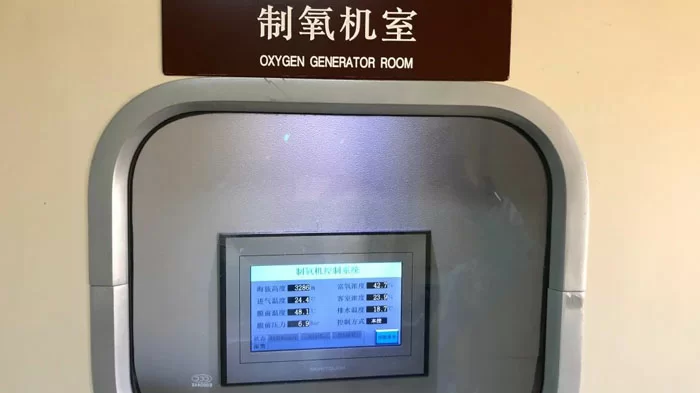 Tibet train oxygen generator room
When Tibet Train heads its way up to the Qinghai-Tibet Plateau Zone, Oxygen begins to emit to the whole cabin by the temperature and air pressure controlling system, it mostly releases the difficulty of traveling at such a high altitude, like headache, out of breath inside Oxygen filled cabins. The altitude, temperature, and driving speed are shown on each cabin as well.
Private Oxygen masks are provided to every passenger whatever tickets you have. In a sleeping berth car, you can find Oxygen Supply tubesand masks in each cabin for an emergency.
The air pressure inside the train is automatically controlled to make you feel as traveling in a low altitude zone. More than these conveniences, the glass window of Tibet Train is designed to anti-ultraviolet rays.
In a conclusion, Tibet Train is such a train full of caring, known as the best Train exploring the roof of the world.
4. Is there first aid provided when passengers suffered from high altitude sickness or other diseases?
The thoughtful Tibet Train staff provide temporary medical service, so passengers can get first aid on the train whenever they need it.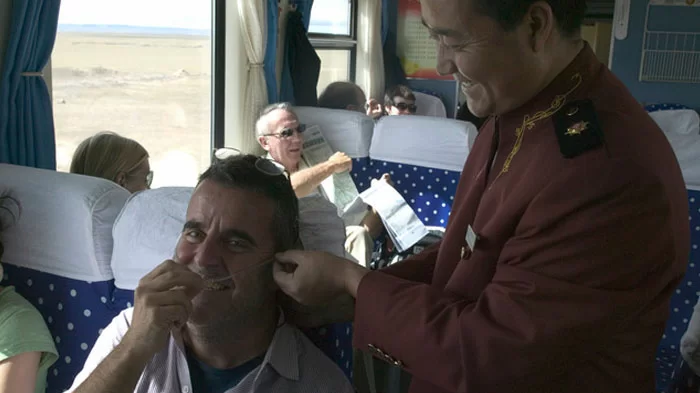 Private Oxygen masks are provided to every passenger in Tibet train
Conclusion
Taking the train into Tibet was once considered the best way to ease altitude sickness. In fact, the specially designed Qinghai-Tibet trains equipped with oxygen supply systemsturn on the full oxygen supply after passing through Golmud, allowing passengers to stay in a relatively comfortable environment that is different from the plateau environment outside. Some passengers may still experience mild altitude sickness on the train, and the separate oxygen supply tubes and doctors on the train can help you.
There is no need to worry too much about altitude sickness. Please relax and give your body enough time to adjust to the increased altitude.
However, if you have some cardiovascular diseases and other illnesses that are not suitable for traveling to high-altitude areas, it is not recommended to travel to Tibet.