Of all the means to Tibet, nothing beats the scenic ride on Tibet train, an engineering marvel dashing on Qinghai-Tibet Railway. As a prestigious local Tibet travel agency and the long-time partner with China Railway, we handcrafted the best Tibet train tours for you.
You may easily combine your Tibet train journey from the most popular gateway cities to Lhasa. The reliable train ticket booking and Tibet Permit service, together with expert local leaders, a wide choice for hotel booking and diverse local encounters, will promise you a journey of a lifetime in holy Tibet.
Best Tibet Train Tour Packages
Based on decades of Tibetan train tour running experiences, we handpicked the top 4 Tibet train tour combos for you. You can explore the modernity of Chinese metropolitan cities like Beijing and Shanghai or trace the glorious ancient history in Xi'an or Chengdu, then hop on the epic Tibet train to unveil the incredible Tibetan landscapes and mystery of Tibetan Buddhism. We help you secure Tibet train ticket and Tibet travel permit and guarantee a hassle-free Tibet train tour experience throughout the journey.
Major Gateway Cities to Tibet by Tibet Train
Overall, there are 7 major gateway cities to Lhasa by Tibet train, i.e. from Beijing, Shanghai, Chengdu, Xining, and Guangzhou, Chongqing, Xi'an. Each city has its distinctive city vibes and exotic culture for you to explore before taking a Tibet train to Lhasa. Check the latest train schedule from different cities below and match your interests with the most ideal Tibet train journey.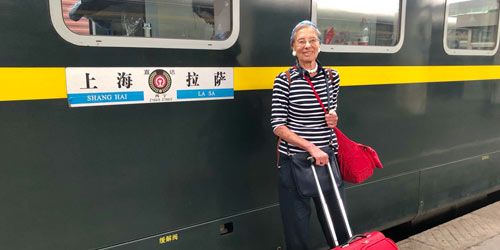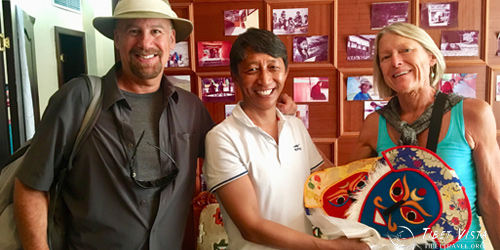 What Makes Us Different?
Award-winning local Tibet travel agency, with offices in Lhasa, Chengdu and Kathmandu; never use a third-party contractor;
A long-time partner with China Railway, promising reliable Tibet train ticket booking &Tibet Travel Permit, etc.
Decades of Tibet train running experiences with the highest No. of favorable reviews on Tripadvisor;
The widest choice for Tibet train journey from major cities across mainland China;
Multiple options for an extended tour from Tibet to Nepal, Bhutan and other Chinese cities.
FAQs about Planning a Tibet Train Tour
1. Can you book the Tibet tran ticket yourself?
Theoretically, it can be done if you can understand Chinese and have a Chinese bank account and know how to pay online by Alipay or WeChat. However, in reality, we highly suggest that you secure your Tibet train ticket by using our booking service.
In this case, it can save your time and effort. And most importantly, since the supply of train tickets from popular cities like Beijing, Shanghai, Guangzhou, Chengdu, Xi'an, and Xining is below the market demand, so it's very like you might fail to purchase it, esp. during the peak travel season like May to Oct.
2. Is it safe to travel by train to Tibet, esp. as to altitude acclimatization?
Yes, it's perfectly safe. In fact, compared with traveling by overland or flight, Tibet train is the safest and most cost-effective and punctual way to reach Tibet. The train is expertly-designed to withstand the harsh environment when running on lofty Tibetan Plateau.
The cabin is air-tight, with automatic oxygen supply as the train climbs over high mountain passes. The staff will patrol each cabin sporadically to make sure passengers can enjoy their travel. To most travelers, the whole process of traveling by Tibet train to Lhasa. Free of worry, actually. - Check expert's tips to avoid acute altitude sickness.
3. What part of the train ride has the best view?
The journey from Golumd to Lhasa unfolds the best view during the entire train ride. You will be able to enjoy snow-covered Yuzhu mountain, gobi desert, shimmering Tuotuo River and vast grassland dotted with grazing yaks, towering Kunlun Mountains, Tanggula Mountains (at an elevation of more than 5000 meters), Amdo prairie, Cuona lake on Nagqu prairie, and Damxung prairie, etc.
4. What can you eat aboard Tibet train, veggie friendly?
Even traveling in Tibet train, you still have many options. A dining car is available on the train. If you want to enjoy some formal Chinese dishes, like Kung Pao Chicken, Ma Po Tofu, dumplings and Yangchow fried rice, tomato and egg stir fry, noodles or vegetable soup, including veggie-friendly dishes as well. Each dish costs around 20-50 RMB.
If you don't want to go to dining car, you may also wait for the staff who will push a food trolley during mealtimes and you can buy the boxed food and instant noodles, soft drinks and snacks. For breakfast, eggs, bread and milk, and bread and pickles are available usually packed in a boxed meal.
5. Can you have shower in Tibet train?
Well, the Tibet train is not equipped with showering facilities. However, both Chinese-style squat toilet and western toilet and sink are available in Tibet train. You can also fetch boiled water from the water dispenser.
6. Soft sleeper vs hard sleeper, what is the difference?
Both two sleepers are the major train cabins in Tibet train. However, there are a number of differences. Firstly, as to price, soft sleeper ticket costs more than a hard sleeper ticket. Secondly, a soft sleeper cabin only accommodates 4 passengers while hard sleeper cabin accommodates 6 passengers. In this case, soft sleeper is more spacious and offers more privacy. Third, soft sleeper cabins are better equipped than hard sleeper cabin, for example like a LED TV, a door and quality comforter, hangers, etc. Fourthly, in most cases, it's much easier to book hard sleeper tickets, esp. during peak travel season of Tibet tour.
So, if it is a family visit or travel for couples, we suggest you book an entire soft sleeper. If a student with a limited budget, a hard sleeper is also a cost-effective option. And though being called a hard sleeper, the bunk is not that hard. Meanwhile, it's a great chance to meet new friends.
7. Can you get off train midway for dightseeing and later reboard the train to Tibet?
Well, you can't do so. For example, If you board the Beijing-Lhasa train and get off at a railway station before reaching the final destination for a couple of days' sightseeing. Your previous train ticket would become invalid. You need to buy a new train ticket to reboard the train bound for Lhasa.
8. Why I should take the Tibet train to visit Tibet?
Qinghai-Tibet railway (the total length is 1956 kilometers) stretches from Xining in the east and Lhasa in the south, which likes a huge dragon spanning the Qinghai-Tibet Plateau. Known as the "Sky Road", Qinghai-Tibet railway is also a marvel in the history of human engineering and construction. A section of 960 kilometers of railway is more than 4,000 meters above sea level, and 550 kilometers is permafrost. The highest elevation of the railway across Tanggula Mountains is 5072 meters, and it is a plateau railway with world's highest elevation, longest distance on permafrost, and world-class difficulty.
Therefore, this legendary railway has attracted millions of tourists both at home and abroad to Tibet since the opening in 2006. Qinghai-Tibet railway journey itself is a wonderful experience, so it has become the preferred means of transportation to travel to Tibet. Every year, the number of tourists who take train to Lhasa equals to that of taking a flight.
9. What to see during the Tibet train journey?
In addition to experiencing Qinghai-Tibet train running on the snow-covered plateau, you can enjoy a visual feast of stunning natural landscapes of Qinghai-Tibet Plateau. Most scenic spots center around the last section of the Qinghai -Tibet Railway, namely from Kunlun Mountains to Damxung prairie. At dawn, starting from Golmud Railway Station, the train will pass towering Kunlun Mountains, Tuotuohe- the source of Yangtze River, Tanggula Mountains (at an elevation of more than 5000 meters), Amdo prairie, Cuona lake on Nagqu prairie, and Damxung prairie. Finally, you will arrive in Lhasa at dusk.
10. When to go and how to plan a Tibet tain tour?
The golden travel season of Qinghai-Tibet railway tour is from May to October, especially in summer with charming scenery on prairie, while you can only see vast snowfields and withered pasture along the way in winter, from November to April. The biggest advantage of taking a train to Tibet is fairly economical compared with flying to Tibet from inland china, as the cost is only about 1 / 2 to 1 / 3 of the flight. You can take Qinghai-Tibet train to Tibet from Chengdu, Beijing, Shanghai, Guangzhou, Chongqing and Xi'an, which takes 36 to 45 hours and you will spend two nights on the train. The nearest city to take Qinghai-Tibet train is Xining with only 24 hours and budget costs, but air tickets from other big cities to Xining should be taken into account. Besides, Qinghai-Tibet Railway extends westward from Lhasa to Shigatse, the second largest city in Tibet in 2014, which provides another means of transportation for tourists in Tibet.
If you are planning to enjoy a Tibet train tour, yet have no ideas of how to sort it out the details, no worries! We would like to hear your tour plan and offer free professional consultancy and viable solutions. Please feel free to contact us.
Tell Us your Travel Plan
All Tibet Tours Catergories
By Destination

By Interest

By Entry Cities

By Customer Types