Planning a Tibet Tour With Us in 2022
With the opening of Gyirong Port, Sino-Nepal overland border,2022 Tibet tour must be a even more exciting one. Apart from taking flights and Tibet train to Lhasa, you've got more options to access Tibet.
We offer you the one-stop tour serivce from China to Tibet (TAR) and Nepal. So, What are you waiting for now? Do book your ideal Tibet tour ahead of time. In this way, not only can you enjoy loads of discounts but unexpected bonuses. From Tibet Permit application to flight and Tibet train booking and actual day-to-day tour in Tibet, we will do our outmost to bring you an once-in-a-lifetime experience in Tibet.
Select to Join in Our Tibet Small Group Tour in 2022
We kindly list the schedule of small group tours in 2022 below. Simply by clicking on each month, the highlighted Tibet tours will be shown. Find your ideal tour that matches your timing best. Insider Tips: As a common practice, Tibet tour is not available from mid-Feb to entire March for international tourists. The high season starts from April to Nov, while Dec. to mid-Feb next year would be the off-season and winter season as well.
Not found the date and itinerary that fit in your interest? Just feel free to tell us your rough idea of long-waited Tibet tour, and our pro travel consultants will work with you to sort out the details FOR FREE.
Tell Us your Travel Plan
What Makes Us Stand Out from Others
Nothing matters more than choosing the reliable Tibet tour operator with superior one-stop service. The following comparison will show you what makes us stand out from other Tibet tour operators.
Tibetan-owned Company: our headquarters is established and located in Lhasa with a team of 30 Tibetan guides, all of whom have over 5 years' experience. Besides, we have a branch located in Chengdu to help our clients book Tibet train and flight tickets.

Guaranteed Tour: No matter what date you want to join in a Tibet tour, we can fit you in.

Customer Manager: Kunga, with more than 30 years' guide experience, will be at your service 24 hours from the start to finish.

Authentic Experience: Pay more attention to interaction and activities with local communities rather than just tour. Like visiting Tibetan Village, Hanging Praying Flag, dining in Tibetan Tea House, etc. (based on different tours)

Tourist-friendly care: To help clients enjoy a pleasant trip, we provide the Oxygen tan and tent, pulse meter, etc.

No forced shopping tour and hidden cost: this is why we never quote the lowest price.

Responsible Travel: we install the concept of eco-travel for our clients; show our clients how to protect the fragile environment and culture of Tibet
Our Traveler's Video Reviews
Facts speak louder than words. Find out how our clients talk about Tibet Vista's tour service and their once-in-a-lifetime in Tibet.
How to Get to Tibet? By Train, Flight or Overland from China Major Cities or Nepal
Travelling to Tibet is easy. So far, the easiest way to reach Tibet is by take international flight from Kathmandu to Lhasa. Other than that, international tourists need to firstly fly from your country to Chinese gate cites like Beijing, Shanghai, Chengdu, XI'an, Guangzhou, Xining, Chongqing,etc. then either take Tibet train or domestic flight to reach Lhasa. We can help you get the Tibet Permit first and book the flight or Tibet train ticket to Tibet. Of course, if you have enough time, travelling to Tibet via various overland travel routes is also a great option.
Most Popular China or Nepal Tour Packages including Tibet
With time permitting, it's advisable for to have epic overland journey from other cities of mainland China to Tibet Autonomous Region and all the way to neighboring Nepal. We offer one-stop service for China Tibet Nepal tour. Please check the Popular China Nepal and Tibet Tour Packages below.
When is the Best Time to Visit Tibet?
When is the best time to visit Tibet? Different strokes for different folks. Normally, the high season of Tibet tour starts from April to Oct. And off season lasts from Nov to mid-Feb next year. The entire March is not available for Tibet tour for international tourists. Check the following calendar to choose the perfect timing for your Tibet tour.

We Guarantee You the Tibet Travel Permit in 2022 FOR FREE
Tibet Travel Permit is a must for Tibet visit. As long as you book any of our Tibet tour itineraries, we promise to help you get Tibet Travel Permit for free, with 100% guarantee. Do work with us to apply for your permit as early as 20 days before your departure for Tibet.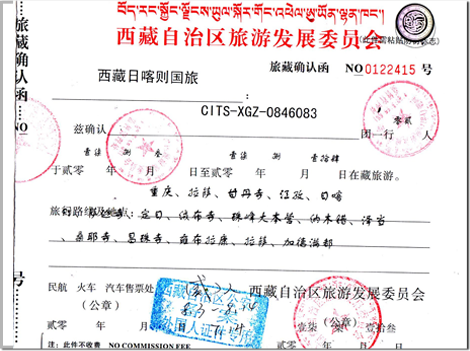 What is Tibet Travel Permit?

Tibet Travel Permits (or Tibet visa) are the necessary documents required for a tour to Tibet in addition to Chinese visa. Tibet Travel Permits vary according to the places that travelers plan to visit, but the most basic one is the permit issued by Tibet Tourism Bureau. It is required as a must entry pass to Tibet for every foreign traveler.

How to Get Tibet Travel Permit?

a. Book a Tibet tour with Tibet Vista;

b. Send passport and Chinese Visa copies and your occupation to us;

c. We will apply for and deliver it to your entry cities in China.
Get Started -
You're getting closer to your dream Tibet vacation! Fill out this form so our travel designers can start helping you plan a trip.
Privacy Policy: Your information is kept strictly confidential. Tibet Vista will never sell, trade, or give away your contact information to a third party.