Tour Tibet in January and February
------Experience Authentic Tibetan Culture
Though January and February are always regarded as the low season of Tibet tourism due to the cold weather, it is a great time to experience Tibetan culture and local customs. At the beginning of the New Year, Tibetans celebrate their harvest of the last year and pray for a better life and harvest in the new year in Tibetan New Year Festival.
Besides, tourists can enjoy considerable discount in all aspects. Hotels would offer discounted prices that are 30%-50% of their price in high season. Well equipped heating conditions in good hotels are also available. Airlines and tourist sites in Tibet also provide considerable discount in winter.
Thick sweaters and down jacket should be prepared in advance. The temperature would be relatively higher in the noon for the strong sunshine, but it would drop rapidly at night. Tourists are not advised to take off your clothes even you feel hot so as to avoid catching a cold, which might cause or worsen altitude sickness.
Besides, tourists are highly suggested to drink enough boiled water for the required water replenishment. and observing Tibetan pilgrims doing ritual can be very pleasant. But warm clothes are still necessary.
Jan:-15℃ ~ -5℃

Feb:-15℃ ~ 4℃

Jan:-9℃ ~ 7℃

Feb:-6℃ ~ 9℃

Jan:-12℃ ~ 3℃

Feb:-11℃ ~ 4℃

Jan:-21℃ ~ -8℃

Feb:-27℃ ~ -10℃

Jan:-10℃ ~ 7℃

Feb:-7℃ ~ 9℃

Jan:2℃ ~ 19℃

Feb:4℃ ~ 19℃
Tibet Small Group Tours Available in Jan. and Feb. to Join
Most Popular Private Tibet Tour Itineraries for Traveling in Jan. and Feb.
FAQs about Tibet Tour in Jan. and Feb.
Will it snow often in Jan. and Feb.? And where to enjoy snow in Tibet?
Snow in Tibet depends on where you are. Lhasa does see snow in winter, though normally it is only a light dusting that barely covers the ground. In some years the snow can be heavier though, and it is really pot luck for heavy snow in the capital. However, across most of central and western Tibet, January and February are ideal for seeing snow on the plateau.
How about the road condition in winter? What should I do if the road is blocked by heavy snow?
Many of the major roads in Tibet in the winter months are still fairly clear of snow, especially around Lhasa. With better road conditions across the plateau, it is still possible to travel all the way to EBC without getting stuck in snow.
However, there are some routes that may be blocked by snowfalls, especially on the higher passes. These are normally the colder areas, such as the pass over the Nyenchen Tanglha Mountains to Lake Namtso, and the road to Ngari and Mount Kailash. The pass at Drolma La, on the Kailash Kora trek, is usually blocked by snow in the depths of winter.
Is it too cold to visit Tibet in winter? And what to wear?
While temperatures in the region can drop as low as -15 degrees in the most remote places, the major tourist destinations are normally sunny in the daytime, with temperatures above freezing. In Lhasa, it can reach up to 7-8 degrees, while in Shigatse, 6-8 degrees is normal. Even at EBC, you can expect to see temperatures as high as 4-5 degrees during the daytime. You should plan on bringing warm clothing for the trip, and layers to help you keep warmer more easily. Down or fleece jackets are a must, and you will need to have warm hats and gloves, as well as thick socks and long underwear.
Will Tibet hotels provide heating in winter?
If you are staying in Lhasa, Shigatse, and the busier and larger towns in Tibet, you can expect to have heating in the hotels. Many of the hotels have air-conditioning for heating throughout the year, and only the more remote and lower quality establishments will not have heating. Monastery guesthouses and tent guesthouses, such as at EBC, often have no heating to keep you warn at night.
What are the best festivals to enjoy in Jan. and Feb.?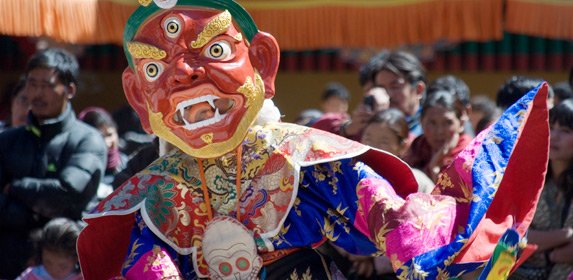 The Tibetan New Year, also known as Losar Festival, is the most important festival on the Tibetan calendar. Based on the Tibetan Calendar, annual New Year celebration begins on December 29 and lasts 2 weeks.Tibetan New Year offers the travelers a great opportunity to enjoy the annual festive occasion with local Tibetans.
During the festival, people celebrate by some ancient ceremonies which represent the struggle between good and evil. Lamas are chanting and passing fire torches through the crowds. People perform the dance of the deer and amusing battles between the king and his ministers, and so on, people are cheering for the coming new year by dancing, singing, and merrymaking.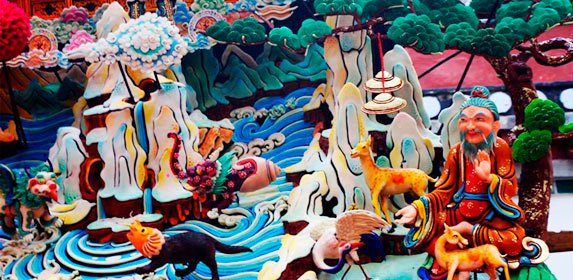 An annual exhibition of butter sculptures was held in celebration of the Chinese Lantern Festival in Taer Monastery, a prominent monastery in northwest China's Qinghai Province. With delicate handmade yak butter sculptures, the exhibition has attracted up to 150,000 masses and visitors from all ethnic groups on Chinese Lantern Festival, the climax of Chinese New Year celebrations on the 15th day of lunar January.
The Tibetan butter sculpture has derived its name from yak butter, which is sculpted into various shapes such as Buddha, religious characters, landscapes, pavilions, animals, flowers and trees.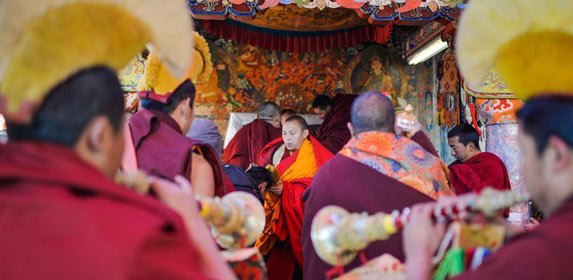 Sera Bengqin Festival is a traditional religious event and it is annually hold four days before Losar in the Sera Monastery in the northern suburb of Lhasa (Lhasa is the capital city of southwest China's Tibet Autonomous Region). And the ritual has been held exclusively at Sera Monastery for centuries since it was first initiated in the 17th century.
As a tradition, the pilgrims held pure white hada, a traditional scarf, in hand and prayed while moving slowly in the kilometer-long line outside of the monastery. They eventually proceeded to the Vajra Pestle, a treasure of the monastery, for the blessings. The Vajra Pestle was originally a weapon from India and it was introduced as a Tibetan Buddist ritual instrument in the late 15th century.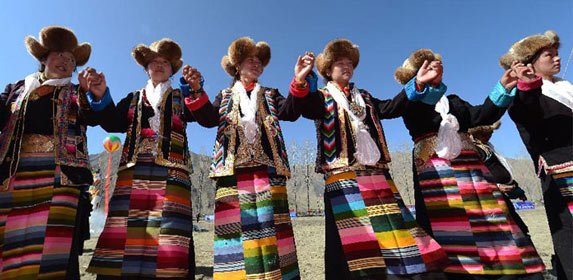 A saying says that the whole year's work depends on a good start in spring. Thus, Spring Sowing Festival in Tibet is an important traditional festival for Tibetan farmers. Tibetan Spring Sowing Festival will be held on an auspicious day in the first month of New Year for the celebration of the calf tying to plough for the first time.
Spring Sowing Festival is also known as the Sowing Seed Festival and experimentally Sowing Festival. If you travel to Tibet during the Spring Sowing Festival, you will experience the traditional festive atmosphere with local Tibetans.
Can I celebrate Tibetan New Year Festivals with local family?
If you want to visit a local family to celebrate New Year in Lhasa, we can arrange that as part of our 7-day Tibet New Year Festival Tour. For the week, you will spend your time touring around Lhasa, Gyantse, and Shigatse, visiting the main sites of the region. You can spend the New Year with a local family, eat traditional food, join in the dancing and singing, and take part in the ceremonies around the religious sites.
Can I visit Mount Everest, Namtso Lake and Mount Kailash in winter?
While it is possible to travel to Mount Everest in the winter, Mount Kailash is normally too cold and too snow-bound to travel safely. In the coldest months of the year, the snow around the mountain can get deep, and strong winds bring in stormy weather. Lake Namtso is also open in the winter months now, thanks to better roads and operations to keep them clear through the winter months in the Namtso National Park area.
Quick Inquiry
We'll get back to you within 24 hours.
Tailor-made your Own Tour within
24 hours

.
Simply express your tour needs, we'll customize a trip plan for you. No deposit is required until you are totally satisfied with the trip plan.
Tours departure 365 days a year !
Start Customizing Now!
Get Started -
You're getting closer to your dream Tibet vacation! Fill out this form so our travel designers can start helping you plan a trip.
Privacy Policy: Your information is kept strictly confidential. Tibet Vista will never sell, trade, or give away your contact information to a third party.