Yunnan (Kunming) to Lhasa Overland
Yunnan-Tibet Highway is an important access to Tibet overland. It was put into use in 1973, with a total length of 1,930 km starting from Jinhong city of Yunnan to Duopuma of Qinghai. Besides, it is connected with Sichuan-Tibet southern highway (G318). Part of the Yunnan-Tibet highway was Tea Horse Road in ancient time. So Yunan to Tibet overland is possible for you. Meanwhile, you can choose to travel from Kunming to Lhasa overland, or Lijiang to Lhasa overland, or Shangri-la to Lhasa overland.
▲ The Best Travel Time: from August to October.
▲ The Feature of Scenery: the natural landscapes are various and charming along the Yunnan-Tibet highway, such as gorges, glaciers, rivers etc.
▲ The feature of culture experience: you can feel the Dongba Culture and meet the Naxi people. Besides, many famous old towns and monasteries are located along the road.
▲ Tips: the accommodation is okay in the area of Yunnan, but it's becoming a little worse when you get into Tibet Autonomous Region (TAR), so we advise you to bring sleeping bags and enough foods with you. The road condition is bad between Zhongdian and Yanjing, where the debris flow and landslips often happen. Therefore, you should get to know the road condition beforehand.
It's no doubt to be a very wonderful and unforgettable journey along the Yunnan-Tibet Highway, and now it's my pleasure to give you a general introduction about it: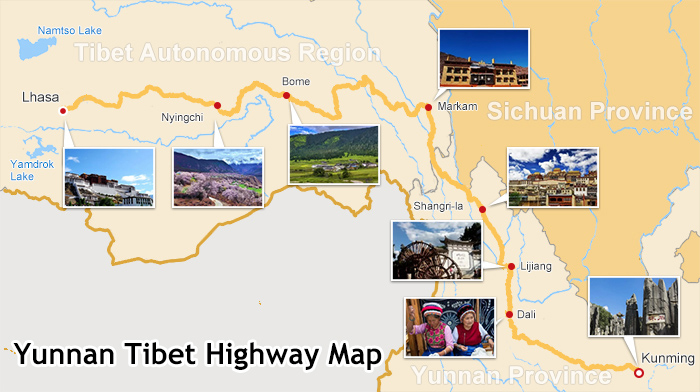 (Simple click to enlarge the map)
Yunan Tibet Highway Map
Distance : About 2,293 km
Duration : About 44 hrs
Route : Kunming - Dali - Lijang - Shangri-la - Deqen - Yanjing - Markam - Zogang - Ranwu - Nyingchi - Lhasa
From Kunming to Dali ( 330 km, asphalt road )
As we know, the first journey starts from Kunming to Dali. Since you are in Kunming, you really shouldn't miss Dian lake (Kunming lake), a large inland lake located on the Yunnan-Guizhou plateaus close to Kunming. Its nickname is "Sparkling Pearl Embedded in a Highland", and it was the model for Kunming Lake in the Summer Palace in Beijing. The lake's scenery is changeable according to the sunshine and clouds. How can you miss such a beautiful scenic spot.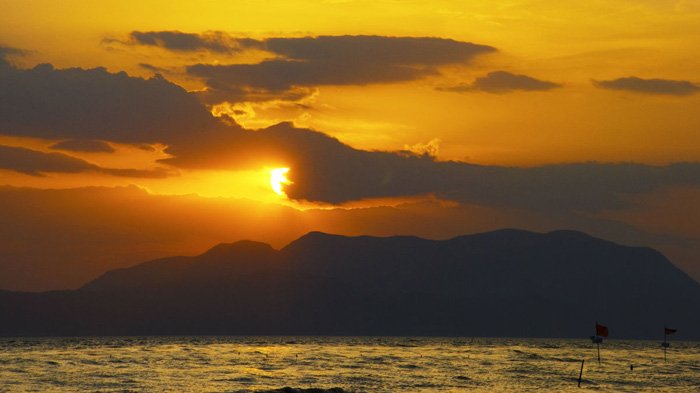 Dian lake
In Kunming, another wonder scenic spot you should visit is Stone Forest (Shilin). It's a notable kind of karst formations. Those rocks seem to emanate from the ground in the manner of stalagmites. The Shilin National Scenic Area covers an area of 350 square kilometers (140sq mi.) and is divided to several scenic sections. Especially, the Naigu Stone Forest and Suogeyi village was admitted by UNESCO World Heritage as South China Karst. Moreover, there is always some mysterious legends about this place, and you can totally feel the local culture.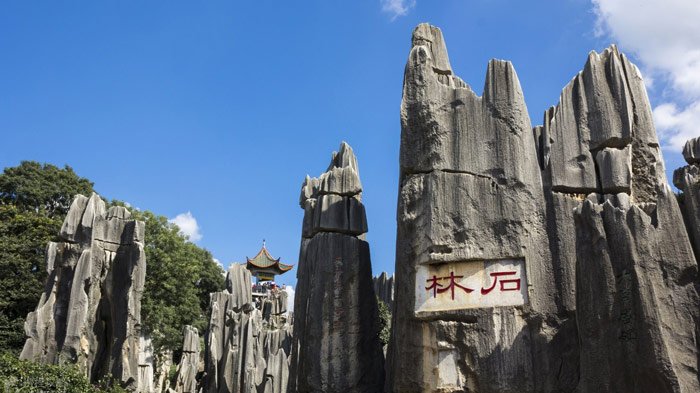 Stone Forest
Ok! The next stop will be Dali after saying goodbye to Kunming. Dali is an ancient town and a major tourist destination for both domestic and international tourists, located on a plateau between the Cangshan Mountains to the west and Erhai Lake to the east. It was the ancient capital of both the Bai kingdom and Nanzhao, which flourished in the area during the 8th and 9 th centuries, and now it's divided into old and new cities. The old city was built during Ming Dynasty and it's still peaceful and quiet, while the new one is located to the south of the old city and known as Xiaguan. Dali is also famous for many types of marbles which are used primarily in construction and for decorative objects. What's more, you can enjoy the real Pu'er tea there.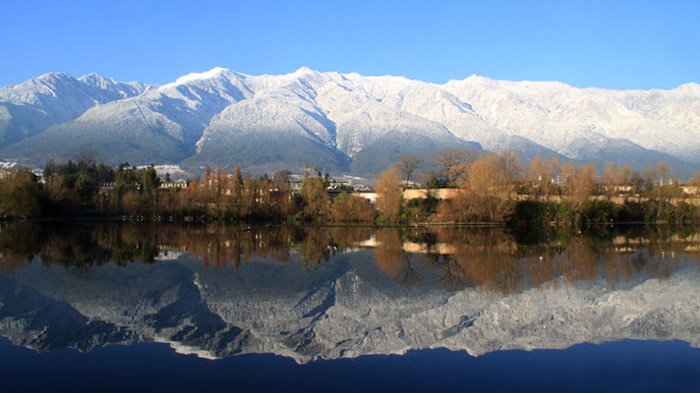 Cangshan Mountains
In Dali, you must be interested in the Three Pagodas when you get near to this old town. The Three Pagodas is the landmark of Dali city, and located about 1.5km (0.9miles) north of Dali, at the east foot of Cangshan mountains and face to the west shore of the Erhai lake, and the Three Pagodas are made of brick and covered with white mud. It comprises three independent pagodas forming as symmetric triangle. The three pagodas is a unique Buddhist style, which can be dated to the time of Nanzhao kingdom and Kingdom of Dali. It is said that the Three Pagodas was initially built for auspicious reasons, so I am sure the three pagodas will give you a different experience.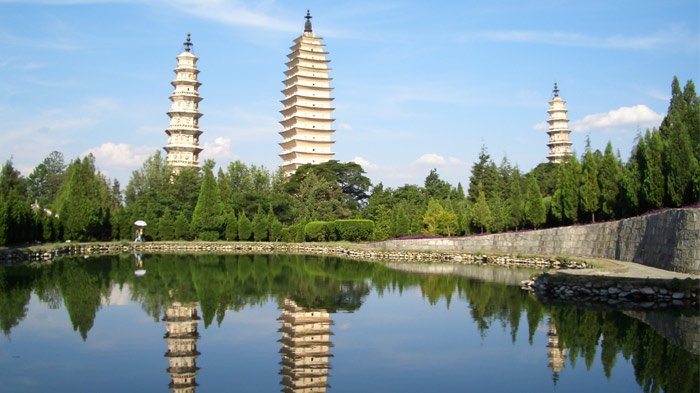 Three Pagodas
It's necessary to see some natural scenery after visiting the Three Pagodas, so it's will be Erhai Lake, whose name means "Ear-shaped Sea", situated at 1.972 m above sea level. This lake used to be a royal deer ranch for the Nanzhao kingdom, and its area is 250 square km, the second largest highland lake of China, and the biggest one is Dian lake.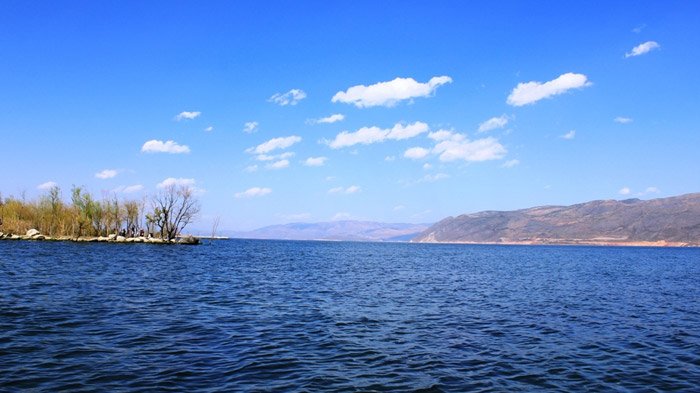 Erhai Lake
You can hike along the lakeshore and Erhai Lake Park, and you can see Butterfly Springs on the western bank. What's more, there are lots of beautiful islands on the lake. The lake still is an important fish source for local people. Sometimes you can watch how they catch fish with cormorants. It is wonderful experience too. It's very important and necessary for you to have a good rest after driving so long and seeing so many scenic spots. There's still a long way to go.
From Dali to Lijiang ( 190 km, asphalt road )
Keep driving from Dali, we'll see Lijiang city, which is located in the northwestern portion of Yunnan and borders Sihchuan.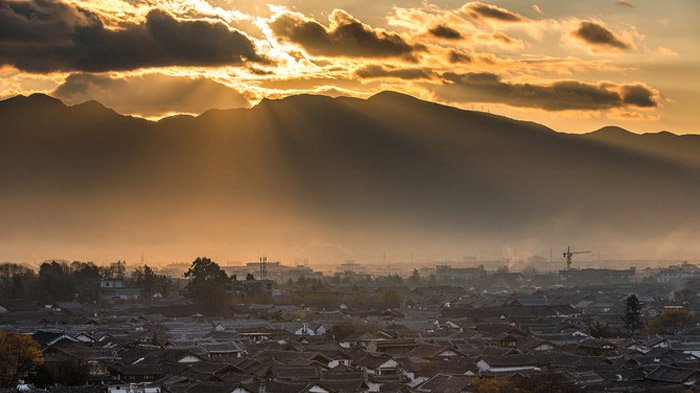 The Old Town of Lijang
The old town of Lijang located in the city, is a UNESEO Heritage Site. This famous old town got more than 800 years old, and it differs from other ancient Chinese cities in architectures, history and the culture, especially, the Nakhi people who are the traditional residents there.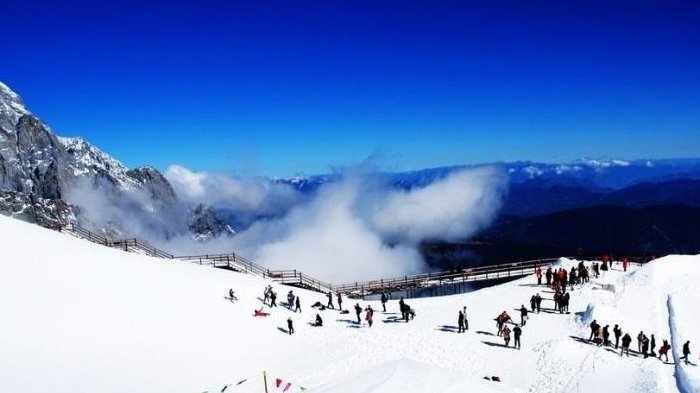 Jade Dragon Snow Mountain
Besides, you can also visit Shuhe old town and sightsee Jade Dragon Snow Mountain, both of which are charming scenic spots. The city has a mild subtropical highland climate. All of above tells you that the world famous old town of Lijiang is a must-see site on your journey.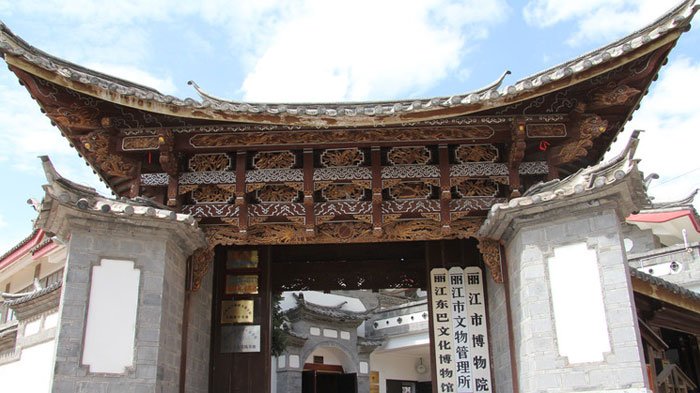 Dongba Culture Museum
I believe you must be interested in Dongba Culture Museum when you get to Lijiang city, which mainly shows the culture of Naxi people, a minority with a long history and a brilliant culture. The museum is kept more than 10,000 Dongba cultural relics and various other historical relics, and it also enjoys the honor of "Advanced Cultural Unit in China". The Dongba classical literature was accepted as a written world heritage by UNESCO in August 2003. So please don't miss it if you are interested in Chinese culture.
From Lijang to Shangri-la ( 174 km, asphalt road )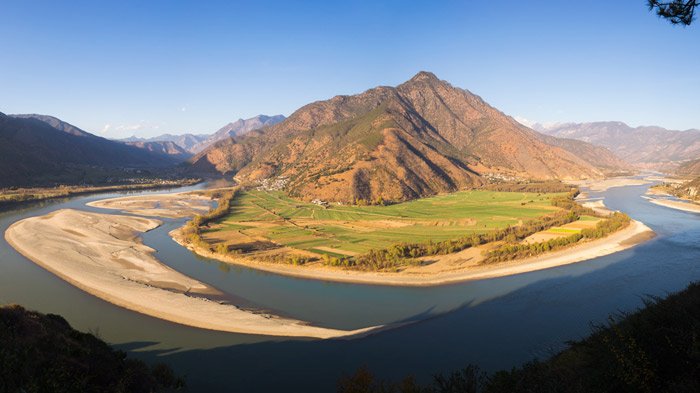 the First Bend of Yangtze River
In fact, there will be more scenic spots form Lijang to Shangri-la. As is well-known to all, the Yangtze river(Chang Jiang) is the longest river in Asia, and the third-longest one in the world, so if you pass by Lijiang you must see the First Bend of Yangtze River, located between Shangri-la county and the Stone Drum Old Town of Lijiang. The Yangtze, Jinsha river and Nujiang river meet together in Hengduan Mountains, and form the Three Parallel Rivers. After that , the Yangtze river turned a big corner there, which is known as the first bend of Yangtze river. It's also called Wondrous Spectacle.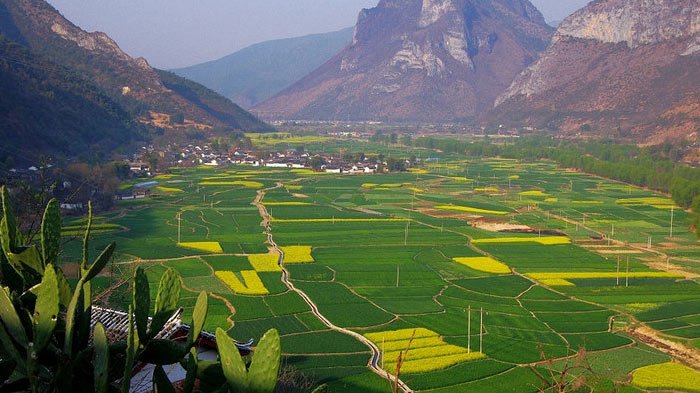 Stone Drum Old Town
As a matter of fact, you can visit the First Blend of Yangtze River together with the Stone Drum Old Town, a small but famous town with a long history. It got its name because there is a white marble stele like drum in the town, and this stele can date back to Ming dynasty. The natural scenery is really charming and beautiful there.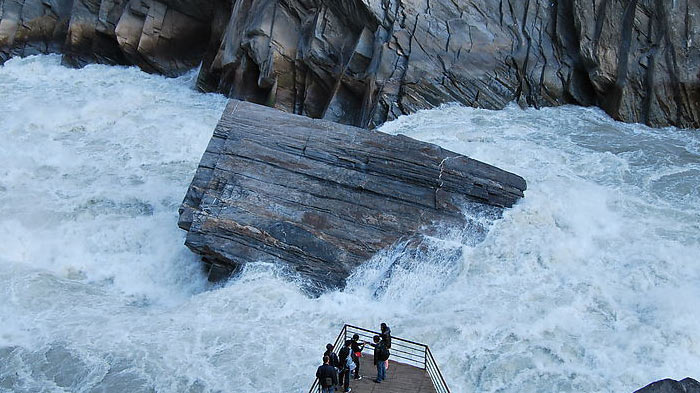 Tiger Leaping Gorge
Keep moving to Shangri-la along the road, you won't miss the Tiger Leaping Gorge, a canyon on the Yangtze river. To be exact, it's located on the upper reach of Golden Sands River. It's the deepest river canyon in the world, besides, it's part of the Three Parallel Rivers of Yunnan Protected Area World Heritage Site. You can hike in the gorge, totally enjoy the beauty of nature.
Ganden Sumtseling Monastery
Although you have seen a lot, you can still visit something else when you get to the Diqing Tibetan Autonomous Prefecture, such as the Ganden Sumtseling Monastery, also known as Sungtseling and Guihuasi, the largest Tibetan Buddhist monastery in Yunnan province. It's a famous and important monastery, enjoying the reputation of Little Potala palace. The Sumtseling monastery belonging to the Gelukpa order of Buddhism was established by the Fifth Dalai Lama in 1679. It was built during the rule of the Qing dynasty Kangxi Emperor (1662-1722), totally, it has six main Tibetan structures including eight collages. Why don't you have a rest in such a peaceful monastery in your driving journey.
There is another tourist destination in this prefecture, that's Shangri-la county. Many travelers use this county town as a gateway into Tibet. It was formerly called Zhongdian county, but it was renamed in 2001 after the fictional land of Shangri-la in the 1933 James Hilton novel Lost Horizon, in an effort to promote tourism in the area. So this name becomes worldwide now. In Shangri-la, you can visit Pudacuo National Park, the first national park in China, was announced on June 25, 2007. The region of this park contains more than 20 percent of the county's plant species, about one-third of its mammal and bird species and almost 100 endangered species, such as Black-necked cranes and orchids.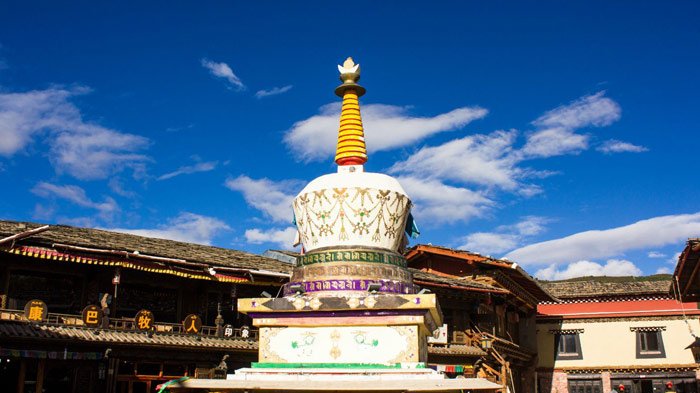 Dukezong Ancient town
Another scenic spot is the Dukezong Ancient town (the city of moonlight) in Shangri-la. It was built along the hillsides and it was an important town for old Tea Horse Road, so it's full of history stories. The flagstone street is very famous.
From Shangri-la to Deqen ( 175 km, tar road )
Keep moving after you leave Shangri-la, you are really closer to Tibet now, and the environment is different now, lots of mountains and glaciers are in front of you, such as Mingyong Glaciers. The glacier is sacred to the local people, but retreated 200 meters (656 feet) in four years, because of global warming. Compared with any other glaciers, the Mingyong glacier is located at the lowest latitude and elevation in China, but it is the biggest and longest one. I am sure that this kind of snow and ice world is magical for you.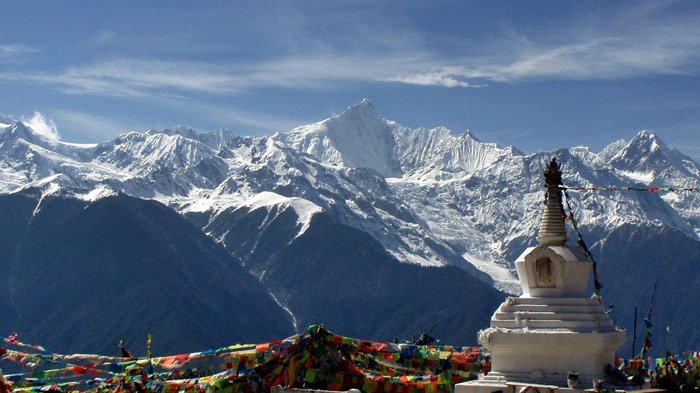 Mingyong Glaciers
What's more, you can visit Mingyong glaciers together with Mingyong village, a small Tibetan village. Although it is a small village, it was developed into a tour village with more and more tourists.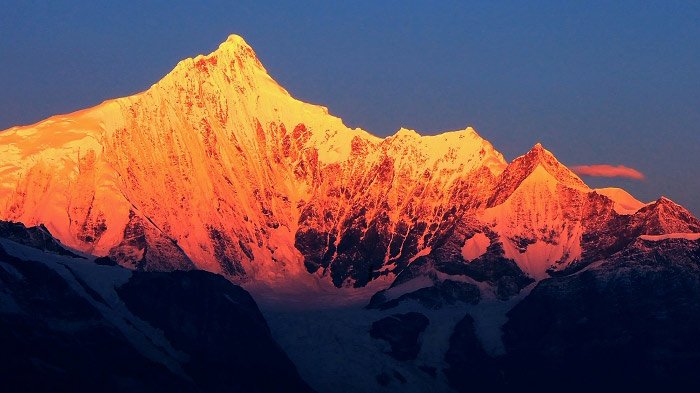 Meri Snow Mountain
If you are not so interested in the Mingyong glaciers, you still got choices, like Meri Snow Mountain, also called snow mountain prince, 13 peaks of which are over 6,000 metres, so you can see different kind of climate sceneries. You can see all kind of animals and plants there, including some glaciers too. It's also a scared mountain to local people, so it is really full of culture and religious elements, you shall feel it when you pass by Deqen county.
From Deqen to Yanjing ( 111 km, most part of is tar road )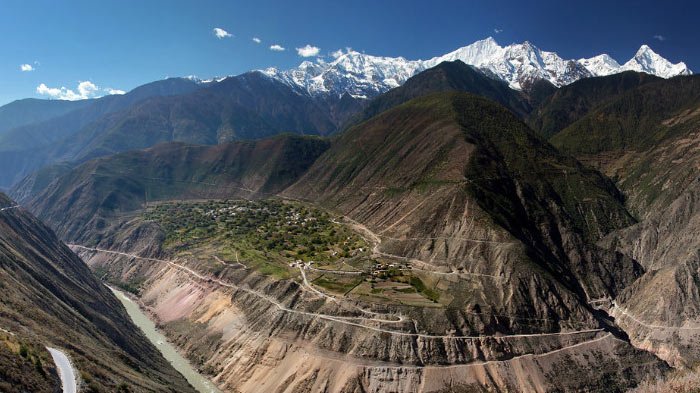 Lantsang Gorge
Deqen county is located in Diqing Tibetan Autonomous Prefecture, I think you should see at least two spots in this county, one of which is Lantsang Gorge. This is a very steep gorge, because it's situated at a elevation of more then 4,734 metres, the langsang gorge is very long and deep, in addition, the water is rather fast, so it's different from any other gorge. I have to say that you still can visit some old county and ferry, such as LiuTong ferry, the steepest ferry there with a long history.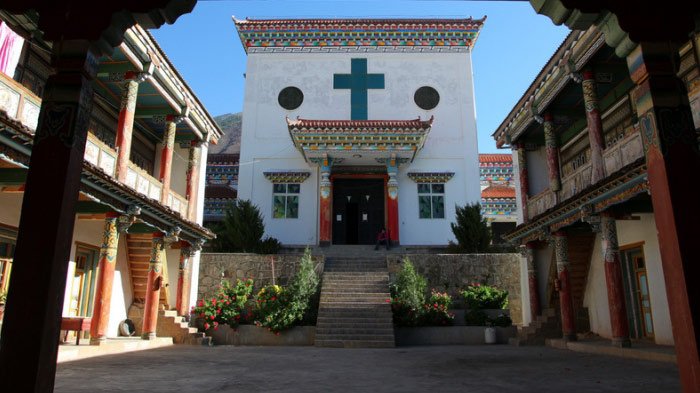 Lagong Church
The next stop is Yanjiang when you leave Deqen. I think you want to see something different after so many natural sceneries, so the Lagong Church is the right choice. It is the only church in Tibet, located 5 km away from Yanjing county. The Lagong church was founded by a French missionary in 1855, and it's a little different from Gothic architecture, with many Chinese and Tibetan architectural elements. I am sure this peaceful church will make you feel comfortable in your long journey, so do not miss it.
From Yanjing to Markam ( 107 km, tar road )
The road maybe not as good as before, so it's better for you to drive slowly. The good news is that you can enjoy hot springs in this section.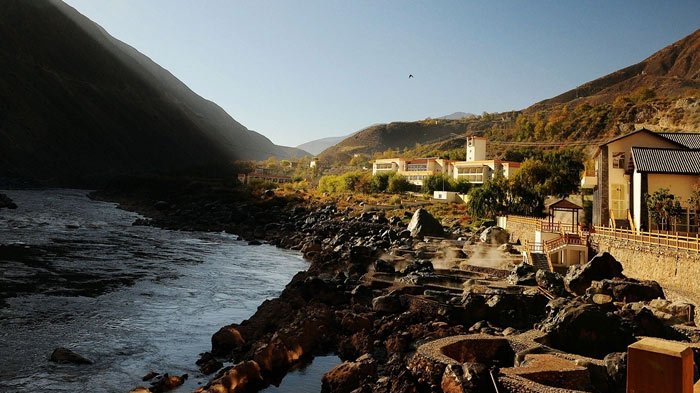 Quzika Hot Spring
The local hot springs such as Quzika Hot Spring is well-know because of climate and elevation reasons. You will get to Markam county after your comfortable hot springs, where Yunnan-Tibet highway connected with Sichuan-Tibet southern route.
From Markam to Zogang ( 157 km, sand road and tar road )
Now, congratulations, you are already in Tibet. I think you must be a little tired, but you should be more focused yourself, because the wonderful journey is still long, and the road conditions is not good enough. OK, the next stop is Zogang county, located in the southern of Chamdo Prefecture. It is a very important traffic hub since the ancient time. Most of the population is Tibetans there, and the natural scenery is various, besides, both Lancang River and Nujiang River cross over the Zogang county.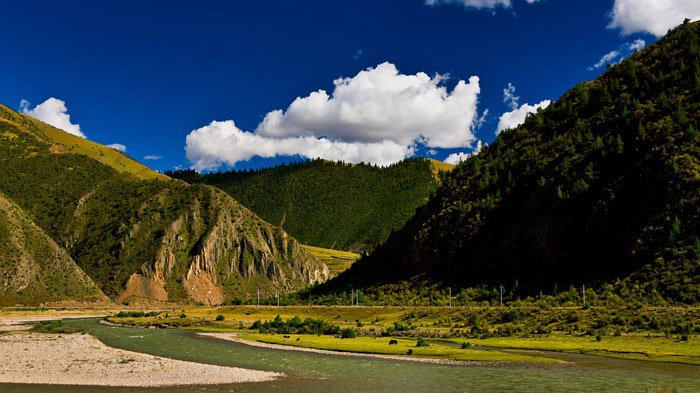 Zogang county
From Zogang to Ranwu ( 290 km, sand road and tar road )
Keep moving, you will get to Bangda county, where you can feel the Bangda Prairie, groups of flocks and herbs roaming there. The animal husbandry is well-developed in Bangda county. Besides animal husbandry, this kind of grasslands environment produces many medical plants, such as Cordyceps, Fritillaria, and Rhodiola Rosea and so on. Bangda county is also a traffic hub. The famous Chamdo Bangda airport is located there, and it's the highest airport in the world, at an elevation of 4,334 metres (14,219ft).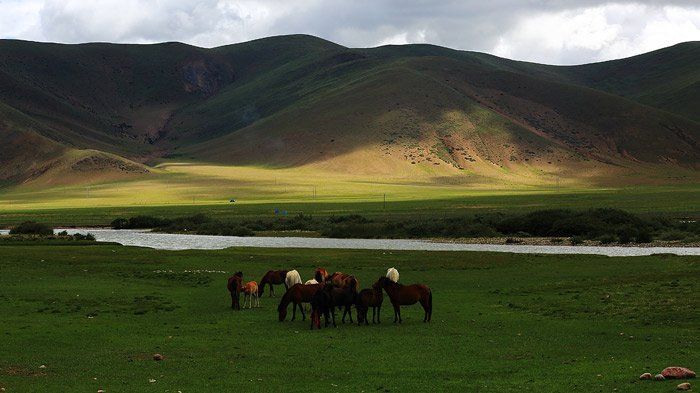 Bangda Prairie
Finishing the trip of Bangda county, your next destination will be Ranwu town in Nyingchi prefecture, about 195 kilometers, at an altitude of 3,807 metres. The town of Ranwu is quite close to the original Tibetan village. To the southeast of the village is a large chorten and a small temple, the most famous scenic spot is Ranwu Lake, located in the southwest of Baxoi county of Chamdo. It can be divided into three parts. The blue water, white snow peaks, and the green grasslands make it a charming place.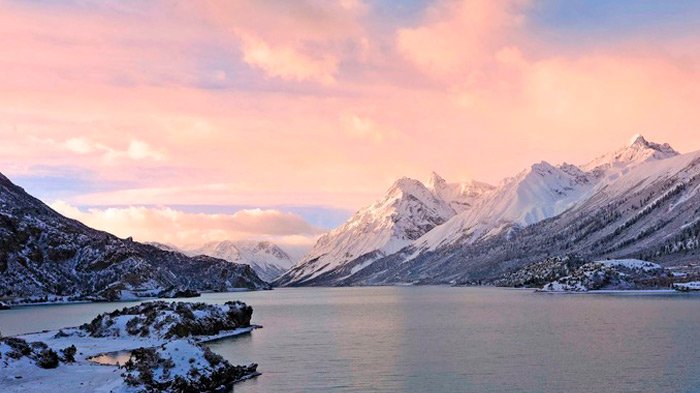 Ranwu Lake
From Ranwu to Nyingchi ( 358 km, sand road and tar road )
I think you may be a little tired because of this long journey, so I advise you to slow down and have enough rest, and try to feel Tibet with a relaxed mood, and the next stop will be Bomi county, one of the commodity grain base in Tibet. It produces plenty of fungus and tricholoma matsutake.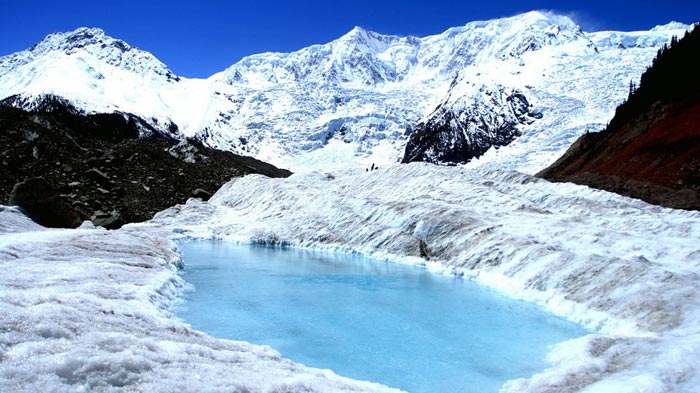 Midui Glaciers
What's more, plenty of glaciers appear because of the climate and terrain reasons in this area. The most famous is Midui Glaciers. The main peak is at an elevation of 6,800 meters. It's called "the world wonder of glaciers" by the geographer, in addition, it enjoys the title that one of the most beautiful glacier in China, so you really can not miss it, and I advise you to visit Midui glacier together with Midui village, a local Tibetan village.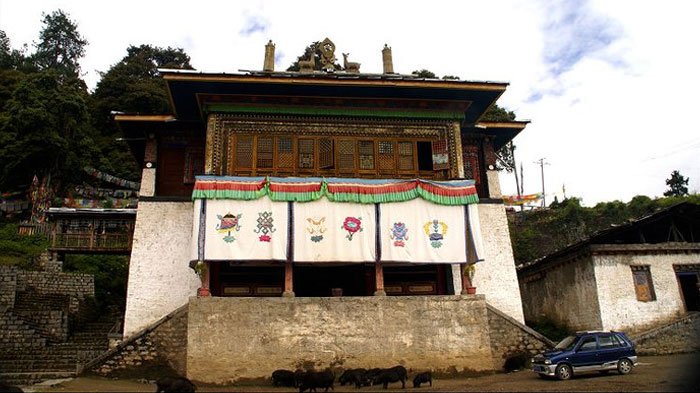 Duodong temple
Besides, I will recommend you Duodong Temple if you are interested in Tibetan culture and religion, which is located in southwest of Bomi county. You still can visit Gangxiang Nature Reserve if you are energetic, 4600 hectare in all, where you will witness many kinds of rare animals and plants.
Keep going, you are getting near to Tongmai village, now, you have to focus yourself again, the road condition is becoming complicated, specially, there is a section called Tongmai natural barrier.You will enter into this section when you pass by Tongmai bridge. The sand road is narrow with dangerous rock and river aside, so it's necessary to drive carefully and slowly, I am sure you will get an unforgettable experience from the road section.
Now, I advise you to pay more attention to yourself and vehicle. Maybe you will have some altitude reaction. All you should do is to try to adapt it and have enough rest. Besides, you should check your vehicle carefully, because the sand road is bumpy, it needs your vehicle to work well.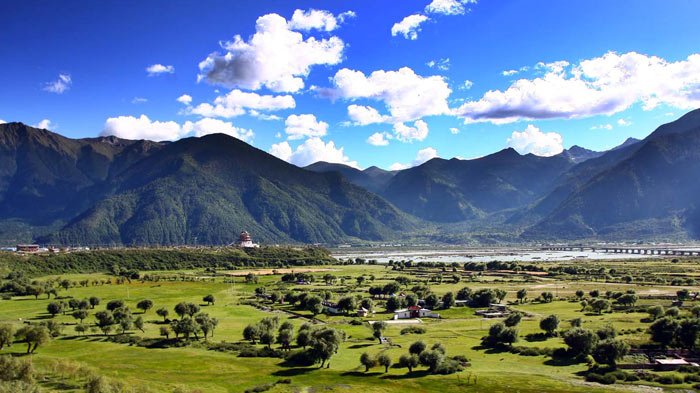 Lulang Forest
After Tongmai, your next destination will be Lulang town, where you can see snow peaks, virgin forest and countryside and so on. Lulang Forest is a famous scenic spot, where grow many kinds of rare plants. I am sure you will be attracted by this natural scenery. I think it's necessary to introduce a food to you since you are Lulang town, that is Shiguo chicken, it's really delicious and unique.
From Nyingchi to Lhasa ( 401 km, tar road )
Nyingchi is the lowest place in the Qinghai-Tibet plateau, at an average elevation of 3,000meters, and it enjoy the high reputation of "Tibetan JiangNan". Visiting Nyingchi is a nice try. The ecological environment is protected well and the climate is very suitable. The old Monba and Lhoba are living in Nyinghchi. They still keep their lifestyle and religious faith. I think it's necessary to talk about the Bayi which develop fast as a modern industry town, and it's the political, economic and cultural center in the Nyingchi prefecture.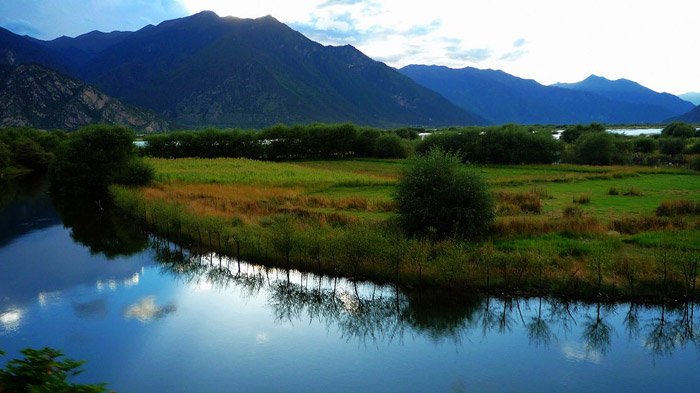 Nyang River
Besides Bayi town, you can't miss Nyang River, which is a major river in south-west Tiebt and the longest tributary of the Yarlung Tsangpo river, and it flows past the town of Bayi. The river joins the Yarlung Tsangpo in Cemeng, Nyignchi, with an average flow of 538 cubic meters per minute, and it has an aquatic potential of 2.08 million kilowatts.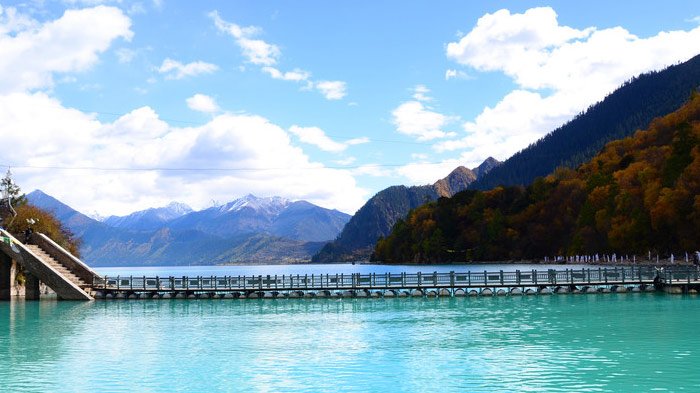 Basum Lake
Keep moving, one more 140 kilometers, you can visit Basum Lake when you get near to Gongbujiangda. It is a sacred lake for local people, and it was awarded the title of international forest park in 2001. The water is very clean and you can see snow peak, Seagulls and white cranes from it, so the scenery is really attractive. It will take your tired feeling away.
Ok, the road is not bad when you move forward, but there is a place called Mila mountain pass for you to cross over, located at an elevation about 5000 metre. The road will be narrow and bumpy then, but you can have a good rest when you get there. It will be agreeable to overlook the whole Tibet area and take some picture with the boundary monument. I guess you must be touched by the beautiful Tibetan scenery. You will get to the Gongbudajiang County when you cross over Mila mountain pass, known as Tibetan JiangNan because of the warm climate and enough rainfall.
OK, I think it's time for celebration, because Lhasa is just in front of you now, which is the political, economic and cultural center of Tibet Autonomous Region, also the Administrative capital. Lhasa is one of the highest cities in the world. You can tour around Lhasa city and visit culturally significant Tibetan Buddhist sites such as the Potala Palace, Jokhang and Norbulingka palaces, and many other scenic spots.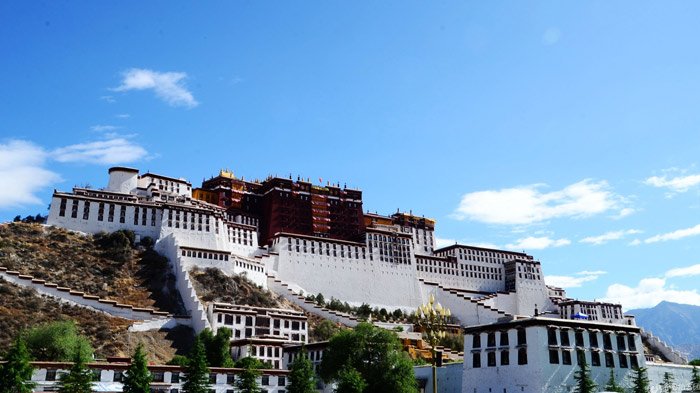 Potala Palace
It's no doubt that the Potala Palace is a must-see site, which firstly was built by Tibetan king, Songtsen Gampo, as a present for his bride princess Wen Cheng of Tang dynasty.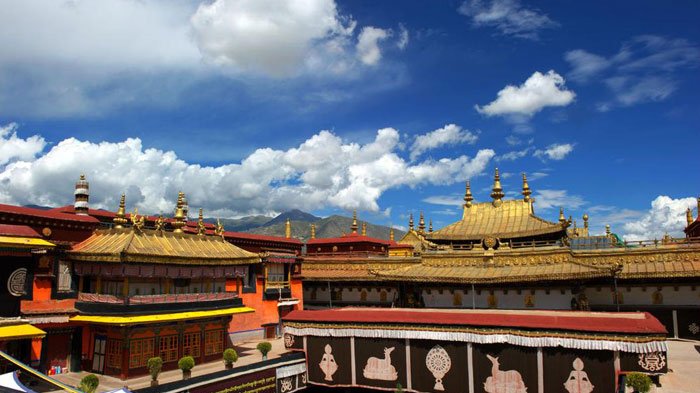 Jokhang Temple
Besides the Potala Palace, the Jokhang Temple is also a mark of Tibet, which is located on Barkhor square. It is the most scared and important temple for local Tibetan people. The style of this temple is a mixture of Indian vihara design, chinese Tang Dynasty design, and Nepalese design. It was founded during the reign of king Songsten Gampo. It is said to be built for the two brides of the king, Princess Wencheng of the chinese Tang Dynasty and Princess Bhrikuti of Nepal, both of whom are said to have brought important Buddhist statues and images from China and Nepal to Tibet.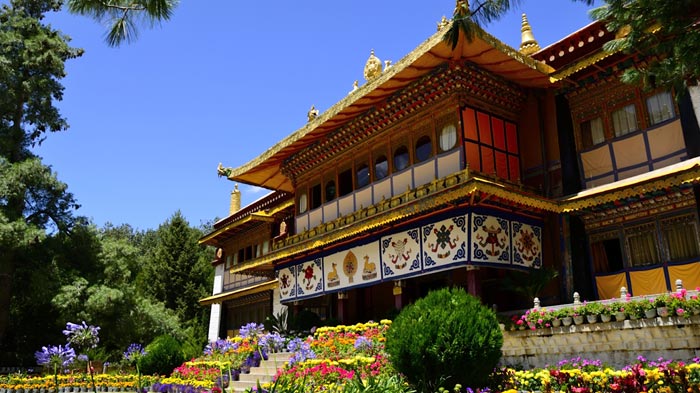 Norbulingka
Another must-see place is Norbulingka, which is a palace as well as a park in Lhasa. It served as the traditional summer residence of the successive Dalai Lamas from the 1780s up until the 14th Dalai Lama who was exiled in 1959. Norbulingka palace is also recognized as a UNESCO World Heritage Site. It is just the beginning of your Tibetan journey when you get to Lhasa, There are still many other wonderful scenic spots and cultural sites waiting for you. I can't list them all out here, so just enjoy yourself. By the way, you can contact with us, if you'd like to make your journey more convenient and unforgettable.