Lhasa to Kashgar Overland, Xinjiang Tibet Highway
Xinjiang-Tibet Highway is an important highway between Xinjiang Uyghur Autonomous Region and Tibet Autonomous Region. The construction of this road started in 1951 and was completed in 1957. It passes through the disputed area of Akasi Chin, an area administered by the People's Republic of China but also claimed by India. It is a very important border highway for China, also one of the highest roads in the world, so Lhasa to Kashgar overland and traveling from Xinjiang to Tibet are possible for you.
▲ The Best Travel time: the best driving time is from the beginning of May to the end of October.
▲ The Feature of Scenery: the region is broad, so the natural landscapes are various, snow mountains, lakes, grasslands, and also some rare animals.
▲ The Feature of Culture Experience: you can deeply feel the mysterious Ancient culture and local people's life style in Tibet.
▲ Tips: the climate and accommodation condition are not so good, so your packages should be well-prepared, including sunglasses, sunhat, maps, batteries, foods and drinks and so on, also some medicine against altitude reaction, such as Rhodiola Rosea. The most important thing is your Tibet travel permit and border permit.
Xinjiang-Tibet Highway starts from Kargilik County of Xinjiang Uyghur Autonomous Region, and it can be divided into three sections, namely Xinjiang-Tibet highway section (from Shiquanhe to Kashgar), Northern Tibet highway section (from Nagqu to Shiquanhe) and Sino-Nepal highway section (from Lhasa to Shiquanhe). By the way, you can contact with us if you want to experience the extraordinary journey.
Xinjiang-Tibet Highway Section (from Shiquanhe to Kashgar)
Shiquanhe - Rutog - 30 Li Yingfang - Karghalik - Kashgar, about 1,305 km, 27 hrs, tar and sand roads
This will be a long and hard journey. And it will take you several days from Shiquanhe to Kashgar. Here I'd like to give you a brief introduction.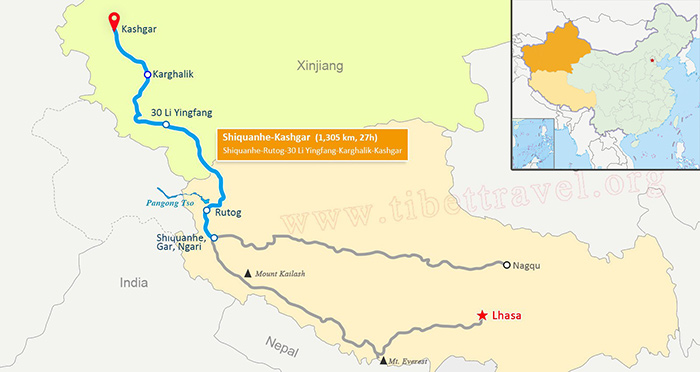 (Simple click to enlarge the map)
Xinjiang-Tibet Highway Map
From Shiquanhe to Rutog
Shiquanhe is an important town in the Xinjiang-Tibet highway. This town is also commonly known in English as Ali Town. This is what many guidebooks use as the primary name for the town. One should note, however, that in Tibetan Ngari is the name only for the prefecture, not for the town. By the way, this place has two banks, but only the Agricultural Banks of China changes foreign currency.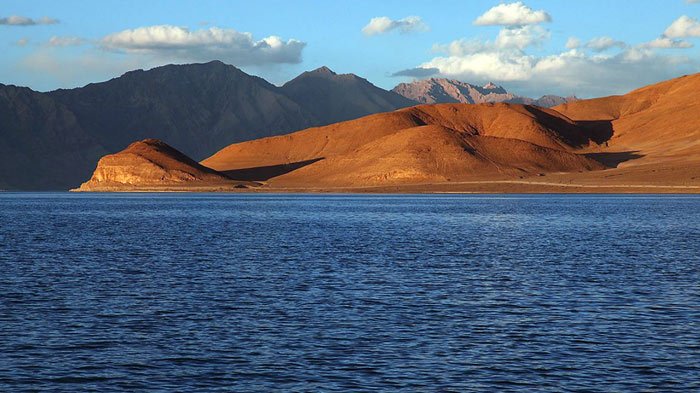 Pangong Tso
The first stop will be Rutog County, 117 km away from Shiquanhe, which was called "the roof of the roof of the world", and Pangong Tso lies in the northwest of the Rutog County. It is an inland lake with an elevation of 4,240 m, and the average water depth is 5 m. It is the highest birds island in the world, and you can enjoy the scenery slowly by boat.
From Rutog to 30 Li Yingfang
You will get to the 30 Li Yingfang after sightseeing Pangong Tso. You could stay overnight and have a good rest there. The road condition and climate is bad. It snows often, so you should be more careful.
From 30Li Yingfang to Kashgar via Karghalik
One more day, you will get to the kashgar, respectively, you will pass by the Heikadaban, Mazhadaban, Kudidaban, Karghalik and Kashgar. It will be a long and hard journey because of the harsh environment. The road is rather bumpy, and it will be worse if you encounter with the rain or snow. The temperature is always below zero, and most of the road is sands road, but it changes when you get to the Karghalik. It is a small but important town. You can have a good rest there. The accommodation is convenient and cheap.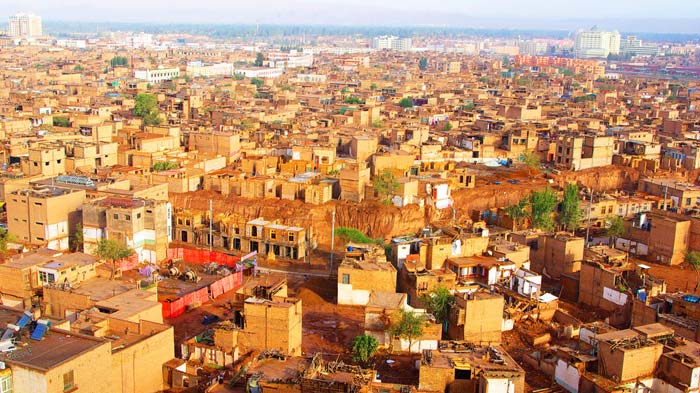 kashgar
Ok, one more 274 km, it is kashgar, which is a new special economic zone in China, so this city is developing rapidly, and will be an international city in the future.
Northern Tibet Highway Section (from Shiquanhe to Nagqu)
Shiquanhe - Geji- Gerze - Nyima - Nagqu, about 1,415 km,35 hrs,tar and sand roads
The scenery is beautiful along the road line. But you should take a serious consideration before you choose it, because you will pass by some desolate lands, and it will take about 5 days to finish the northern Tibet highway. Ok, let's start the journey from Shiquanhe.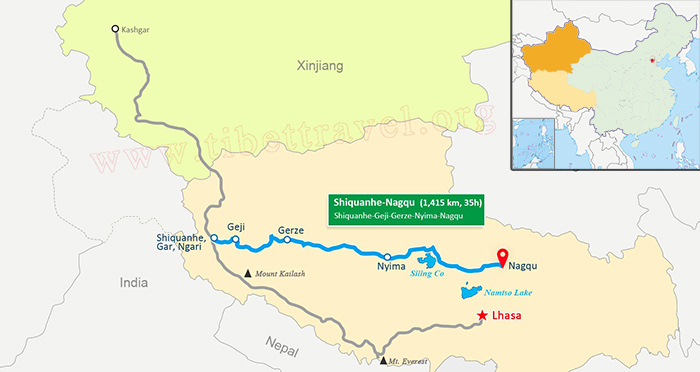 (Simple click to enlarge the map)
Northern Tibet Highway Map
From Shiquanhe to Nyima
Shiquanhe is an important town in the Xinjiang-Tibet highway. This town is also commonly known in English as Ali Town. This is what many guidebooks use as the primary name for the town. One should note, however, that in Tibetan Ngari is the only name for the prefecture, not for the town. And then you'll pass by Geji, salt lake town and Garze County.You will get to the Nyima County. I strongly advise you to stay overnight here. The accommodation is ok here.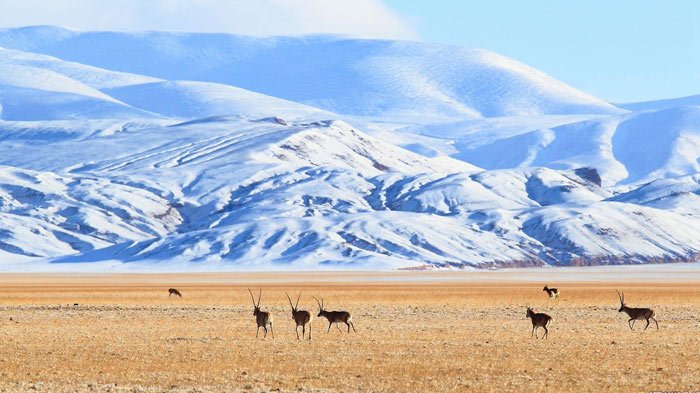 QiangTang Grassland
I think it's necessary to introduce you the QiangTang grassland. At an average elevation of 4,500m, it covers two-thirds of the Tibetan area. What's more, it is one of the five largest rangelands in China, so there are all kinds of animals and plants, you will get to know the real Tibet there. Just go to feel it.
From Nyima to Nagqu
It will take you almost three days to get to the 382 Daoban, and you are entering into the Hoh Xil No Man's Zone. The road will be dangerous because of the marshland.
By the way, Siling Co is nearby, also with the biggest black-neck crane nature reserve in the world. Besides, it is the largest salt water lake in Tibet, with the an area of 2,391 square kilometers and the elevation of 4,530 m. I am sure the quiet lake will make your tiredness gone.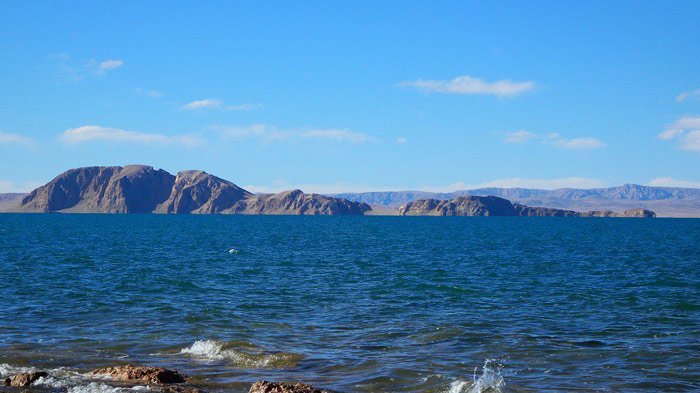 Siling Co
Another must-see place is Namtso Lake, which is a mountain lake on the border between Damxung County of Lhasa Prefecture and Baingoin County of Nagqu Prefecture, at an elevation of 4.718m. And this salt lake is the second largest lake in the Tibet Autonomous Region. What's more, Namtso is renowned as one of the most beautiful places in the Nyainqentanglha mountain range.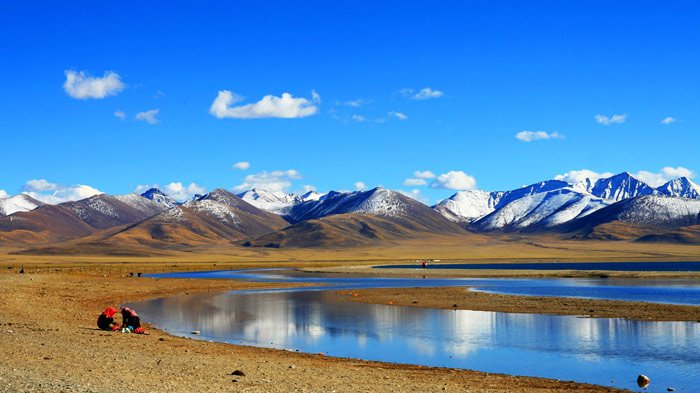 Namtso Lake
Now, your journey is almost finished, because you will get to Nagqu in a day. Nagqu means "black river" in Tibetan language, at an elevation of 4,600 meters. The horse racing festival in Nagqu is usually held between August and September, so you should visit it if you get the chance.
Sino-Nepal Highway Section (from Shiquanhe to Lhasa)
Shiquanhe - Payang - Rongbuk Monastery - Everest Base Camp - Lhatse - Shigatse - Nagarze - Lhasa, about 1,649 km, 37 hrs,tar and sand roads
The scenery will be a surprise for you along the road. As a matter of fact, this is the main section of the Xinjiang-Tibet highway, and it is an important strategic border road for China, and it converges with Sino-Nepal highway at last. Here I'd like to give you a brief introduction.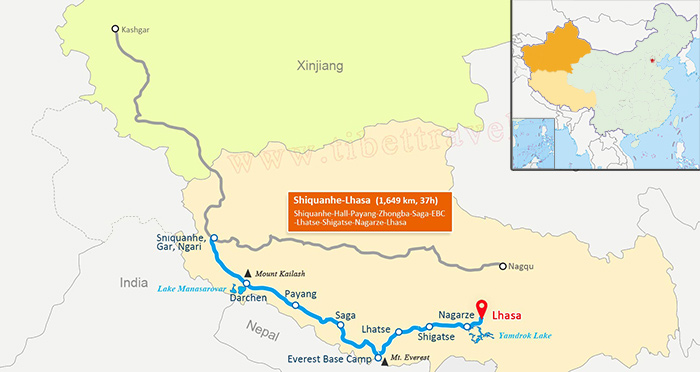 (Simple click to enlarge the map)
Sino-Nepal Highway Map
From Shiquanhe to Payang
The journey starts from Shiquanhe, 260 km away from Mentu counry. You can visit Guge Kingdom Ruins. The ruins of Guge are located 1,200 miles(1,900km) westwards from Lhasa within the Tibet Autonomous Region of China, not far from Mount Kailash. Guge was founded in the 10th century, whose capital was located at Tholing and Tsaparang. There are still many precious temples, palaces and wall paintings kept well now.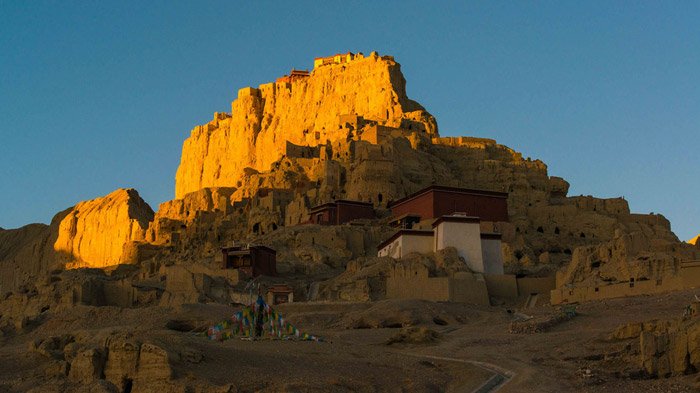 Guge Kingdom Ruins
Besides, the Tholing ( Tuolin monastery) is not far from there, used to be the capital of Tibet, and it was built in the 12th century, with Indian, Nepalese and Tibetan architectural style, also it was the Buddhist center of Guge kingdom. Tholing was listed as National-level unites of cultural relics protection in 1996.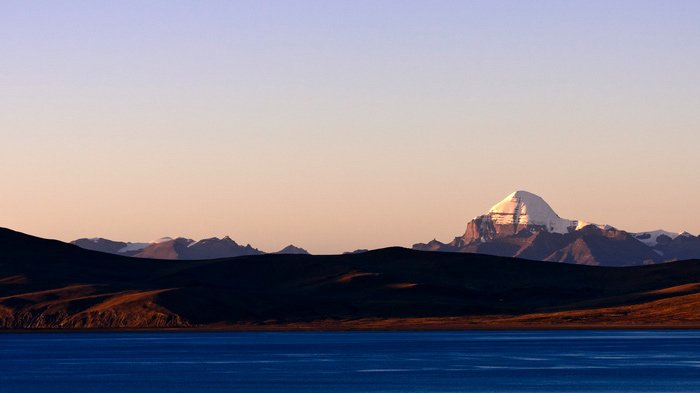 Mt. Kailash
I think you must have heard of Mt. Kailash and Lake Manasarovar before. Now you are getting near to them. Mt. Kailash is a peak in the Gangdise Mountains, which are part of the Himalayas in Tibet. It lies near the source of some of the longest rivers in Asia, such as the Indus river. It is considered as a sacred place together with Lake Manasarovar for religionist. Lake Manasarovar lies to the south of the Mt. kailash, at an elevation of 4.556 m (14947.5ft) above mean sea level, so it is the highest freshwater lake in the world. It is relatively round in shape with the depth of 90 m and the surface area of 320 square kilometers. The lake freezes in winter and melts until in the spring. Most of the important is that Mt. Kailash and Lake Manasarovar are a place of pilgrimage. It attracts waves of religious people from India, Nepal, Tibet and the neighboring countries. Bathing in the Manasarovar and drinking its water is believed to cleanse all sins. Mount Kailash tours are organized regularly for tourists from all over the world.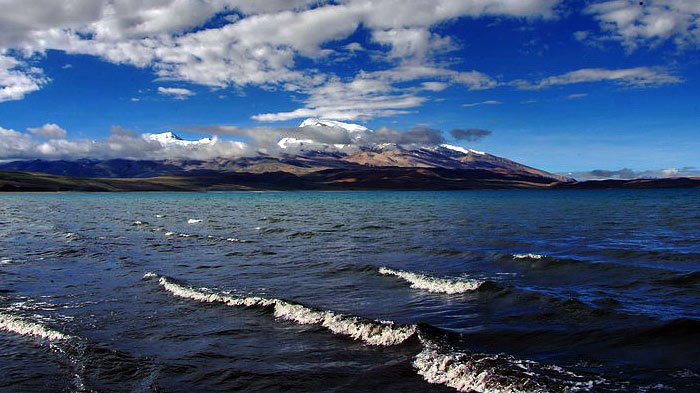 Laang-tso
What's more, the Naimona'nyi Peak is well-known too, and it faces to the Mt.Kailash. It is really beautiful, also you should visit together with Laang-tso. It was called ghost lake before. Its water is a little salt, not drinkable but its scenery is charming too.
Having finished the Mt.Kailash and Lake Manasarovar, your next stop will be Payang, which is a little town, however, it is very important for accommodation. You can have a good rest in the Payang town, next you will meet the Mayoumula bealock, with an elevation of 5,216m, and all the riverbeds are ice. I should remind you that the road condition is bad, so just be careful.
From Payang to Rongbuk Monastery and Everest Base Camp
After passing Payang, Zhongba and Saga, the next stop will be Gangga. And it is a gateway to get to the Mt. Everest and the Rongbuk Monastery, just about 100 km away from there, so you really should not miss either of them, but I have to say that the road condition is not good enough, and you'll need to buy the ticket in the frontier inspection station before you enter into the Mt.Everest Nature Reserve. What's more, you have to take the environmental car when you get to the Basong, because you own car is not allowed to get into the nature reserve.
Rongbuk Monastery
Next you will get to Rongbuk Monastery, which is a Tibetan Buddhist monastery, lying at the foot of the Rongbuk Glacier at 5,100 meters above sea level. As the highest religious building, Rongbuk Monastery was completely destroyed in 1974, but the renovation work has been carried out since 1983, and some of the new murals are also excellent. In 2011, Rongbuk Monastery was ranked on the top of CNN's Great Places to be a Recluse. There is a basic guesthouse with cosy restaurant there, so please don't worry about the accommodation.
It's necessary for you to have a good rest in Ronghbuk Monastery, before heading for the Everest Base Camp, with an altitude of 5,545 meters. EBC was built to protect the scenic environment, besides, mountain climbers can have a good rest at base camp for acclimatization, to reduce the risks and severity of altitude sickness. And Base camp usually consists of long lines of tents with food, blankets and light.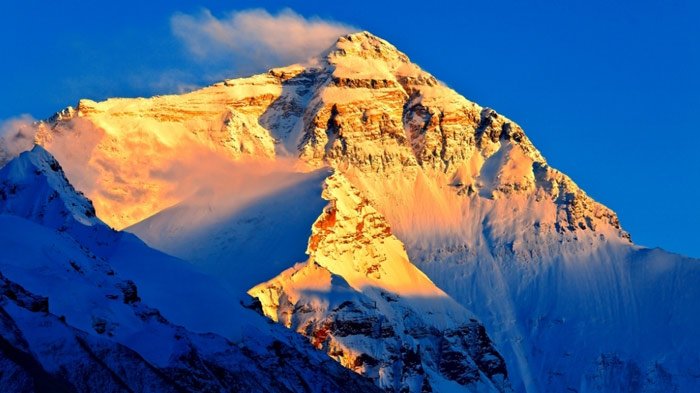 Mt. Everest
Now, here comes the most exciting moment, when Mt. Everest is right in front of you. Mount.Everest, also known as Mount Chomolungma or Sagarmatha, is the highest mountain in the world above the mean sea level at 8,848 meters, located in the Himalayas on the Nepal-China border. Mt. Everest attracts waves of well-experienced mountaineers as well as novice climbers every year.
From Rongbuk Monastery and EBC to Lhatse
You next stop is Tingri after touring Mt. Everest and Rongbuk Monastery. It used to be an important trading post where Sherpas from Nepal exchanged rice, grain, and iron for Tibetan wool, livestock and salt, also was used as a base by mountain climbers preparing to ascend Mount Everest.
After Tingri, the next stop will be Lhatse County, 85 km away from Tingri. It is located in the southwest of Shigatse, also in the valley of the Yarlung Zangbo river, and you can have a good rest in Lhatse.
From Lhatse to Shigatse
After Lhatse, it will be Shigatse, which is the second largest city in Tibet Autonomous Region, with a population of about 80,000, about 240 km southwest of Lhasa and 90 km northwest of Gyantse. What's more, it is the hub of road network between Lhasa, Nepal and western Tibet.
Tashilhunpo Monastery
Tashilhunpo Monastery is a must-see site in Shigatse. It is an important monastery in terms of both history and culture. In addition, this monastery is the traditional seat of successive Panchen Lamas. Besides Tashilhunpo Monastery, there stands Shalu Monastery, a small monastery 22 km south of Shigatse, and founded in 1040 by Chetsun Sherab Jungnay. It is one of the first major monasteries built by noble families of the Tsang Dynasty during Tibet's great revival of Buddhism, and was an important center of the Sakya tradition. You can pay a visit to them if you are interested in religion.
From Shigatse to Lhasa
It is only 86 km from Shigatse to Gyantse, and 89 km from Gyantse to Nagarze, and you can visit Longma village, Karuola Glacier, Simila Mountain pass along this journey.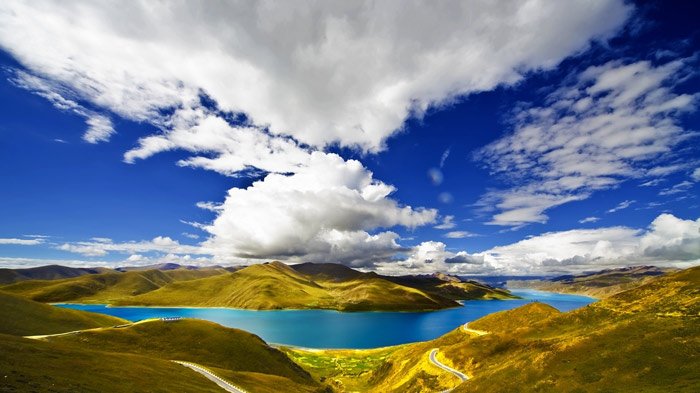 Yamdrok Lake
But what I would highly recommend is Yamdrok Lake, which is one of the three largest sacred lakes in Tibet. Lying around 90 km to the east of Tibetan town of Gyantse and around a hundred kilometers to the southwest of Lhasa, it is over 72 km (45miles) long, surrounded by many snow-capped mountains and numerous small streams. The lake is fan-shaped, spreading to the south but narrowing up to the north, considered sacred by Tibetan people. I am sure you will be touched by the astonishing scenery while traveling from Shigatse to Lhasa.
Ok, the destination is not far now. It is only 156km form Nagarze to Lhasa. First of all, you will cross over Gangbala mountain pass, located between Nagarze and Gongga. The road condition is becoming dangerous now. Next to you are the cliffs, but the natural scenery is perfect. Keep going, you will get to Quxu where you'll need to cross over a bridge, Quxu Bridge, and this bridge crosses over Yarlung Zangbo River here, so it is a very important point for transportation.
Now, you will get to Lhasa soon after you pass by the Quxu bridge, which is the political, economic and cultural center of Tibet Autonomous Region, also the Administrative capital, and Lhasa is one of the highest cities in the world. You can tour around Lhasa city and visit culturally significant Tibetan Buddhist sites such as the Potala Palace, Jokhang and Norbulingka palaces, and many other scenic spots.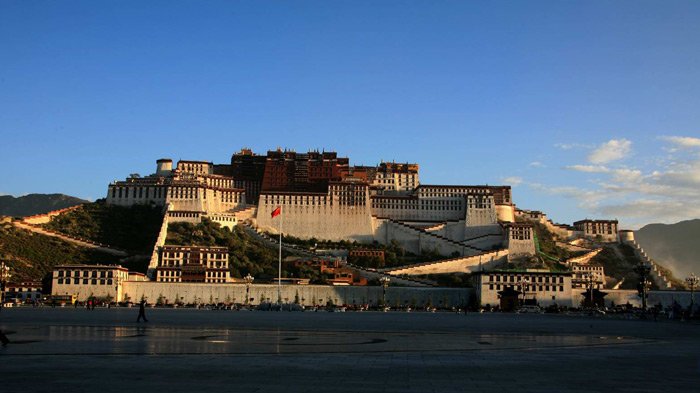 Potala Palace
It's no doubt that the Potala Palace is a must-see site, which firstly was built by Tibetan king, Songtsen Gampo, as a present for his bride princess Wen Cheng of Tang dynasty.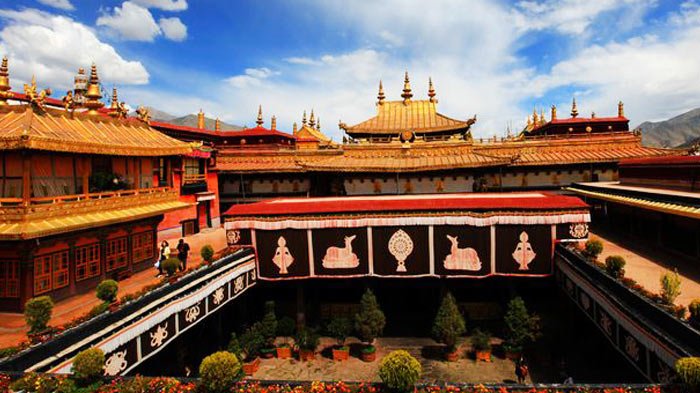 Jokhang Temple
Besides, the Potala Palace, Jokhang Temple is also a mark of Tibet, which is located on Barkhor square. It is the most scared and important temple for local Tibetan people. The style of this temple is a mixture of Indian vihara design, chinese Tang Dynasty design, and Nepalese design. It was founded during the reign of king Songsten Gampo. It is said to be built for the two brides of the king, Princess Wencheng of the chinese Tang Dynasty and Princess Bhrikuti of Nepal, both of whom are said to have brought important Buddhist statues and images from China and Nepal to Tibet.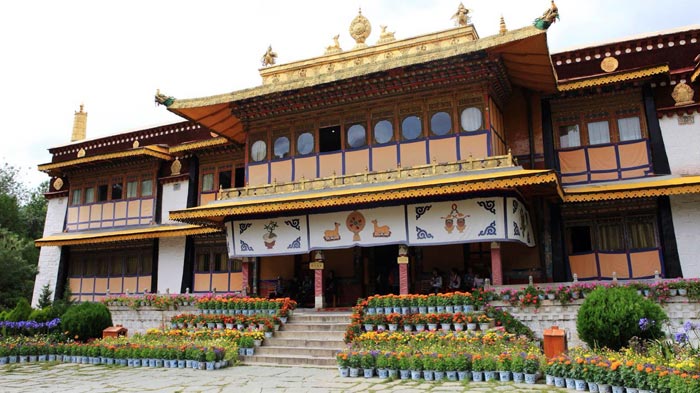 Norbulingka
Another must-see place is Norbulingka, which is a palace as well as a park in Lhasa. It served as the traditional summer residence of the successive Dalai Lamas from the 1780s up until the 14th Dalai Lama who was exiled in 1959. Norbulingka palace is also recognized as a UNESCO World Heritage Site.
It is just the beginning of your Tibetan journey when you get to Lhasa. There are still many other wonderful scenic spots and cultural sites waiting for you. I can't list them all out here, so just enjoy yourself.