Cycling from Chengdu to Lhasa via Sichuan-Tibet Road, Tips and Details
The Sichuan-Tibet Road, which started its construction from April in 1950 and finished on December 25th,1954,is so called National Rd 317 and National Rd 318 ,is known as "the sightseeing road of China". It's the first motor vehicle route connects Sichuan to Lhasa and famous for its dangerous road situations and wonderful scenery. Riders should turn high mountains and cross rapid rivers on the way at the same time enjoy the snow-capped mountains, original forests, grasslands glacier and clear rivers such as Jinsha River, Lancang River.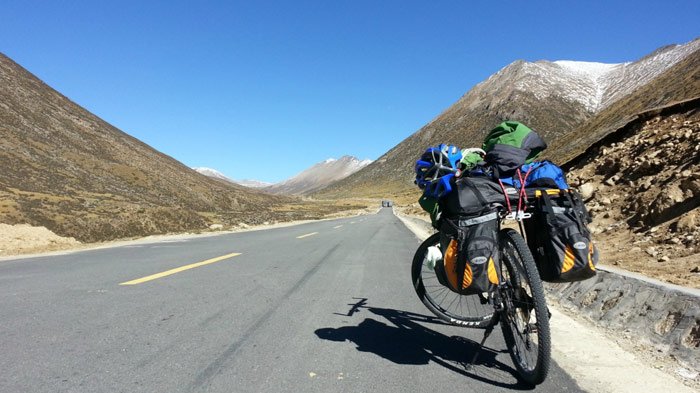 Biking from Chengdu to Lhasa has become a popular way for tourists to get to Tibet.
Hundreds Thousands years ago before the route open, the economic and cultural center of the southern-west people gathered on the Ancient Tea Horse Road, the highest and most dangerous traffic post road in the world. The total 1958km road from Ya'an, Sichuan to Lhasa will spend at least more than half an year even ride horse. If they transport by yak, they can only have time to finish one round trip for each year.
Sichuan-Tibet Northern Route (Big)
It starts from Chengdu and go to north. Riders stop the way on the National Rd 213 in Wenchuan, and then follow the path from Shuajing Temple to Barkam, Changdu, Leiwuqi, Baqing, Suo country and Nagqu. Through Ancient Tang-Tibet Road and arrive in Lhasa at last. Official statistics shows that the total miles is about 2,412km. Because of the higher elevation and fewer people,scenery on the way is more beautiful.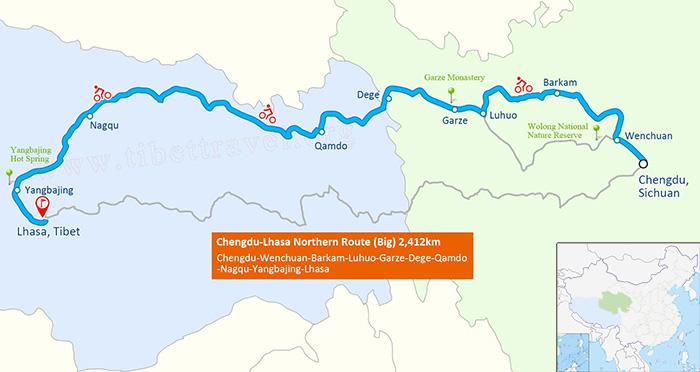 (Simple click to enlarge the map)
Sichuan-Tibet Northern Route Map (Big)
Sichuan-Tibet Northern Route (Small)
It starts from Chengdu and go to north, turns west in Yingxiu town, throughs the Wolong nature reserve, turns over Balang Mountain (4523km) and arrives in Danba. After riders enter Garze, pass Daofu, Luhuo, Garze, Jingsha River Bridge, then get Bangda which is the meeting point of two routes from Jiangda and Qamdo. At last see Lhasa after passing Bome County and Bayi. Official statistics shows that the total miles is about 2,293km. By the way, when riders get Qamdo, they can choose the route from Leiwuqi to Ancient Tang-Tibet Road to arrive in Lhasa.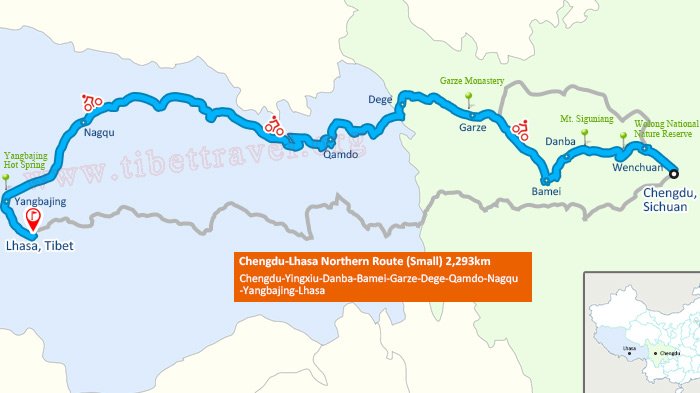 (Simple click to enlarge the map)
Sichuan-Tibet Northern Route Map (Small)
Sichuan-Tibet Southern Route
It starts from Chengdu. The riders go the separate ways with National Rd 108 in Ya'an. Go to west and turn over the Erlang mountain, cross the Dadu River, Yalong River, Jinsha River, Lancang River, NuRiver, pass Markam, Zogang, Bangda, Baxoi, Ranwu, Bome, Nyingchi, Maizhokunggar, Dagze and got Lhasa finally. Compared with Sichuan-Tibet northern route, this route is on the areas of concentrated population. Scenery on this way is full of high mountains and canyons. Riders prefer this route to Lhasa at most of time. The number of kilometers on their riding timers is 2,149.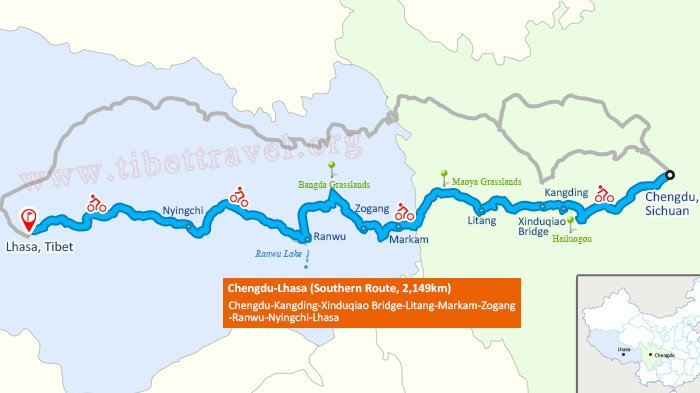 (Simple click to enlarge the map)
Sichuan-Tibet Southern Route Map
Road Condition
Chengdu to Ya'an
All expressway.
Ya'an to Kangding
All the way the road follows the path of turning the mountains along the riverside. Riders will pass the Erlang Mountain which height is 3500m, the first danger of Sichuan-Tibet route. After pass the Erlang Mountain, the road condition should be kept an eye on because of the landslip and debris flow in rainy season.
Kangding to Zheduo Mountain
It's a boundary of geography. In the west it's beside plateau near the Yalong River. The mountain is also the boundary of traditional Han people and Tibetans.
Zheduo to Batang
To the west from Batang is the valley of Jinsha southern bank, an excellent farming distract for traditional Tibetans. But frequently earthquake happens.
Batang to Nyingchi
When the riders through Zhubalong Jinsha River bridge, they will enter the famous three mountains and three rivers area, 800 km long, dangerous for its groove type geological fracture section. This zone almost includes all the improbability of Sichuan-Tibet route.
Nyingchi to Lhasa
The road is fine with advanced highway.
Equipment
1. Bicycle
(1) Mountain bike with bicycle rim of 26 inches is the best size. Before your trip, it's better to learn some bicycle mix skills and adjust the bike in the best condition.
(2) Take a helmet in consideration of your safety.
(3) Magic headscarf which can be used as a wrist braces, scarf, face mask and headband.
(4) Riding gloves is necessary for sweat-wicking, anti-skid and breathe freely.
(5) Steel bicycle carrier
(6) Riding trousers
The riding trousers are divided into male design and female design. Ladies can wear riding skirt.
(7) Spare wheel, bicycle pump, toolkit
Riders should prepare at least 2 inner spare wheels with good quality. Please prepare bicycle chains and other necessary bicycle parts.
(8) Compass; Altitude watch; Flashlight; 10 batteries.
Consider for the security, riders should take flashlight, headlight, taillight.
(9) Raincoat of high quality
(10) A watch to calculate the mileage, cards including ID card, Credit card.
(11) Skin care products such as sunblock and lipstick. Ladies should bring some female wet wipes.
(12) Riding cloth, sleeping bag, gaiter, sports glasses, rearview mirror, moisture-proof pad
(13) Swiss Army knife, tableware, water can, lighter
(14) Food
Tea, instant coffee, juice powder, chocolate, peanut, ham bowel, liquor
(15) E-book
2. Necessary Medicine
(1) Traumatic injury
Safflower oil, band-aid, merbromin, gauze, adhesive plaster, bandage, alcohol.
(2) Larynx needed
Careless Coral Lozenge, Watermelon Frost Lozenge.
(3) Clear heat and antiphlogosis
Radix Isatidis
(4) To fight anoxic: Dextrose
(5) A.P.C
(6) Antiphlogistic medicine
Helix mildew element
(7) Huoxiangzhengqi Soft-capsules
(8) Gastric bowel medicine
(9) Patulin: VC Yin Qiao piece
(10) Erythromycin Ointment
(11) Potassium permanganate (put into the washbowl)
(12) Eyedrops
Budget
As to the overall budget, it's advisable to set aside 2500CNY for food and accommodation. For the exact cost for other things like rent of bicycle and guide, etc. please feel free to contact our travel consultants for free consultancy.
The Best Time to Set Out
The best time are May and in the middle of August. Riders can take part in Shoton Festival and Horse Racing Festival in July and August of Tibetan calendar. The weather after August 20 is windy and showy.
Day by Day Riding Strategy
Day 1: Chengdu - Chengdu Qingyang palace - Qingyang street - Qinghua Road - Guanghua Road Pass - Guanghua Road - Wenjiang area-Chongzhou-Dayi Town - Qionglai - Ya'an (154KM)
This way is the most easy-riding road. Qionglai, the hometown of Zhuo Wenjun, is a convenient place to have room and board which is 74km far away from Yaan.
Food
Fish in Yaan is very famous. It is fed on the magmatic water so that it tastes very fresh and tender. People always cook it in the local-produced casserole.
Accommodation
If you come here in summer, it's better to live in the hotel providing air conditioning.
Day 2: Ya'an-Tianquan Town-Lianglu Village (90KM)
The riders will go on following the Qingyi River. The ancient tea horse road theme park is near the city. There are several towns on the way can provide enough materials. But the road becomes steep from here.
Food
Riders can have lunch in Tianquan country.
Accommodation
Kede hotel in Lianglu country includes meals and rooms. Guests said that the bacon in that hotel is very delicious because the pigs there are all natural.
Day 3: Lianglu country-Erlang mountain-Luding country (52KM)
Today the riders will face to the high mountains, Erlang Mountain. In May it looks colorful full of starting flowers. But the riders should be attention that here is so called the first dangerous pass for the Sichuan-Tibet route which always has year-round ice and snow, sometimes will have Torrential rain, fog, mud flood and landslide. Riders must be careful when they riding.The Erlang pass lasts about 4.176km which is the longest road tunnel in China. Riders should show their ID card when they through the pass. After pass the Erlang tunnel riders will meet a 28km long downhill path.From now on riders should take a coat. Go downhill for 30km riders will arrive at Luding. They will have dinner and stay night here.
Attention Please remember riding on the line but not side by side.
Day 4: Luding country-Xiawasi country-Kangding (57KM)
From Luding to Xiawasi there is 23km. Riders go up the mountains along the Dadu River. The road is not bad here. Riders should encourage themselves when hear the sound of water.
Food
Riders can have lunch in Xiawasi and take some water.
Accommodation
Hotels in Kangding have more Tibetan style than Ya'an.'s. Only during the horse racing festival that needed reservation, other time it's available. If your condition permits you can go to Zheduotang country stay in Tibetan families which is 16.5km away from Kangding.
Day 5: A rest day in Kangding
Kangding is the main center of the ancient tea and horse road. The city now looks very prosperous with Zheduo River around it.
Food
Local food here is very delicious with lots of kinds. Most of them are Sichuan style and Tibetan style such as Tsanba, yak buttered tea and red meat.
Day 6: Kangding-Zheduo mountain pass-Xinduqiao Town (78KM)
Riders will turn mountains at an elevation of 4000 meters. They need get up early and ride about 16.5km to get Zheduotang village and they can get food and water supply here. The spring is very clean and drinkable. After the Zheduo Mountain pass riders will see two roads that the right one leads to Kangding airport and the left one leads to State Road 318. Scenery on the sides seems wonderful though the road is not very smooth. It's called the photography paradise for travelers.
Food
Riders can have meals till get Xinduqiao. They should prepare enough food from Kangding to Zheduo.
Accommodation
In Xinduqiao hotels is very cheap and clean with good environment.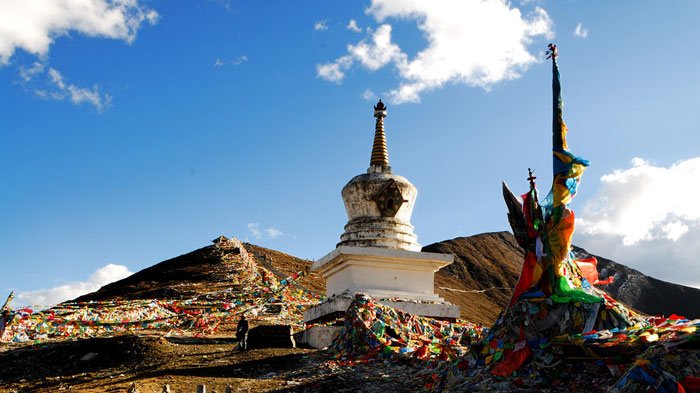 Zheduo Mountain Pass
Day 7: Xinduqiao Town-Gao'er Temple mountain pass-Yajiang town (76KM)
Riders will face asphalt road and gravel road all day.
Food
Riders should take food by themselves.
Accommodation
Yajiang Tibetan hotel, 10RMB/per person
Day 8: Yajiang town-Jianziwan Mountain pass-the 119 team (51KM)
Today riders will try turning the Jianziwan Mountain. If riders can pass here successfully, they will be easier to get Lhasa for the strength. It's about 21km from Jianziwan mountain pass to the 119 Team. Here is the first place without internet condition.
Food
Riders should take lunch and enough water by themselves. Dinner in the 119 Team is OK.
Accommodation
Live in the 119 Team. The fresh vegetable is rare and riders can only have potato and onion as their meals.
Day 9: 119 team-Kazila mountain pass-Litang Country (87KM)
Riding on the plateau with elevation of 4000 meters all day. Riders will pass five to six mountain passes and the fourth pass is steep with broken stones so please remember braking in advance and controlling the speed when there is a turning. The scenery here is very beautiful for the endless grass land and all kinds of blossoming flowers.
Food
Riders will have lunch in Taziba and dinner in Litang country. The local food is in unique style.
Accommodation
Hotel in Litang is fine. Riders can connect internet here.
Attention
Today riders should pay attention to keep warm.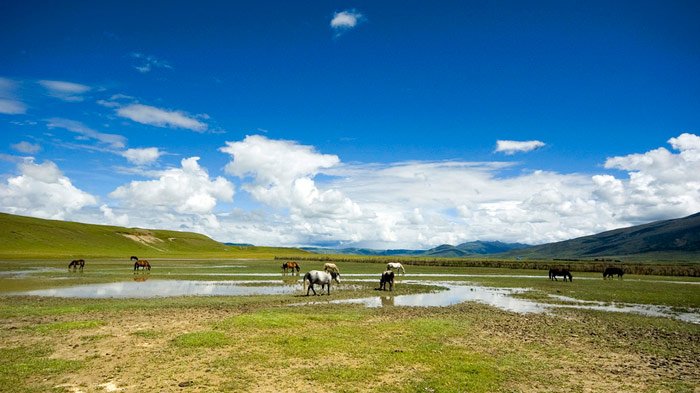 Litang Town
Day 10: Litang-Haizishan pass-Cuola Country-Lala Mountain-Batang Village (177KM)
Riders will ride all day today. Riding today is the longest way during Sichuan-Tibetan Riding. From Haizishan pass to Batang the 90km road is fine except the 10km on Litang grassland. The caw and sheep scatter on the grassland looks like stars adom the dark sky, together with the white clouds and blue sky constitute the fairy land. Batang is the last station in Sichuan for Sichuan riding part.
Food
Riders should take lunch by themselves and have dinner in Batang.
Accommodation
Hotel in Batang
Day 11: Batang-Jingsha River Bridge-Rirong hot spring villa (47KM)
After pass the Jinsha River Bridge the riders will enter Tibet. The road is full of broken stone and there are only few plants on the mountains.
Food
Lunch and dinner are all provide by Rirong hot spring villa
Accommodation
Rirong hot spring villa
Day 12: Rirong Hot Spring Villa-Haitong Army Service Station-Zhongbala Mountain Pass-Markam Country (62KM)
Detritus is anywhere. Markam is the first town after entering Tibet. This town is also the intersection of Yunnan-Tibetan highway and Sichuan-Tibetan highway. From here there is only one way to Tibet so it's lively all the way and all kinds of self-travelers will meet here together.
Food
Rifers can have lunch in front of the Haitong Army Service Station and have diner in Markam
Accommodation
Guesthouse in Markam is vacancy. The price is almost the same and most guesthouses smelt like something. After half-day rest, riders have good condition can ride from Rirong to Rumei.
Day 13: Markam-Lawu Mountain Pass-Rumei Town (the Lancang River Bridge) (50KM)
It is said scenery here looks like the Alps for the blooming Lilac and highland barley field. But road this section is steep and has lots of turnings.
Food
Lunch and dinner are all in Rumei
Accommodation
Hotels and guesthouse are both fine in Rumei. The Snowy Hot Spring Villa provides accommodation.
Attention
Riders should be careful for this road with slowly speed.
Day 14: Rumei town-Juba Mountain Pass-Dengba Village-Rongxu Army Service Station (48KM)
Most ways here are narrow and steep. Although riders only need ride 48 km today but it's really a hard experience. Some roads have coved by sands avoiding fall down the cliff. Riders have to pass it with strenuous efforts. From Rumei to Jueba Mountain Pass will spend more than half day. Lawa Temple 6 km away from Jueba Mountain Pass can provide food and accommodation. But in Dengba there is only one place to have recharge.
Food
Riders can have lunch in Dengba Village and diner in Rongxu Army Service Station
Accommodation
Rongxu Army Service Station
Day 15: Rongxu Army Service Station-Dongda Mountain Pass-Zuogong Country (62KM)
This is the first day that riders will ride over an elevation of 5000m. Riders must check the bicycle before start and take enough food and water. Dongda Mountain snows all the year except January. Riders should prepare enough warm cloth and rain coat. After the Dongda Mountain Pass about 33 km riding, the road turns to cement one till get Zuogong.
Food
Riders should carry lunch with them and eat diner in Zuogong.
Accommodation
Zuogong Army Service Station of guesthouse
Day 16: Zuogong Country-Tiantuo Country-Bangda Country (113KM)
Road condition today is good and riders can see groundhog. Bangda Country is the intersection of Sichuan-Tibet North route and South route. In 1995, the new built Bangda Airport is the highest airport in the world and has the longest runway. It's the only airport in east Tibet.
Food
Riders can have lunch in Tiantuo and diner in Bangda
Accommodation
Both Bangda Youth Hotel and Chuan-Yu Hotel are a good choice.
Day 17: Bangda-Yela Mountain Pass-Nujiang River Bridge-Baxoi (97KM)
In Yela Mountain Pass riders will see the famous "the 72 turnings on Nujiang Mountain". Riders must control speed and have a stop if feel tired. When get the foot of mountain riders arrives the bank of Nujiang River. After 20 km riding riders can see message house for riders. Riders always look for charcoal ash and write down their names in the blank.
Food
Riders should take lunch with them but have diner in Baxoi
Accommodation
Military office guest house
Day 18: Baxoi-Jida Country-Anjiula Mountain Pass-Ranwu (93KM)
Asphalt road all day. After 37 km riding ridres will arrive at the beautiful Jida Country.
Food
Jida Country is a beautiful place. Rides can have lunch here
Accommodation
Ranwu
Day 19: Have a rest in Ranwu
Ranwu is a beautiful place has lots of lakes around by snowy mountains. When there is a sunny day, the sunshine golden the dark blue lake which mirrors the snowy mountains, white clouds and forests. People who get here will lost themselves in the wonderful scenery. Ranwu is called "Switzerland in Tibet" and "Buddhist paradise". The most beautiful scenery is in Wacun Village next to the Ranwu Lake. Riders do not forget to take cameras.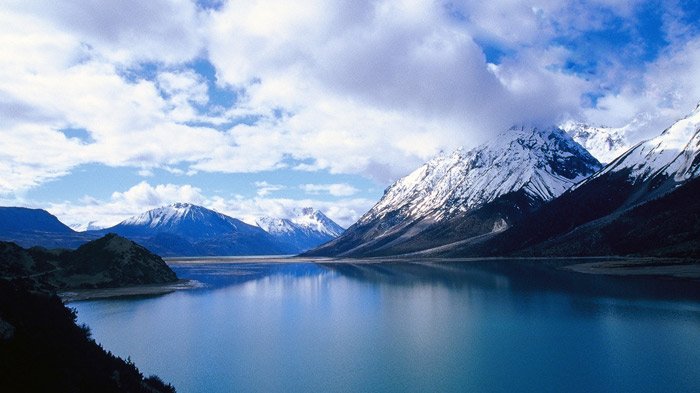 Ranwu Lake
Day 20: Ranwu Town-Songzong Town-Bomi Country (136KM)
Today riders will pass the origin of Yarlung Zangbu River. From here riders will enter the plateau forest. The bicycle bumps down the gravel road. Riders can see Midui Glacier entrance on the way.
Food
Riders can have lunch in Songzong and diner in Bomi. The noodles in Songzong taste good.
Accommodation
Bomai Hotel. You can take a bath before sleeping.
Day 21: Bomi-Guxiang Town-102 Landslide Area-Tongmai Town (95KM)
Before leave Me-tog riders will see the Me-tog road starting point monument. Me-tog is the last town with accessing road in China. Go through in forest the G 318 road seems smooth. Low altitude here with wet fresh air presents a feeling of fairy land to riders. When riders pass the 102 Landslide Areas, please be careful the road was filled with puddles from the rain.
Food
Lunch in Guxiang and dinner in Maitong. Riders can have a taste of fried rice with eggs and the boiled corn.
Accommodation
Stay in Tongmai Hotel.
Day 22: Tongmai Town-Pailong Village-Lulang Town (78KM)
From Tongmai to Lulang the way is very hard because the riders will pass the most dangerous part, Pailong Road. This part is not only narrow but also full of turnings. It's rains a lot that landslide and rocks will roll down from mountains. Riders must wear helmets and adjust the condition of bicycle. After riding for 18 km riders will get the Pailong Village. From Pailong to Lulang the 60 km way is ascent. In the 4112 km guideboard of G318 the 24 km long erath road was replaced by asphalt road. This is the last part of earth road before arrive in Lhasa.
Food
Riders should prepare lunch by themselves and have diner in Lulang Town. The chicken stone pot there tastes nice.
Accommodation
Riders can live in the Lulang Army Service Station or the canteen.
Day 23: Lulang Town-Segyi La mountain Pass-Nyingchi-Bayi Town (75KM)
Because here is near Lhasa riders will meet many other riders. The mountains are covered with fir. Mount Namcha Barwa is less than 100 km near the Segyi La mountain Pass. Nyingchi is to Tibet what the south bank of Yangzi River is to China. Scenery here seems wonderful and people live here are happy.
Food
Riders need take lunch with them and eat diner in Bayi Town. Food here is plentiful.
Accommodation
Bayi Education Hotel is a good choice. Environment here is quiet and the household appliances are complete.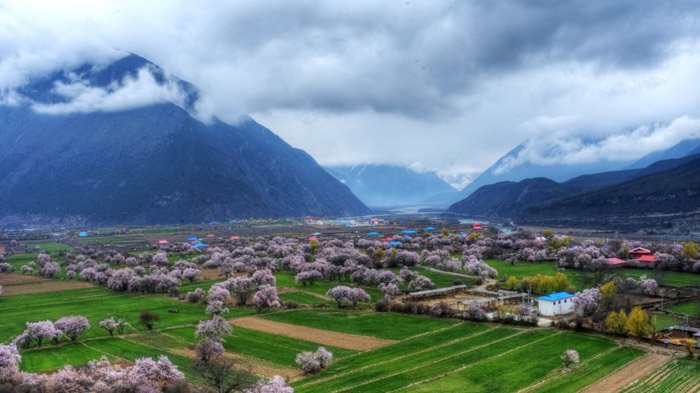 Nyingchi
Day 24: Bayi Town- Bahe Town-Gongbu Jiangda (127KM)
Scenery here seems a little single. After 79 km riding riders will get Bahe Town. This town is 1 km away from G318. About 49 km riding riders can arrive in Gongbu Jiangda.
Food
Riders can have lunch in Bahe Town and diner in Gongbu Jiangda. Fish in Bahe is famous.
Accommodation
Food Bureau guests house
Day 25: Gongbu Jiangda-Jinda Town-Jiaxing Country-Songduo Village (96KM)
Riding along the Niyang River riders will see the famous scenic spot called mainstay, firm rock in midstream.
Food
Lunch in Jinda Town
Accommodation
Songduo highway maintenance squad provides free rooms. But the one lived here should clean and tidy the room before leave next day. Songduo Army Service Station is also a place can provide accommodation.
Day 26: Songduo Village - Mila Mountain Pass - Riduo Country – Mozhugongka (82KM)
Riders today will turn the mountain pass with an elevation of 5000m which is the last mountain pass they need turn before arrive in Lhasa. After the 60 km downhill path, riders can have a stop. The Ongkor Festival in Mozugongka each year is very lively.
Food
Riders should prepare lunch by themselves and have diner in Mozugongka
Accommodation
There are many hotels in Mozugongka. If riders get here before 16:00 pm, they can have enough time go strict to Lhasa.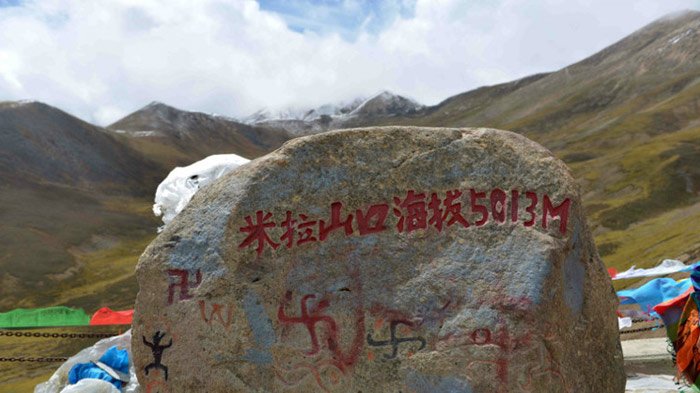 Mila Mountain Pass
Day 27: Mozugongka-Lhasa (74KM)
Riders will get Lhasa today. When riders get the bicycle relay station and arrange the accommodation, they can walk to the square in front of the Potala Palace celebrating the end of riding.
Notice :
(1) If the riders are new, please try to do some appropriate exercises prevent themselves from getting Soft tissue injury. Self-defence must be put in the heart.
(2) Do not make yourself under an extreme state all time.
(3) Do not press for the time. When it rains or snowy, it's better to have a stop.
(4) Keep warm and sunstroke prevention
(5) Be familiar with strategy and check the condition of bicycle at each night. Prepare the things riders will use in next day such as water and food and the way will choose
(6) Do not believe in yourself too much. Do not take photos or talk with others while riding
(7) It's nothing to be a hitch hiker. Riders will meet lots of unexpected events such as the plateau reaction, illness, ladies have their period, the bad public security and so on.
(8) What ladies should know
Try to avoid the period and give more care for yourselves and be independent. Prepare the things needed. Take some female alcohol-based wipe. Bring some pieces of "warm baby".
(9) If riders meet wild dogs or other wild animals such as wolf, It's better to avoid and ignore. After riders pass their manor they will be quiet again.
(10) If riders want to take photo with locals, it's better to get agreement of them. They also need respect.
(11) If riders cannot receive Tibetan religion, please do not describe them as "deeply underdevelopment, ignorant," such kind of words.
(12) Notice environmental protection, do not throw rubbish everywhere.
FAQ on biking from Chengdu to Lhasa :
1.How to cope with altitude reaction?
When riders enter the area with elevation of more than 3000 km, some of them may have altitude reaction because of the shortage of oxygen. What the most terrible is, the shortage of oxygen may cause encephaledema and pneumonedema. That's the direct reason leading to death.
Sometimes there is no sign when it happens. Most of time it starts with hard headache and lasts for a long time. If the one has caught a cold, the situation will be worse. So when there is a light headache please have A.P.C but once it turns wore please go to hospital as soon as possible.
Here is some early prevention for the altitude reaction. A good Physical reserve before starting is necessary. Do not compete the speed and stamina when riding. And the short stop in bad weather is also important. Riders can choose the Qinghai-Tibet route if it's their first riding to Tibet in order to adjust the plateau environment for a long time.
When the hard headache has caught riders last for a long time, riders should take a car to the lower elevation places to have a check at once.
2. What should riders pay attention for?
(1) Choose right riding partners
Riding partners should have independence, the same-like speed, the same moral ideals and consumption concept
(2) People below should not join in the riding
The one who has heart disease, hypertension, blood disease, cranial vascular disease.
The one who has got respiratory system disease, obstructive pulmonary disease such as bronchial asthma.
The one who has suffered from diabetes without control.
The one who has Schizophrenia, Hysteria, Epilepsy
The one ever get diagnosis of plateau pneumonedema, plateau encephaledema, plateau high blood press, plateau heart disease.
The one has caught a cold or effected with RTI (respiratory tract infection) or the temperature is higher than 38 degrees Celsius
The one who is during pregnancy
The hubris one
The one under 18 years old need accompanied
The old
3. How to deal with your bicycle?
(1) Air checking
Riders can pack bicycles in the shop where they bought it. Because the package bag is too big to put into the taxi trunk, riders can ride to the airport and then pack it.
(2) Train checking
You can use the huge box checking your bicycle in train station. When you get Chengdu, you can go to the luggage car riding your bicycle after pay the checking charge.
You can also choose to take bicycle together with you. You can put it under your sleeper berth.
(3) Freight or car checking
Remember pack the bicycle well especially the key parts. If riders want to hitch a ride on the riding way for some reasons, Fuel tank car is a good choice for the flat top.
4. How to deal with bicycles after riding?
Well, first, riders can take bicycle back with checking. The second way is selling it in Lhasa. It's not very hard to sell bicycle there. But there is only one thing riders should pay attention. When riders need checking, they should pack bicycle by themselves and send it to the train station. Do not entrust your bicycle to the bicycle sellers.