Latitude 30 degrees north, known as the world's most dangerous road with distinctive fascinating scenery, Sichuan Tibet Highway has always been a long-expected overland route to many adventures. Every year, thousands of domestic tourists avail this highway to make it to the holy city of Lhasa.
The epic overland journey from Sichuan to Tibet covers about 2100km in around 8 days. You will embark your journey from Chengdu, the gateway city to Tibet on the easternmost edge of Tibetan Plateau, pass soaring mountain passes, and venture into the deepest ravines in the world and further to Kham - the heart of Tibetan culture and history. If conditions permit, you could also continue to travel along the great G318 to Mt. Everest even end the tour in Nepal.
Fortunately, the scenic road of Sichuan Tibet Highway has been readily available to international tourists. Experiencing a Chengdu to Lhasa overland tour will become a new popular trend in the near future. Hopefully, you will travel with us to explore this unparalleled road, loaded with natural wonders, mysteries and exotic Tibetan cultures!
Basic Facts of Sichuan Tibet Highway:
Starting and ending points: Chengdu to Lhasa
Altitude change: 500 meters to 3658 meters
Best time to drive: May to October
North route (2412 km): Ganzi-Dege-Nagqu-Yangbachen-Damxung via G317
South route (2146 km): Batang-Markam-Zogong-Bome-Nyingchi via G318
Converging point: Bamda, Qamdo
Highlights comparison:
North Route: Exotic Tibetan culture
South Route: Diverse natural landscape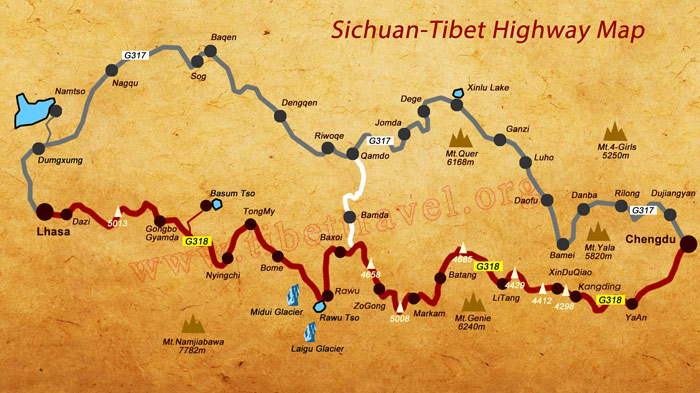 Our Most Classic Small Group Chengdu to Lhasa Overland Tours
As the first and largest Tibetan local tour operator, we offer well-tailored Chengdu to Lhasa overland tours with the best itineraries you can possibly get across Sichuan-Tibet Highway. Not only can you enjoy a classic overland tour from Chengdu to Lhasa via G318 highway, but also extend your trip westwards to the holy Mount Everest in one go. Check the detailed departure date and tour information, and book in advance for discounts.
More Popular Chengdu to Lhasa Overland Tours in Private
With professional teamwork and customized service, we also offer a wide selection of private Chengdu to Lhasa overland tours for your choice. You can enjoy a different cultural discovery road trip via G317 Highway, or choose to cycle along the road by joining in our 4+2 biking tour. All of our tours include the food and accommodation, seasoned guide and driver, travel documents application, etc., to ensure you a safe and comfortable journey along the heroic highway. Pick your favorite tour below to start your wonderful lifetime journey now!
Most Common Questions about Chengdu to Lhasa Overland Tours
1. Where is Sichuan Tibet Highway?
Sichuan Tibet Highway, also known as Chengdu-Lhasa Highway, is the most precipitous road in China running from Chengdu to Lhasa. It is a world-class scenic road travelling through Kham Tibetan areas and part of Hengduan Mountainous Regions. Specifically, the highway comprises two parts: the southern route and the norther route.
The Southern Route is the west section and highlights of G318 Highway, which is a major national highway across China stretching from Shanghai to Zhangmu on the China-Nepal border. Covering around 2146 kilometers, the southern route runs through Litang and Batang, and then enters Tibetan region in Markam, to further extend to Bomi and Nyingchi, before arriving in Lhasa.
The northern route, being part of G317 National Highway, extends a little longer than the southern one, about 2320 kilometers. Starting from Chengdu, it runs through Garze, Dege and towards Qamdo in Tibet, before arriving in Lhasa. The two routes of Sichuan Tibet Highway converge in Bamda, Qamdo. In most cases, the southern route via G318 Highway will be the dominating road to take an overland trip from Lhasa to Chengdu, in view of its breathtaking scenery and favorable road conditions.
2. When is the best time to travel from Chengdu to Lhasa by road?
The best time to travel overland from Sichuan to Tibet is from May to October, when the weather is warm and comfortable, and it is the ideal time to see the best of Tibet and the scenic landscapes along the G318 Highway. But for green hands on driving challenging roads, it is recommended to avoid the rainy season of July and August, since the frequent debris flows and landslides of this period will make the driving dangerous.
From the time of November to April of the next year, it is not so cold in the daytime, but the nights will get quite chilly. However, during this low travel season of Tibet tours, one can experience less crowded roads and get an in-depth discovery of the Tibetan landscape and culture. Besides, one can also take the road trip from Sichuan to Tibet during the time from mid-March to April, when it is the peach blossom season of Nyingchi and one can appreciate the most charming view of this region.
3. How about the road condition of Sichuan Tibet Highway?
As for the southern route of Sichuan Tibet Highway (G318 road), the road condition is actually rather good since the whole line is mostly well paved with asphalt. But obviously, one cannot drive too fast on this road, as there are so many switchbacks and bends, rock-falling sections, together with precipitous topography across valleys and mountains. Especially for the section from Batang to Mangkang, the road is narrow and zigzag, and one may probably encounter with landslides after passing the Jinsha River.
As for the northern route of Sichuan-Tibet Highway, on the other hand, the road is much worse and tends to be primitive compared to the southern one. It is more suitable for those overland adventurers with enough experiences. So it is recommended to choose the south route via G318 Highway, which is not such dangerous and worrisome in terms of the road condition.
4. What travel documents are required for Chengdu to Lhasa overland tour?
For foreign travelers, you need to prepare the Tibet Travel Permit, which is the prerequisite to enter Tibet. The permit can only be obtained by your tour operator with your Chinese Visa and passport copies. And the Aliens' Travel Permit is also necessary when you drive the way to the Nyingchi Prefecture before arriving in Lhasa. If you plan to extend your Chengdu to Lhasa overland trip to Shigatse and Ngari regions, you will also need to prepare Military Permit and Frontier Pass to visit places like Mount Kailash. Since it is demanded that foreigner can only travel to Tibet by joining in an organized tour, it is recommended to contact a trustworthy local agency like us to arrange your tour and apply for your permits in advance.
5. What to pack for Chengdu to Lhasa overland tour?
Firstly you need to pack enough warm clothes as the temperature tends to be quite low at night, even in summer, especially after you enter the high-altitude Tibet. Warm layers, down jackets, weatherproof pants and sturdy boots are necessary. Sunglasses and sunscreen are also needed to resist the strong sunshine on the plateau. Electronic equipment like battery chargers, power banks, camera and the memory card are also required.
Except for the required clothing and daily living goods, one can also bring some food like chocolates and sweets, bread and cookies, bottled water etc., in case you will need to replenish energy. Regular medicines like analgesics (ibuprofen), anti-inflammatory drugs, cold medicines, digestive stomach drugs, diarrhea drugs, are also required. For taking care of the altitude sickness, you are also suggested to take rhodiola rosea oral liquid, glucose oral liquid and more of the kind.
6. How about the accommodation along Sichuan Tibet Highway?
Along the line of Sichuan Tibet Highway, there are small towns, counties and villages to provide basic accommodation for tourists. From star-rated hotels to ordinary guest houses and family inns, you can find proper accommodation for your night stay. If lucky, you can also find a homestay in a local Tibetan house. While if you travel with us by joining in our Chengdu to Lhasa overland tours, you can feel relieved to enjoy the well-reserved accommodations by our guide.
7. How about the food and dining along Sichuan Tibet Highway?
Being a popular scenic road attracting numerous tourists every year, the line of Sichuan Tibet Highway has been dotted with various restaurants along the way. Most of them offer Sichuan dishes or Tibetan dishes, and the price will be higher than the normal but acceptable considering the delivery cost. It is recommended to try the local food as it is a good way to experience the local cultures. If you are not so keen on the food offered by the restaurants, you can also bring some fruits and snacks of your favorite.
More articles giving you more information of Chengdu Lhasa overland tour in different perspectives:
Quick Inquiry
We'll get back to you within 24 hours.
If you are planning to enjoy a lifetime Chengdu to Lhasa overland tour, yet have no ideas of how to sort it out the details, no worries! we would like to hear your tour plan and offer free professional consultancy and viable solutions. Please feel free to contact us.