Hotels along Sichuan Tibet Highway: guide on accommodation for your Chengdu to Lhasa overland tour
Travelling overland from Chengdu to Lhasa is such a legendary and challenging experience that is quite different from other road trips one can have. The Sichuan-Tibet Highway (G318) will take you to traverse unique complex landscape from grand gorges to crystal glaciers, within a journey of at least 7 days. It is indeed a big test. And many who intend to rise to the challenge will doubt what the accommodation like along this epic route? How to book a suitable hotel for overnight stay during the road trip from Chengdu to Lhasa?
Well, the fact is that the accommodation condition along Sichuan-Tibet Highway has been greatly improved in recent years, owing to the popularity of Chengdu to Lhasa overland tour among domestic tourists. Star-rated hotels of all grades are available for booking. There are also guest houses in all counties, equipped with complete facilities including hot water for bathing. Check the following guide to know the details about the accommodation along Sichuan-Tibet Highway.
Types and Cost of Hotels along Sichuan-Tibet Highway (G318)
In addition to traditional business hotels decorated in different styles, there are luxury resorts, budget guesthouses, and local Tibetan family inns, available to meet different needs of tourists. From superior king bed to standard room, you can choose the suited one for yourself based on your own requirements.
As to the cost on hotel bookings, it is much relevant to the travel seasons. Regardless of the types and sizes, the rooms will be much expensive during the peak season, from May to June and September to late October. For example, a standard room of 200 to 300 CNY will charge 500 to 600 CNY when it comes to the high season, with a crowded of tourists. Some hotels will even have a temporary rise in price in the case of exceeding demands. Therefore, it is advised to travel overland from Chengdu to Lhasa in low seasons, avoiding festivals and holidays like China's National Day.
Standard Business Hotels
Along the way from Chengdu to Lhasa by road, one will pass through many counties, towns and even villages. Normally, standard business hotels can be found in all major cities along the way, such as Kangding, Yading, Xinduqiao, Batang, Zogong, Bomi and Lhasa. Some of them are traditionally decorated, while the others are in exquisite Tibetan style. Some are even provided with broad viewing platform in certain rooms. The prices will vary a lot among different hotels, from peak seasons to off seasons. You can check the price online in advance and make an early booking.
Tibetan Family Inns
If you like to contact with the locals and make friends, then Tibetan family inns are a good choice. These family hotels operated by local Tibetans will generally charge less compared to those opened in the town, and breakfast and dinner will be covered for the payment. It is better to have a talk on the price before you stay in. If lucky, the owner will share you some insider tips which are helpful to your road trip from Chengdu to Lhasa.
Lodges and Hostels
Traditional lodges and hostels, basically located in places with high traffic such as railway stations, are mostly simply equipped. This kind of hotels usually accommodates assorted guests with irregular check-in time. But the rooms are much cheaper and equipped with basic facilities. For budget tourists who care less on accommodation conditions, it is also a good shelter for an overnight stay.
Day-by-Day Accommodation Guide for Chengdu to Lhasa Overland Tour
Day 1: Chengdu - Ya'an - Luding - Kangding - Xinduqiao (410km)
After the first day's drive, many tourists usually choose to stay overnight in Kangding or Xinduqiao. At an elevation of 3300 meters, the town of Xinduqiao has been raised as photographers' heaven and is the place where you can take a good sight of Tibetan landscape.
Hotels Recommended in Xinduqiao:
Kangding Kangzang Huating Hotel: this is a cost-effective one among various hotels in Xinduqiao. Featuring Tibetan style decoration, the hotel is provided with private bathroom, air conditioning, WiFi etc. Breakfast is served in the restaurant, featuring Sichuan cuisine and special Tibetan dishes. Free parking is also offered. The hotel is located directly opposite the Gongga Mountain observation deck, backed by wetland park and grassland. If you happen to book a roof room, you may enjoy a good view of the snow-capped Gongga Mountain.
Kangding Yangzongling Hotel: Located on the scenery promenade of the town, Kangding Yangzongling Hotel is a boutique hotel combing both the attractive plateau scenery with ethnic cultural temperament. The hotel is fully equipped with unique decoration, with many different theme rooms. The top-floor starry sky suite has a transparent roof design, where the air is clean and the clouds are thin, allowing you to watch the moonlight. For tourists preferring a luxury room experience, the hotel can be one of your choices.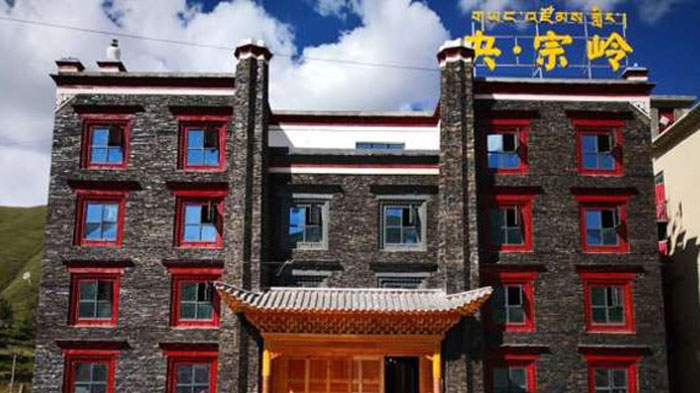 Kangding Yangzongling Hotel
Heiqingke Zhuangyuan Theme Hotel: the hotel is a historic manor of more than 300 years old. It is located on the way of the ancient Tea-Horse Road and is an important point to enter Tibet. The hotel is purely Tibetan culture themed, and allows guests to participate in various experiences such as field work, grazing, milking, riding on a cowhide boat, tasting Tibetan food, wearing Tibetan costumes etc. to fully understand Tibetan culture. The breakfast of the hotel serves in free buffet, with kinds of dishes.
Day 2: Xinduqiao - Yajiang - Litang - Haizishan Mountain - Batang (400 km)
Owing to the opening of expressway from Chengdu to Ya'an to Luding, one can easily arrive in Yajiang County before the nightfall, if departing from Chengdu in the early morning. The elevation of the county is also not too high, being only 2500 meters. So, you can also stay here for the first night stay instead of Xinduqiao.
Litang is the world's highest city, with an altitude of more than 4000 meters. It is not recommended to spend the night here, since the high altitude will bring a series of altitude sickness such as poor breathing, nausea, nausea, headache, etc., and will probably ruin your wonderful drive of the following day.
Batang (2700m) is a scenic place with lower altitude and is often reputed as "the paradise on earth". Located in west Ganzi, it is also the last big town before one enters the region of Tibet. Many tourists will choose to stay night in this country for a pleasant accommodation.
Hotels Recommended in Batang:
Jundao Pengcheng Hotel: The hotel is located in the center of Batang County, where the quiet and beautiful, holy Cola Lake is also located here. Covering an area of 3,500 square meters, the hotel has 68 cozy rooms that can accommodate up to 140 people. Stylish and elegant, the rooms have 24-hour hot water and Wi-Fi access. At the same time, the hotel is equipped with restaurants, supermarkets, tea houses and other supporting facilities. Generally, the hotel is a standard option and is cost-effective for the majority of tourists.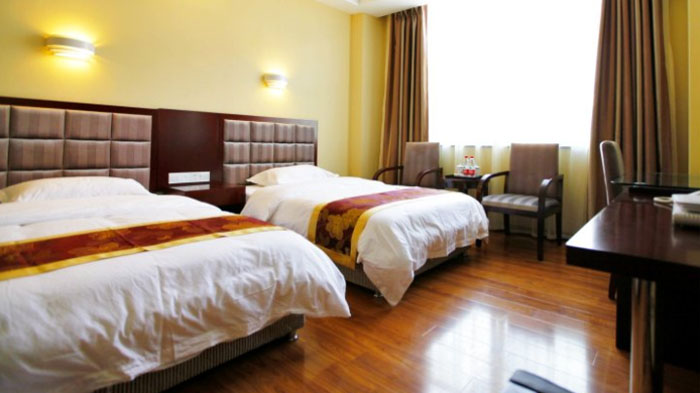 Jundao Pengcheng Hotel
Batang Degalin Inn: the hotel is decorated in Tibetan style with plateau garden. The buildings all use low-carbon, environmentally-friendly and pristine materials, to pursue a classical and ecological environment. Each room is fully equipped and has its own characteristics. There are fruit trees and flowers carefully planted in the courtyard. With agreeable environment, the hotel is suitable for tourists of the senior and the young.
Day 3: Batang - Jinsha River - Markam - Lawu Mountain - Dongda Mountain - Zogong (260km)
Despite of the adequate numbers of guesthouses provided in Markam, the accommodations are all poorly equipped. One can drive on to Zogong for a better night stay, passing two more mountains. Located in southeast Tibet, Zogong County is the only place where merchants can get into Tibet from the Tea-Horse Road. There are many standard tourist hotels available in this county, all provide with fully-equipped guest rooms and excellent services. You can have a good rest here after a long day's journey.
Hotels Recommended in Zogong:
Zogong Yuexi Resort Hotel: the hotel is near to the petrol station. It covers an area of 12 acres and has more than 100 rooms. Chinese restaurant and buffet restaurant are provided as well. One thing to be noted is that there is an oxygen supply machine equipped in each deluxe standard room, deluxe single room, family suite and business suite, to ease the symptoms of altitude sickness.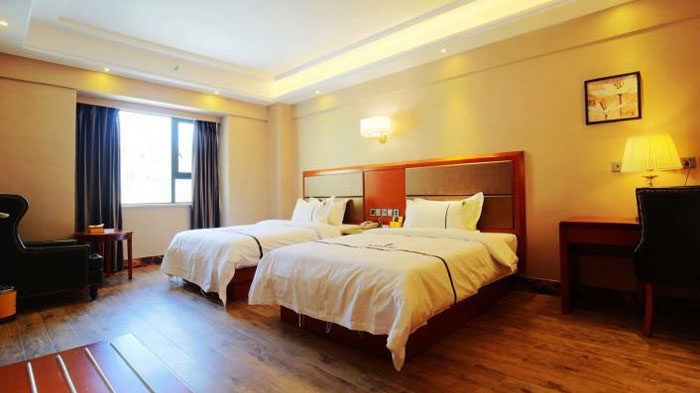 Zogong Yuexi Resort Hotel
Zogong Shengfang Hotel: The hotel has over 70 rooms of various types. All floors are provided with large public rest areas and balcony with views. Each room covers more than 35 square meters, and is provided with 24-hour hot water and free WIFI, as well as oxygen machine. There are special sightseeing elevators installed from the first floor to the fifth.
Day 4: Zogong - Bangda Grassland - Yela mountain - Seventy-two Bends - Baxoi (200km)
At 3260 above sea level, Baxoi actually sits in the low valley of the plateau. It offers a wide horizon and charming scenery, with featured cultural attractions and convenient transportation. It is an ideal place to shelter for the night. One can even spend one more day to tour around, visiting the famous Dora Mountain, Gama Valley etc.
Hotels Recommended in Baxoi:
Baxoi Hotel: the hotel is near to a hot spring and the Dora Mountain, and is provided with a variety of comfortable rooms. The restaurant can accommodate up to 200 people and serves local specialties and sichuan food. In addition, the hotel also has tea house, luxury private rooms. It is a standard modern-style hotel meeting the basic needs for accommodation.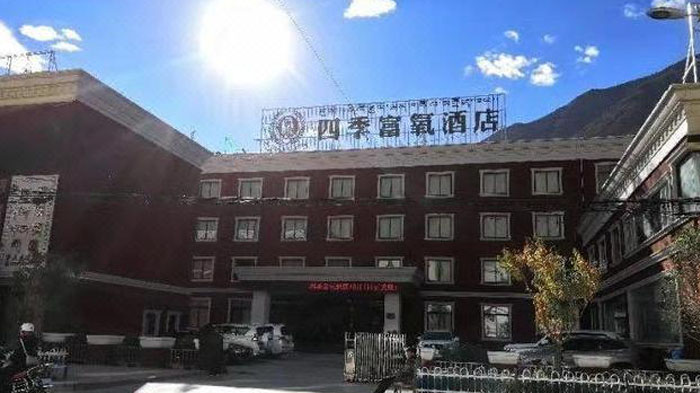 Baxoi Hotel
Boxoi Zichen Boyue Hotel: It is a newly-opened hotel just located at the roadside of the G318 Highway. Mysteriously and elegantly decorated in Tibetan architectural style, the hotel offers clean and neat rooms for guests. One can also enjoy delicious fresh food here. Except for standard double room and twin room, the hotel also has themed twin rooms with views, panoramic family suites for parents and child, and luxury suites, to meet the needs of travelers with families.
Day 5: Baxoi - Rakwa Tso - Midui Glacier - Parlung Tsangpo - Bomi (250km)
Bomi is a major county along the route of Sichuan-Tibet Highway, and is provided with favorable accommodation environment. Hotels are concentrated here, mostly being on the road side of G318 Highway. Tourists can take time to find a proper one after your arrival.
Hotels recommended in Bomi:
Bomi Xiangpeng Boutique Hotel: the hotel has all necessary facilities with neat and tidy guest rooms. Free parking is available in the yard and can park more than 10 cars. There is a car wash opposite the road. Standing in the corridor, one can see Palong Zangbo River in the distance passing through the fields of Zhamu Town. With tasty and affordable food in the dining hall, the hotel is a good choice for budget travelers.
Hengxin Zangwang Hotel: the hotel sits in the main street of the county, close to the snow mountain. It has a fine decoration that can rank top in the surrounding areas. The rooms are broad and fully equipped. There are deluxe guest rooms with a viewing balcony. If conditions permit, you can book a good stay in this hotel to eliminate all your fatigue during the road trip.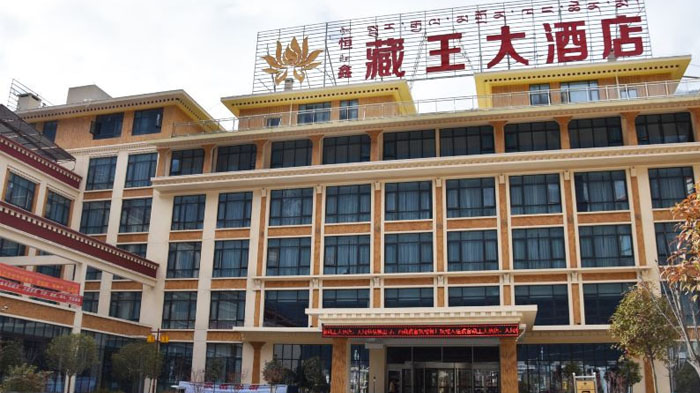 Hengxin Zangwang Hotel
Day 6: Bomi - Tongmai - Lulang Forest - Sejila Mountain (Mt. Namcha Barwa) - Nyingchi (230km)
The accommodation in Nyingchi could be the best except for Lhasa city. There are even several 5-star hotels, together with other 4-stars and 3-stars, guesthouses, family inns. All hotels are provided with 24-hour hot water, shower set etc. After finishing the day's travel, you can take a hot bath and enjoy a good sleep here. In addition, one can surely feel blissful in the picturesque scenery of Nyingchi.
Hotels recommended in Nyingchi:
Gela Dandong Business Hotel: is a 3-star hotel with adequate rooms that the majority can afford to book. There are 175 single rooms and twin rooms, all well decorated and equipped. Located in the downtown area, the hotel also provides easy access to the restaurants and super markets nearby.
Hilton Linzhi Resort: this international resort hotel possesses an advantaged position where it is backed by the Himalayas, adjacent to Nyingchi Airport and the Yarlung Zangbo Grand Canyon. More than 200 high-quality rooms are provided, designed in both modern and Tibetan styles. Here you can taste exquisitely prepared food or enjoy a leisure chat with your friends in the lobby bar. There are also banquet hall, conference room, cinema, gym, heated swimming pool, starry sky bar etc. Featuring unique beautiful landscape and rich cultural experience, Hilton Linzhi Resort could be a perfect choice for business travelers and family trips.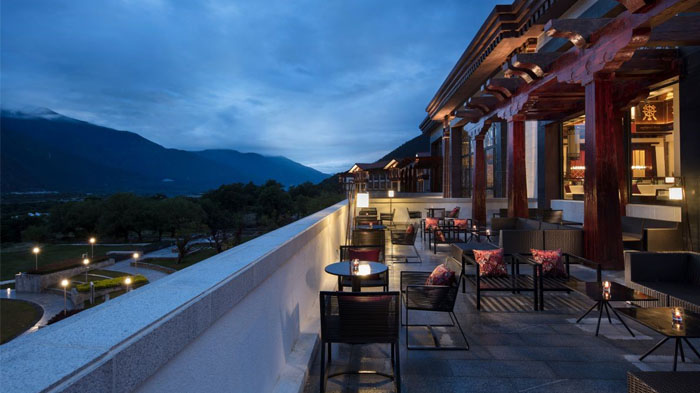 Hilton Linzhi Resort
V-continent Nyingchi Hotel: the hotel is located on the bank of the Niyang River, about 2 hours' drive from the scenic spots such as the Yarlung Zangbo Grand Canyon, Basum Lake and Lulang Forest. The Riverside Avenue at the entrance of the hotel is the only way to go to Milin Airport and G318 Highway. Tourists can take a sight of the Niyang River when staying in this hotel. There is also a featured Chinese restaurant, a full-time restaurant, gym, tea house, card room, and spa center etc.
Day 7: Nyingchi - Lhasa (420km)
On the last day of the road journey, you will finally arrive in Lhasa, the provincial capital of Tibet. Hotels in Lhasa are rich in varieties, rated from 3 stars to 5 stars. And lodges and hostels all feature different styles.
Hotels Recommended in Lhasa:
Lhasa Photography Theme Hotel: the hotel is located 50 meters from the south gate entrance of Barkhor Street circle, in the center of the old city of Lhasa, with convenient transportation and close proximity to tourist attractions. Themed on photography, the hotel is also suitable for ordinary travelers, and is a cost-effective choice in Lhasa.
The St. Regis Lhasa Resort: ranking the third among all the hotels in Lhasa, the resort hotel provides excellent accommodation for tourists who want to enjoy a luxury experience and customized service. The hotel is ideally located within a 10-minute walk to the Jokhang Temple and the Barkhor Street, just 3 km from the Potala Palace. There are 162 luxurious rooms and suites with commodious space ranging from 61 to 254 square meters. Especially, the special Spa here brings tourists a special experience that allow you to be fully relaxed and alleviate your suffering from altitude sickness.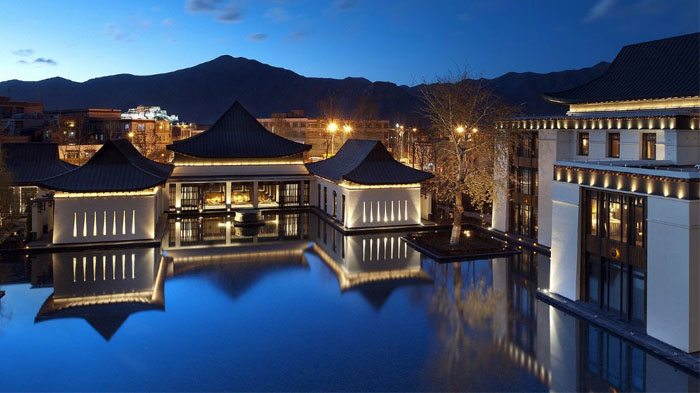 The St. Regis Lhasa Resort
Lhasa Shangri-La Hotel: the hotel is a traditional Tibetan-style one with a variety of modernized rooms, as well as privileged Horizon Club and private VIP lounge. The rooms are bright and clean, with complete facilities, all covering over 43 square meters. There is specialty restaurant serving authentic Cantonese and Sichuan cuisine, and varied local and international dishes are offered all day long in the Top Cloud restaurant of the hotel. It is a good place for romantic lovers to enjoy the quality time together. Tourists who fancy authentic Tibetan style designs should not miss this hotel as well.
Join in our Chengdu Lhasa Overland Tour with Accommodation Arrangement
Considering the long-lasting duration of a Chengdu to Lhasa overland trip, it will be quite a heavy work to sort out your perfect hotels for night-stays. As a better option, you can contact us for professional help. As the leading local tour operator, we have well designed the classic Chengdu to Lhasa overland tours, with selected hotels covered in the package. You will also enjoy excellent services of veteran drivers and guides, travel permit application etc. Book your trip with us now to award yourself a hassle-free road trip along one of the world's most prestigious highways.
Conclusion
Accommodation along Sichuan Tibet Highway should not be a worrying issue for tourists trying to drive overland from Chengdu to Lhasa. There are plenty of choices on hotels, from star-rated luxury resorts to cost-efficient guesthouse, especially in the larger cities along the highway. It is suggested to stay overnight in places with lower altitude, normally no more than 3000 meters, in case you will suffer from altitude sickness. Also, it is helpful to make a reasonable schedule and plan your hotel bookings in advance, to go smoothly for your tour and save more on your travel costs. Besides, you can also book your trip with us to enjoy a pleasant Chengdu to Lhasa overland journey with reserved accommodations.