Shigatse and Yamdrok Lake Maps
Shigatse and Lake Yamdrok Location Map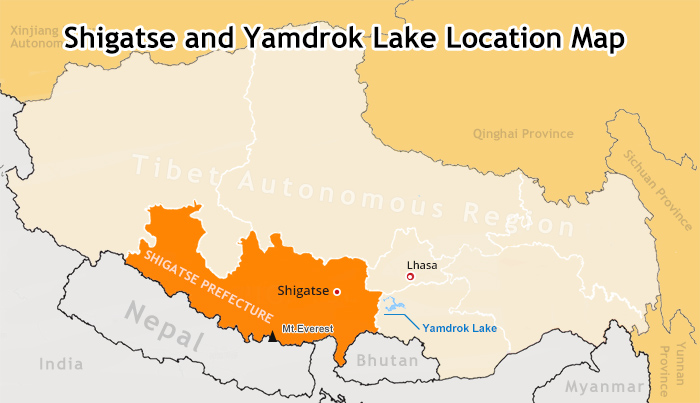 (Simple click to enlarge the map)
Shigatse and Yamdrok Lake Location Map
Facts about Shigatse:
The second largest city next to Lhasa in Tibet; Home to the world's summit— Mt. Everest(8844.43m); also the Seat of successive Panchen Lama; best place to enjoy panorama of Himalayan Range
Altitude: 3,830m
Total Area: 182,000 sq km
Population: 635,200
Counties: there are 18 counties under the jurisdiction of Shigatse prefecture, such as Gyantse, Tingri, Gyirong, Nyalam, Sagya, etc.
Transportation:
China National Highway 318; China National Highway 219
Lhasa-Shigatse Railway ( takes about 2:55h, daily)
Shigatse Peace Airport
Shigatse Weather: semi-arid plateau climate; low oxygen content; strong solar radiation, long daytime (3300hours annually);
Best Time to Visit: April to Oct;
(Tips: If tourists prefer to visit Everest Base Camp, the best time to visit EBC would be from April to Mid-June and from Sept. to Oct.)
Facts about Yamdrok Lake:
Travelling from Lhasa to Shigatse, tourists will pass one of the most famous alpine lakes in Tibet, i.e. turquoise Yamdrok Lake. Overlooking the Yamdrok Lake from Gangbala Pass, you may find that the lake looks like a sapphire embedded in surrounding mountains.
Altitude: 4,400m
Total Area: 800 sq km
Yamdrok Weather: mild and pleasing; In fact, it is worth a visit all year round except Nov. since it freezes in winter.
Shigatse City Map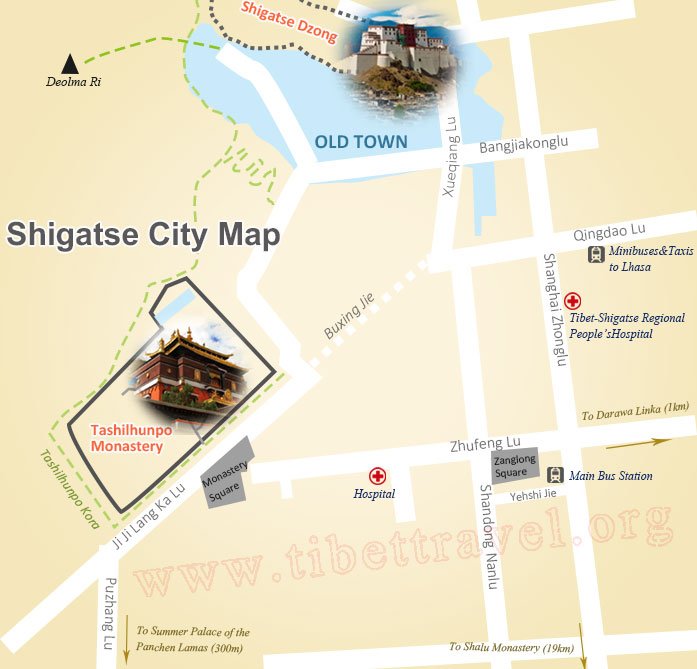 (Simple click to enlarge the map)
Shigatse City Map
90km northwest of Gyantse lies the Shigatse city. The city consists of old town, situated at the foot of Shigatse Dzong, and the rest of growing modern city.Undoubtedly, the biggest draw inside Shigatse City would be the 600-year-old Tashilhunpo Monastery, one of the six major monasteries of the Gelug sect.
Built by the first Dalai Lama, Tashilhunpo Monastery covers a massive area of 300,000 sq meter and serves as the seat of successive Panchen Lama. It houses the gilt statue of Maitreya Buddha (also known as the Future Buddha), measuring 22.4m high, etc.During the grand festival, the gigantic Buddha is expected to be unveiled on famous Festival Thangka Wall inside Monastery and pilgrims will do kora around Tashilhunpo Monastery as well.
Another attractions:
Shigatse Dzong
The architecture of Shigatse Dzong resembles the Potala Palace in Lhasa. Now it is only used as a museum of Tibetan culture and history.
Shalu Monastery
Small as it is, Shalu Monastery is known for its Buddhism learning and mental training. The fresco inside and treasures (such as sutra board, stone basin, stone tablet, etc.) it houses are incredible.
Summer Palace of Panchen Lamas
If you are impressed by the history of Panchen Lama in Tashilhunpo Monastery and never forget the beauty of Norbulingka, the summer palace of Dalai lama, Summer Palace of Panchen Lamas is recommended for you to explore. It's only 1km south of Tashilhunpo Monastery.
Lhasa to Yamdrok Lake and Shigatse Map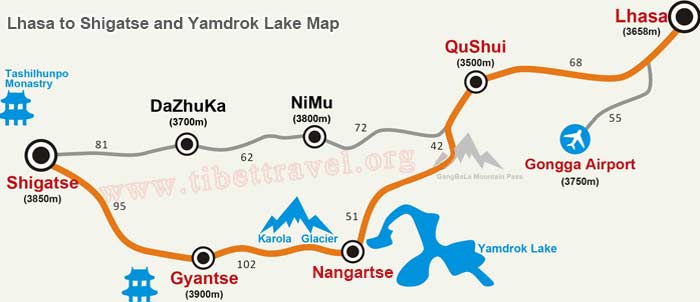 (Simple click to enlarge the map)
Lhasa to Shigatse and Lake Yamdrok Map
Travelling from Lhasa via Yamdrok, Shannan prefecture to Shigatse has been a classic and well-established Tibet tour route for years. Tourists can explore the profound history of Tibetan culture and witness how important Tibetan Buddhism is to the daily life of Tibetans, both young and old. Of course, the awe-inspiring lofty mountains, incredible alpine lakes, and hospitable locals, etc. will add up to your memorable experience in China.
A number of popular attractions would include Potala Palace, Jokhang Temple, Barkhor Street, Sera Monastery, Drepung Monastery, Yamdrok Lake, Karola Glacier, Palcho Monastery, Tashilunpo Monastery, Rongbuk Monastery, and Everest Base Camp.
Recommended Tibet Tour Package from Lhasa to Shigatse