Lhasa City Map
Lhasa, the capital city of Tibet Autonomous Region in China, is the spiritual and secular heart of Tibet. It is home to a prestigious array of Tibetan Buddhist sites and the first impression of Tibet Tour for the majority of tourists. Find out the highlights attractions inside and around historical Lhasa city.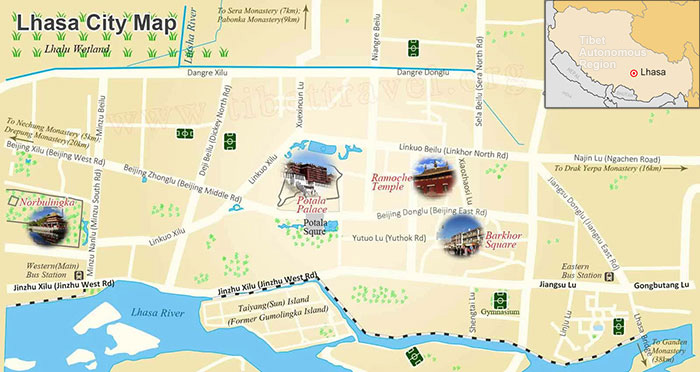 (Simple click to enlarge the map)
Lhasa City on Map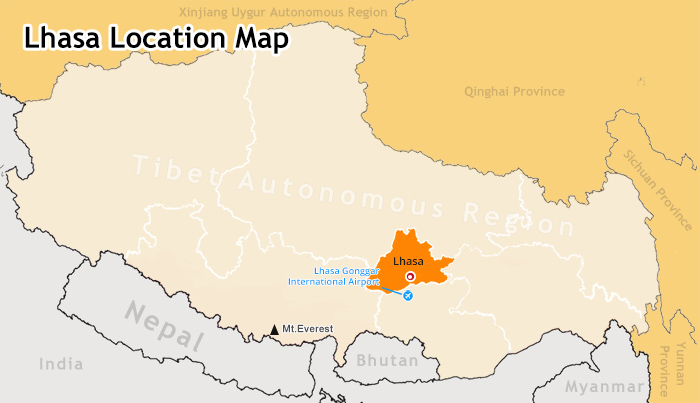 (Simple click to enlarge the map)
Lhasa Location on Map
With an altitude of 3658m and size of 31,662 square km, Lhasa is the highest city in the world. To its south runs through the breathtaking Lhasa River, a tributary of Brahmaputra River (also known as Yarlung Tsangpo River). Flanked by mountains up to 5,500m, Lhasa is an alluvial plain with mild climate and pervasive influence of Tibetan Buddhism. Here we also prepare a series of Lhasa Location Map and Lhasa Old Town Map for your reference.
Lhasa Attraction Map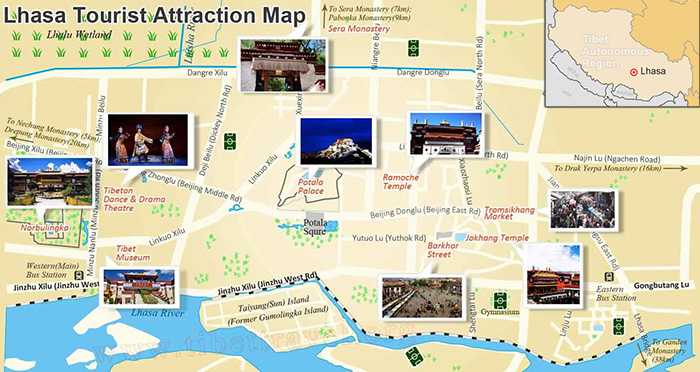 (Simple click to enlarge the map)
Lhasa Attraction on Map
Must-see attractions in Lhasa are as follows:
Potala Palace: the most iconic religious site of Tibet; winter palace for Dalai Lama with superb panoramic view of Lhasa city
Jokhang Temple: the spiritual heart of Lhasa; perfect place to explore history of Tibetan Buddhism and experience Tibetan Pilgrims' prostration and worship
Barkhor Street: Watch and join Tibetan pilgrims' kora (religious circling) around Jokhang Temple; brilliant place to shop for exotic souvenirs
Ramoche Temple: Second most important temple in Lhasa only next to Jokhang Temple
Sera Monastery: highly recommended place to enjoy dramatic Monk Debate ;one of the three renowned Tibetan Buddhist monasteries with Gelug sect
Norbulinka: known as the summer palace of Dalai Lama; place of relaxation and picnic for Lhasa residents
Tibet Museum: collectively display of Tibetan cultural relics, rare Thangkas, religious ornaments, and musical instruments, etc.
Other options:
Lhasa River: picturesque scenery with perfect habitat for wild birds (such as black-necked cranes, wild ducks, etc.) and lush vegetation; another preferred place for picnic for Lhasa residents
Tromsikhang Market: historical bazaar where fresh Tibetan farm produce are sold; unusual place to learn the folk life of Lhasa residents
Attraction around Lhasa Map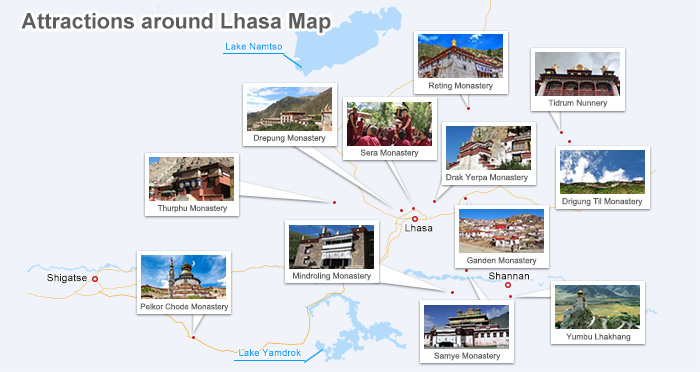 (Simple click to enlarge the map)
Attraction around Lhasa on Map
A number of attractions around Lhasa, both historical Tibetan Monasteries and sacred alpine lake, are also something you couldn't afford to miss
Cycling and Sightseeing:
Namtso Lake: the biggest saline alpine lake in Tibet; one of the three most sacred lakes in Tibet
Yangpachen Hotspring: abundant geothermal resource for bathing and relaxation
For Trekking and Sightseeing:
Trek from Ganden Monastery to Samye Monastery
Ganden Monastery is one of the most famous monasteries of Gelug sect around Lhasa. You can enjoy the stunning view of Lhasa Valley.While Samye Monastery is the first Tibetan monastery built in Tibet and its unique architecture mirrors Buddhist cosmology and philosophy.To outdoor enthusiasts, you can enjoy idyllic trekking route from Ganden Monastery to Samye Monastery.
Trek from Thurphu Monastery to Yangpachen Monastery
Tsurphu Monastery is the seat of the Karmapa branch of the Kagyupa order of Tibetan Buddhism. The monastery houses cultural relics of 16th Karmapa and vivid Buddhist fresco.
Tourists can trek from Thurphu Monastery to Yangpachen Monastery, which is only 80 km away from Lhasa. You can see the alpine pasture and lofty mountains in the distance and herdsmen and countless wild flowers, etc.
Other Popular Monasteries around Lhasa:
Drepung Monastery: one of the towering monasteries with Gelug sect around Lhasa; the best monastery to see gigantic Buddha thangka unfolding during Shoton Festival ( around July, 1st on Tibetan Calendar); brilliant view of Lhasa skyline
Drak Yerpa Monastery: quiet and serene, the monastery is built on the cliff. There are many medication caves to explore with brilliant view of mountains and valleys from above.
Drigung Til Monastery: a monastery impossibly grafted onto a sheer cliff face; solemn place for sky burial (to respect the dead and their family, it is often forbidden to tourists.)
Mindroling Monastery: the largest and most important Nyingmapa monastery; cham dancing is staged on the 10th day of the 5th Tibetan lunar month.
Reting Monastery: It was the first major monastery of the Sarma revival. It was Reting Rinpoches who successfully searched and discovered the 14th Dalai Lama.
Tidrum Nunnery: The nunnery, though small, is home to hundreds of nuns and countless hermitages. Pilgrims and visitors come to Tidrum for the sulphur hot springs, also frequented by the nuns.
Hotel and Accommodation Map of Lhasa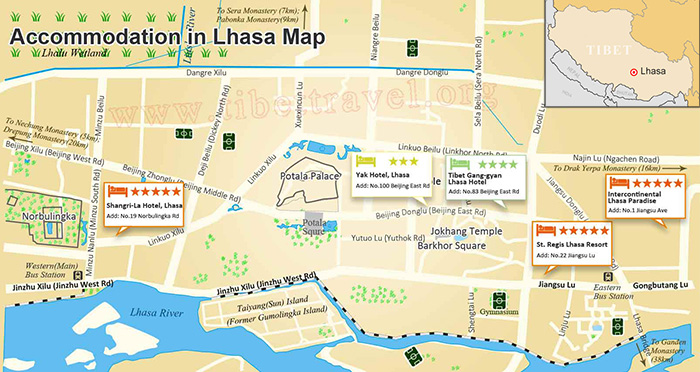 (Simple click to enlarge the map)
Lhasa Accommodation on Map
The overall accommodation facilities in Tibet are comparatively humbler than that of other major cities in China. However, Lhasa, the capital city of Tibet, is a different case. It diverse hotels ranging from youth hotels, standard rooms, all the way up to 5 star luxury hotels can cater to the most picky minds. Here are some of the recommended hotels for you in Lhasa.
Yak Hotel (3 star) :
The biggest advantage of Yak hotel is its closeness to some of the most iconic attractions in the heart of Lhasa. Many restaurants to dine and hotels rooms are large, clean rooms with great bathroom facilities.
Add: No.100 Beijing East Rd
Tibet Gang-gyan Lhasa Hotel(4 star)
This large hotel, owned by the Tashilhunpo Monastery in Shigatse, is conveniently located near the edge of Barkhor Street and the Jokhang Temple. Though being at the center of old city of Lhasa, it is a quite sanctuary to enjoy the comfortable stay.
Add: No.83 Beijing East Rd
Shangri-La Hotel, Lhasa (5 star)
Artistic design, superb facilities and tourists-orientated service, plus good location with lovely views make Shangri-La one of the better options to stay in Lhasa.
Add: No.19 Norbulingka Rd
St. Regis Lhasa Resort (5 star)
Stylish property, exceedingly comfortable and spacious rooms and its proximity to the major attractions like Jokhang Temple and Barkhor Street give St. Regis Lhasa Resort distinct edge over other 5 star luxury hotels in Lhasa.
Add: No.22 Jiangsu Lu
Intercontinental Lhasa Paradise (5 star)
Probably, to many tourists the first impression of Intercontinental Lhasa Paradise is its exotic sailboat contour. Inside the hotel, rooms are clean with brilliant facilities and the Staff are readily-available. The only problem is that since the hotel is situated at the outskirts of Lhasa, it might be a bit inconvenient if tourists come back late at night from Lhasa city.
Add: No.1 Jiangsu Ave
Restaurants in Lhasa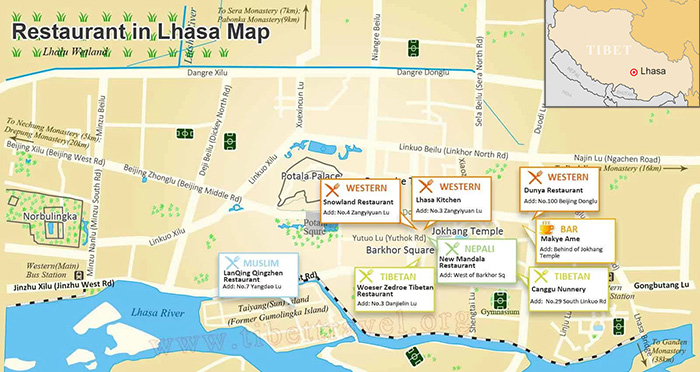 (Simple click to enlarge the map)
Restaurant in Lhasa on Map
Due to the extreme altitude and inhospitable natural environment on Qinghai-Tibet Plateau, traditional Tibetan dishes are known for its rich nutrition, high calorie and tasty flavor. Since Tibet is adjacent to Nepal and India, its food bears much the influence of the neighboring countries.Tourists can enjoy a variety of choices, such as Nepalese cuisine, Indian dishes, Tibetan delicacy, or western and Chinese food. Most of the catering service is centered around Chengguan district. Recommended restaurants in Lhasa are as follows:
Lhasa Kitchen
Lhasa Kitchen mainly provides Tibetan cuisine, and is also known for its Indian, Nepalese, Chinese, Western dishes and other snacks as well. The Nepalese and Indian cuisine are highly appreciated by tourists. The staff are very friendly. You can enjoy the special atmosphere and top service in Lhasa Kitchen. It is a good choice for a budget lunch and dinner.
Add: No.3 Zangyiyuan Lu
Snowland Restaurant
This ground-floor restaurant usually opens from 7:30am to10:30pm and provides Tibetan, Nepalese and Western cuisine in a nice, comfortable atmosphere. The Indian dishes are its specialty. It offers English menu for tourists' convenience. It is quite popular among budget travellers for delicious delicacy. But credit cards are not accepted by this restaurant in Lhasa.
Add: No.4 Zangyiyuan Lu
New Mandala Restaurant
New Mandala Restaurant is a Nepali-run restaurant in Lhasa. Decent food is served here and you have many choices, from Western to Chinese cuisine. If you are going to Jokhang Temple and Barkhor street for shopping, you can drop by this place.
Add: West of Barkhor Sq
Makye Ame
The legendary restaurant is said to be the place where Six Dalai Lama dates with his loved one. Admittedly, it is best place to enjoy the Tibetan pilgrims' kora around Barkhor Street from its rooftop. Mostly traditional Tibetan food is served here such as finger- licking Tibetan lamb, yak soup, etc.
Add: Behind of JokhangTemple
Woeser Zedroe Tibetan Restaurant
It's one of the oldest Tibetan restaurants in Lhasa. The restaurant is peppered with both civic and rustic ambience. Tourists can order simple and tasty dishes like Tibetan noodles, momo( dumpling), and chat with your friends while drinking a cup of sweet tea.
Add: No.3 Danjielin Lu
Dunya Restaurant
Dunya restaurant in Lhasa is a foreign-run restaurant with quality and wide-ranging food, so the price is more expensive than the others. It is located in the old center of Lhasa nearby the Potala Palace and Jokhang Temple. It is a great place to relax and enjoy delicious food from the oregano-flavored pizza crust to the Italian imported pasta. Only top quality meats and vegetables are used in
the kitchen. English Menu is provided.
Add: No.100 Beijing Donglu
Canggu Nunnery
To the southeast of Jokhang Temple lies the lovely monastery, i.e. Canggu Nunnery (also known as Tsamkhung Nunnery). The tiny monastery is adorned with colorful flowers and nuns lead a peaceful life here. Tiny as it is, the whole compound gives you the sense of harmony and small haven in this bustling world. Tourists can stop by its famous sweet teas house and spend the relaxing day here by having the sweet tea and Tibetan noodles, yak meet here.
Add: No.29 South Linkuo Rd
LanQing Qingzhen Restaurant
The restaurant is very special with the cozy Tibetan-style seating amid many Muslim restaurants in the old town. Its specialty is the Chicken in a sauce with potatoes and carrots and Noodle dishes, such as chaomianpian or ganbanmian are the best choices for lunch.
Add: No.7 Yangdao Lu
China Tibet Train Map
Travelling to Tibet from all parts of China is made easy and enjoyable large due to the massive and highly-developed Qinghai-Tibet Railway. Currently, there are 9 major railway routes that connect Lhasa with other parts of mainland China.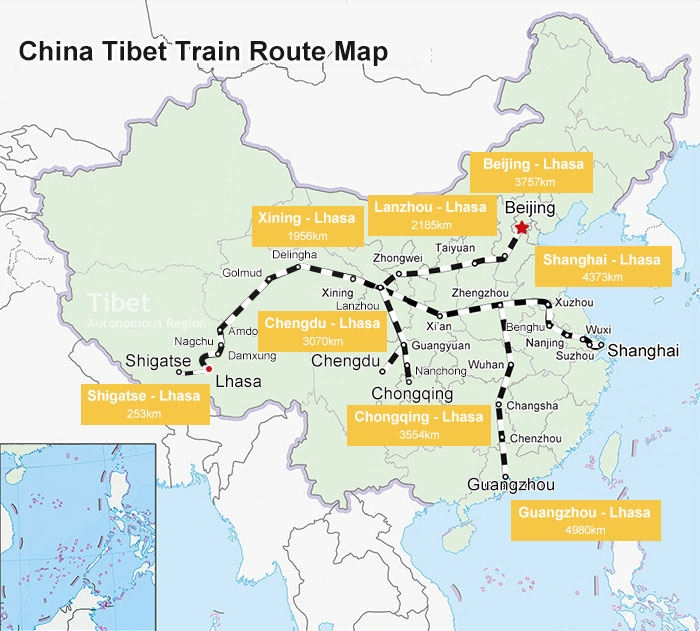 (Simple click to enlarge the map)
China Tibet Train on Map
Beijing-Lhasa Railway:
Beijing-Lhasa Train Z21(returnZ22) has served as one of the three initial railway routes of Qinghai-Tibet Railway, with other two major railway lines moving from Chengdu to Lhasa and Xining to Lhasa. Beijing-Lhasa train stretches as far as 3757km and crosses over 8 provinces and it takes around 40 hours and 53mins from Beijing to Lhasa.
Shanghai-Lhasa Railway:
Shanghai-Lhasa Train Z164 (return Z166) covers provinces from eastern to western China and has 4373 km in total. It normally takes about 47. 34 hours to reach Lhasa from Shanghai.
Chengdu-Lhasa Railway:
Chengdu-Lhasa Train Z322 (return Z324) is a hot travel route bridging Tibet with the homeland of giant pandas. The railway crosses 5 provinces and measures 3070 km. It takes about 41 hours and 31 mins to reach Lhasa from Chengdu.
Chongqing-Lhasa Railway:
Chongqing-Lhasa Train Z223(return Z224) stretches as long as 3654km and it takes around 42:13h to reach Lhasa from Chongqing. If tourists prefer to enjoy Yangtze River cruise trip first and later move from Chongqing to Tibet, this railway route is recommended to you.
Xi'an-Lhasa Railway:
Xian-Lhasa Train Z265 (Z165) is more an integral part of Chongqing-Lhasa railway, of Guangzhou-Lhasa railway and of Shanghai-Lhasa railway than an independent railway route.
Xining-Lhasa Railway:
Xining-Lhasa Train Z6801 (Z6802) is the genuine Qinghai-Tibet train which starts from Xining, Qinghai province with 1960 km in total. It takes approximately one day (or 20:55 hour ride) from Xining to Lhasa. Each year there are around one quarter of tourists who may take train to Lhasa from Xining.
Guangzhou-Lhasa Railway:
Guangzhou-Lhasa Train Z264(returenZ266) departs daily at noon from Guangzhou Train Station, and arrives at Lhasa Railway Station in the late afternoon on the third day after over 53 hours covering a distance of 4980 kilometers.
Lanzhou-Lhasa Railway:
Lanzhou-Lhasa Train Z917(return Z918)departs from Lanzhou to Lhasa daily, and the trains to Tibet which come from inland China all make a stop in Lanzhou.
Golmud-Lhasa Railway:
Golmud-Lhasa Train Z265(return Z166) enables tourists to travel to Lhasa from inland China, with only 1,142 km and approximately 13 hours train journey. All trains bound for Lhasa via Golmud makes around 20-minute stop here in the morning, then beginnings to climb up to Tibet Pleatau from 2780m to the highest point 5200m.In other words, Golmud is the real start points of high alitude train journey.
Shigatse-Lhasa Railway:
Lhasa - Shigatse Train Z8803 (returnZ8801) is actually an extension line of Qinghai-Tibet Railway with altitudes ranging from 3,600 to 4,000 metres. The opening of this train route to public on August 15, 2014 makes it much easier for the daily commute between Tibetans living in Lhasa and Shigatse.
Domestic Flights to Lhasa
Compared with taking Qinghai-Tibet Railway to Lhasa, entering Tibet by flight is much faster. However, the abrupt ascent may make your body respond stronger to altitude change. Yet, there is no need to be panic since most of tourists can acclimatize to plateau in 2 days. Literally, all the capital cities nationwide have direct flights to Lhasa.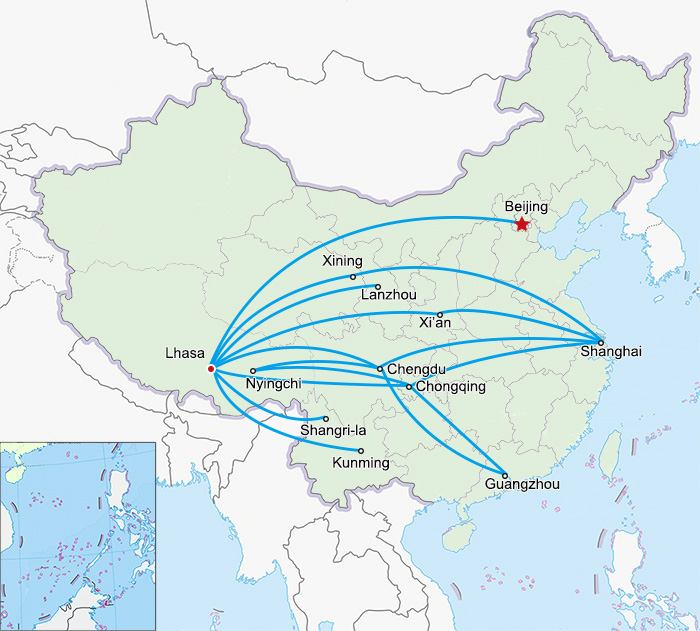 (Simple click to enlarge the map)
Domestic Flights to Lhasa on Map
Domestic Airlines to Lhasa, Tibet
a.Air China
b. China Eastern Airlines
c.China Southern Airlines
d.Sichuan Airlines
e.Xiamen Airlines
f. Tibet Airlines
g. West Air China
f. Chongqing Airlines
g.Lucky Airlines