8 Days Central Tibet and Namtso Small Group Tour
(SG006A) Lhasa - Gyantse - Shigatse - Lhasa - Lake Namtso - Lhasa
Price from

USD890 p.p.

Price Notes:
based on double occupancy;
3-star accommodation level in low season;
international airfare is not included;
price is subject to change according to group size and payment methods;

Tour Type:

Join-in small group with fixed departure!

Trip Level:

Easy - suitable for all levels of fitness, family with kids and senior groups.

Trip Level Guide:
easy - suitable for all level of fitness, family with kids and senior groups.
Moderate - suitable for those having average level for fitness, family with kids bigger than 12 years.
Moderate to Strenous - suitable for those physically fit and have experiences of high altitude trekking.
Strenuous: suitable for adventures and individual with physically fit and healthy.

Season: 春
Spring夏
Summer秋
Autumn冬
Winter
Overview
An exhilarating journey to Lhasa and Shigatse, two of the largest cities in Tibet, plus a scenic road trip via Tibetan nomad-inhabited region to sacred Namtso Lake(4,718m), the world's highest saline lake; the 8-day Tibet tour will give feast your eyes with the best alpine view of central Tibet and leave you awful lots of chances to sample distinct local culture and customs in various regions of Tibet.
As a prestigious local Tibet travel agency with 8000+ global travelers annually, we offer you a 100% guarantee to get your Tibet permit for free. Since we are the only local Tibet travel agency, with offices and staff in Lhasa, Kathmandu, and Chengdu, you can count on us to get all the travel formalities to enter Tibet from all direction, including from Kathmandu and other inland Chinese cities.
Based on your preferences, we can help you secure flight or Tibet train tickets to Lhasa and offer individualized guided service. We never sell our clients to the third party contractor for your actual travel. Our hospitable customer service manager, humorous and super attentive Tibetan guides and other free travel bonus will keep you safe, entertained and joyous during your stay in Tibet.
Daily Itinerary
Day 1: Arrive in Lhasa(3650m)
When you arrive in Lhasa either by train or flight, your guide will greet you and take you to your hotel. Tourists may view the Yarlung Tsangpo River/ Bhamaputra river (the Longest and largest river in Tibet) and Lhasa river on their way to Lhasa.
After arriving in Lhasa, you can take a rest and get acclimatized to high altitude. If you feel to go out, then you can go to the Potala Square, where you will enjoy the fountain with different colors and get amazing photos of the Potala and around.
Insider Tips:
For the new-comers of Tibet, to get acclimatized to the high altitude in Tibet. Having a good sleep in your hotel is a good option. Don not rush to visit attractions inside Lhasa city.
Stay overnight in Lhasa.
Day 2: Lhasa tour - Potala Palace, Jokhang Temple, Barkhor Street (B, D)
Today's tour will first bring you to the Potala Palace which is the winter palace of the Dalai lama. It was put to use since the 7th Century by the 33rd great king of Tibet. The most valuable collections of Potala Palace are the gilded burial stupas of former Dalai Lamas and meditation Cave of the 33rd great king of Tibet.
Then after lunch, tourists head to Jokhang temple which was founded by the 33rd great king of Tibet in the 7th century. Inside you can see the statue of Buddha Sakyamuni at the age of twelve. Outside, you can see pilgrims making prostrating in front of Jokhang Temple. Around the temple is Barkhor street, where you can do kora (a religious circle of a building or mountain) with pilgrims and locals, and explore the old market.
Besides, We can taste Tibetan tea with locals in tea house; The welcome dinner will also be arranged accordingly;
Optional:
With time permitting, you may go with tour guide to visit Tibetan handicraft art or Tibetan Traditional Medicine center. You can upgrade your service to enjoy Tibetan Culture Show in the evening (fr. 60USD)
Stay overnight in Lhasa
Day 3: Lhasa tour - Dadong Village and Sera Monastery (B, L)
In the morning, you are going to visit Dadong Village, the most beautiful village in Lhasa. Located 25 kilometers southwest of Lhasa downtown, Dadong Village is a well-protected ancient Tibetan village that surrounded by valleys. After arriving, you will visit the Nyimatang Monastery (built in the 11th century), take a light walk in the village, and see what rural life in Lhasa is like. You will also visit a local Tibetan family and enjoy the lunch offered by the family.
In the afternoon, you will visit Sera Monastery, which is one of the 'great three' Gelug monasteries of Tibet. The hot attraction is the Monks debate at around 3-5 in the afternoon. In addition, you can tour the Tibetan religious scripture printing house. Inside the monastery, you can see three sand Mandalas and the colorful Rock Painting of Buddha.
Stay overnight in Lhasa
Day 4: Lhasa- Shigatse via Gyantse 360 km(B)
In the morning, drive from Lhasa to Shigatse .On the way, drive over the Gampala pass (4790 m), and you will have a glimpse of Yamdrok-tso (4400m) .The Lake is surrounded by many snow-capped mountains and in the distance you can have spectacular views of Holy Mount Nyenchen Khangsar, (7191m) the highest mountain near Lhasa .
Later, we will pass and enjoy the Korola Glacier on the roadside; At Manak Dam Lake, you can hang pray flag at Simila Mountain Pass; Then, we will arrive in Gyantse, historically Tibet's third largest city (after Lhasa and Shigatse).In Gyantse, we will visit the famous Pelkor Monastery and Gyantse Kumbum and enjoy the Far view of Gyangtse Fortress.
After one and a half hours of driving, we arrive in Shigatse, which is the second largest city in Tibet. In Shigatse, we may visit traditional Barley Mill and view the landscape of Barley Field (in summer).
Stay overnight in Shigatse
Day 5: Shigatse to Lhasa 280 km(B)
In the morning, we will visit the home of Panchan Lama - Tashilunpo Monastery; you can see the well preserved largest statue of Jampa (future god) in the world. The monastery itself is abiding place for the successive Penchen LamasThen. Then we are expected to follow Yalong Valley back to Lhasa, and the guide will get you transferred to your hotels.
Stay overnight in Lhasa
Day 6: Lhasa to Namtso Lake and drive back to Damxung (B)
In the morning, drive from Lhasa to Lake Namtso, one of the four holy lakes of Tibet and also the highest saline lake in the world. On the way, you can see snow-capped Nyenchen Thanglha Mountain Ranges and lots of nomads and their tent with grazing yak and sheep densely-populated on the flourishing grassland (in summer). Besides, you can enjoy the view of the Sky-Road Railway with snow mountain background; while standing at the famous Lagenla Pass(5190m), you can view the stunning vista of holy Namtso Lake.
Then we can enjoy our time doing a leisurely trek around Tashi Dor Island and along the lakeshore. Drive back to Damxung. (For environment protection, the Lakeshore guesthouses were close by the government.)
Stay overnight in Damxung.
Day 7: Damxung to Lhasa via Chimelong Nunnery and Tsurphu Monastery (B)
After breakfast, we will first visit Chimelong Nunnery (Phyirmil Lung Nunnery). Roam over the peaceful small nunnery and get an idea of different Buddhist studies in Tibet, you may also spot a sky burial site (Tibet funeral site) in the distance.
Then, we can go to Tsurphu Monastery, the seat of the Karmapa branch of the Kagyupa order of Tibetan Buddhism. Here, you can learn more about the 'Black Hats', the Karma Kagyupa school of Tibetan Buddhism. In the summertime (June to September), we can also go for a 'Linka outing' (Tibetan-style picnic) in the small village at the foot of the hill of Tsurphu Monastery.
Finally, we will drive back to Lhasa.
Stay overnight in Lhasa.
Today's Cultural Tips: Sky burial is a funeral practice commonly seen in Tibet. The corpse will be disposed of and later devoured by vultures. In Tibetan Buddhism, sky burial is believed to represent their wishes to go to heaven. Only family members of the dead can attend the funeral.
Day 8: Depart from Lhasa (B)
The guide will transfer you to the airport or train station and help you get on board.
Tour Cost & Schedule in 2022
Class/Price for P.P
Nov.1 to
Next Feb.28
Mar.1 to
May.31
Jun.1 to
Jul.9
Jul.10 to
Aug.20
Aug.21 to
Sept.19
Sept.20 to
Oct.10
Oct.11 to
Oct.31
Economic Class (3-Star Hotels)
890 US$
990 US$
1090 US$
1120 US$
1090 US$
1120 US$
990 US$
Currency Converter:
Money Rate Last Updated: 2022.1.1 *Source: Bank of China
Please Note:
If you couldn't find a tour date suitable for your travel schedule in the above form, please contact our travel experts and they will help you plan a delightful vacation to Tibet at the BEST local price.
Discount: 1.) 5% off for those booking the tour together with other two travelers (3 or 3 above in total) at the same time; 2.) 5% off for those booking the tour 3 months in advance.
(Note: the above preferential policies can only be enjoyed by either one of them, not both.)
Service Included:
Tibet Travel Permit and all other necessary permits to Tibet;

All entrance ticket fees for all tourist sites listed in the itinerary;

Meals as specified in the itinerary;

Local tour Transfers, 5-29 seats comfortable Tourist Vehicle according to Group Size.;

Knowledgeable English-speaking Tibetan local tour guide shared in your group;

Comfortable Hotel Accommodations;

Service Charge & Government Taxes;

The above tour price does not include single room supplement. If you are a solo traveler, you need to share one room with another tourist (same sex in most cases); if you prefer to stay in one room by yourself, you will have to pay the single room supplement. And the exact price depends on market fluctuation in high and off season of Tibet tour. For the exact price, please refer to your travel consultant.

Arrangements include planning, handling, operational and communication charges.

Welcome Dinner in local restaurant when group members meet in Lhasa

Free Airport shuttle transfer between Lhasa Gongar airport and Hotel on designated time.

Group tours only include a welcome dinner after your arrival in Tibet.

Tibet Handy Map

Drinking water Provided during the trip

Tourist accident/casualty insurance;
Service Excluded:
International flight to and out of China;

Domestic flight/train to and out of Lhasa. (We can provide you the domestic flight/train ticket booking service at the BEST discount price, please contact us our travel experts for the details.)

Lunches and dinners are not included, please pay on site by yourself.; usually it costs about USD3-15 per person for one meal in TAR (Tibet Autonomous Region).

Tips and gratitude to the guide and driver. If you are satisfied with their service, you may consider tipping them at an amount you find it suitable.

Personal expenses, like laundry, phone call, snacks, soft drinks (please do the best to avoid the alcoholic beverages during your Tibet trip), optional tour activities, etc.
Transfer Service between Hotels and Airport/ Train Station
Lhasa Gongar International Airport is about 70km from the downtown, and it takes about 1.5 hours for a car transfer between airport and hotel. Considering the distance and language barrier, Tibet Vista provides free transfer service from/to airport.
Upon your arrival at airport, our Tibetan local pick-up guide will hold a board with your name and wait for you at the exit, he will escort you to the transfer car, accompany you to the hotel, and assist you with hotel check-in. When tour ends, our guide will pick you up at hotel and escort you to the airport.
Airport Pick-up Schedules: Pick up tourists at 10:00 am; 13:30 pm; 17:00 pm
Airport Drop-off Schedules: Pick up tourists at 06:30 am; 08:00 am; 12:00 pm
If your flight time is not within our transfer schedule, feel free to contact our travel consultant, we will do our best to arrange the most proper transfer service for you.
Besides the airport transfer, Tibet Vista also provides unlimited free transfer between hotel and Lhasa Railway Station according to your arrival/departure time.
Please kindly note: if passengers are less than 3 per transfer, we may use publish transportation like public airport bus or Taxi instead of using our shuttle service.
Travel Tips for 8-day Central Tibet Namtso Tour
1. How far is it from Lhasa to Shigatse?
The distance from Lhasa to Shigatse via Gyantse is around 362km. It takes around 7:20hrs by road. Traveling by tour vehicle is the only option if you want to get closer to some of the best highland and Buddhist attractions along the way.
2. What attractions can I enjoy from Lhasa to Shigatse?
On day 4, you will be standing at the lofty Kampala (Gampala) Pass (4999m) and admiring the jaw-dropping vista of turquoise Lake Yamdrok, with majestic snow-blanketed Mt. Nyenchen Khangsar in the background.
After that, you can closely explore the Karola Glacier right beside the highway. Then continue to visit Manla Dam and hang Tibetan prayer flags at Simila Pass. Next, you may visit the Pelkor Monastery in Gyantse and climb the Nepali-style Gyantse Kumbum to view the awe-inspiring Gyantse Fortress.
3. Do I have to be concerned about altitude change for visiting Lake Namtso?
There is no need to worry about that. Our expertly-designed itinerary allows you to have proper acclimatization before you venture out exploring the lofty passes and attractions with high altitude.
The oxygen supply like oxygen cylinder, portable oxygen inhaler, is equipped in our tour vehicle. And our attentive group leader will closely follow your health and give time treatment when needed.
The highest place you will reach for Namtso tour is Nagenla Pass (5190m). You stay there briefly for some photos and descend to the lakeshore of Lake Namtso (4718m).
4. Can I spend the night at Lake Namtso?
To protect the serene Lake Namtso, the guesthouse of Namtso has remained closed since late 2017. After you finish visiting the lake and Tashi Dor Island, you will be transferred to Damxung (4200m) (62km east to Namtso, 1h30min drive). The much lower altitude and better lodging facilities compared to the guesthouse at Namtso will bring you a sound sleep.
5. Is the Yampachen Spring worth enjoying?
Yes, why not. Though it looks more like an open-air swimming pool with spring water, the mineral-rich spring does offer you a great chance to soothe your nerves and clean the soul. Don't forget to bring your swimming suit.
Nothing Matters More than Bringing you a Safe and Comfortable Journey!
Spiritually-uplifting yet physically-demanding, Tibet travel is no ordinary experience. Though you may have done many research, nothing prepares you for the real adventure. However, you can rest assured that the moment you set your foot in Lhasa, your Tibetan guide, driver and all of Tibet Vista's team are pooling our resources and doing what we can to ensure you a safe and pleasant travel experience.
The following value added tour service will be your best guarantee for a seamless Tibet travel on Tibetan Plateau.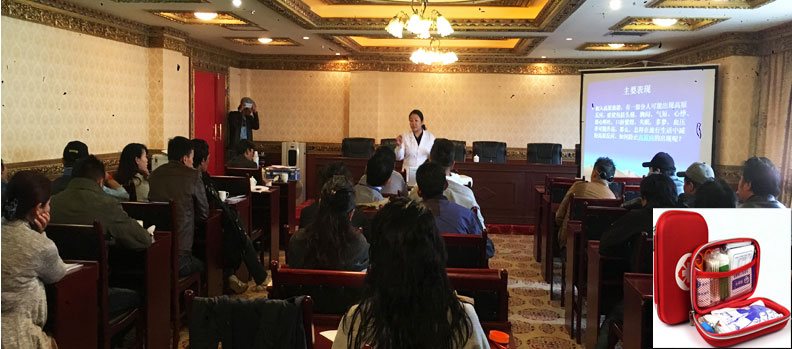 Routine Tour Service Workshop and Seminar for Our Tibetan Guide
To an organized tour, we believe, whether or not you will have a great travel experience largely depends on whom you travel with. So, we attach great importance to the training and exchange amid our Tibetan guide and other staff. Each year, a series of workshops and seminars and training courses will be held for our Tibetan guides and other staff to exchange their guide experience and offer first-aid training, etc. They are committed to offering the quality and tourist-friendly service to you.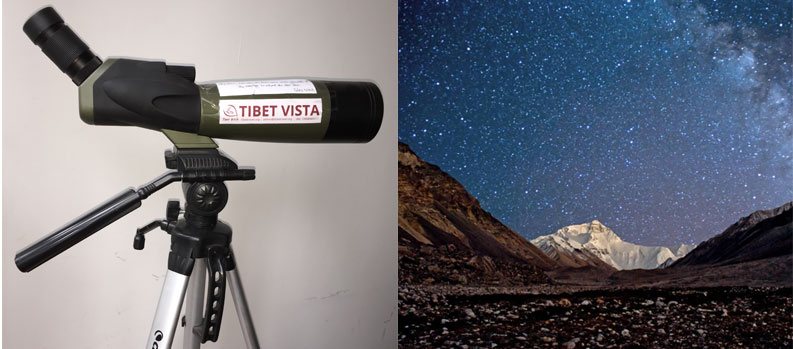 Celestron Telescope Give You Close-up View of Mt. Everest at EBC
Standing at the foot of Mt. Everest and gazing at this holy mountain form an integral part of EBC tour. Apart from taking you to the best vantage points to view this natural wonders, we offer brand-new Celestrontelescope (with 60 optical zoom Lens) for you to get close-up view of the world's highest mountain. Besides, don't miss the starry Milky Wayin EBC.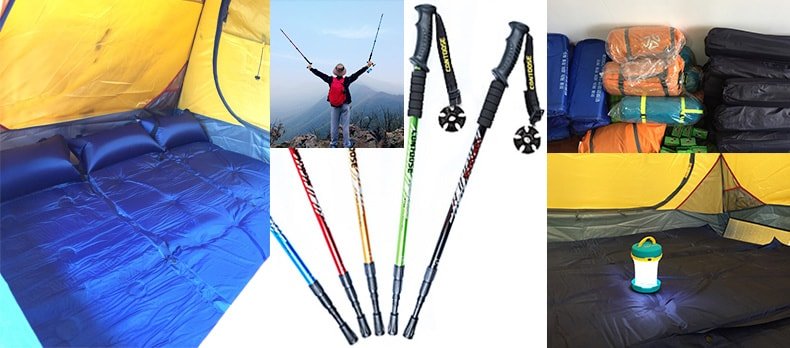 Helpful Service: Trekking Pole, Camping Lantern and Portable Charger
When travelling on Tibetan Plateau, we highly suggest you travelling list. And we offer helpful rental service (50 CNY deposit), such as trekking pole, camping lantern and portable charger. Upon your request, we may also prepare the camping tent, sleeping bag, etc. for you. A small amount of service and cleaning charge is expected. Our friendly travel consultants will give you pro advice to remove your heavy daypack.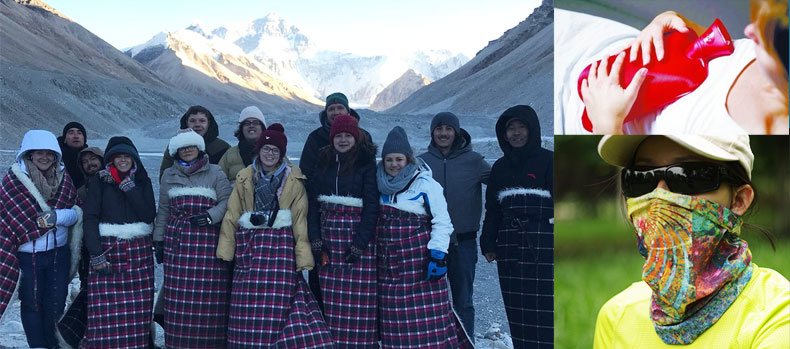 Keep You Warm and Protected from Harsh Alpine Climate
In addition to warm sweet tea and hot water and warm smile, we feel obligated to protect you from chilly wind at EBC and Mt. Kailash, etc. Why not bundle up in our well-prepared warm Tibetan Apron. If you forgot to bring you gloves, no problem! The hot water bagbring you instant warmth and our versatile magic scarfwill work like a charm to protect you from sunburn and dust in Tibet.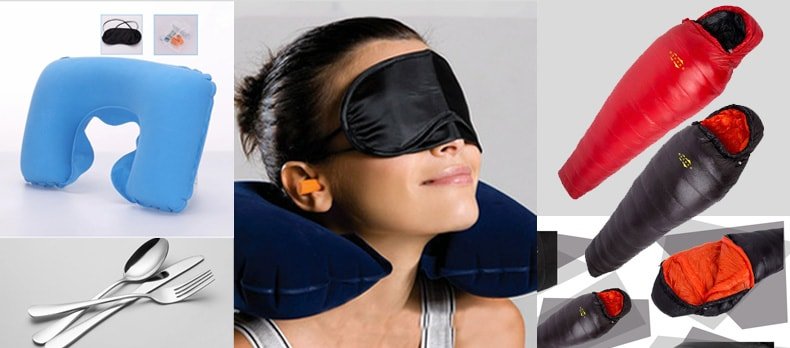 Multiple Travel Kits Make Your Trip More Comfortable
As the long ride is very common esp. travelling beyond Lhasa, we kindly prepare a full set of travel kit for you to enjoy an easy ride in Tibet. Upon your request, we may offer neck pillow, eye mask, and ear plugs, fork knife spoon set, and sleeping bag at EBC tent during your journey.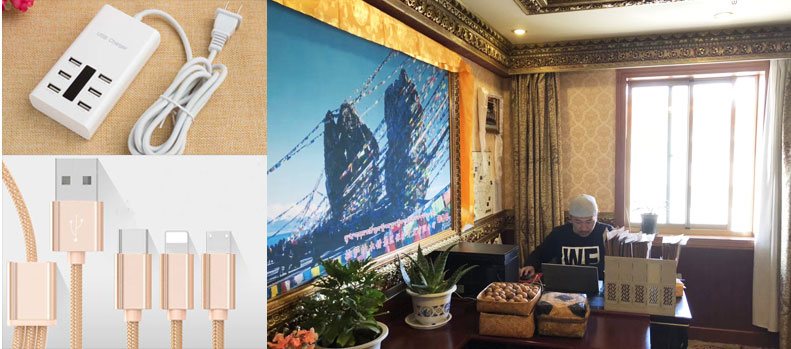 Free Battery Recharging
Besides, you may use our free power recharge service at our office at Lhasa Gang Gyan Hotel (first floor 1102).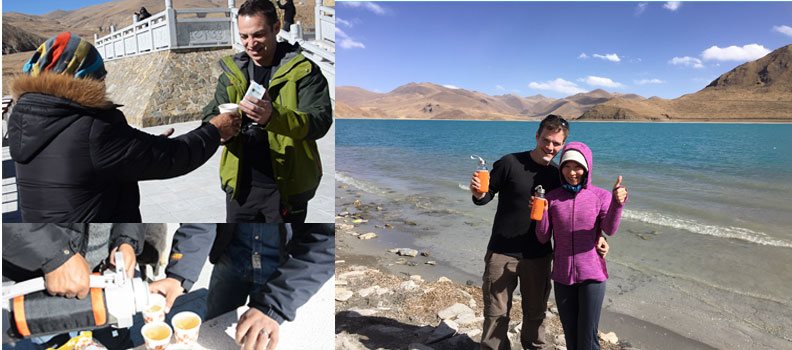 Unique Eco-friendly Bottle for Drinking
Tibet Vista is a staunch supporter for Eco and responsible travelin Tibet. As we visit Tibet, why not work with us to save limited resources and minimize human's impact to the natural environment.We designed a tailor-made Eco-friendly Bottle for drinking throughout your tour in Tibet. It's very convenient to use it to drink hot water, coffee, Tibetan milk tea. Such a fine souvenir, don't you think?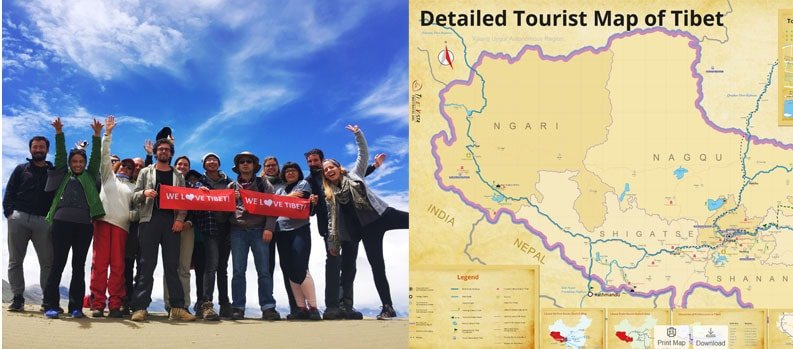 Easy-to-Use Tibet Tourist Map and Other Useful Travel Stuff
What's more? Plenty of useful travel brochure and travel kits such as Tibet tourist map,up-to-date travel advice, etc. will greet you in Lhasa. You will find them exceedingly helpful to your day-to-day travel in Tibet.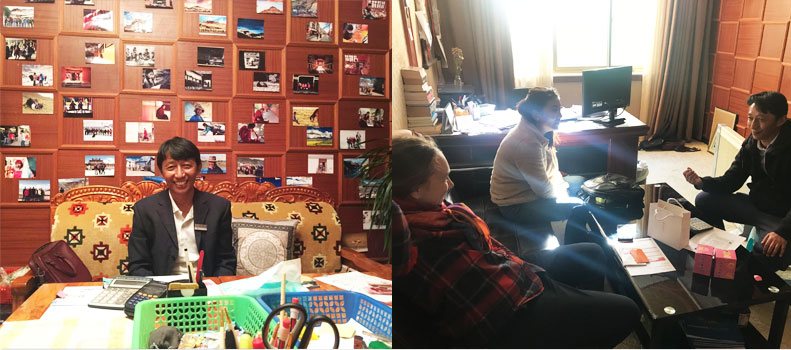 Meet Beloved Mr. Kunga, Your Best Guard for a Safe and Pleasant Journey
And now, the last but not least, I take great pride in introducing our beloved Mr. Kunga, the customer service manager of our company.If you have any problem adapting to the life on Tibetan plateau? Or simply wanna to learn more about Tibet. Do not hesitate to stop by our customer service office in Lhasa Gang Gyan Hotel (first floor 1102) and have a friendly little chat with him.
Mr. Kunga would make a good cup of tea for you and share with you his more than 30 years' guide experience in Tibet. In fact, Tibet Vista is the only local Tibet travel agency that has a designated customer service manager who offers prompt support to your need.
Latest Tibet Travel Questions Asked by our Clients
Get Started -
8 Days Central Tibet and Namtso Small Group Tour
You're getting closer to your dream Tibet vacation! Fill out this form so our travel designers can start helping you plan a trip.
Privacy Policy: Your information is kept strictly confidential. Tibet Vista will never sell, trade, or give away your contact information to a third party.