Nepal to Tibet Flight: The Most Convenient Way to Travel from Kathmandu to Lhasa by Flight
Now that the border crossing is open at Gyirong Port, there are two main ways to get from Nepal to Tibet, discounting a flight to China and taking the train. For direct routes, you can go overland, taking the 1,300 kilometer journey from Kathmandu to Lhasa, which normally takes anywhere upwards of 7-8 days. Or you can take a flight, direct, from Tribhuvan International Airport to Lhasa Gonggar International Airport, which is a faster and more convenient way to get to Lhasa.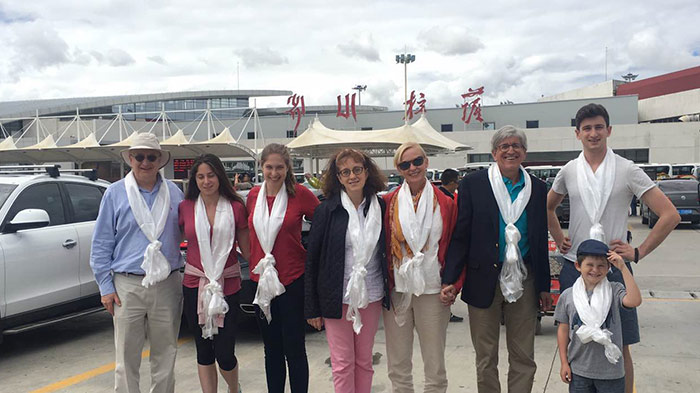 Lhasa Gonggar International Airport
Kathmandu to Lhasa Flight - the Only International Flight to Tibet
Tibet Autonomous Region is officially part of the People's Republic of China, and there is only one place outside China where you can get a direct flight into Lhasa airport – Nepal. As Tibet's closest neighbor and an important, cross-border trade partner, Nepal has the honored distinction of being the only country with international air links to this high-altitude region. For every other nationality in the world, to fly into Tibet one has to first get to China or Nepal.
Kathmandu to Lhasa Flight Schedule and Price
The main airport in Nepal is the Tribhuvan International Airport (KTM), at Kathmandu, and is the only airport in the country that operates flights to and from Lhasa. Flights can be booked online, but only if you are traveling alone. If you are traveling with a group that has been collected together by a group tour operator, then you may have to book once you are all together in Nepal, to ensure that you all arrive at the same time.
Currently there are only three airlines that offer a direct flight from Kathmandu to Lhasa. On average, prices for direct flights from Tribhuvan International Airport to Lhasa Gonggar International Airport cost around US$220-US$250 per person, one way and the trip normally takes around 90 minutes. There is no option of using the renowned budget airlines to make the trip cheaper, as there are no budget airlines that cover the flight.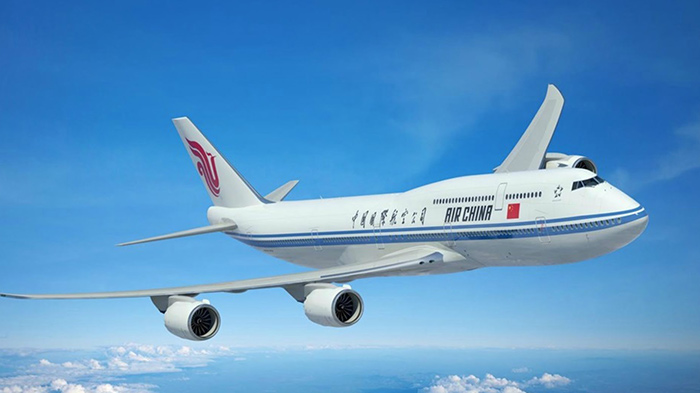 Taking flight from Kathmandu to Lhasa
Air China, obviously, is the largest airline that provides direct flights to Lhasa from Kathmandu, with flights running every day. If you are not bothered with the flight being direct, they also offer connecting flights to Lhasa through Chengdu, Chongqing, and Kunming. The daily flights leave Kathmandu at 12:10pm NPT, arriving in Lhasa Gonggar International Airport at 4:00pm, allowing for international time differences.
Sichuan Airlines operate only three flights per week from Nepal to Lhasa, although they do offer more flights to Lhasa with a change in Chengdu, which seriously extends the flight time. The direct flights are available every other day. Sichuan Airlines flights leave on Monday, Wednesday, and Friday at 11:10am NPT and arrive at Lhasa at 2:50pm local time.
Brand new to offering flights to Tibet from Nepal, Tibet Airlines started operating this route from March, 2017. The flights will originate in Chengdu flying to Kathmandu, via Lhasa, and vice versa, and will also run flights direct from Chengdu to Kathmandu. The first flight departed from Chengdu on March 26, 2017, and the airline now runs two flights a week from Nepal to Chengdu, via Lhasa. There are also many connecting flights offered from all three airlines, as well as other international carriers, which require a change of aircraft at either Chengdu, Chongqing, or Kunming in China.
How to Get to the Airport in Kathmandu
Tribhuvan International Airport is around six kilometers from the city of Kathmandu, and is only around 15-20 minutes by road, as long as the normal Kathmandu traffic is absent on the day you are traveling. Realistically, you need to leave at least an hour to get to the airport by car or taxi. There are actually two types of taxi that run between the city and the airport. The prepaid airport taxis, which can be booked through your hotel, are part of the Kathmandu International Airport management committee's commitment to provide a 24-hour prepaid taxi to and from the airport, for locals as well as tourists. At around 750 rupees, this is more than your average taxi, but it is a fixed rate, they provide receipts, and since they are regulated by the government, will ensure you are delivered safely to the airport.
The other taxi option is the local public taxi, which can be hailed on almost any street in the city, and will often pull up beside you if you are standing on the sidewalk with suitcases or bags. These local taxis are normally just small cars with "taxi" painted on the side, and are barely regulated at all. They are a little less comfortable, and you should haggle for the price and agree it beforehand, since majority still do not have meters installed. On average, the cost from Thamel to the airport is around 400 to 500 rupees, although if you bargain well you might be able to get it for less. The local taxi drivers are very outgoing and cheerful, and though they may not speak much English, they will still be chatty on the trip.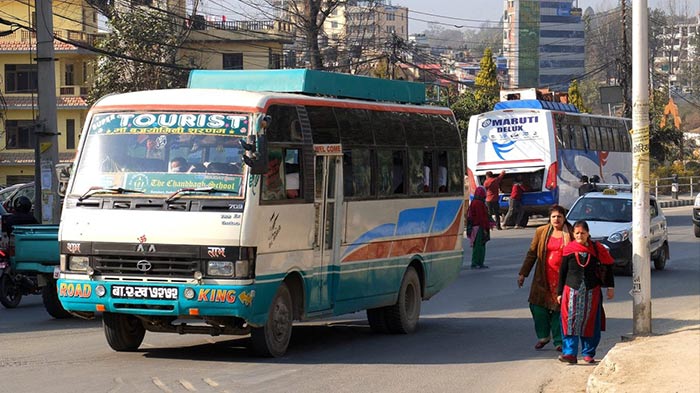 Public Bus
Public transport is the third option to get to the airport, though it is probably not the best of them all. Buses in Nepal are much like the roads, underdeveloped and still under construction. From Thamel there is no direct bus that rides to the airport, and you will have to walk for ten minutes to the station at Ratna Park. However, the bus from Ratna Park stops outside the main gates, and you have to walk with your luggage to the terminal. Cost wise, it is around 15 to 20 rupees.
Lhasa to Kathmandu Flight
Lhasa Gonggar International Airport is the only international airport in Tibet, and operates flights to several cities in China, as well as to Tribhuvan International Airport in Nepal. If you are flying from Lhasa to Kathmandu, you have the option of a direct flight or a connecting flight, stopping first in either Chongqing, Kunming, or Chengdu, before continuing on to Kathmandu.
Lhasa to Kathmandu Flight Schedule and Price
Similarly, there are only three airlines that offer direct flights from Lhasa to Kathmandu, while there are several other airlines that can complete the connecting flights to Nepal if your flight is routed through China. The Air China flights run daily to Nepal and leave Lhasa at 11:15am to arrive in Nepal at 10:10am NPT. Sichuan Airlines still only have three flights a week from Lhasa to Kathmandu as well, which leave on Monday, Wednesday, and Friday at 11:15am to arrive in Nepal at 10:10am (local time). Tibet Airlines flights from Lhasa to Kathmandu run daily, and start in Chengdu, with Lhasa as a stopping point on the way to Nepal.
How to Get to the Airport in Lhasa
A little further away from Lhasa City than Tribhuvan is from Kathmandu, Lhasa Gonggar International Airport is around 62 kilometers from the city, south of the city on the southern bank of the Brahmaputra River in Gonggar County of Shannan.
Airport shuttle buses run from the airport to the downtown area of Lhasa, and are available from 5:30 am to 2:30 pm, every 30 minutes. It takes around an hour to make the trip to Lhasa, and the average cost is around 30 CNY per person.
Taxis also run from the city to the airport, which takes around 45 minutes, and costs around 130 CNY for the trip. However, if you are traveling as a foreign visitor, your tour operator will normally provide a transfer to the airport at the end of your tour, saving you on the cost and hassle of getting a taxi or shuttle bus.
>> Read more details about Flight from Lhasa to Kathmandu & Flight from Kathmandu to Lhasa
Apply for Your Tibet Travel Permit in Kathmandu Before You Go
For anyone traveling from Kathmandu in Nepal to Tibet, there are certain visa requirements that must be completed before you can even board the plane. Unlike traveling to Lhasa from China, the Tibet Travel Permit is processed at the same time as the Tibet Group Tour Visa, and both need to be obtained through a local Tibetan tour operator and require you to have a booked itinerary with a tour group before issue. While they are called "group" visas, they are available for single persons without a group. However, if you are part of a group, it is important to remember that every member of the group will be mentioned on the visa, and all members must depart from Tibet at the same time, from the same place.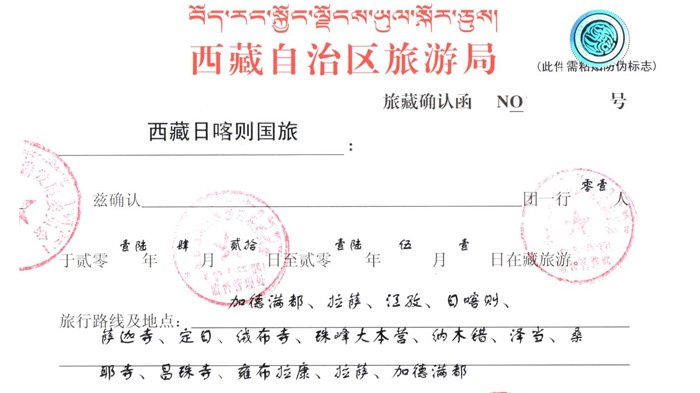 Tibet Travel Permit
The visa is available from the Chinese Embassy in Kathmandu, and takes around four working days to process. Visas are normally for a period of 30 days, and cannot be extended, so it is a good idea to make sure your tour starts immediately you get the visa.
It is very important not to lose the visa, as you may be asked to produce it at certain checkpoints throughout Tibet, and the Tibet Travel Permit is required if you are traveling outside Lhasa, especially to certain military sensitive areas like Everest. Your guide will obtain the additional permits once you are in Lhasa, and will also require your original passport.
Can I See the Mount Everest on the Flight from Kathmandu to Lhasa?
Flying from Lhasa to Kathmandu, and vice versa, takes you over the mighty Himalayas and you can look out of the window and see the mountains below you, as long as there is no low cloud cover. The flights do not ascend to the dizzying heights of a normal international flight, in comparison with the ground below, so as you travel, you can see the Nepalese and Tibetan landscape rushing past below.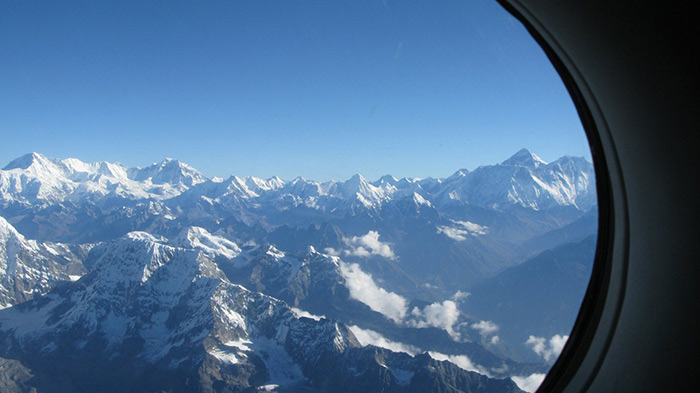 You can see Mount Everest on the flight from Kathmandu to Lhasa
As you head over the Himalayas, you get a great view of many of the tallest mountains in the world, including Cho Oyu, Makalu, Lhotse, Nuptse, Kanchenjunga, and of course, Everest. While the view is possible from any international flight heading over the mountains to Kathmandu , it is best viewed from the flights between Lhasa and Kathmandu, as you get a closer view.
If you are flying from Lhasa to Kathmandu, Everest is to the right of the plane, while in the other direction it is to the left. And if you can, try and stay away from the wing seat, as the wings severely obscure the view.