Basic Facts about Tibet and Nepal Tour
Tibet and Nepal are neighbors in the Himalayan region of Asia, and while they have many things in common, they also have their differences. Both places are unique in their cultures, religions, and beliefs and even the countries themselves are unique and different from anywhere else in the world. Traveling to either of these beautiful places is a real adventure, and one that will leave you breathless, yet yearning for more. However, a tour that covers both of these amazing places is possible, and you can start either in Lhasa or Kathmandu.
Geography and Altitude Difference for Tibet and Nepal Tour
One of the main differences between Nepal and Tibet is the altitude. While Tibet lies on its high plateau with an average altitude of more than 4,000 meters, Nepal has very varied elevations from north to South. Most of Tibet is at altitudes that vary from 3,500 meters to as high as 5,500 meters, and for most travelers, this small difference in altitudes is all that you will experience.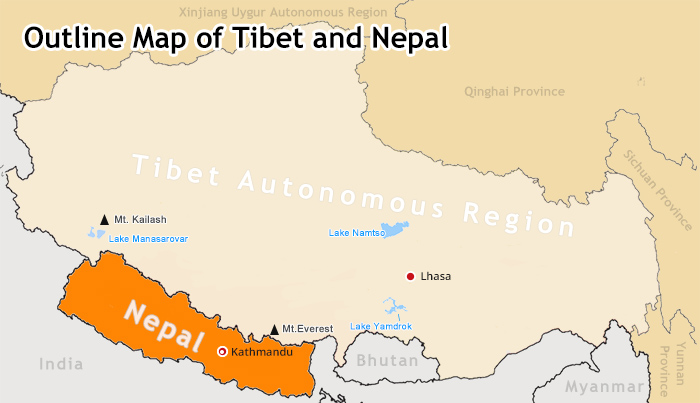 Map of Nepal and Tibet
However, when traveling in Nepal, you can go from as high as more than 5,000 meters to as low as 200 meters above sea level, and how high you go depends largely on where in the country you are visiting. Kathmandu, the Nepali capital, sits at an altitude of around 1,400 meters, while Pokhara to the west sits at 800 meters, the Annapurna region has altitudes between 2,000 and 6,000 meters, and the famous Everest Base Camp in Nepal is 5,364 meters above sea level. Please check the top treks in Nepal.
The terrain of the two destinations is also very different. In Tibet, the landscape consists of rolling hills and plains interspersed with high mountain ranges and numerous high-altitude lakes. However, in Nepal the mountains are all found in the north of the country, along the line of the Himalayas, and the further south you go, the more different the landscape becomes. High mountains give way to rolling foothills, which in turn give way to the lowland Terai region of high plains and moorlands, with the most southerly landscape being lowland valleys and tropical jungles.
Different Travel Mode for Tibet and Nepal Tour
Getting around is a major concern for most travelers, and there are some huge differences in the means of transport for both Tibet and Nepal. Independent travel is not permitted in Tibet, and all tourists must be on a pre-arranged tour of the region with a registered Tibet tour operator. These guided Tibet tours mean that all tourists have private vehicles with dedicated drivers, and are required to always be in the company of a registered tour guide, both of which are provided by the tour operator. Tourists in Tibet are not permitted to use public transport outside the city of Lhasa, and cannot enter any attractions without their guide being present. Check the most popular small group tours in Tibet.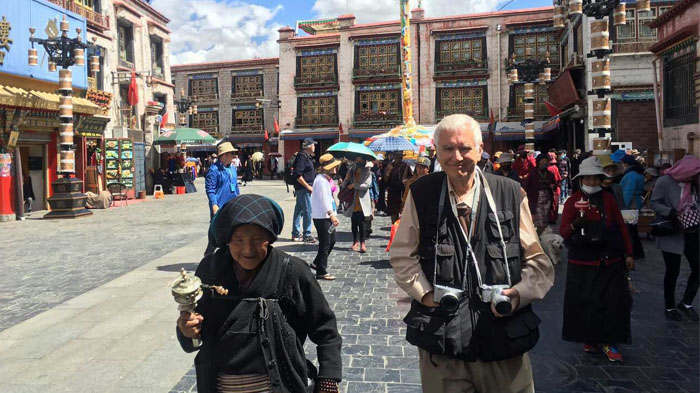 Roam over the famous Barkhor Street in Lhasa
Nepal is a very different place to visit, and independent travel is the order of the day when touring this stunning country. Travelers can go wherever they want that locals can travel, and can use any method of travel that the country has available, from private –hire cars and taxis to tourist buses and ordinary local buses. There is also no restriction on what you can visit in Nepal, and tourists can get into any attraction in the country by simply buying the entrance ticket themselves.
There is also the difference in documentation to take into consideration. In Nepal, unless you are trekking and need trekking permits, the only documents you need are your passport and visa. However, in Tibet, you not only need a passport and valid Chinese Entry Visa, but you also need to have Tibet Travel Permit to enter Tibet and travel around the region. There are up to five different permits and passes that are required for Tibet, depending on where you are traveling within the region. And it is not possible to obtain them yourself. All permits and passes must be obtained on your behalf by the tour operator before you travel to Tibet. And our Tibetan guides will help you get all the necessary travel documents before your next travel destination.
Different Travel Season in Tibet and Nepal
Travel and tourist seasons are also somewhat different in these two beautiful destinations, and knowing when to travel to each is an important factor in deciding where to go. In Tibet, the main tourist season runs from April to October, with the ability to travel in the winter months from November to March also being available as low-season tourism. While the early and late parts of the high season can be a little quieter and cheaper than the main months of summer in Tibet, there are no "shoulder" seasons where travel is lower but has all the benefits of high season tourism. - Check the best time to visit Tibet.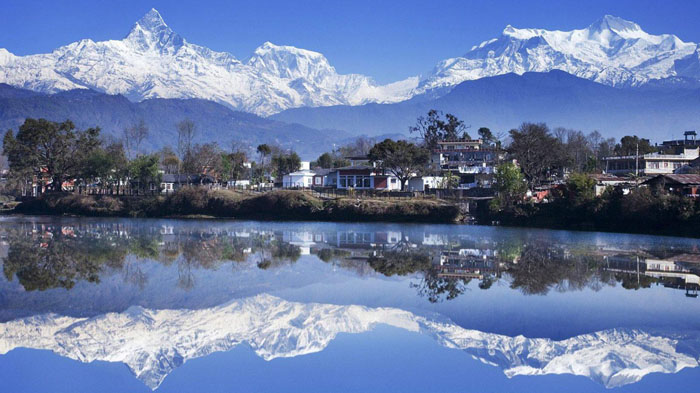 Boating at Phewa Lake in Pokhara, Nepal.
In Nepal, there are defined tourist seasons for the country that depend mainly on its weather and climate patterns. Nepal is a heavy monsoon country, and during the peak months of the monsoon season, from June to September, travel in the country is harder and less pleasant. The main tourist seasons in Nepal run from March to May and September to November, when the rains have all gone and the weather is not too cold. However, while these are the main peak seasons, there are plenty of places to visit in Nepal in the "winter" months from December to February, as well as there being some places where the monsoon has little effect on trekking, such as the Upper Mustang region.
Different Travel Highlights in Tibet and Nepal
Tibet and Nepal also have some very different activities and attractions, though there are some that are a little similar. The main difference in travel highlights between Tibet and Nepal is the religious influence on the two destinations. Tibet is a highly Buddhist region of China, and this has produced a huge number of monasteries and temples across the plateau that are both amazing and stunning at the same time. Nepal, however, is mostly Hindu in influence, and while there are some Buddhist temples in the country, the majority of the temples and religious sites are Hindu, which are very different from the Buddhist monasteries of Tibet.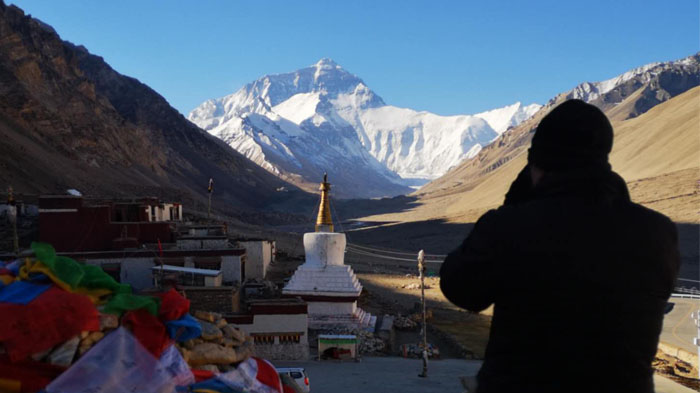 Traveling from Lhasa to EBC in Tibet has been an all-time favorite to worldwide tourists.
Tibet also has dedicated travel routes for tourists that are part and parcel of the itineraries of the tours, and cannot be strayed from during the tour. In Nepal, the only tour itinerary you need is the one you decide on yourself, and this can be subject to change at will, allowing you to change where to go and what to do.
Although activities in Tibet can also be somewhat limited, it is never short of excitements with most tours covering the major attractions to lofty Himalayan mountains, sacred lakes and some trekking and cycling tours, etc. A trip to Tibet is an adventure of discovery, while a trip to Nepal is an adventure of every other kind. Activities in Nepal include mountain climbing and trekking, as in Tibet, though with more choice of the available treks to take in the high mountains. You also have the opportunity to take on some of the most adventurous sports in the world, including white-water rafting, ice-climbing, abseiling, kayaking, parascending, bungee jumping, base jumping, and a lot more.
Best Overland Tour Connecting Tibet and Nepal Travel
While these two destinations do have a lot of differences, one thing they do have in common is that it is an amazing experience to visit both places. And there is no better way to explore both Nepal and Tibet than on a long tour from Lhasa to Kathmandu that includes both destinations in one. An epic journey that covers the heady heights of the Tibetan plateau to the beautiful lush scenery of the Kathmandu Valley and the varied topography of Nepal, a tour from Lhasa to Kathmandu is one of the best ways to experience both destinations in one go.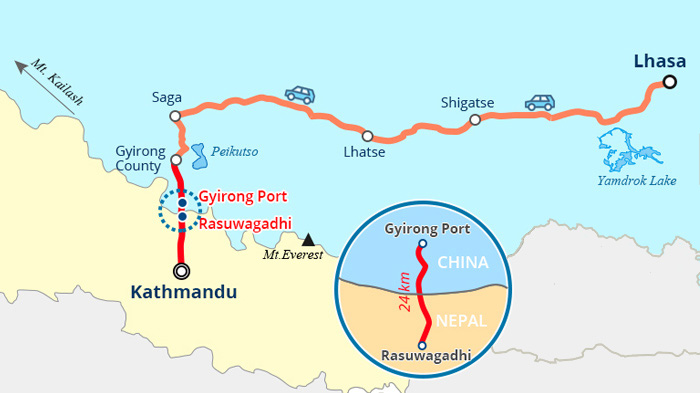 Travel overland from Tibet to Nepal via Gyirong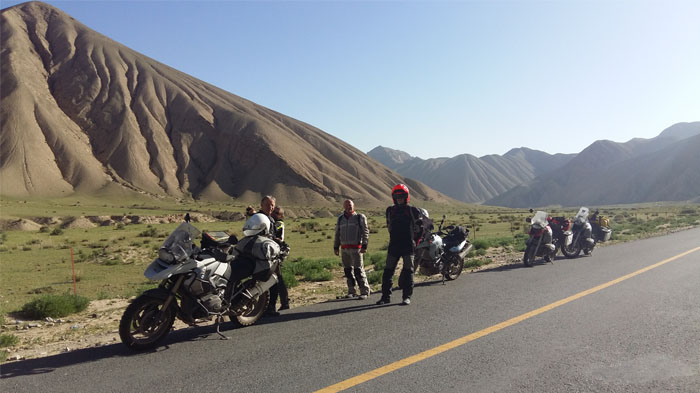 Motorbike tours, travelling overland from Lhasa to Kathmandu
Not only do you get to experience the stunning sights of Lhasa, which includes the Jokhang Temple, Potala Palace, and the amazing Barkhor Street, but you get to travel overland across the plateau and visit the various cities, towns and villages where the normal Tibetan folk live and work. Added to that, you have the chance to visit the famous Everest Base Camp (EBC) in Tibet, the most spectacular experience on the planet, and descend towards the Sino-Nepal border through the spectacular Gyirong Valley, noted as the most beautiful valley in Tibet.
After entering Nepal, you have a variety of options after arriving in Kathmandu, the exotic capital of this Himalayan kingdom. From there, you can take the trek to EBC in Nepal , a 120day trek that has some of the most beautiful scenery in the country, or take on one of the hundreds of other treks across the country. Alternatively, or additionally, head for Lumbini, the birthplace of Buddha, try your hand at one of the amazing adventure sports, visit the stunning Hindu and Buddhist temples in the Kathmandu Valley, or take a safari in the Chitwan National Park to see elephants, rhinos, leopards, crocodiles, and the magnificent Bengal tiger.
Conclusion
Nepal and Tibet are very different in many aspects, which actually makes a combined trip to the two destinations one of the best tours in Asia. You can relish the differences of these two Himalayan destinations and enjoy the experience of having different attractions to visit in each place. Also, you can enjoy the similarities of the two destinations, including the mountain range that they share, the Tibetan Buddhism that has flourished in an otherwise Hindu country (which has also had an influence on Nepali Hinduism, making it a unique religion in the Hindu nations), and the friendliness and joviality of the people, both of which love to see and talk to international travelers and discover new friends from around the world.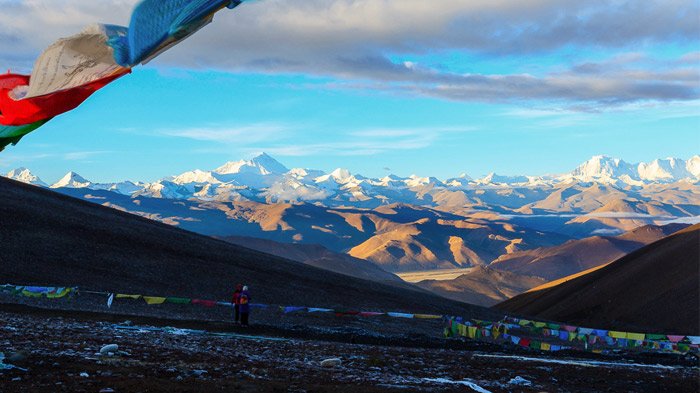 Gawula pass at 5,198 meters
Terai region of Nepal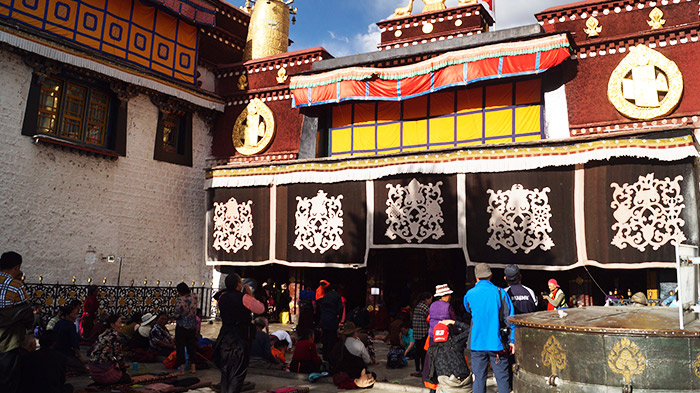 Tibetan pilgrims prostrating at Jokhang Temple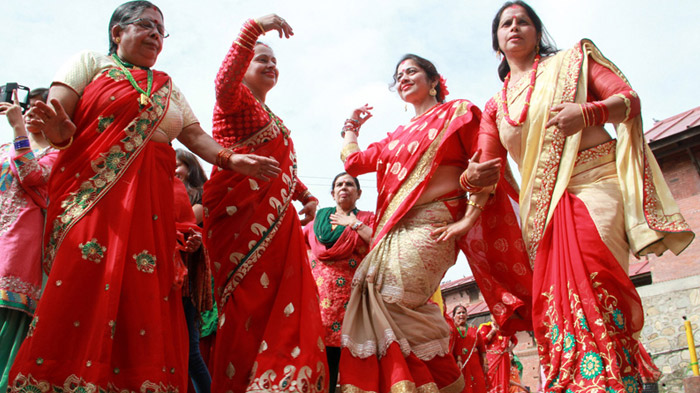 The women of Nepal are dancing in festival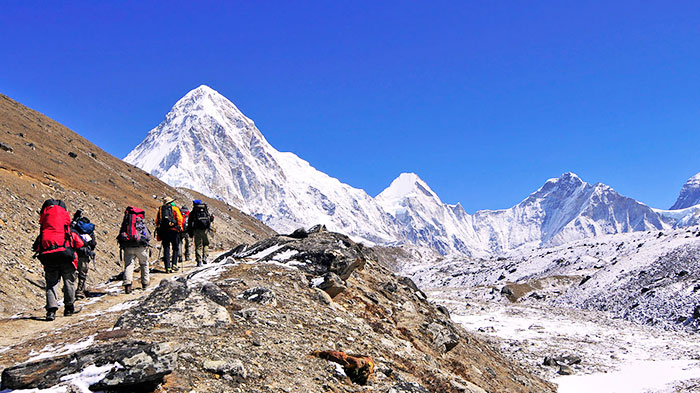 Trekking and mountain climbing have made Nepal a hot destination for tourists and adventure seekers