Is It Safe to Travel to Nepal Alone? Important Tips for Solo Travelers
Generally speaking, Nepal is a safe place for international visitors to travel alone. Many of the travelers that tour Nepal from India will tell you that Nepal is actually the safer one of the two nations, and this is due in part to the conservative culture of Nepali society and the general openness to other cultures and religions.
However, there are still some issues where travelers should take considerable care when traveling. Most especially, extra care should be taken if you are planning on trekking alone in the Himalayas, as there are several issues to consider that could be deemed as dangerous for solo travelers.
Top Safety Tips for Solo Travel in Nepal
1) Take necessary prevention measures against Covid-19
Even though Nepal is now open for tourism, it is still important to take precautions during travel, as the new coronavirus has not been defeated and the epidemic is still not over.
Wearing a mask in public is a must, it is the most basic health code. If time and conditions allow, choose to travel in low season and avoid going to popular attractions, which are generally crowded. And try to go to a ventilated and spacious place, and avoid going to relatively closed places.
When you go out, it is also recommended to bring your own drinking water, and reduce the number of times you come into contact with public items. Prepare some disinfectant sprays to disinfect public items with high safety risks, such as scenic fences, bathroom door handles, faucets, etc.
2) Buy travel insurance before you visit Nepal
Before you head off on your Nepal tour, there are some things you should consider knowing and having, to save you from a bad experience whilst in this stunningly beautiful Himalayan kingdom. Travel insurance, while not a requirement in Neal, is a good thing to have just in case something untoward happens, such as having your wallet stolen or needing hospital care.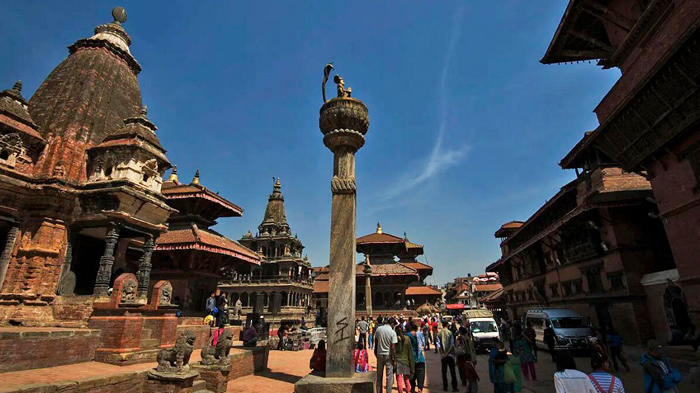 Get travel insurance before you visit Tibet
A good travel insurance does not cost a lot, and can save your life if things go wrong in Nepal. Hospitals in Nepal are not free, and you will need to show an ability to make the payments first. All of the hospitals have affiliations with the major insurance companies, and can quickly and easily validate and verify your travel insurance to take care of the bill, or transfer you to another country or even home, in severe cases.
3) Book safe and trusted hotel for accommodation
Where to stay and where to eat are two of the most important things when it comes to personal safety in Nepal. There are hundreds of thousands of hotels, hostels, and guesthouses across the country, and majority are well kept, and well run, and are safe enough to stay in.
Besides the most safety luxury hotels in Nepal, most solo travelers would like to stay in a budget hostel or guesthouse during their days in this country. However, you should still be careful in guesthouses that have few guests in the peak period, as they may not be popular for all the wrong reasons.
There are a huge number of hotels and guesthouses that are listed on trusted sites such as TripAdvisor, which feature reviews by previous guests, and which are useful in choosing your places to stay whilst in Nepal. If a good 3-star hotel is out of your price range, then try to stick to the more popular hostels and guesthouses for the sake of safety.
4) Dine at safe and clean restaurant instead of street food
Food is something that you cannot avoid in Nepal, unless you manage to bring enough snacks and packet meals for your entire trip, which would probably push you over your luggage weight allowance.
Nepal has a huge number of decent restaurants that offer good food and excellent service, and a lot of these are not in the higher end of the price spectrum. Good guesthouses often have their own dining rooms which serve local foods, though international foods such as pizza and burgers have made it into the local guesthouse food scene of late. There are even lodges in the lower part of the Everest Trekking Trail that can serve you pizza in the peak season.
Eat clean food in local restaurant
One thing to really avoid if you are not used to "foreign" food is the street food that can be found on almost every street corner in the major cities such as Kathmandu and Pokhara. While they are tasty treats tat can give you a better idea of the real cuisine of the country, their preparation is sometimes a lot less than sanitary. Stick to the more popular cafes and restaurants or eateries, where you can see the places are clean and safe to eat in.
5) Avoid breaking local religious taboos
Nepal is a devoutly religious country and is predominantly Hindu, with a small spattering of Buddhists. Both the Hindu and Buddhist religions are very different to many of the other religions and cultures around the world, and if you are not familiar with their rites and customs, you may break some religious taboo or violate some sacred site. Care should be taken to understand the generally acceptable behavior when interacting with the devout people, to avoid insulting them and causing other forms of anguish.
6) Avoid showing off your wealth outside
If you are traveling solo in Nepal, there are some things to really avoid in order to avoid becoming the victim of crime or retaliation. The most important of these is to avoid flashing around large amounts of cash or letting it be known that you are wealthy. A common misconception in parts of Asia is that all westerners are rich, and that is also the case in Nepal. Showing off your wealth is a sure way to make yourself a target for the unscrupulous elements.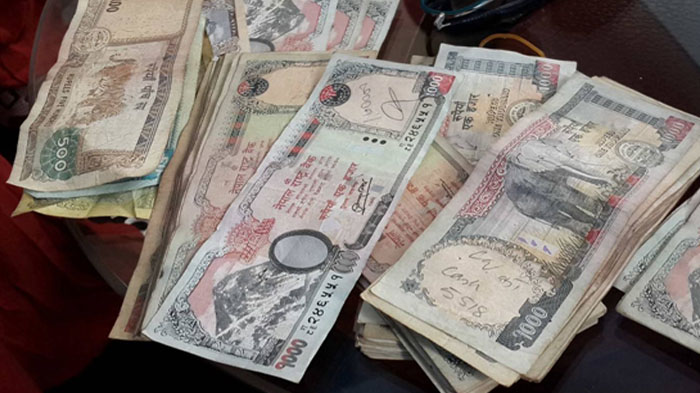 Always take care of your cash when you travel Nepal alone.
7) Be careful not to be cheated when making new friends
Socializing, while often resulting in good and lasting friendships, can sometimes turn around to become a romantic intent to woo you, or even take you on a trip to an orphanage, where the "homeless" children need donations to help them survive. While some orphanages are real, others are merely a show to get you to donate large sums of money.
And, of course, there is always the common story of a "sick relative" that needs money for life-saving surgery or medications. Good friendships can be made in Nepal, normally as long as the subjects of money and love are avoided. These true friendships can lead to a much better experience of this stunning Himalayan kingdom.
8) Take a taxi instead of walking when going home at night
If you are traveling alone, and are out after dark, try to get a taxi or shared bus back to your accommodation rather than walking. While most parts of the cities are generally safe, it can be dangerous to walk along dark alleys and side streets at night.
9) Prepare a first aid kit with you
If you are traveling in Nepal, especially when trekking, a first aid kit is an essential item that you need to have with you. While it is hoped that nothing untoward happens whilst you are traveling, it is best to be well prepared for any eventuality.
A good first aid kit should include insect repellent, antiseptic cream, sun cream and lip balm, throat lozenges, anti-diarrhea medication, basic antibiotics, analgesics and painkillers, blister covers, crepe and triangular bandages, Diamox (if recommended by your own doctor), re-hydrations salts, iodine-based water purification tablets, multi-vitamins, plasters or band aids, alcohol, and hydrogen peroxide solution to sterilize small wounds properly. You should also add any regular medications prescribed by your own doctor.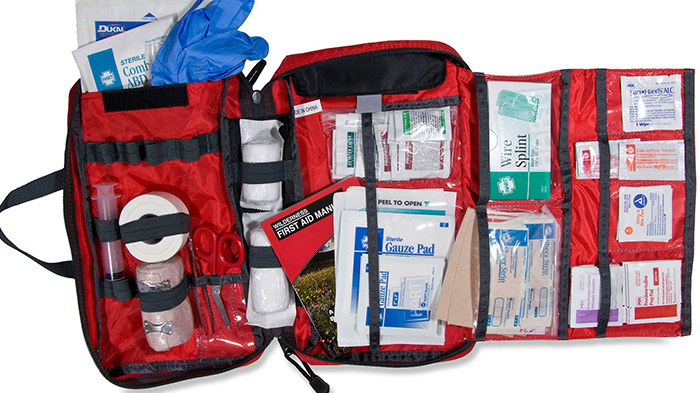 Prepare first aid kit for safe travel in Nepal
10) Keep emergency numbers on your phone
Whilst in Nepal, you may find the need to call one of the emergency numbers, for the police or emergency medical and evacuation services. As well as the number of your local embassy in Nepal, you should also include the following phone numbers, depending on your location in Nepal:
Tourist Police, Bhrikutimandap - Tel:+977-1-4247041
Tourist Police, Thamel - Tel:+977-1-4700750
Tourist Police, Basantapur - Tel:+977-1-4268969,4269452
Tourist Police, Pokhara - Tel:+977-61-521087
Tourist Police, Belhiya - Tel:+977-71-520197
Police Headquarter Operation, Naxal - Tel:+977-1-4412780,4411549
Metro Police Control, Ranipokhari - Tel: 100, 120, 130
Department of Immigration, Kalikasthan - Tel:+977-1-4433934,4429660
Tourism Crisis Unit - Tel:+977-97510-44088
Nepal Tourism Board, Bhrikutimandap - Tel:+977-1-4256909
Nepal Tourism Board, Pokhara - Tel: +977-61-465292,463029
Himalayan Rescue Association - Tel:+977-1-4440292,4440293
If you are trekking, you should also carry your TIMS card with you at all times, as it also has some important local numbers that you may need. Always keep the number of your insurance provider, both travel and trekking, on your person so that they can be contacted in an emergency.
Is It Safe to Trek Alone in Nepal? Top Things to be Careful
Trekking in the mountain areas inherently involves a certain element of danger, and Nepal is no exception. For solo trekkers, there are more things to be aware of to keep yourself during the trek.
1) Buy trekking insure in case you suffer landslide or avalanche
The first thing for those that are planning to trek in Nepal is to consider taking out trekking insurance. Trekking insurance, while not a legal requirement for trekking in Nepal, is a useful thing to have, just in case something does happen. Trekking in Everest Base Camp in Nepal, as well as some other remote areas of the Himalayas, does mean that you could be the victim of a landslide or avalanche, in rare circumstances, though the most common problem is damage to legs and ankles from bad footing.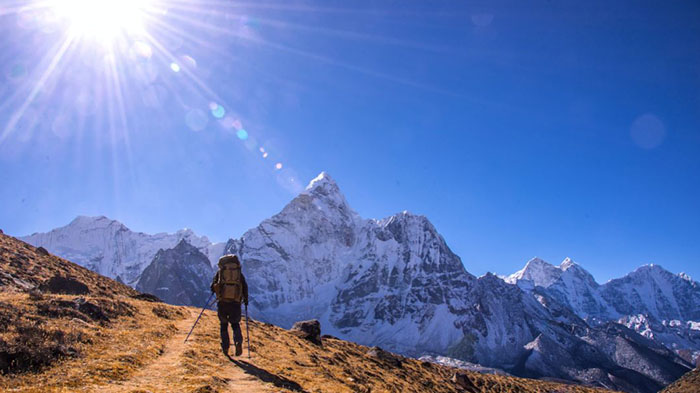 When trek alone in Nepal, you need to pay special attention to the issue of safety.
Insurance should include mountain rescue cover, which is normally a helicopter rescue, as this can be an expensive way to get off the mountain if you do not have good insurance cover. Many of the trekkers that go missing in the Himalayas do so because of a simple thing like a twisted ankle or getting severe altitude sickness along the route.
However, even with trekking insurance, first time trekkers should not travel in the Himalayas alone, and it is better to go as part of a group of friends. Without a guide or friends to help you, disaster can happen when you least expect it.
2) Always let people know where you are going
Another option when trekking is to obtain a local sim card or disposable phone while you are in Nepal. While not everywhere has coverage, you can always let people know where you are going, especially your family and friends, and stay in touch with people you know inside the country whilst trekking. If you are heading for somewhere remote, let your family and friends know where you are headed, including your expected route and itinerary.
3) Find other trekkers that are heading in the same direction
If you cannot afford a guide, and no-one you know is able to travel with you, then you can often find other travelers that are heading in the same direction in the local restaurants and bars, who will often welcome another addition to their group or who are looking for another person to trek with for safety. Most of the popular guesthouses have common rooms where you can meet fellow travelers.
Is It Safe for Solo Female to Travel in Nepal?
If you are a solo female traveler, then there are one or two additional things to avoid to stay safe in Nepal. While it is generally safe for solo female travelers, there are certain things to steer clear of.
Trekking as a solo traveler is not recommended, but if you are a solo female, then having a male guide with you can be just as dangerous. Not every guide is a danger, but there is the chance that something could happen, and it is better to be safe and try to trek with others if possible.
Insider tips for solo female travelers in Nepal
Nepal is a country of conservative people, and modesty is important in the way you dress. Do not wear revealing clothing, such as halter tops or low-cut tops with spaghetti straps, and avoid short skirts or shorts at all costs. Those women who dress in revealing or provocative clothing in Nepal are normally of a different kind, and you do not want to be mistaken as such.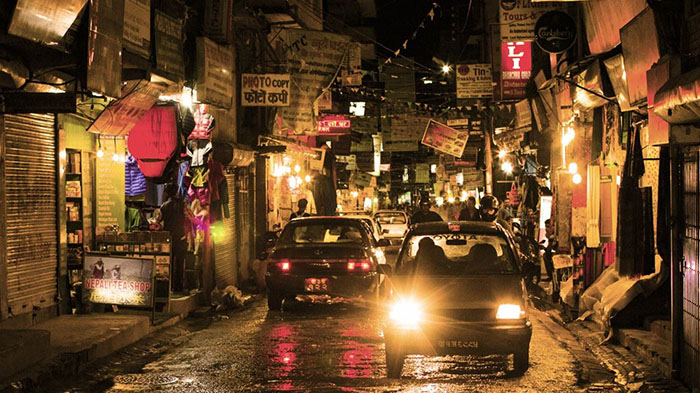 Take care of yourself when you go outside at night in Nepal.
Nightlife in Nepal is energetic and exciting, and you can really have a good time when out in the evening. However, try to find a group of people to go with at night, as there is a huge stigma attached to women entering bars and nightclubs alone. A better option is to head to one of the many restaurants and cafes that have live music, as there is no stigma attached to eating alone, and little chance of being propositioned as you would be in the bars and clubs.
Conclusion
Overall, Nepal is safe place to travel for solo travelers, and even solo females. If you are only sightseeing in the towns and cities, you just need to pay attention to the usual safety precautions. If you are going to trek in Nepal alone, try to find a companion and also get well prepared, such as hiring a guide, buying trekking insurance etc.