Flights from Nepal to Bhutan - Get to Paro from Kathmandu by Flight
Why We Choose to Fly to Bhutan from Nepal
Bhutan, a mysterious land called 'The Last Shangrila', has one airport, Paro International Airport, for travellers to enter the country and it only accepts incoming or outgoing flights from two carriers, Bhutan Airlines and Drukair, both of which are local to Bhutan.
As of this time, direct flights to Bhutan can only be taken from Bangladesh (Dhaka), India (Bagdogra, Delhi, Gaya, Kolkata, and Guwahati), Nepal (Kathmandu), Thailand (Bangkok), and Singapore. Other international carriers are not permitted to land at Paro, so all visitors travelling from outside Asia must get a connecting flight from one of the five countries that serve the Bhutanese airlines.
For most travellers, flights to Paro in Bhutan from Kathmandu in Nepal is the top choice, since it has the shortest distance and duration, as well as more flights and lower price. Bhutan Airlines has flights every other day while Drukair has flights on a daily basis, which all just cost less than 280 US dollars and only takes around 1 hour to 1.5 hours. By comparison, other flights from other countries and cities either have flights every once a week or so, or prices are above $300 and duration above 3 hours.
Nepal Bhutan Flight Schedule & Timetable
As said above, only two local airlines are allowed to land the airport in Bhutan. Here are the details of the flights available from Kathmandu, Nepal, which has a straight line distance to Bhutan of around 505 km.
Nepal to Bhutan Flight
For Bhutan Airlines, currently, the non-stop flights from Kathmandu Tribhuvan International Airport to Paro run on Monday, Wednesday, Friday, Sunday mostly at 15:00, which takes approximately an hour and fifteen minutes, while sometimes at 10:20 or 14:10, which takes around 1 hour to an hour and half, and costs around US$ 233.50 for economy, and US$ 279.50 for business class one way.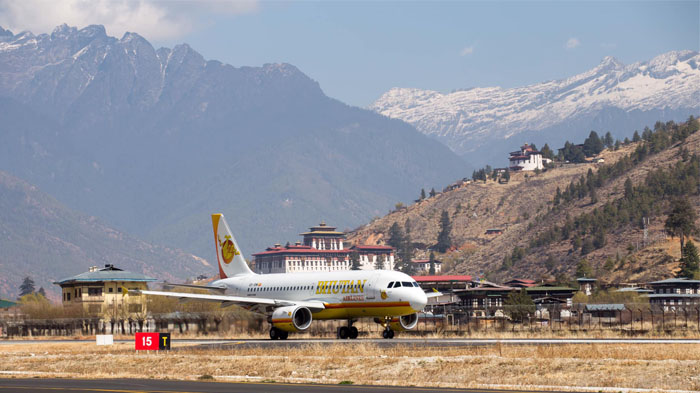 Bhutan Airlines
For Drukair, there are now non-stop flights departing from Kathmandu mostly at either 09:45 or 13:20, sometimes at 14:30, seven days a week. You would also spend about an hour and twenty minutes on the plane before you land in Kathmandu. A Drukair economy fare, one way, is around US$ 233.60 per person, while business class costs from US$ 279.60 per person.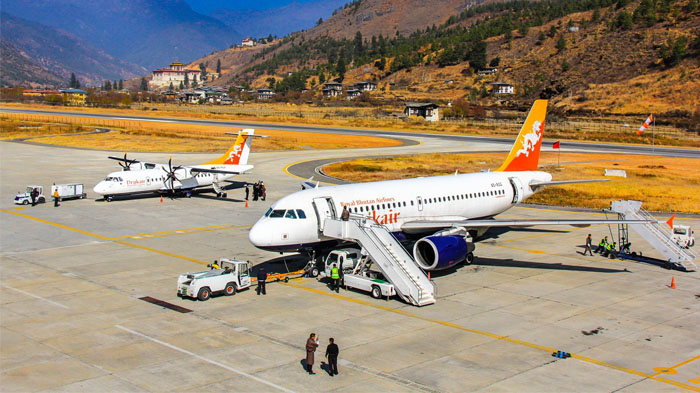 Drukair
Airlines in Bhutan
Dep.-Arr.
Duration
Distance
Frequency
Economic (per person)
Business (per person)
Bhutan Airlines
10:20-11:45
14:10-15:20
15:00-16:15
1 hr – 1.5 hrs
505km
Mon., Wed., Fri., Sun.
US$ 233.50
US$ 279.50
Drukair
09:45-11:05
13:20-14:40
14:30-15:50
about 1 hr and 20 mins
505km
Seven days a week
US$ 233.60
US$ 279.60
Bhutan to Nepal Flight
For Bhutan Airlines, it offers flights back to Nepal on Monday, Wednesday, Friday and Sunday as well, mostly at 08:30, sometimes at 07:50 or 08:45. And the time duration is similar, an hour and twenty minutes, although flights cost change at around US$ 223.40 for economy and US$ 278.40 for business class.
For Drukair, the return flights to Kathmandu are also seven days a week mostly at 07:45, 11:40, sometimes at 07:40, with similar prices of US$ 233.40 for economic and US$ 278.40 for business class, but the journey is shorter at about 1 hour, one way.
Airlines in Bhutan
Dep.-Arr.
Duration
Distance
Frequency
Economic (per person)
Business (per person)
Bhutan Airlines
07:50 - 08:45
08:30 - 09:20
08:45 - 09:40
about 1 hr and 20 mins
505km
Mon., Wed., Fri., Sun.
US$ 233.40
US$ 278.40
Drukair
07:40 - 08:40
07:45 - 08:45
11:40 - 12:40
about 1 hr
505km
Seven days a week
US$ 233.40
US$ 278.40
One insider tip here: return flights are much cheaper than paying for two single flights and the country requires you to have a return flight booked on a set date at the end of your tour before allowing you into the kingdom. On average, you can save around ten percent to 20 percent of the total cost by booking the return flight against two one-way flights.
How to Book Nepal Flight Ticket to Bhutan
Bhutan Flight Carriers: Bhutan Airlines and Drukair
Owned by Tashi Air Private limited, Bhutan Airlines is the only private airline in the country. Tashi Group won the license to operate an airline in Bhutan in December 2011, and started with flights from Bangkok in 2013. Kathmandu, Kolkata, and Delhi were later added as more Indian nationals wanted flights to Bhutan. Today, the company operates three flights a week from Delhi, via Kathmandu, and two flights a week from Bangkok, via Kolkata.
Drukair, owned by the Royal Government of Bhutan, is run by the Investment Wing, Druk Holdings and Investments. With increasing popularity as an exclusive and high-value, low-volume tourist destination, Bhutan found a need to open its skies to flights into the airport at Paro, and the national airline was born on April 5, 1981. The first flights were made from Kolkata in India, and more locations were added as time went on.
Requirements for Nepal Bhutan Flight Booking
Booking a flight from Kathmandu to Paro first requires that you have a confirmed and booked tour with a Bhutan travel agent, a validly issued visa, and the correct permits for travel in the country. Independent travel is not permitted in the country, and the two airlines will not permit the booking of a flight without the confirmation code from the Tourism Council of Bhutan (TCB) in Thimphu.
First, you need to contact a local travel agent in Bhutan that is registered with the TCB, and book a Bhutan tour - you are not allowed to travel Bhutan alone. Once you have booked, your travel agent will apply for the visa to enter Bhutan and the permit to travel within the country, outside Paro. Once all those are confirmed, a copy of the confirmation letter for your visa will be sent to the travel agent, who will forward it to you, and the confirmation code will be sent from the TCB to both Bhutan Airlines and Drukair.
Neither of the two airlines will allow booking of tickets to Bhutan without having received the confirmation code from the TCB. The travel agents can also book your tickets to Bhutan direct, to save you having to do it yourself, and it is beneficial to do this, as there is no commission for booking the flight through the travel agent.
The Best Way to Find Cheap Flights to Bhutan
There are no cheap flights to Bhutan. Since there are only two operators for Bhutan flights, the cost is set, and can only be booked directly with one of the two airlines. This can be done online or you can have your travel agent book the tickets for you, to make it easier. Travel agents in Bhutan are dedicated to ensuring that all the regulations are strictly adhered to, and will often go above and beyond to make your trip excellent.
Generally speaking, there is no need to book in advance to get cheaper flights. The prices are normally rated on the season, and while it is cheaper to fly in the offseason, the flight prices will not go down until closer to the date of the flight.
How to Board Nepal to Bhutan Flight
Get to Nepal Kathmandu Tribhuvan International Airport
Tribhuvan International Airport is only a 15-20 minute taxi ride from the city of Kathmandu, with normal traffic. It is only six kilometres, but with normal Kathmandu traffic, it can take a while since traffic in the city can be chaotic at best. There are basically three ways of transportation to Nepal Kathmandu Tribhuvan International Airport.
A prepaid taxi from hotel. This option to book a prepaid taxi through your hotel is most recommended, as hailing a taxi on the street can sometimes be much more expensive. The prepaid taxis have a set fare (which often includes a commission for the hotel), and is guaranteed not to change once you get underway, unlike with the roaming taxis. At around 750 rupees, this is more than the going rate for the trip, but it is a door-to-terminal service, which makes it more convenient.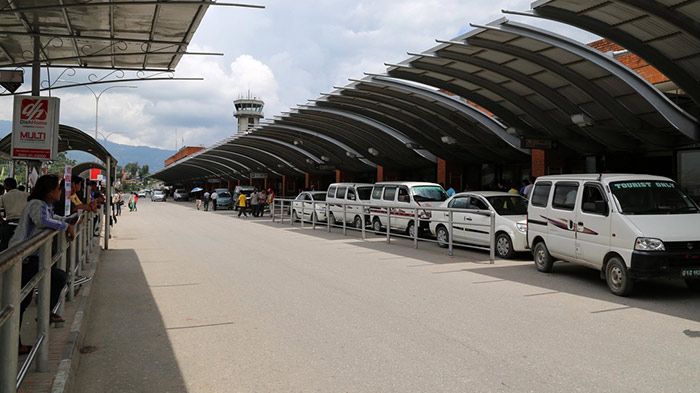 There are many means of transportation that can help you get to Kathmandu Airport in Nepal.
Personal street taxi. Local public taxis on the street cost around 400 to 500 rupees, although if you can bargain well, you may get it for less. Make sure you agree on the price before you start, and do not rely on any meter, as they are often calibrated in the driver's favour. There is very little regulation of taxis in Kathmandu or the rest of Nepal, and local taxis are often just personal cars with "TAXI" painted on the doors.
Public transport. The third option, and sometimes the best, is the public transport system, although if you have a lot of luggage, it is not ideal. Buses from the Ratna Park Station run direct to the main gates of the airport, so you will have to walk the ten minutes to the terminal. However, cost-wise, it is only around 15-20 rupees for the trip, so well worth the short walk.
Collect Your Flight Ticket
For those who booked online, or through the travel agent, the tickets are available from the departure desk of the airline in Tribhuvan International Airport. You will need to provide your passport and the confirmation letter from the travel agent to have them issued to you.
Check Your Luggage
For checked baggage, the maximum combined weight of all the pieces is 40 kg for business class and 30 kg for economy class for both Bhutan Airlines and Drukair.
Check-in counters open 180 minutes prior to flight departure and are closed 45 minutes before departure time for all classes. Passengers who have not reported to the airport by 45 minutes prior to departure, will be offloaded from the flight and have their seats released for guests on standby. So make sure you have your time planned properly.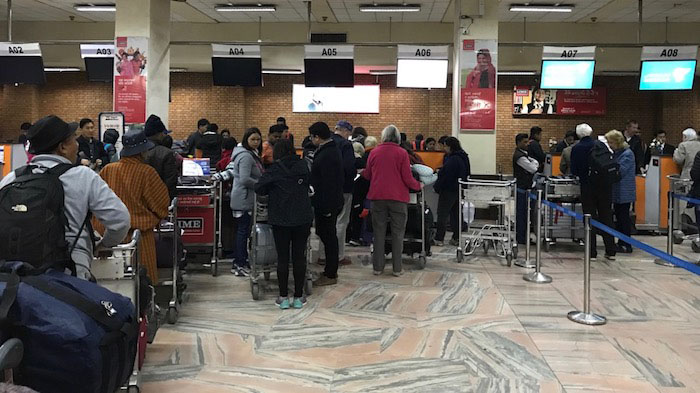 Check luggage at Kathmandu Tribhuvan Airport
Pass through Security Check
When you go through the security check, the unchecked hand luggage should not exceed the dimensions of 55 cms x 40 cms x 20 cms and a maximum weight of 7 kgs for Bhutan Airlines, while 45cm x 35cm x 20 cm in dimension and 5 kgs in economy class and 7 kgs in business class in weight if you choose Drukair.
However, you can bring some articles free of charge over and above the hand baggage allowance, like a ladies handbag, an overcoat wrap, an umbrella or walking stick and duty-free items. For further detailed information about that, you can contact our travel consultant or just check it on the two airlines' official websites Drukair and Bhutan Airlines.
After all, if your journey involves multiple airline partners, please be aware that baggage rules may vary. Also, the departure gate area after you've checked in at both domestic and international terminals are crowded, with the smell of the nearby restrooms. So, if you can, don't go through the final security line to the gates until you actually have to. After all, it's a small airport, although international.
Wait for Your Flight
Despite all these chaos at the departure area, for added comfort while waiting, you can pay to enter an airport lounge. Regardless of what class of service you are flying, you can enter the lounge by paying at the door, purchasing a lounge pass or through a lounge membership program (ie. Priority Pass).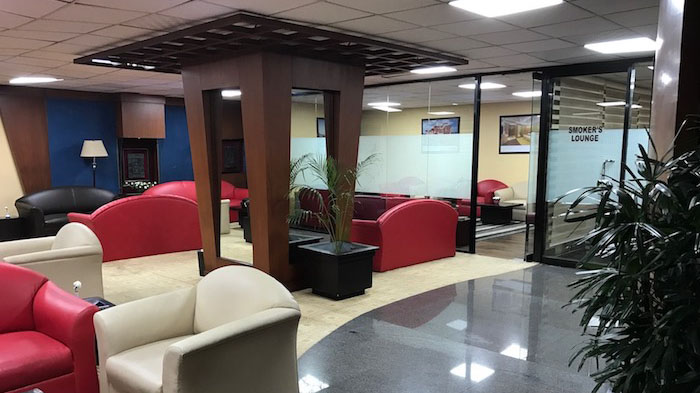 The executive lounge in Kathmandu Tribhuvan Airport
Board the Plane to Bhutan
To maintain schedules, the boarding gate will be closed 25 minutes before departure time. Passengers who do not report at the boarding gate will not be boarded.
In order to board the plane, you will need to have your passport and the confirmation letter for your visa, which you will receive in Paro when you land. You should also have your booking confirmation from the travel agent, as the airline may ask to see it to confirm the validity of the confirmation code they received from the Tourism Council of Bhutan (TCB).
Get from Paro Airport to City Center
As the only international airport in Bhutan, Paro will be the location of your arriving flight and the airport has only one terminal and one runway, so it's impossible to get lost.
The Paro Airport is about 6 km from the city centre, on the banks of the Paro Chhu. While our guide and driver will be picking you up there once your flight arrives and you get out of the immigration, you can sit back and enjoy the 5,500-meter-high peaks surrounding the airport on the way to Paro city center.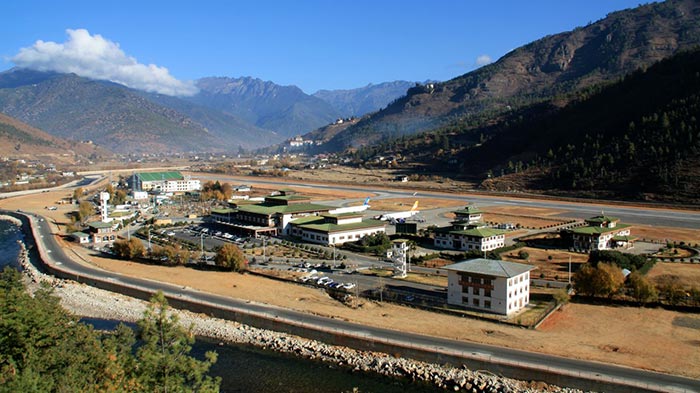 Paro International Airport, Bhutan
If you want to go to Thimphu, the capital of Bhutan, which is 50.2 kilometres from Paro, the drive will take about an hour. The road trip will give you the chance to get a beautiful glimpse of Bondey Village, Shaba Village, Tamchog Lhakhang, Kharbije Temple, Khasadrapchhu Nunnery, etc.
Most Recommended Nepal Bhutan Travel Route
If you'd like a hassle-free journey from Nepal to Bhutan, you can join our 8 days Classic Nepal to Bhutan tour.
You will first spend three days in Kathmandu, exploring the numerous temples and stupas. Then, on the fourth day, you'll take a flight to Paro from Kathmandu, and you will get to see the breathtaking views of the Himalayas from the plane. Upon your arrival, our Bhutan guide and driver will be expecting you and later transfer you to your hotel. After a short rest, if time permits, we may visit the Kyichu Lhakhang (also known as Kyerchu Temple), the oldest and most beautiful temple in Bhutan. Later we'll move on to the Paro Rinpung Dzong, a fortress offers you picturesque scenery and a sense of inner peace.
The next day you'll be visiting Thimpu, the capital city of Bhutan, you'll be able to explore the National Library, Folk Heritage Museum and Hand-made Paper Factory, and the School of Arts and Crafts, where you will have a panoramic view of Bhutan history and learn more of textile and the handicraft making in the most traditional way. The highlight of Thimpu comes as you tour the Tashichho Dzong (Thimpu Dzong), the most beautiful Bhutan dzong as well as the headquarters of the Bhutan government.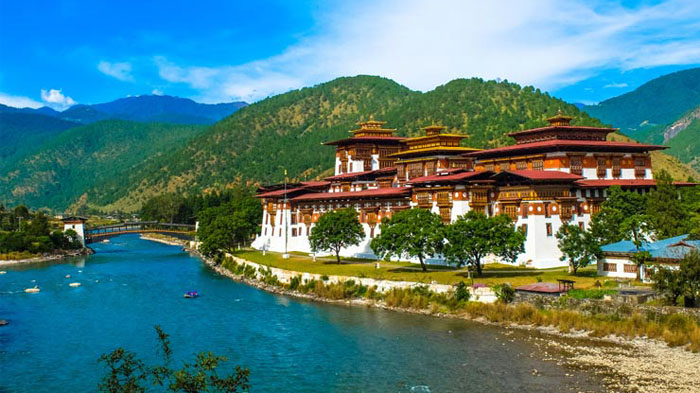 Punakha Dzong, the most beautiful Bhutanese Dzong
In Punakha, the former capital of Bhutan., you'll be able to see Punakha Dzong, widely believed to be the most beautiful Bhutanese Dzong. Never miss the Punakha festival around mid-Feb if you come at the right time.
Heading back to Paro, you'll see the National Museum of Bhutan, where you can trace back to the ancient Bhutan history and explore the diverse wild lives as well as splendid local culture and arts. Before leaving Paro, you will trek to the sacred Taktsang Lhakhang, the holiest temple in Bhutan, also known as Tiger's Nest, where you can catch a panoramic view of Paro Valley.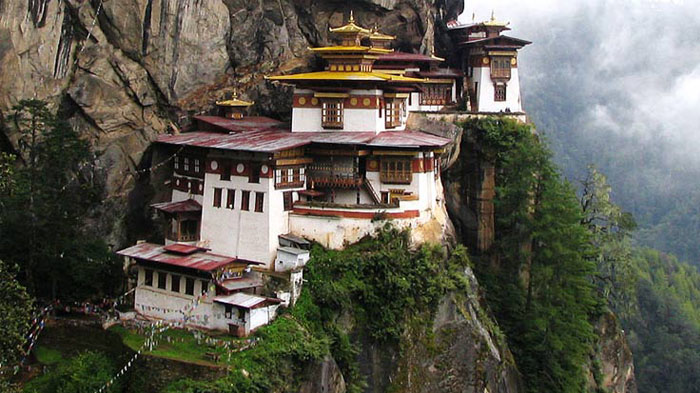 Taktsang Lhakhang is a sacred site 3120 meters above the sea level.
Conclusion
There are now 5 countries that have direct flights to Bhutan, and the flight from Nepal to Bhutan are the perfect choice for being short in distance and time duration and being cheap. You're not allowed to travel on your own in Bhutan but have to go through a registered tour agent, and only two local Bhutanese airlines, Bhutan Airlines and Drukair can fly in and out of Bhutan.
The superb subtropical views and sub-alpine landscape of Bhutan, together with its well-preserved culture, will definitely make one-of-a-kind journey for you. You can contact us and join our 8 days Nepal to Bhutan tour to have a dream trip.