Ultimate Bhutan and Nepal Tourist Maps
The "almost" neighbors of Bhutan and Nepal both lie in the Himalayas, bordering on Tibet to the north, and with just a small section of India separating them. And while they do share many similarities in climate and elevation, there are major differences between the two. Nepal is a hugely Hindu country, despite being the legendary birthplace of Buddha, though there are many other religions that pervade in this Himalayan kingdom. Nepal is also an open country for tourism, with plenty of trekking and adventure sports that you can take part in. In Nepal, tourism is the main industry, and getting into the country to trek or take part in adventure sports is relatively easy.
Bhutan is very different in many respects, being a predominantly Buddhist kingdom, with very few other religions within the kingdom. There is also a major difference in tourism in Bhutan and Nepal. Bhutan has a policy of environmental and ecological tourism, giving high-quality tourism for higher prices. It is also harder to enter Bhutan, as you need to be on a pre-booked tour with a private guide and vehicle at all times. However, there are some great treks in Bhutan, and traveling through the Himalayas in Bhutan is just as exciting as in Nepal.
Bhutan Nepal Location Map: where is Bhutan and Nepal?
Nepal, the full name of the Federal Democratic Republic of Nepal, is a landlocked Himalayan country in South Asia, bordering China Tibet to the north and India to the south, west, and east. With altitudes ranging from 500 meters to 8844.43 meters, Nepal is home to eight of the top ten highest peaks in the world, including Mt. Everest (8,844.43m), Mt. Lhotse (8,516m), Mt. Makalu (8,485m), and Mt. Cho Oyu (8,188m).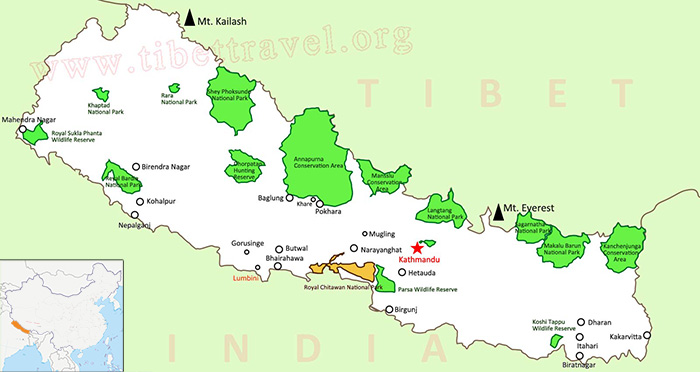 (Simple click to enlarge the map)
Map of Nepal Outline
The Kingdom of Bhutan, referred to as Bhutan, is a landlocked country located on the southern slope of the eastern section of the Himalayas. Lying in South Asia, it is separated from Nepal by the Indian State of West Bengal, with China to the north and west, and India on the southern and eastern borders.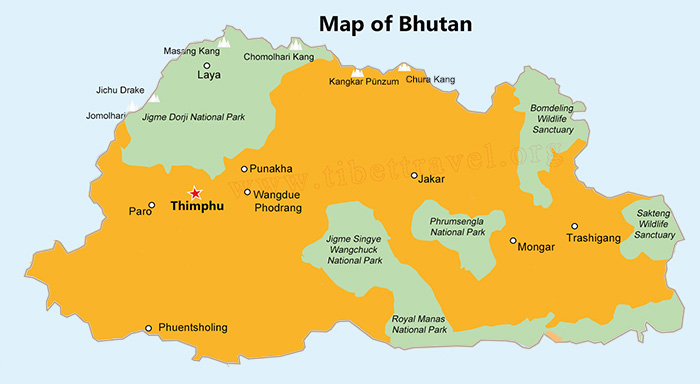 (Simple click to enlarge the map)
Map of Bhutan Outline
Both of these Himalayan countries have similar climates and tourist seasons, with the peak seasons for travel for both being from March to May and October to December. Travel is possible outside these periods, especially in the northern areas where there is less rain in summer and in the southern areas where there are better temperatures in winter.
Political Map of Nepal and Bhutan
Nepal Full Map with 75 Districts
As the world's 94th largest country, Nepal has a total area of 147,181 square kilometers. It runs in the northwest-southeast direction, extending 850 kilometers from north to south and 2,000 kilometers from west to east. Nepal's capital city is Kathmandu and other big cities include Pokhara, Biratnagar, Lalitpur, Bharatpur, Birganj, Butwal, Dharan, Bhim Datta, and Dhangadhi, among others. In 2015, Nepal was divided into 7 provinces and 77 districts. Those administrative divisions are simply called Province No. 1, Province No. 2, Province No. 3, Province No. 4 (also known as Gandaki Pradesh), Province No. 5, Province No. 6 (also known as Karnali), and Province No. 7 (also known as Sudurpashchim). So far, only three of the seven provinces have been given actual names, while the other four are still pending, with proposed names of: Koshi or Purbanchal for Province No. 1, Madhesh, Mithila, or Bhojpuri for Province No. 2, and Lumbini for Province No. 5. Province No. 3, which is the home of the national capital, Kathmandu, is still unnamed.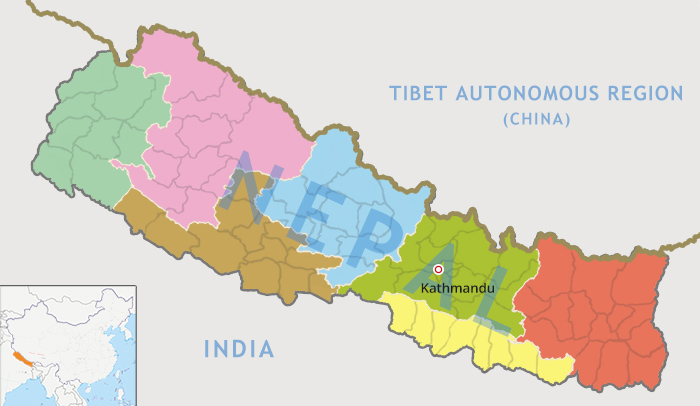 (Simple click to enlarge the map)
Nepal Seven Provinces Map with All Districts
Here we also provide an authoritative list of all districts in Nepal:
1. Taplejung, 2. Panchthar, 3. Ilam, 4. Jhapa, 5. Morang, 6. Sunsari, 7. Dhankuta, 8. Tehrathum 9. Sankhuwasabha, 10. Bhojpur, 11. Solukhumbu, 12. Okhaldhunga, 13. Khotang, 14. Udayapur, 15. Saptari, 16. Siraha, 17. Dhanusa, 18. Mahottari, 19. Sarlahi, 20. Sindhuli, 21. Ramechhap, 22. Dolakha, 23. Sindhupalchowk, 24. Kavrepalanchowk, 25. Lalitpur, 26. Bhaktapur, 27. Kathmandu, 28. Nuwakot, 29. Rasuwa, 30. Dhading, 31. Makwanpur, 32. Rautahat, 33. Bara, 34. Parsa, 35. Chitwan, 36. Gorkha, 37. Lamjung, 38. Tanahun, 39. Syangja, 40. Kaski, 41. Manang, 42. Mustang, 43. Myagdi, 44. Parbat, 45. Baglung, 46. Gulmi, 47. Palpa, 48. Nawalparasi, 49. Rupandehi, 50. Kapilvastu, 51. Arghakhanchi, 52. Pyuthan, 53. Rolpa, 54. Rukum, 55. Salyan, 56. Dang 57. Banke, 58. Bardiya, 59. Surkhet, 60. Dailekh, 61. Jajarkot, 62. Dolpa, 63. Jumla, 64. Kalikot, 65. Mugu, 66. Humla, 67. Bajura, 68. Bajhang, 69. Achham, 70. Doti, 71. Kailali, 72. Kanchanpur, 73. Dadeldhura, 74. Baitadi, 75. Darchula
Bhutan Administrative Map
With a population of around 797,765 people (as of the 2016 census), Bhutan is divided into twenty Dzongkhag (districts), namely: Bumthang, Chukha, Dagana, Gasa, Haa, Lhuntse, Mongar, Paro, Pemagatshel, Punakha, Samdrup Jongkhar, Samtse, Sarpang, Thimphu (Bhutan's capital and largest city), Trashigang, Trashiyangtse, Trongsa, Tsirang, Wangdue Phodrang, and Zhemgang.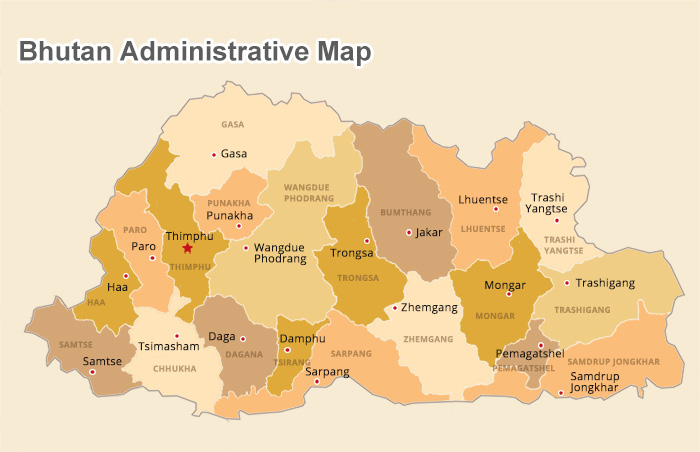 (Simple click to enlarge the map)
Bhutan Map with Cities and Dzongkhas
Map of Nepal Bhutan Tourist Attractions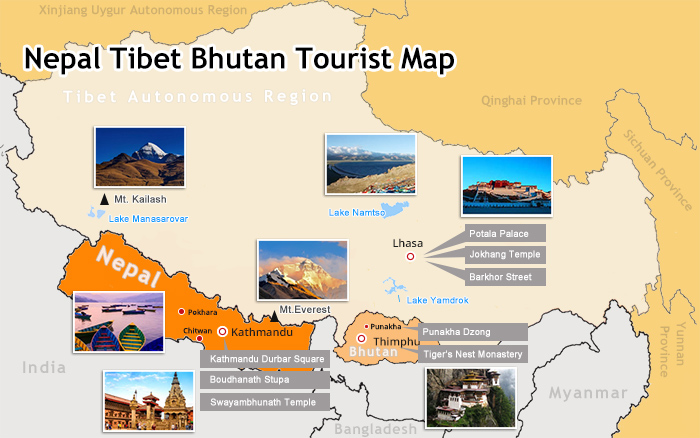 (Simple click to enlarge the map)
Map of Nepal Bhutan Tourist Attractions
Kathmandu
Kathmandu, the capital and largest city in Nepal, consists of two parts. The buildings in the new city have mixed traditional Nepalese features with Western styles, while the old part of the city still retains the original architectural features except for the addition of one major commercial artery. It is also home to over 2700 temples and 250 sutra chanting halls. Top highlights here are: Kathmandu Durbar Square, Bhaktapur Durbar Square, Swayambhunath Temple(Monkey Temple), Boudhanath Stupa, Kumari Goddess Temple, Nagarkot, etc.
Chitwan
The home of the Chitwan National Park, Chitwan District in the southwest of Province No. 3 is also home to the commercial hub of southern Nepal, and is one of the few remaining unspoiled areas of the Terai region of Nepal. The most fascinating area of the district is the national park, which is a popular tourist destination in Nepal for wildlife safaris, where you can take an elephant ride into the jungle to see rhinos, leopards, crocodiles, and the rare Bengal Tiger.
Lumbini
Lumbini, the birthplace of Sakyamuni Buddha, is one of the holiest sites for Buddhism in Nepal. Lying at the junction of southwestern Nepal and India, Lumbini is 360 km from Kathmandu. And more than 20 countries have established the country's temple in Lumbini. It's also an important cultural site protected by the Nepali government. The main attractions are as follows: Maya Devi Temple, Ashoka Pillar, Lumbini Museum, Lumbini Korean Temple, Lumbini Chinese Temple, Lumbini Crane Conservation Area, etc.
Pokhara
Pokhara, nestled in the snow-capped Annapurna Mountains and the magnificent Fishtail Peak, is one of the most popular tourist destinations in Nepal. You can enjoy your leisure time by appreciating the lush vegetation of Pokhara, boating on the charming Phewa Lake (Fewa Lake), or sipping the wine in the fantastic restaurants and bars on the lakeshore, etc. Here come the major scenic spots: Fewa Lake, Fishtail Peak, World Peace Tower, David Falls, Boone Mountain, Sarangkot, Pokhara Old Town, Annapurna Mountain, etc.
Paro
The location of Bhutan's only International Airport, Paro is also one of the most historic valleys in Bhutan, located within the Paro Dzongkhag. A major entry into Bhutan in the past for both commercial trade and the invading Tibetans, who came across the high pass at the head of the valley, Paro has the closest cultural connections with Tibet in Bhutan. As well as being the location of the Paro Dzong and the Rinpung Dzong, Paro is also the location of the Taktsang Monastery, known as the Tiger's Nest, where Padmasambhava flew into Bhutan in the 8th century and subjugated the biggest demon in the kingdom.
Thimphu
The capital of Bhutan since 1955 and the largest city in the kingdom, Thimphu lies in Thimphu Dzongkhag in central western Bhutan. While it may not be the most vibrant city in Asia, with very little nightlife, Thimphu is the political and economic center of Bhutan, and the city's stunning architecture includes the beautiful Thimphu Dzong and the Dechencholing Palace, and is the location of the biggest tsechu in the kingdom.
Punakha
Located to the east of Thimphu, Punakha was once the capital of the country and the seat of government. The Punakha Dzong, also known as the Pungthang Dewachen Phodrang (Palace of Great Happiness), is rated as the most beautiful Dzong in the kingdom, and is still the winter residence of the central body of Buddhism in Bhutan, as well as housing the most sacred Buddhist relics in Bhutan.
Nepal Bhutan Border Map: what countries border Nepal and Bhutan?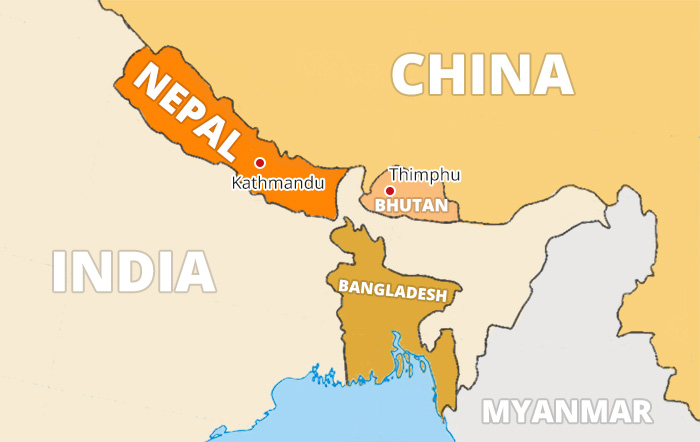 (Simple click to enlarge the map)
Nepal Bhutan Map with Surrounding Countries
Despite being separate countries, there are actually only two countries that border both Nepal and Bhutan. To the north of both Nepal and Bhutan lies China, namely the Tibet Autonomous Prefecture, while on all the other borders, both countries are surrounded by India. Traveling from Nepal to Tibet means crossing the only border crossing point into China, at the Rasuwa Gadhi - Gyirong Port checkpoint. For those traveling overland to Bhutan from Nepal, the route takes you over two border crossing points. From Nepal to India, the best crossing is at Kakarbhitta in southeast Nepal, which connects with Panitanki in the Indian State of West Bengal. After crossing India, you cross into Bhutan at the only possible crossing point, at Jaigaon in West Bengal, connecting with the small border town on Phuentsholing in Bhutan's Chukha Dzongkhag.
Nepal and Bhutan - the heart of the Himalaya in Asia Map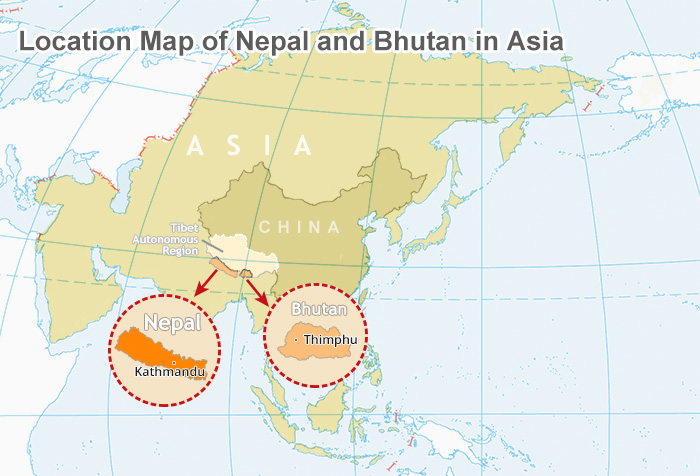 (Simple click to enlarge the map)
Location of Bhutan & Nepal in Asia Map
Lying in the midst of the mighty Himalaya Mountain Range, Nepal and Bhutan make up the heart of this vast range of mountains, lying along a combined 1,884 kilometers of the mountain range. Making up around 78 percent of the total length of the Himalaya Range, these two landlocked countries both have their entire cultures based on living on the range of the world's highest mountains.
Nepal and Bhutan in World Map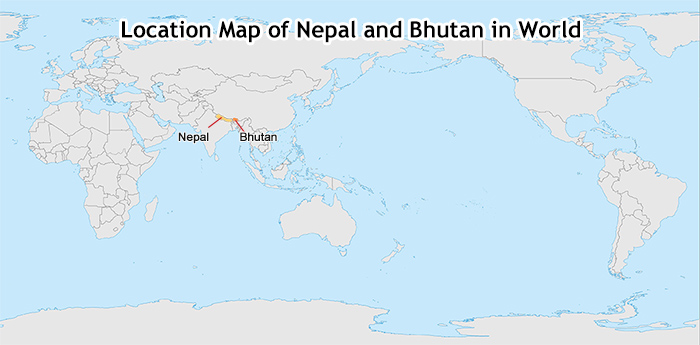 (Simple click to enlarge the map)
Location of Bhutan & Nepal in World Map
Small and seemingly insignificant in global terms, Bhutan and Nepal are located in South Asia, towards the southwestern end of the Asian Continent, between 80 and 92 degrees east from the Greenwich Meridian line. Both landlocked, these small Himalayan countries may be tiny in relation to the global map, but are huge in terms of tourism and environmentalism. And it is significant that such small Asian countries can show how a small country can promote massive tourism from the landscape or be a striking example of environmental and ecological perfection in a world filled with pollution and high carbon footprints.
Bhutan Nepal Travel Map: how to get to Bhutan from Nepal or Nepal from Bhutan?
When it comes to traveling from Nepal to Bhutan, the best and most convenient way for tourists is to fly from Tribhuvan International Airport, Kathmandu to Paro International Airport, Paro. And the daily flight between Nepal and Bhutan is available all year round. If weather allows, you can enjoy the superb vista of the Himalayan Ranges on the left window seat while flying to Bhutan from Nepal. Tourists can book Bhutan Nepal flight ticket by themselves or you can contact with our travel consultant to work out a perfect Bhutan Nepal tour.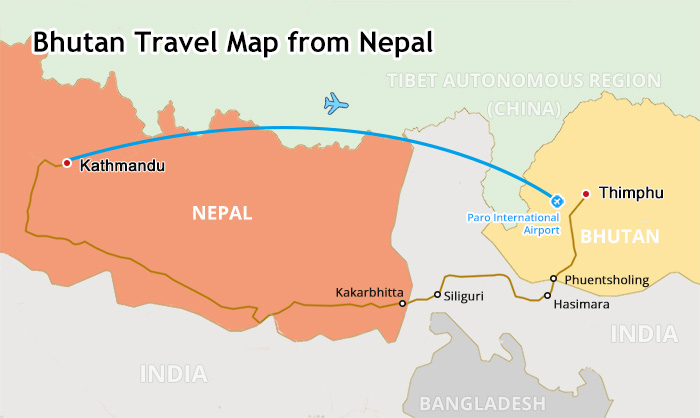 (Simple click to enlarge the map)
Bhutan Travel Map from Nepal
The best route to get to Bhutan from Nepal, or vice versa, is via the Kakarbhitta and Phuentsholing border crossings. After taking the bus to Kakarbhitta on the southwestern border of Nepal with India, you will cross over into India at Panitanki, and get the local bus to Siliguri. From there, you can get a direct train to Hasimara, and then a local bus to Jaigaon, on the India-Bhutan border. Crossing the border takes you to Phuentsholing, in Bhutan, where your guide and driver will be waiting to take you to the capital at Thimphu.