Tibet Nepal Border Map
Covering a border area of 343,500 square kilometers, Tibet has 21 border counties and 104 border townships. More than 0.4 million people live along this 3842-kilometer-long land boundary.There are 5 national border crossings in total, namely, Zhangmu, Pulan, Gyirong, Riwu and Yadong. Only Zhangmu, Gyirong and Riwu were open to Nepal.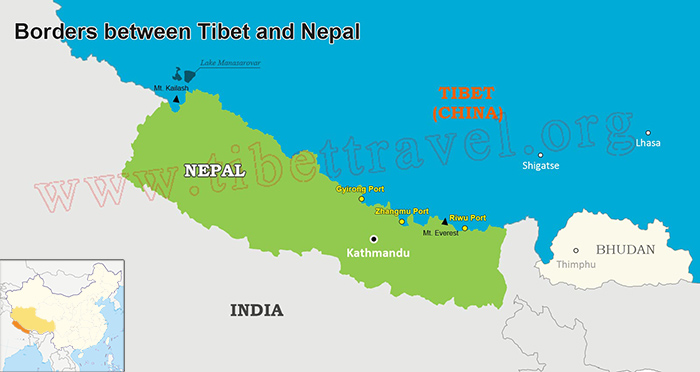 (Simple click to enlarge the map)
Tibet Nepal Border Map
Zhangmu Port
Zhangmu Port, located at the southern slope of the middle section of the Himalayas, is surrounded by Nepal to the east, south and west. As a throat of Sino-Nepal Friendship Highway, Zhangmu is 736 kilometers away from Lhasa and 120 kilometers to Kathmandu.
Location: Nyalam County, Shigatse Prefecture,Tibet
Zhangmu Altitude: 2300 meters above sea level
Coordinate: 27°59'N, 85°58'E
Distance: 736km from Zhangmu to Lhasa City, 41.6km from Zhangmu to Nyalam County, 0.1km from Zhangmu to Friendship Bridge, 120km from Zhangmu to Kathmandu, Nepal
Climate: The subtropical climate endows Zhangmu Border with warm and humid weather.
Attractions in Zhangmu: Shishapangma (the 14th highest mountain in the world), primitive forests, majestic glaciers, stunning lakes,etc.
Gyirong Port
Gyirong Port, situated at the south foot of the Himalayas, has an area of 120,000 square kilometers with a 162-kilometer-long border line. Lying in the lower valley of the Yarlungzangbo River, Gyirong is 705 km to Lhasa and 85 km to Kathmandu.
Location: Gyirong County, Shigatse Prefecture,Tibet
Gyirong Altitude: 2700 meters above sea level
Coordinate: 28°51'N, 85°17'E
Distance: 705 km from Gyirong to Lhasa City, 85km from Gyirong to Kathmandu, Nepal
Climate: Close to Zhangmu, Gyirong has the similar subtropical climate.
Attractions in Gyirong: Tubo-Nepal ancient road, Byams-sprin lha-khang Temple, Phags-pa lha-khang Temple, Menqia Hotspring, Jipu Valley, various flora and fauna, snow-capped mountains,crystal lakes, green grassland,etc.
Riwu Port
Riwu Port is bounded by Nepal on the south and west. It is 7.6 km to Dingge County and 303 km to Shigatse City. Due to the poor road condition, only few Nepalese merchants do trades there.
Location: Dinggye County, Shigatse Prefecture,Tibet
Average Altitude in Riwu: 4350 meters
Coordinate: 28.3°N, 87.7°E
Distance: 7.6 km from Riwu to Dinggye County, 303 km from Riwu to Shigatse City, 507 km from Riwu to Lhasa City
Climate: semi-arid monsoon climate
Attractions in Riwu: Cuomuzhelin Lake, Dinggye Lake, Jimugujiamu Lake,etc.
See more at Shigatse Maps and Prefecture
Note:
Since Zhangmu Port and Gyirong Port still remain closed to tourists, we suggest you to take flights to travel between Tibet and Nepal.