Teej Festival
Teej, short for Hartalika Teej, is the fasting festival of women in Nepal. It usually takes place in Nepali Bhadra month (August to September in Solar Calendar) and lasts for three days. Teej Puja is particularly held at Pashupatinath to commemorate the reunion of Goddess Parvati and Lord Shiva. During Teej Festival, Nepalese women will dress in their beautiful red saris, fast to honor Lord Shiva and pray for a happy marriage.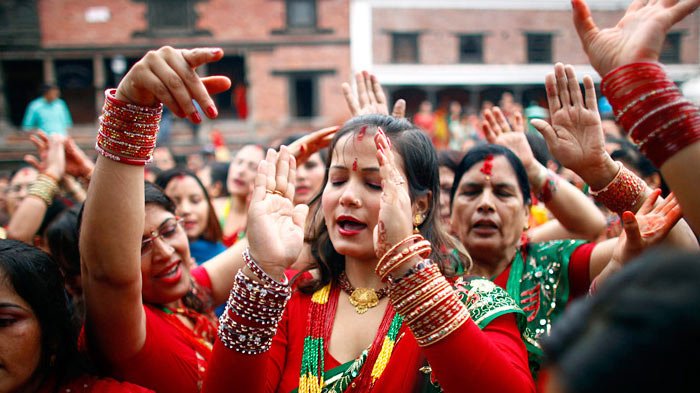 On this particular day, the streets of Kathmandu have turned into a sea of red with women dressing in beautiful saris.
It's a festival for Nepali Hindu women, which is also celebrated in some part of India. In order to protect the traditional culture, the government of Nepal has made Teej Festival as a national holiday. Nepali Teej Festival 2016 has been celebrated on September 4th. As for Teej Festival this year, please feel free to contact us for further consulting.
Background of Teej Festival, Nepali Women's Day
Long time ago, the king of Himalaya had a beautiful daughter named Parvati, who was very intelligent and deeply admired the Hindu God of Destruction and Creation, Shiva. But the king decided to marry Parvati to the wealthy Vishnu. With the assistance of her friends, Parvati successfully escaped from the house and hid in the thick forest. From then on, she led an ascetic life. Upon hearing this, Shiva was so surprised and decided to test her sincerity. He disguised as the rich Vishnu and rode a gorgeous carriage to see Parvati, trying to lure her to marry him. However, Parvati still remained unmoved. Shiva was so impressed by her determination and revealed his identity. At last, Parvati realized her dream and married Shiva. Owing to her friends' help, Parvati could get rid of the arranged marriage. She was very grateful to them and held a party to celebrate this happy ending. This is the origin of Teej Festival.
Celebrations of Teej Festival
Hartalika Teej is also known as "Nepal Women's Festival" and "Women's Wishing Festival". The events would last for three days, including enjoying a grand feast, observing a rigid fasting, praying to Lord Shiva, bathing in the holy river, presenting traditional performances, etc. Nepali Women's Day is generally referred to the second day of Teej Festival.
Day1 Getting together to enjoy the fancy dinner
In the early morning, Nepalese women go to the mall for large purchases. When the night falls, they'll make a hearty meal and prepare tasty sweets. Good friends will gather together with foods and drinks, perform traditional dances and sing devotional songs. Those celebrations continue till the midnight.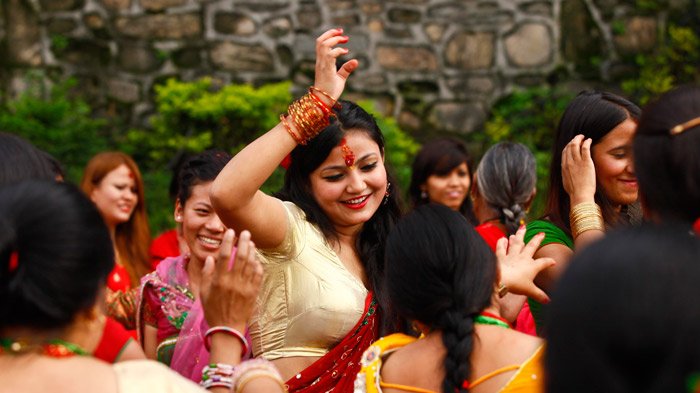 Nepali females are dancing on the streets of Kathmandu.
Day2 Observing a one-day fast and praying to Lord Shiva for a good marriage
Today is the fasting day of Teej Festival. It's also a public holiday in Nepal. After having a warm bath, women will wear gold and silver jewelry and dress in their red wedding saris. Then they head in groups to Shiva temples nearby and offer flowers and fruits to Lord Shiva. One of the most important things is to make a wish for the healthy life of their husbands and families. The unmarried girls also follow Teej rituals to pray for a good husband.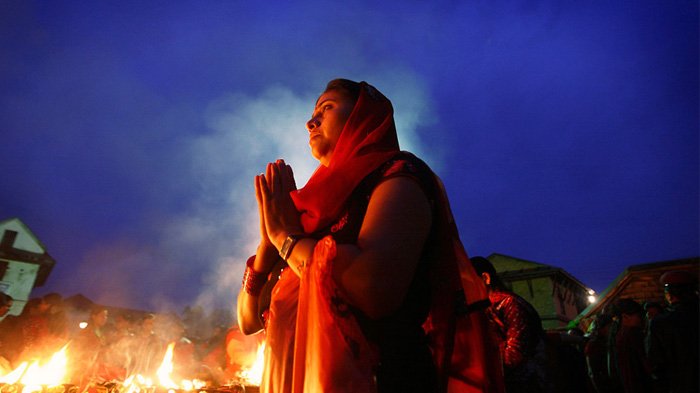 A Nepalese woman is praying in front of Pashupatinath Temple.
The Pashupatinath Temple, located on the bank of the holy Bagmati River, is the most important Hindu temple in Nepal. During Teej Festival, it is also the top choice for women to worship Lord Shiva. On the way to Pashupatinath Temple, Nepali women will try to make themselves as happy as possible so as to attract Shiva's attention. While touring Kathmandu, you'll come across women and young girls in exquisite saris everywhere and red has become the theme color.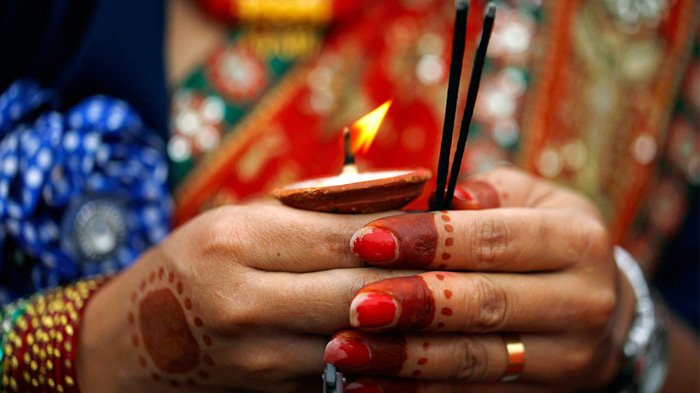 It's said that the oil lamp should be kept lit all night to avoid bad omen.
What's interesting is that on this day of the festival, all Hindu women can not eat anything from morning till night. They must fast for the whole day. Pious women believe that it'll bring the good fortune for their husbands. And for them, the family is everything. Surprisingly, under the fasting condition, Nepalese women don't feel tired after a one-day prayer. You must be amazed at their devout faith and strong wishes for a better life.
Day 3 Taking a holy bath
The third day is known as Rishi Panchami. After paying homage to seven saints, Nepali women would bathe with red mud found on the roots of the sacred datiwan bush, along with its leaves. This symbolic bath will absolve them of all sins. Then they go to worship the god Ganesh, so that their wishes made in the previous day can be achieved. On this day, women can enjoy a sumptuous meal. Many dishes are unique to this festival, such as a special bean soup, exotic mutton soup and desserts made of carrots.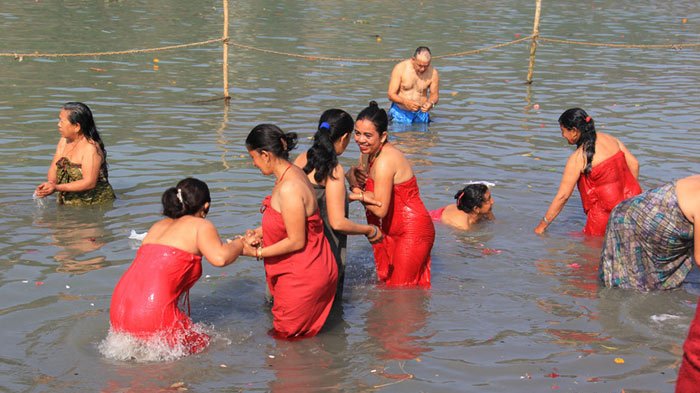 Nepalese Hindu women take a ritual bath in the Bagmati River during the Rishi Panchami festival in Kathmandu.
Nepali Teej Festival is the first grand festival coming at the end of the rainy season. At that time, the sky is clear and sunshine is cozy. You'll see Nepali Hindu females singing and dancing at the streets and temples to celebrate the arrival of Teej Festival. Unmarried girls look forward to a good marriage in the future, and married women pray for the long and healthy life of their husbands. As time goes by, non-Hindus and foreign travelers can also participate in the hilarious festival. Besides, if visiting Nepal from August to September, you are likely to experience another two big festivals, namely, Gai Jatra and Nepal Kumari Festival.