Holi Festival
Holi, also known as Festival of Colors, is one of the most popular festivals in Nepal. It takes place on the full moon day in Nepali Fagu month (February to March in Solar Calendar) and lasts for 2 days. This festival was held from March 20 to 21, 2019, and from March 9 to 10, 2020. Following Dashain and Tihar Festival, Holi is celebrated for the victory of good over evil and the coming of spring. During this colorful festival, Nepalese and foreign tourists will throw each other with dry powder and colored water to express their sincere blessings and good wishes.
The Holi Festival falls on March 20 in 2019, and our video taken from the scene.
Background of Holi, Nepal Water Festival
The origin of Holi Festival can be traced back to the "Mahabharata", Indian famous epic. According to the legend, King Hiranyakashipu was so arrogant and didn't allow people to worship Lord Vishnu. However, Prince Prahlada was an ardent devotee of Vishnu and openly opposed his father. This enraged Hiranyakashipu. Since then, the king ordered his sister Holika to burn the prince on the full moon night. Under the blessing of God Vishnu, Prahlada was unscathed while Holika was burned into ashes. When the prince walked out of the fire, people sprinkled him with colorful water to express the praise of goodness and hatred of evil.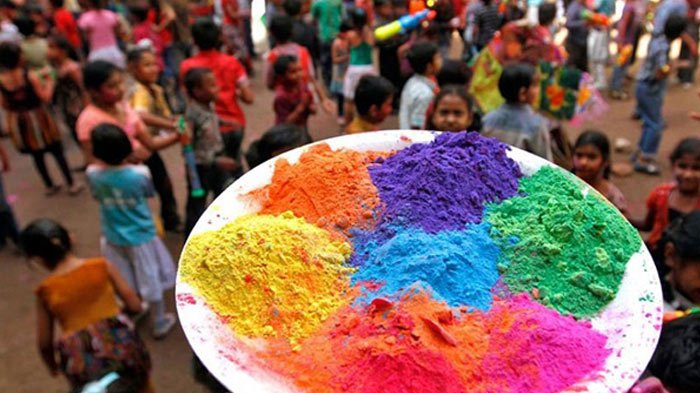 Holi Festival is the most colorful festival celebrated in Nepal.
Traditions of Nepal Holi Festival
Different from India Holi rituals, Holi Festival in Nepal has a special ceremony for erecting a wood pole. On this day, Nepali women dress in beautiful Sari with auspicious things in hand, and then circle around the pole to pray for the blessings. Durbar Square and the surrounding streets turn into a sea of waters, colors and music. And you'll have the chance to see the most prestigious singers performing on the stage. On the eighth day, the festival comes to an end with Holi bonfire.
Celebrations in Nepal Paint Festival
Holi, one of the most important festival in Hinduism, is mainly celebrated at India, Nepal and other Indian immigrant communities around the world. However, as for the best place to experience Holi, Kathmandu will never let you down!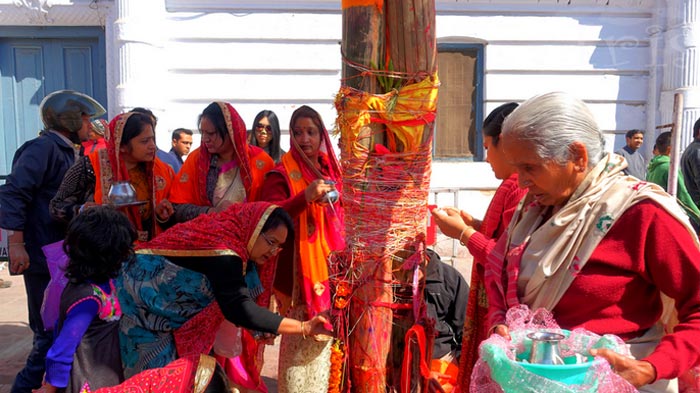 On the early morning, a couple of Nepali women are decorating the pole for the ceremony.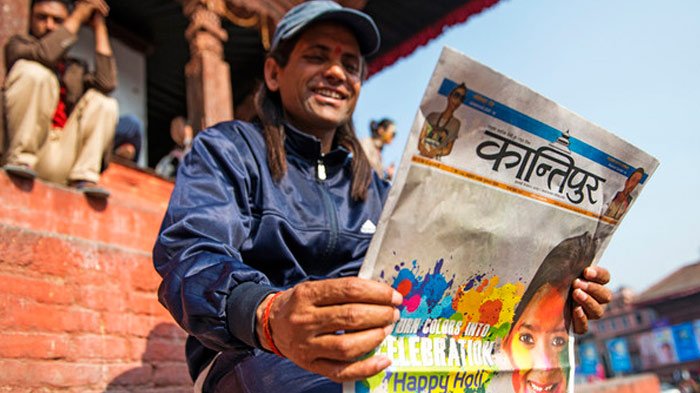 Under the cozy sunshine, the folk is reading newspaper while waiting for Holi Festival.
On this day, most of stores are closed. The whole Kathmandu valley is immersed in the festival atmosphere. Whether people know each other or not, they'll be sprayed with Holi powder and colorful water. Some will get a gentle touch, some will across a heavy splash and others will be chased by colored water balloons. In any case, please don't be angry. This is a kind of festive blessing.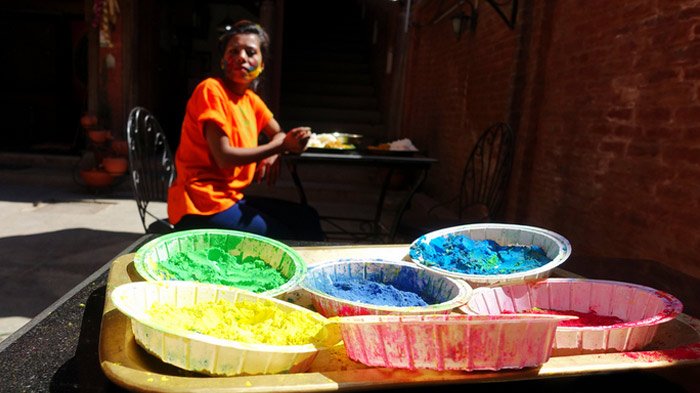 Kinds of color powder are sold in the streets and alleys of Kathmandu.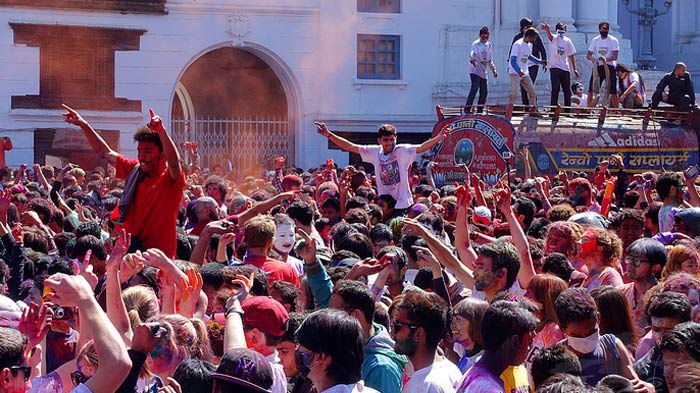 All the people are immersed in this grand carnaval.
In the square, Nepalis and visitors totally indulge in singing, dancing and sprinkling varieties of powders and waters. Everyone's face is filled with festive joy. Even the air turns to be colorful. At this moment, cameras, mobile phones and selfie sticks have become the essential tools to record your happy Holi.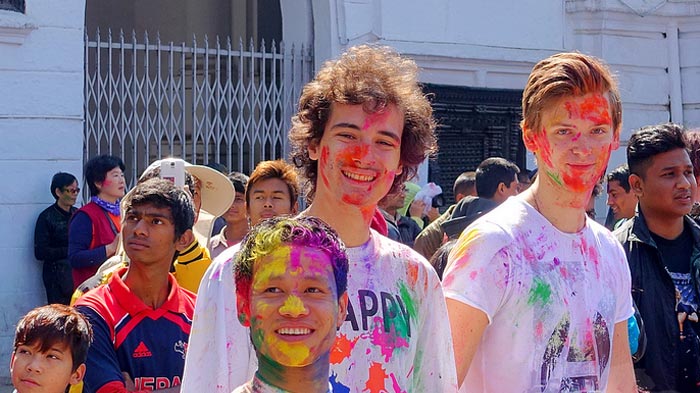 Our clients have enjoyed a lively Holi Festival in Nepal this year.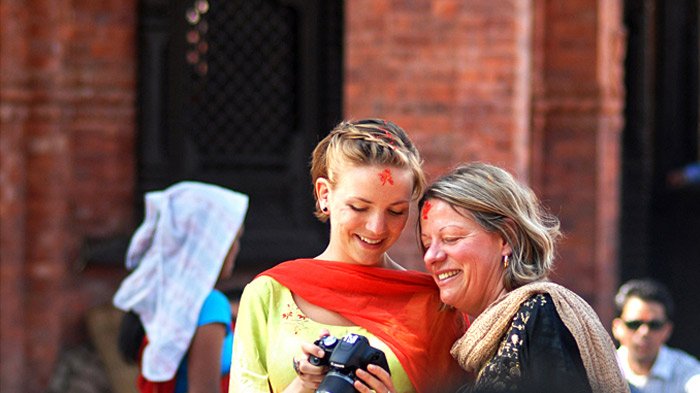 A beautiful lady is sharing the Holi pictures with her mother.
You're highly recommended to participate in this lively water fight. That kind of laughter and relax will definitely bring you back to your childhood. No need to worry about appearance and cleanness, and you can be as naughty as you want. Meanwhile, you'd better put on a white T-shirt for it looks particularly beautiful after being dyed. And you can even leave colorful fingerprints on it as memorial. This must be the best gift for your Nepal trip.
Tips for Nepal Holi Festival
1. White T-shirts, cheap pants and slippers are highly recommended. After the carnival, you can either throw them away or keep them as Holi souvenirs.
2. It's suggested to prepare a raincoat for the camera. And the easiest way is to cover it tightly with plastic wraps.
3. Facial cleanser and shampoo are the essentials to clean off the paints.
4. If you just want to observe this colorful festival, the steps of the temples around Durbar Square are the best spots for photography.
It's predicted that Holi Festival this year will fall on Mar.13, 2017. Why not set aside some time to experience the most colorful festival with local Nepalese? Please feel free to contact us for more about Nepal festival tours.