Kathmandu To Lhasa Overland
The China-Nepal Highway (also known as the Friendship Highway or Sino-Nepal highway) is the only international highway in Tibet, also it is a scenic route on the Tibetan Plateau, with the total length of 943km, among which 829km in Tibet. This road was put into use since 1956. Friendship Highway begins at Lhasa, capital of Tibet Autonomous Region, that's why the journey from Lhasa to Kathmandu overland or from Kathmandu to Lhasa overland is very popular. This highway passes through Gyantse, near Yamdrok Lake, to Shigatse, continuing west parallel to the Yarlung zangbo River, and the scenery along the highway is very attractive. Friendship highway is also important to pilgrims, making their way from all corners of Tibet to the spiritual center - Lhasa and to the sacred circuits of Mount Kailash and Lake Manasarovar.
▲ The Best Travel time: the highway is available all the year.
▲ The Feature of Scenery: you can witness the beauty of nature all the way, shocked by the mountain peaks, the lakes and the grasslands etc.
▲ The Feature of Culture Experience: you can totally see and feel the local Tibetan people's life and religion.
▲ Tips: the road crosses over some complicated terrains, and the landslide may happen sometimes, so you should drive carefully.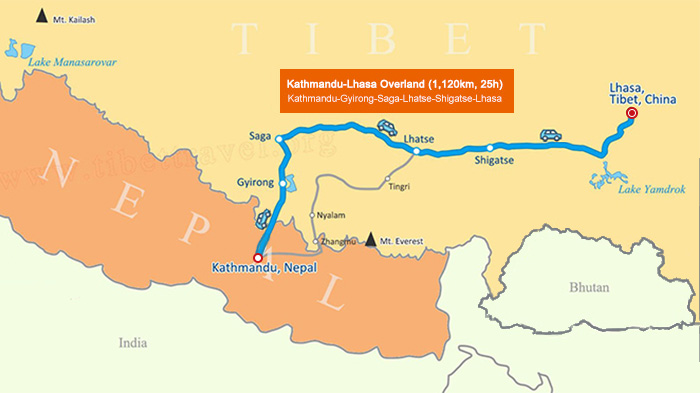 (Simple click to enlarge the map)
Kathmandu Lhasa Road Map
Ok, let's start the journey from Kathmandu, and please allow me to do a brief introduction to you. Kathmandu is the capital and largest metropolitan city of Nepal. This city stands at an elevation of approximately 1,400meters in the bowl-shaped valley in central Nepal. Kathmandu is also the premier cultural and economic hub of Nepal.
In Kathmandu, you can visit Kathmandu Durbar Square, where gather many historic buildings. You can also visit the Thamel, a very popular tourist destination. The narrow streets are lined with small shops, selling nearly everything from food and provisions to clothes, cakes, pastries, music, DVDs and handicrafts, and also there are always some travel agents and budget hotels available. There are still lots of other scenic spots, such as Boudha nath, Bhaktapur Durbar Square and Changgu Narayan Temple.
Kathmandu Durbar Square
The journey lasts 122km from Kathmandu to Zhangmu, and the road condition is not very bad. When you get to Zhangmu, welcome, you are in China now. Zhangmu is a customs town and port of entry, located in Nyalam Counry on the Nepal-China border, so lots of businessmen gather here, and most of them are from India, Nepal and Bhutan. Zhangmu has a mild and humid subtropical climate, which is a rarity for Tibet, and you will see many famous mountain peaks, such as Shishapangma peak, which is one of the fourteen-highest mountains in the world, and it is the only mountain more than eight thousand meters high and entirely within Chinese territory. Warm reminder, you should get the border permit before you get there, and you can contact with us if you have any questions.
Ronghbuk Monastery
The road condition is much better at Tibet side along the Sino-Nepal highway, and the next stop will be Gangga, about 460km away from Zhangmu, after you pass by the Nyalam town firstly. And it is a gateway to get to Mt. Everest and Rongbuk Monastery, just about 100km away from there, so you really should not miss either of them, but I have to say that the road condition is not good enough, and you'll need to buy the ticket in the frontier inspection station before you enter into the Mt, Everest nature reserve. What's more, you have to take the environmental car when you get to the Basong, because you own car is not allowed to get into the nature reserve. Next you will get to the Rongbuk monastery, which is a Tibetan Buddhist monastery, lying at the foot of the Rongbuk Glacier at 5,100meters above sea level. As the highest religious building, Rongbuk monastery was completely destroyed in 1974, but the renovation work has been carried out since 1983, and some of the new murals are also excellent. In 2011, Rongbuk Monastery was ranked on the top of CNN's Great Places to be a Recluse. There is a basic guesthouse with cosy restaurant there, so please don't worry about the accommodation.
Mount Everest at sunrise
It 's necessary for you to have a good rest in Ronghbuk Monastery, before heading for the Everest Base Camp, with an altitude of 5,545meters. EBC was built to protect the scenic environment, besides, mountain climbers can have a good rest at base camp for acclimatization, to reduce the risks and severity of altitude sickness. And Base camp usually consists of long lines of tents with food, blankets and light. Now, here comes the most exciting moment, when the Mt. Everest is right in front of you. Mt. Everest, also known as Mount Chomolungma or Sagarmatha, is the highest mountain in the world above the mean sea level at 8,848meters, located in the Himalayas on the Nepal-China border. Mt. Everest attracts waves of well-experienced mountaineers as well as novice climbers every year.
You next stop is Tingri when you get back to Gangga after the sightseeing of Mt. Everest and Rongbuk Monastery, and the distance is 11km from Gangga to Tingri. It used to be an important trading post where Sherpas from Nepal exchanged rice, grain, and iron for Tibetan wool, livestock and salt, also was used as a base by mountain climbers preparing to ascend Mount Everest. After Tingri, the next stop will be Lhatse county, 85km away from Tingri. It is located in the southwest of Shigatse, also in the valley of the Yarlung Zangbo river, andyou can have a good rest in Lhatse.
Shalu Monastery
After Lhatse, it will be Shigatse, which is the second largest city in Tibet Autonomous Region, with a population of about 80,000, about 240km southwest of Lhasa and 90km northwest of Gyantse. What's more, it is the hub of road network between Lhasa, Nepal and western Tibet. The Tashilhunpo Monastery is a must-see site inShigatse. It is an important monastery in terms of both history and culture. In addition, this monastery is the traditional seat of successive Panchen Lamas. Besides Tashilhunpo Monastery, there stands Shalu monastery, a small monastery 22km south of Shigatse, and founded in 1040 by Chetsun Sherab Jungnay. It is one of the first major monasteries built by noble families of the Tsang Dynasty during Tibet's great revival of Buddhism, and was an important center of the Sakya tradition. You can pay a visit to them if you are interested in religion.
Yamdrok Lake
It is only 86km from Shigatse to Gyantse, and 89km from Gyantse to Nagarze, and you can visit Longma village, Karuola Glacier, Simila Mountain pass along this journey. But what I would highly recommend is Yamdrok Lake, which is one of the three largest sacred lakes in Tibet. Lying around 90km to the east of Tibetan town of Gyantse and around a hundred kilometers to the southwest of Lhasa, it is over 72km(45miles) long, surrounded by many snow-capped mountains and numerous small streams. The lake is fan-shaped, spreading to the south but narrowing up to the north, considered sacred by Tibetan people. I am sure you will be touched by the astonishing scenery.
Ok, the destination is not far now. It is only 156km form Nagarze to Lhasa. First of all, you will cross over Gangbala mountain pass, located between Nagarze and Gongga. The road condition is becoming dangerous now. Next to you are the cliffs, but the natural scenery is perfect. Keep going, you will get to Quxu where you'll need to cross over a bridge, Quxu Bridge, and this bridge crosses over Yarlung Zangbo River here, so it is a very important point for transportation.
Potala Palace
Now, you will get to Lhasa soon after you pass by the Quxu bridge, which is the political, economic and cultural center of Tibet Autonomous Region, also the Administrative capital, and Lhasa is one of the highest cities in the world. It contains many culturally significant Tibetan Buddhist sites such as the Potala Palace, Jokhang and Norbulingka palaces, and many other scenic spots. It's no doubt that the Potala Palace is a must-see site, which firstly was built by Tibetan king, Songtsen Gampo, as a present for his bride princess Wen Cheng of Tang dynasty.
Norbulingka
Besides, the Potala Palace, the Jokhang temple is also a mark of Tibet, which is located on Barkhor square. It is the most scared and important temple for local Tibetan people. The style of this temple is a mixture of Indian vihara design, chinese Tang Dynasty design, and Nepalese design. It was founded during the reign of king Songsten Gampo. It is said to be built for the two brides of the king, Princess Wencheng of the chinese Tang Dynasty and Princess Bhrikuti of Nepal, both of whom are said to have brought important Buddhist statues and images from China and Nepal to Tibet. Another must-see place is Norbulingka, which is a palace as well as a park in Lhasa. It served as the traditional summer residence of the successive Dalai Lamas from the 1780s up until the 14th Dalai Lama who was exiled in 1959. Norbulingka palace is also recognized as a UNESCO World Heritage Site.
It is just the beginning of your Tibetan journey when you get to Lhasa, There are still many other wonderful scenic spots and cultural sites waiting for you. I can't list them all out here, so just enjoy yourself. By the way, you can contact with us, if you'd like to make your journey more convenient and unforgettable.