Ngari Altitude: How to Visit Famous Ngari Attractions with Varied Elevations
You may have travelled to Everest and was amazed by the lofty mountains and stunning views, but only by having travelled to Ngari, "The Roof of the Roof of the World", can you say you have accomplished visiting Tibet.
Altitude of Ngari Prefecture and Counties
Ngari (Ālǐ) is a rough and ready frontier vast and thinly populated in west Tibet with an average altitude of over 4,500m. It's the place where the Himalayas, the Gangdise, the Kunlun Mountains and Karakorum Mountains meet. This area is dotted with beautiful lakes and rivers, great mountains and glaciers, vast grasslands, spectacular snow mountains and clay forests, as well as being a paradise for wild animals, such as yaks and Tibetan antelopes. To help travellers get a sense of the altitudes of places in Ngari, let's take a look at the detailed elevations of Ngari Prefecture and its 7 counties.
| Name | Simplified Chinese | Elevation (m) | Area (km2) | Population | Density (/km2) |
| --- | --- | --- | --- | --- | --- |
| Gar County | 噶尔县Gá'ěr Xiàn | Average above 4,300 | 13,179 | 16,901 | 1.28 |
| Burang County | 普兰县Pǔlán Xiàn | Average above 4,000 | 24,602 | 9,657 | 0.39 |
| Zanda County | 札达县Zhádá Xiàn | Average above 4,000 | 18,083 | 6,883 | 0.38 |
| Rutog County | 日土县Rìtǔ Xiàn | Average above 4,500 | 77,096 | 9,738 | 0.12 |
| Gê'gyai County | 革吉县Géjí | Average above 4,800 | 46,117 | 15,483 | 0.33 |
| Gêrzê County | 改则县Gǎizé Xiàn | Average above 4,700 | 135,025 | 22,177 | 0.16 |
| Coqên County | 措勤县Cuòqín Xiàn | Average above 4,700 | 22,980 | 14,626 | 0.63 |
Top 21 Famous Ngari Attractions and Their Altitudes
Probably, you have been to Lhasa and its surrounding areas or even Shigatse for a couple of times, exploring the sacred monasteries and lakes, magnificent Mt. Everest, etc. However, if you fail to have Ngari on your list, you will miss the chance to explore the essence of genuine Tibet.
Dominating the western Tibet with an area of 304,683 sq. m, Ngari is believed to be the place with the most quintessential Tibet, where you can experience the ultimate plateau scenery and religious odyssey in Tibet. Here are the top 21 tourist's attractions you couldn't afford to miss in Ngari.
Ngari Attractions Famous for Pilgrimage and Yatra: Mountain Kailash and Lake Manasarovar
Mount Kailash (6,638m)
With an altitude of 6638m, Mt. Kailash is the source of the Ganges, the Indus, and the Yarlung Tsangpo and it's the main peak of the Gangdise mountains that extend one thousand miles. In Tibetan, Mt. Kailash literally means "Treasure Snow Mountain", commonly esteemed as the "King of the Holy Mountains" in Buddhism, Hinduism, Bobo religion and Jainism. In the pilgrimage season, pilgrims of different religions from Tibet, India, and Nepal form endless streams along the holy Kailash yatra kora. It is said that circling around the kora path once can rinse out all sins in one's entire life.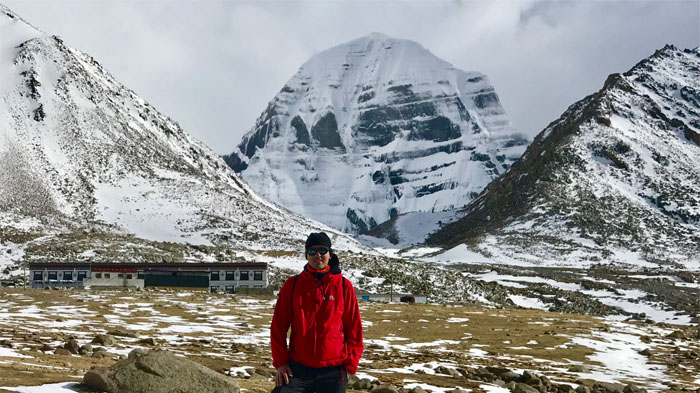 Our guest has enjoyed a wonderful Mt.Kailash trip in May 2019.
Lake Manasarovar (4,590m)
Manasarovar is a freshwater lake with an attitude of 4,590m, covering an area of 412 square kilometres. Religiously, it is a hot scenic spot of Buddhism, Hinduism. Bonbo, and Jainism. There are 5 Buddhist temples and 4 bath pavilions around the sacred lake and pilgrims believe that water from the sacred lake can get rid of stains on the body and wash out "Five Poisons" in our mind: greed, anger, stupidity, laziness and envy. Following Lake Manasarovar Kora with sincere pilgrims would definitely be a lifetime experience. See the detailed itinerary of 15 Days Kailash Manasarovar Small Group Tour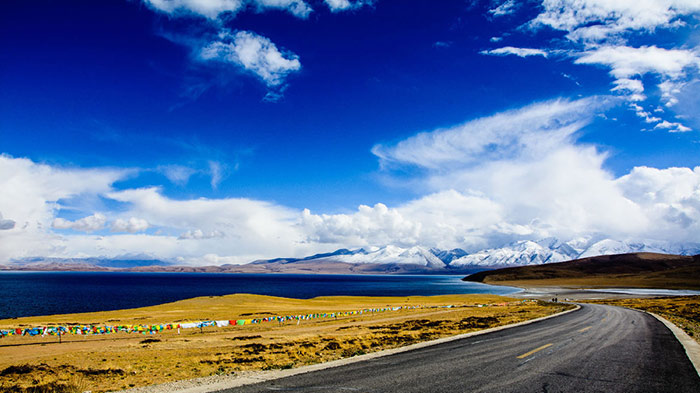 Travelling towards to Mt.Kailash along the shore of Manasarovar Lake
Ngari Attractions Famous for Historical and Cultural Relics: Guge Kindom and Rutog
Ruins of Guge Kingdom (3,800m)
The Guge Kingdom was set up after the second son of Kyide Nyimagon had conquered Tsaparang. The main ruins of the Guge Kingdom are in Tsaparang where the dilapidated construction and the natural earth forest are perfectly integrated. More than 400 houses and 800 caves are piled up on the mountain slope in 300m in height. The Guge Kingdom, covering an area of 720,00 sq.m, is the second largest complex in Tibet after Potala Palace. Here you can check the photographic guide to Guge Kingdom in Ngari before hitting the road.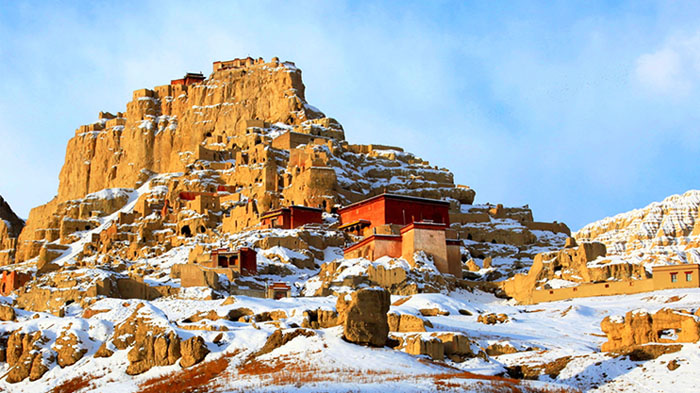 Ruins of the Guge Kingdom
Ancient Ruins in Rutog County (4,300m)
10km away from Rutong county lies the Ancient Ruins of Rutog. The majestic ruins survived on the top of the mountains, with hundreds of rooms. The most impressive scene is the monastery atop the whole complex and well-designed stupas below the mountains.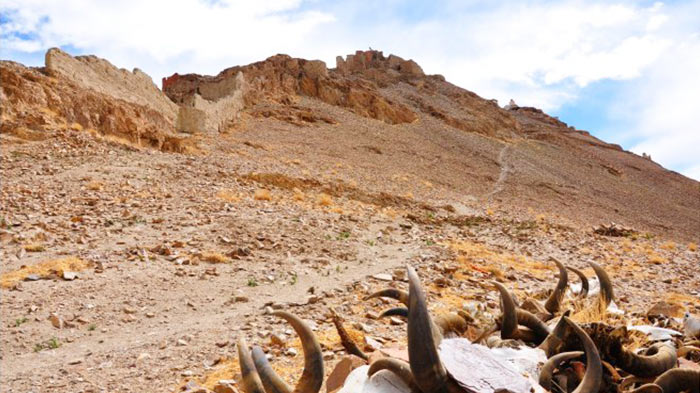 Ruins in Rutog County
Rutog Rock Painting (around 4,350m)
Rutog Rock Paintings are found to the south and north of Pangong Tso Lake, covering an area of around 200-300 sq. km. The paintings involve the sun and moon, mountains, horses, cattle, antelopes, houses, and locals, vividly presenting the livelihood of ancient Tibetan nomads around Pangong Tso Lake.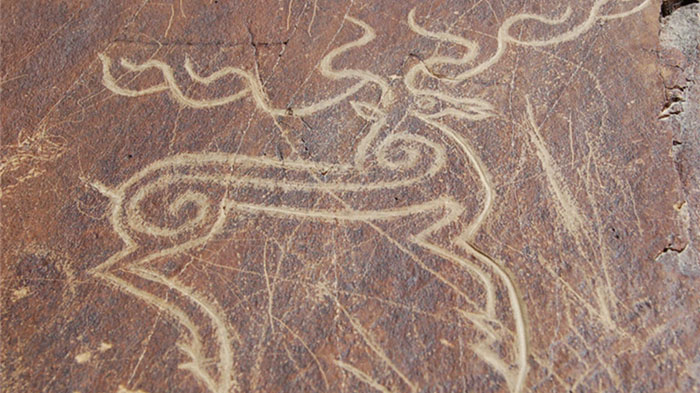 Rutog Rock Painting
Qulong Ruins (4,600m)
Built in 7th century BC, Qulong Ruins used to be the political centre of Zhang zhung culture. Also known as Khyunglung/Garuda Valley, Qulong literally means the place where big Dapeng Bird lives on. You can see palaces on both the top and sides of the mountain, where they used to be the residence of royals for years.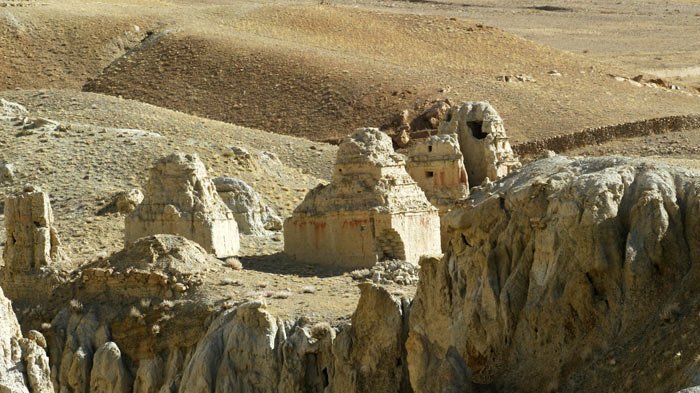 Qulong Ruins
Dungkhar & Piyang Cave Paintings (around 4,200m)
Listed as one of the major cultural relics protection attractions, the famous grottoes can be found in Piyang and Dungkar villages. Big and small, numerous small caves can be seen as you move to the cliff from the north of Dungkar grottoes. The ruins survive with more than 200 caves like honeycomb, stretching over a length of 2000-meter cliff. Tourists can see a large complex with ruined stupas and monasteries and walls. It is also praised as the most impressive grottoes, only next to Dunhuang Caves.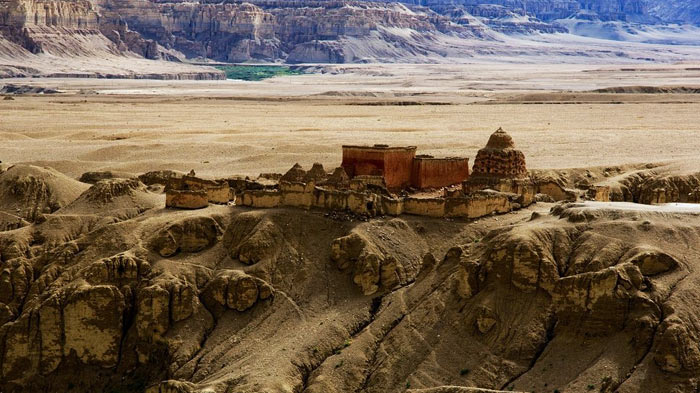 Dungkhar & Piyang Cave Paintings
Ngari Attractions Famous for Natural Wonders Photography: Zanda Earth Forest (3,750m to 4,450m)
Crustal movement of Himalayas resulted in the miraculous Zanda Earth Forest, also known as Tsada Clay Forest. If you are a landscape photographer or a big fan of geology, never miss the chance to explore and document the spectacular piece of art done by the great nature. The clay forest covers an area of 2464 sq. km and features steep cliffs that resemble castles, fortresses, and stupas.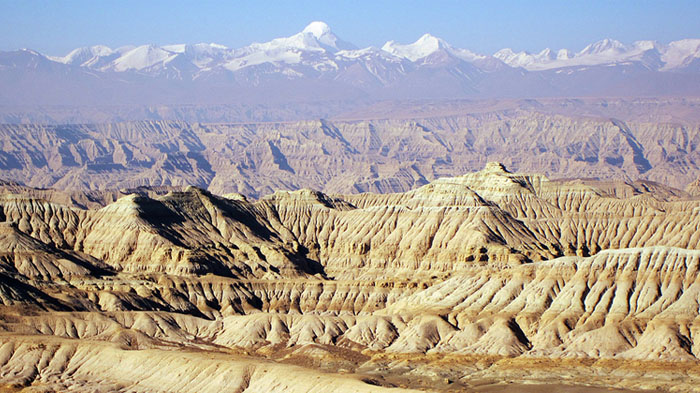 Zanda Earth Forest
Ngari Attractions Famous for Migratory Bird Watching: Pangong Tso Lake (4,350m)
In Tibetan language, Pangong Tso means "the Long-necked Swan Lake" with an altitude of 4242m. The lake consists of three long-narrow-shape lakes with channels connecting each other. There are over 10 islands in the lake and the lake is a paradise for all kinds of birds. See more details at how to visit Pangong Lake in Ngari.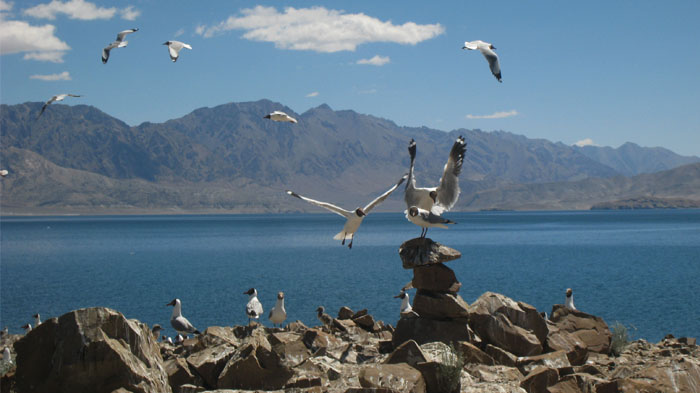 Migratory Birds in Pangong Tso Lake
Ngari Attractions Famous for Stargazing: Ngari Dark Sky Park (4,200m)
Situated at 25 kilometres away from the south of Shiquanhe Town, Ngari Dark Sky Park is the best site for stargazing in the Northern Hemisphere. It covers an area of 2,500 square kilometres of dark night protection area at the altitude of 4,200 meters above the sea level, and has Stargazing Experience Area, the Telescope Observation Area and the Passenger Service Area.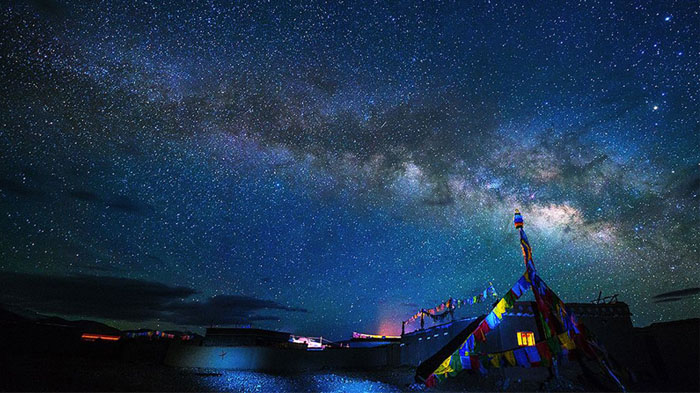 Stargazing in the Ngari Dark Sky Park
Ngari Attractions Famous for Mountain Climbing: Mt. Namo Nanyi (7,728m)
Mt. Nemo Nanyi (or Namo Nanyi/Gurla Mandhata) is at the opposite of Mt. Kailash, overlooking each other in the south or in the north. With an altitude of 7,728m, Mt. Nemo Nanyi is called "Mt. Goddess" and its eastern part is eroded to a ridge which looks like an edge of a knife and is formed into a cliff with a sharp drop of 200m. The glaciers surrounding the mountain area consist of three crystallized serac forests, which look like palaces in fairy tales. Here you can check the ultimate guide to Mount Namo Nanyi climb.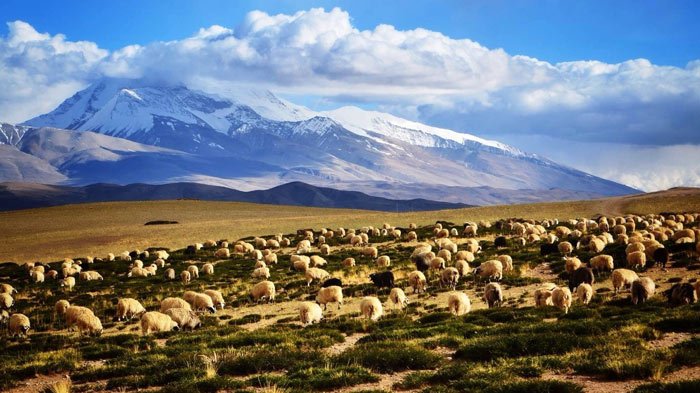 Sheep grazing on the grassland near Mt.Namo Nanyi
Ngari Attractions Famous for Tibetan Buddhism: Monasteries in Ngari
Khorzhak Monastery (3,700m)
Situated about 19km to the southeast of Burang, the Khorzhak Monastery (also known as Korchak Monastery) leans on a mountain facing the water. The construction of the monastery is magnificent with lots of big and small halls for scriptures. Residence of the monks and stupas are in a beautiful setting. The monastery is close to Nepal and lies in the southern slope of the Himalayas with a pleasant climate and stunning scenery.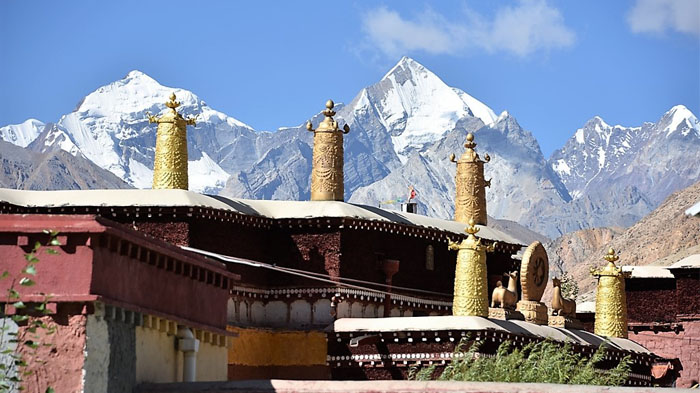 Khorzhak Monastery
Simbiling Monastery (4,423m)
Simbiling Monastery, also known as Shambuling Gompa, Shepeling Dzong and Taklakot Gompa, was located next to the large fort of Tegla Kar (Lying Tiger Fort) on a ridge near Taklakot, above the town of Purang. Set above a ridge of cave dwellings high above the town about 15 km to the east of the Sakya Khorzhak Monastery, Simbiling Monastery had over 100 rooms and was inhabited by several hundred Gelugpa monks. There was also a fort which was the residence of the regional administrator, and a smaller Sakya monastery in the complex. There are now a few monks there.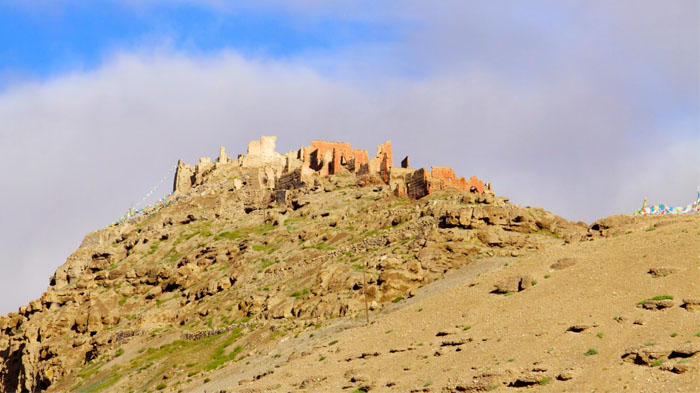 Simbling Monastery
Tholing Monastery (3,800m)
Situated in the vicinity of Tsada Town, Tholing Monastery was originally built by Yishi O, the king of Guge in 996 AD. In 1036 AD, Yishi O, along with his brother Byanchub invited Atisha, a saint from India who took residence in Tholing and wrote books to spread Buddhism, and the monastery became ever more famous from then on.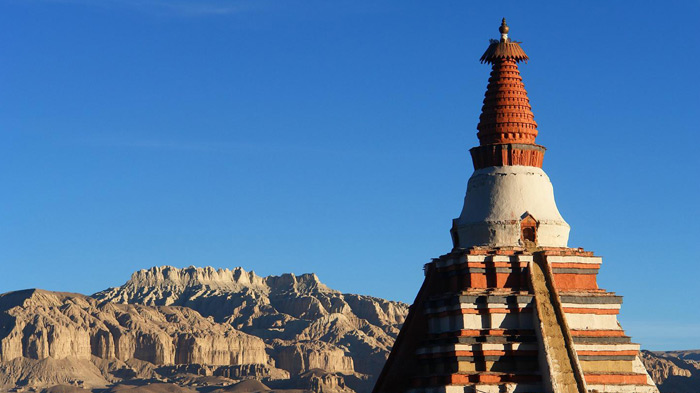 Tholing Monastery
Ngari Attractions Famous for Waters: Holy Lakes and Rivers in Ngari
Lake Rakshastal (4,292m)
Lake Rakshastal (also known as Lhalangtso) is one of the twin lakes to its neighbour Lake Manasarovar. Unlike the fresh water in Lake Manasarovar, Lake Rakshastal is filled with saline water. Partially because of the salty and darker water and lifeless surrounding at lakesides, Lake Rakshastal is labelled as the "Demon Lake". Yet, both Lake Manasarovar and Lake Rakshastal are safe havens for many rare birds.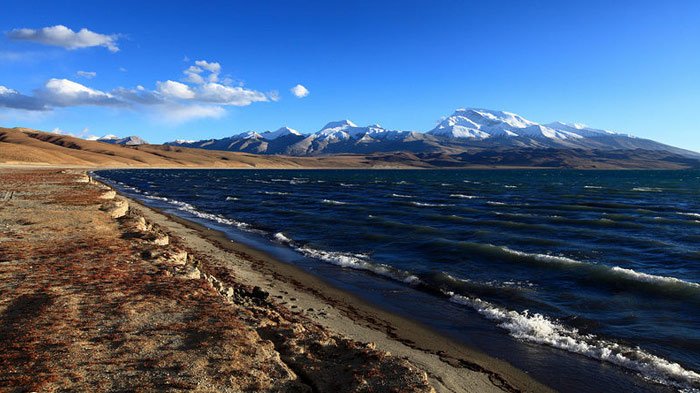 Lake Rakshastal
Mami Lake (4,700m)
Mami Lake is a large saline lake, situated to the northeast of Gangdise mountain. The legend has it that Mami Lake is the right eye of Lake Manasarovar. The colour of the lake changes according to different weather. You may also visit the Mami temple across the lake.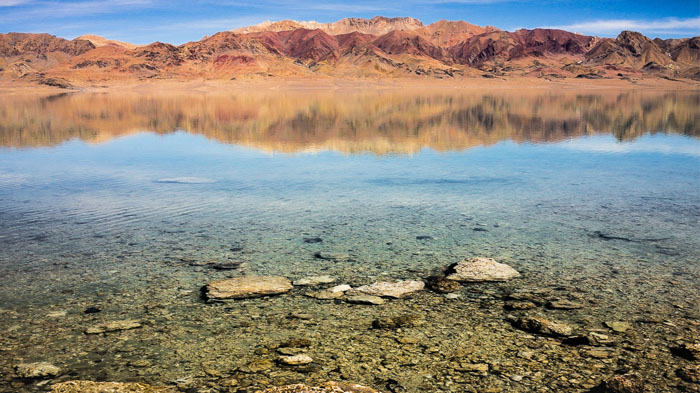 Mami Lake
Zhacang Chaka (Chagcam Caka) Salt Lake (above 4,500m)
Chagcam Caka Salt Lake is the largest salt lake in northern Tibet, with the abundant mineral resource of Ascharite. The hypersaline lake covers an area of 132.5 sq. km and consists of three lakes.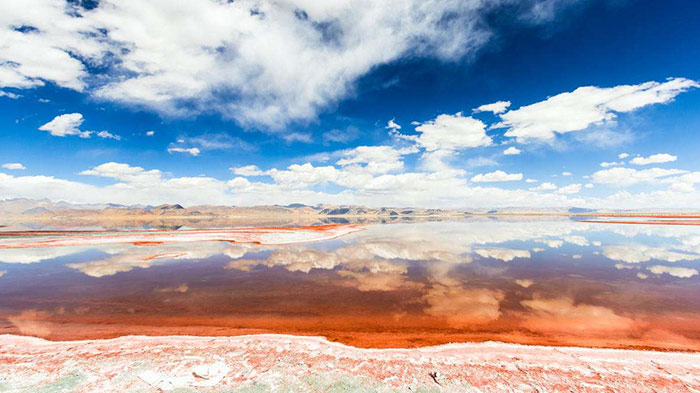 Zhacang Chaka Salt Lake
Zhari Namco Lake (4,613m)
Situated to the east of Coqen Town in Ngari Prefecture, Zhari Namco Lake (4613m) stands out as the largest saline lake with the highest altitude in Ngari region. It covers 1024 sq. km and is encircled by vast prairie. Due to the favourable environment, the lake and its surrounding areas are known for producing quality Tibetan cashmere goats.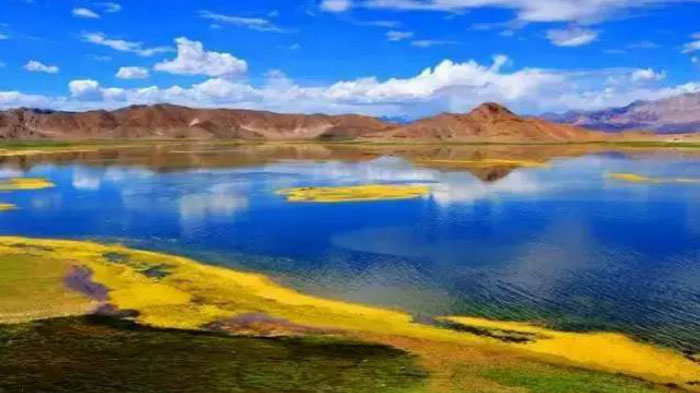 Zhari Namco Lake
Shiquan River (5,469.8m)
Shiquan River or also known as Sênggê Zangbo in Tibetan is the upstream of the Indus River. Stretching as far as 430km, Shiquan River flows through a total of 2.7 thousand sq. km. The river was named after Shiquan River because of the mountain beside the river that resembles a lion.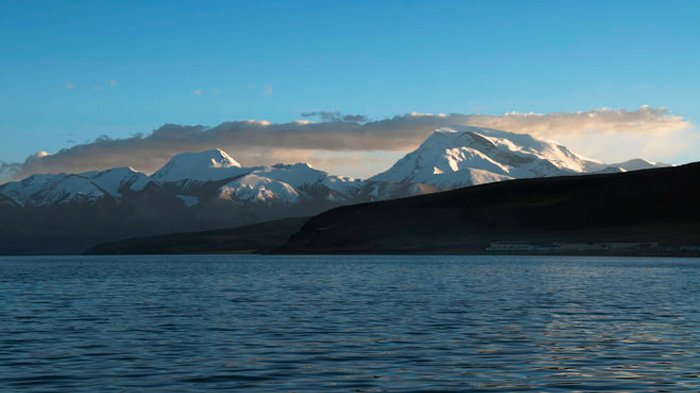 Shiquan River
Other Off-The-Beaten-Path Ngari Attractions
Ma Gaer Prairie (average 4,260m)
With an average altitude of 4260m, Ma Gaer Prairie is a noted wetland in Ngari, covering 22 thousand acres. According to local policy, only horses can be farmed here. Thus, it is truly a heaven for a variety of horses. The Pangong Tso lake adjacent to lush Ma Gaer Prairie makes it a fantastic place for photography.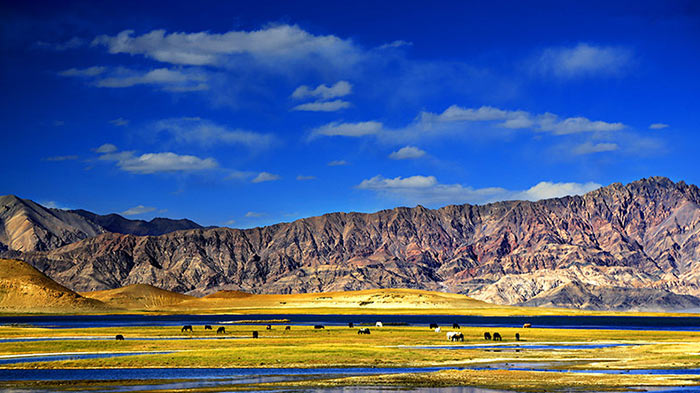 Ma Gaer Prairie
Xiagangjiang Snow Mountain (above 5,000m)
Xiagangjiang Snow Mountain is an ideal tourist attraction for sightseeing and adventure. The brew of the spectacular Dawaco Lake and ancient Buga monastery, and various wildlife and lofty snow-capped mountains make visitors reluctant to leave.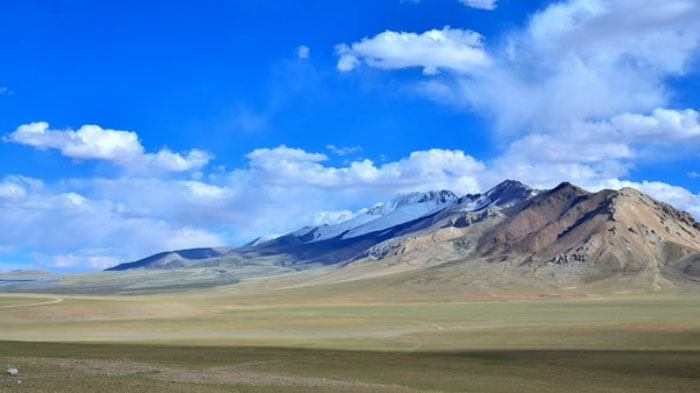 Xiagangjiang Snow Mountain
How to Avoid Altitude Sickness in Ngari Tibet?
It is quite common that most people would suffer from High Altitude Sickness at different levels. If you are concerned about altitude sickness when planning a Ngari tour, please read some useful tips on avoiding altitude sickness in Tibet.
1. You'd better have a full medical examination of your health, and take seriously about your doctor's advice. Travellers who have heart disease, high blood pressure or other organ problems are not advised to visit Ngari.
2. You'd better not take bath on the first day of arrival to prevent from catching a cold. A cold can easily turn into dangerous high altitude sickness. Wearing warm and enough clothes for the plateau is usually cold at night.
3. You'd better leave plenty of time to adapt to the high altitude in Ngari. Also, you should avoid strenuous activities, such as running, jumping or climbing up to high mountains during the first 2 to 3 arrival days. Having a good rest is also important for you to avoid AMS. More importantly, please keep a good mood and be optimistic all times. Fight your fear of altitude sickness.
4. When altitude sickness comes, do not worry about it. The symptoms of Altitude Sickness are dizziness, fatigue, headache, shortness of breath, loss of appetite, nausea, disturbed sleep, and a general feeling of malaise, etc. Symptoms usually start 12 - 24 hours after arrival and begin to decrease in severity on the third day. If the symptoms get worse, you'd better tell our tour guide and go to a hospital for treatment.
Conclusions
The tips shown above can help you to deal with high altitude sickness in Ngari in an easier way. You can check our ultimate guide to prepare your Ngari tour. A perfect hassle-free option is to join our Tibet tour with you just sitting back and relaxing while we take care of everything for you – Tibet Travel Permit, accommodation, local Tibetan guides and experienced driver, etc. We look forward to seeing you soon on the roof of the world! Cheers!