MOUNT KAILASH TOURS
Mount Kailash, one of the most sacred peak in the world with more than 1200 kilometers from Lhasa, has been one of the must-visit destinations for any of Tibet tour in recent years.
You gotta pin your hopes on the real Tibetan local expert like us, if you plan to take the lifetime trip. As a well-established local Tibet tour operator, receiving around 3,000 global tourists each year, we are the first and the largest Mt.Kailash and Lake Manasarova tour operator, never sell a single of our clients to the third party. With the well-crafted itinerary, you will enjoy all highlights of Tibet has to offer, including star attractions from Lhasa to Everest Base Camp and holy Manasarovar, and holy walk around sacred Mt.Kailash, etc.
Besides, we handpick the best time for Mt. Kailash tour and have the 100% guaranteed fixed departure dates each month to meet your needs.
From the booking of your tour to the end of it, we are confident that you will have a once-in-a-lifetime experience in Tibet.
Mt. Kailash tour is only available for 7 months each year (April to mid-Oct), so for planning to visit Mt.Kailash in 2023, today is the day to contact us since the best time to visit Mount Kailash is coming. You can easily book our small group tour or customize your tour to meet your interests and budget ! We promise to bring you a spiritually uplifting journey in the navel of the universe.
Our Most Classic Small Group Kailash Manasarovar Tours
An epic road trip journey from Lhasa to Shigatse, EBC and Mt.Kailash; this classic 15-day Mt.Kailash tour combines literally all the highlighted Tibetan attractions to you, once and for all in a single trip. Check the detailed fixed tour departure date below and book in advance for discounts.
In-depth Mount Kailash Adventure Tours in Private
If you have longer vacation, ample budget, and personally prefer to cover a particular long tour route around Mt. Kailash, then the following 4 private adventurous tours via Mt.Kailash are highly recommended for you. You can either enjoy rarely-seen alpine wildlife during the world's highest safari or venture into the sparsely-populated Northern route of Mt. Kailash tour, or even keep moving from Ngari to Nepal. You will definitely be left in awe by the stunning ruins of Guge Kingdom, peaceful Peikoutso Lake and running Tibetan wild asses, etc. Check the following tours and customize a Kailash trip that works best for you.
Why Tour Holy Mount Kailash with Us
Specialize in top treks in Tibet, esp. Mt.Kailash Kora and EBC trek
Provide one-stop tour service for Mt.Kailash kora, including travel documents, porter, camping facilities, etc
Since the first tour to Mt. Kailash in 1984, no accident happened
Follow the health conditions of our clients throughout the tour, with oxygen and other emergency backup plan
Seasoned Tibetan guides and team who worked with us for years
Offer many viable options to Mt. Kailash kora, Manasrovar and surrounding attractions including both southern route and northern route from Lhasa to Ngari
Some Cherish Moments of our Clients' Kailash Tour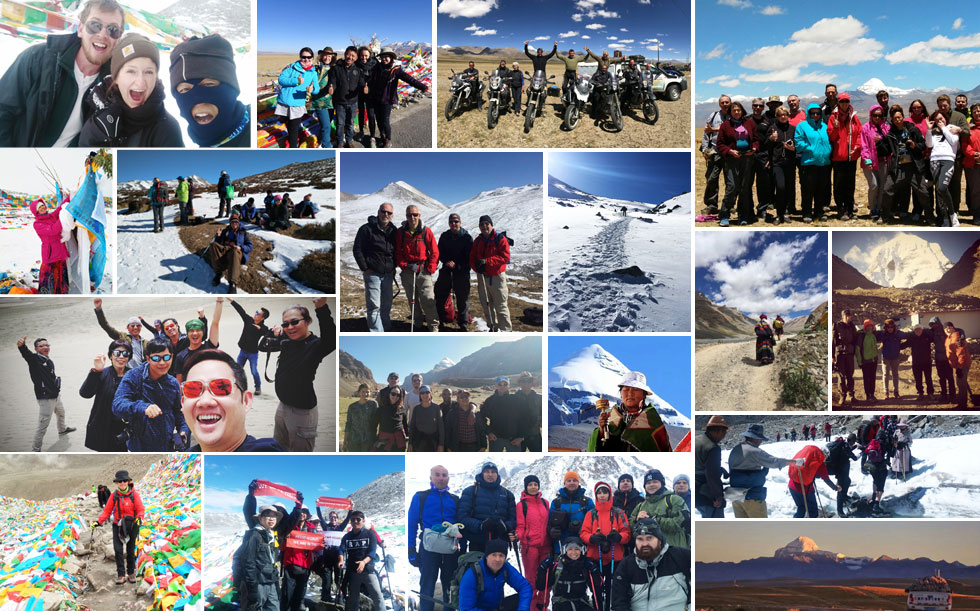 >> Click for the Mount Kailash Yatra Vlog video, shot by our senior tour guide Jamyang.