How Much It Will Cost for an India Nepal Tibet Bhutan Tour?
If you are thinking of taking a trip to India, Nepal, Tibet, and Bhutan, then you are going to need to plan the trip carefully, making sure that you have covered all the things you will need, from documents and visas to hotels and transport, for all four destinations together. This kind of planning can be complicated, but there is something that can help. Travel to Bhutan and Tibet can only be done on a pre-booked organized tour, either alone or as part of a group, and it is the tour operator that does all the planning for most of those legs of the trip. This means that all you really need to focus on, apart from deciding where and when to travel in Bhutan and Tibet, is the part of the trip that covers India and Nepal.
You should take into considerations where you will stay, how you will get there, and what and where you will eat, as well as the places you will visit and make sure that you budget accordingly for the India and Nepal parts of the trip. For Bhutan and Tibet, most of those things are included in the price, so you simply need to talk to the tour operator and agree on where you are going and now much it will cost.
Cost for Different Visas and Travel Permit for India Nepal Tibet Bhutan Tour
The visa for India is one of the most expensive that you will be applying for, and the actual cost depends on where you are traveling from and how long you need the visa for. Most countries have short-stay visas for 30 or 60 days. India does not. The only 30-day visa available is for citizens of Sri Lanka, and for almost everyone else, you will need to have the 6-month visa. For almost everyone, this 6-month visa is a multiple-entry visa, which allows you to travel back and forth into and out of India for the period of the visa, but once you first enter the country, the visa validity period starts.
The fee for different nationals from around the world differs greatly, and is not just the visa fee itself. There are also other additional fees, such as service fees, reference fees, and consular fees, which make up the total cost of the visa. For an American citizen, the total cost of the 6-month visa is US$ 67.70, while for British citizens, it is US$ 136.70. For nationals of Singapore, the fee is US$ 32.70, and for nationals of other permitted countries, the visa fee comes to US$ 47.70.
For Nepal the visa fee is simpler, and there is one set fee for all visitors, except for Indian nationals who are not required to have a visa and certain SAARC nationals that can get a free visa for Nepal. However, the fee does depend on how long you want the visa to be for. A 30-day visa costs just US$ 40, while a 90-day visa is around US$ 100. There is a 15-day visa available for US$ 25, but it is not used much by visiting tourists.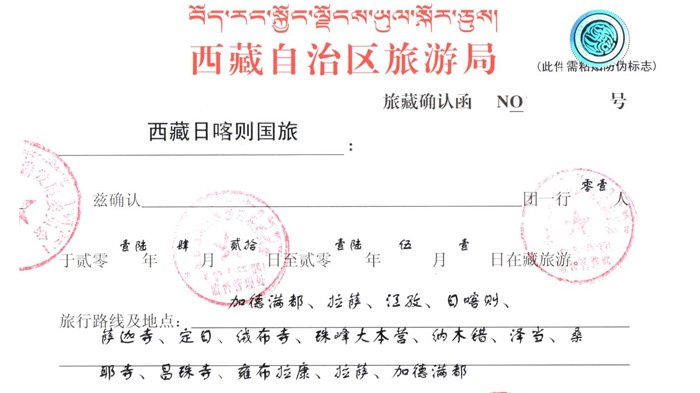 We, Tibet Vista, as a professional Tibet Travel Agency, can help you to get your Tibet Travel Permit and beyond.
The visa for Tibet is quite unique. It's often referred to as "Tibet Visa or Tibet Travel Permit". And to get it, you need to firstly get your Chinese Entry Visa on your own, if entering from mainland China. You can apply for it at the Chinese Embassy closest to you in your country. For a single-entry Chinese visa costs $180 for U.S citizens, while for Canadian passport holders, it costs $100 for a single entry visa. And other nationals, it cost $50 for a single entry.
Once you get your Chinese Visa, you can email your passport and Chinese Visa information to us to apply for your Tibet Travel Permit. And we, Tibet Vista, offer Tibet Travel Permit application service for free for our clients.
If you enter Tibet from Nepal, all you need to do is apply for China Group Visa and Tibet Travel Permit. A single-entry China Group Visa costs for $162 for U.S citizen and Canadian Citizens $92; to Nepali Citizens at $45. For detailed cost for the China Group Visa, please check how to get China Group Visa from Nepal. And you don't have to worry about the Tibet Permit if you decide to enter Tibet from Nepal, just email your passport information to our travel consultants, and they will help you get it for free.
Insider Tips:
To get China Group Visa, do arrive in Kathmandu 3 days earlier to apply for it before your Tibet tour starts, because the processing time for China Group Visa takes at least 3 business days.
Bhutan has the easiest visa application process in the world, since you cannot apply yourself. The visa is applied for by the tour operator once you have booked your pre-arranged tour, and the cost of the visa is usually US$ 40, which is included in the amount you will pay to the tour operator for the whole tour. While it is the simplest process of all, the visa will not be applied for or issued by the Ministry of Foreign Affairs in Thimphu until you have paid the whole cost of the tour including the visa fee.
Decide the Cost for Different Means of Transportation
Traveling around can sometimes be expensive, and if you are traveling on a budget, then you will definitely need to look at the cost of your transportation carefully. Costs can be reduced a little by checking out the various comparison websites for the cheapest flights available, and while in India and Nepal, you can travel for less by using tuk-tuks. For Tibet and Bhutan, your internal travel is catered for as part of your tour.
Travel by flight in India Nepal Tibet and Bhutan
Flying from one country to another can be expensive, and even the comparison websites cannot always reduce the fares by much because of normally high prices. However, if you are prepared to fly economy, and do not mind making connections and getting one-stop flights, you can reduce the cost of travel by flights.
Air miles are also a good way to reduce your flight costs, and are offered by many credit card companies and other rewards cards, which can be used against the cost of any international flights to certain locations. However, your air miles cannot be used for internal domestic flights in China or for the flights to and from Bhutan and Tibet.
Flying from India to Kathmandu is one of the easiest ways to travel to Nepal, and there are many flights that run from several cities across India to the Tribhuvan International airport in Kathmandu. Currently, flights run to Kathmandu from New Delhi and Mumbai, and can cost from as little as US$ 66 for the flights from New Delhi or around US$ 129 for the flights from Mumbai. This is a great and cheap alternative to the rail travel for those that are traveling from India to Nepal with little time.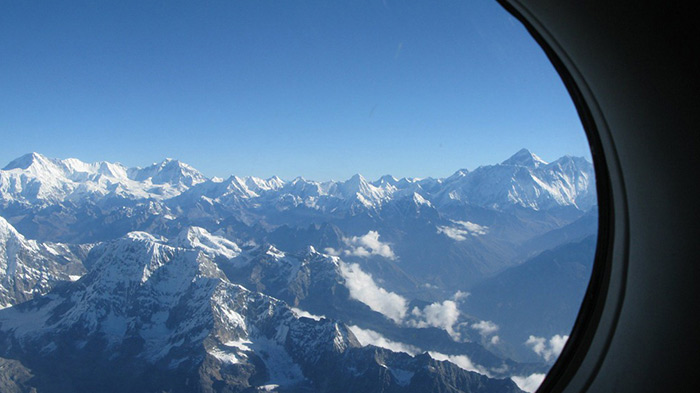 Travelers can have an overview of the Mt. Everest on the flight from Kathmandu to Lhasa.
Flights from Nepal to Lhasa are run by Air China, Sichuan Airlines, and Tibet Airlines, and are the only direct international flights into Tibet. During the peak months from May to October, there are around four flights per day to Lhasa, the Tibetan capital, which can cost from around US$ 600. However, in the low season months, from November to January, the cost is much cheaper, although there are fewer daily flights. Low season flights can be booked for as little as US$ 236.
Flights to Bhutan are only provided by two airlines, Bhutan Airlines and Druk Air, both of which are Bhutanese airlines. Flights to Bhutan's only international airport in Paro run from Kathmandu in Nepal or New Delhi, Kolkata, Bagdogra, Gaya, and Guwahati, though Gaya and Guwahati are seasonal. On average, flights to Bhutan from India cost around US$ 155 from New Delhi or as little as US$ 77 from Bagdogra, while flights from Nepal to Bhutan cost around US$ 196.
Travel overland in India Nepal Tibet and Bhutan
Overland travel can sometimes be a better option than flights, although that does depend on the country you are traveling in and the distance you are traveling. In China, the trains are normally less costly than flights when traveling to Tibet, although they do take a lot longer. However, in the low season for Tibetan tourism, you can actually get flights to Lhasa from Chengdu, Xining, and Kunming for a lot less than the cost of the trains.
Take Tibet Train in China
Trains to Tibet are one of the most popular ways to get from China to the plateau, and are a great way to travel, with the delightful scenery that you get to see as the train passes across the plateau to Lhasa. All of the trains have three ticket classes, Soft Sleeper (first-class), Hard Sleeper (second-class, and not actually hard), and Hard Seats (third-class option and not recommended for the long journeys).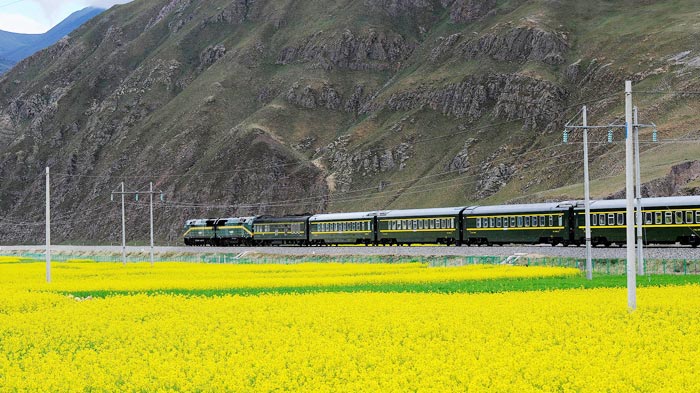 Taking the train to Tibet, travelers can appreciate the beautiful scenery along the way.
Trains from Beijing to Lhasa cost around US$ 103 for the Hard Sleeper Berth, and US$ 164 for the Soft Sleeper. From Shanghai, the Hard Sleeper is around US$ 114, while the Soft Sleeper is approximately US$ 181. Chengdu, which is one of the most popular departure locations for trains to Tibet, has Soft Sleeper prices at around US$ 143 and Hard Sleeper at around US$ 90. From Xining, the closest railway station to Tibet in mainland China, and the start of the Qinghai Tibet Railway, the Soft Sleeper Berths cost around US$ 112, while the Hard Sleeper Berths are around US$ 71.
Enter Tibet by Overland from Nepal
If you are considering overland travel to Tibet from Nepal, then you should also consider how you are intending to get out of Tibet once your tour is done. Many people take their tour from the Gyirong Port border crossing to Lhasa, a reverse of the normal tour from Lhasa to Kathmandu, and then either fly out back to Nepal or take the train to mainland China.
India and Nepal have great options for overland travel, with cheap transport on buses and trains. Nepal is a country that does not have much in the way of railways yet, but does have a lot of other options such as buses, both ordinary and air-conditioned, which are relatively cheap to use. Even taxis can be quite cheap in Kathmandu if you can bargain well with the drivers.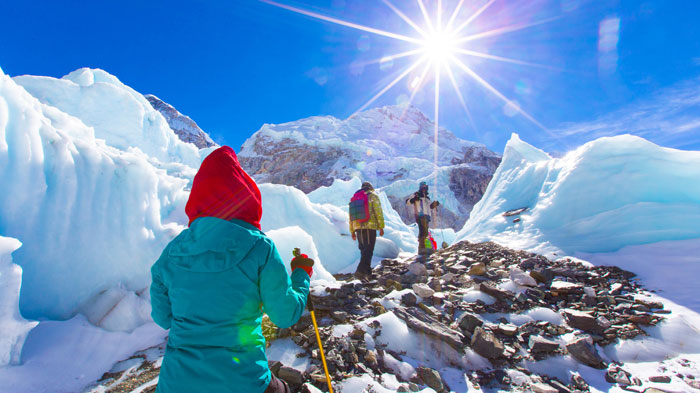 A trek to Everest Base Camp from Nepal can be done at a cost within US$ 1500, to over US$2,000.
If you are not inclined to take to the roads and explore the country yourself, you can take one of the thousands of tours that are available on the internet, which cover every possible location you might want to visit, and which can easily be customized to your requirements. A guided tour that includes the highlights of Kathmandu and a trek to Everest Base Camp can cost from US$ 1500, to over US$2,000, depending on the choice of tour operator. It is a good idea to shop around and find the best deals, and there are thousands of tour operators that will give you discounts.
For the trip from Kathmandu to Lhasa, there is only one route, which heads from Kathmandu, through Gyirong Port, and travels to the Tibetan capital via Everest Base Camp, Shigatse, and Gyantse, finishing in the capital with a two-day tour of the stunning highlights of this highest capital in the world. The cost of our classic 7-day tour from Kathmandu to Lhasa is from US$ 1,050, and is a join-in tour with fixed dates. This means, no matter how many people sign up for the tour, it is guaranteed to go ahead at the price given.
Overland Travel in India
India has a vast rail network which is the most popular mode of transport around the country for many people, and which is relatively low-cost compared to flying and driving. It is actually a lot cheaper to take the train from the major cities across India to the Nepal or Bhutan borders than to drive yourself or travel by bus, and the huge network means that you can travel almost anywhere by train.
How much a tour around India costs largely depends on where you are traveling and what you want to see. India is a vast sub-continent that covers a huge area, and travel from one major city to another can take several days. It is impossible to give an exact cost of a tour in India, unless you are taking an organized tour with a local tour operator, which usually focuses on just one city and area, instead of traveling across the country, say from new Delhi to Kolkata.
If you are traveling under your own steam, you can find information on how much train tickets in India cost from any of the thousands of travel agents you can find in each city, or from the Indian Railway Catering and Tourism Corporation (IRCTC). The IRCTC has a website for train information and booking, where you can get the cost of the tickets and book them for trips between the major cities across India. A trip from New Delhi to Kolkata, for example, costs around 9 dollars, while a trip from New Delhi to Raxaul, on the border with Nepal, costs just US$ 7.50.
Travel Overland in Bhutan
Travel overland in Bhutan is actually simple to budget for, as it is all included in your tour cost. In Bhutan, all international tourists, with the exception of Indian nationals, are required to be on a pre-booked and organized tour with a registered tour operator. Once you land in Paro, your tour guide and driver will meet you at the airport, and transfer you to your hotel. All travel within Bhutan must be with your guide and driver, and with the exception of going out of your hotel to get something to eat locally, or buy from local shops, you will not be able to travel anywhere across country alone and unaccompanied. Since this is all included in your Daily Minimum Fee, which is US$ 250 per day in the peak season and US$ 200 per day in the low season, there is not need to budget separately for transport within the country.
Consider the Daily Expense
There are also your daily expenses to consider while you are on the tour, such as the cost of daily meals, hotel costs, additional costs for gifts and souvenirs, etc.
How to budget dining cost
Dining on a budget is not hard to do, as long as you are prepared to eat what the locals eat every day. The more unusual or foreign the food is in any country, the more it will cost. Food in Nepal and India is a little spicy, and the main staple of their meals is usually rice, which is a great way to fill you up for very little. A good meal in Nepal can cost from as little as a dollar or two, while in many parts of India it is not much more, costing as much as 3-4 dollars. However, if you want western food, which is not common in these countries, then you can expect to pay five to six times the amount for a good meal.
Food in Bhutan is easy, as it is all included in the Minimum Daily Fee, for your three regular meals per day, if you want snacks outside those meals, you will have to budget for them as extra, and alcohol is also not included. However, bottled water is, and your guide will always have bottles of water available. Tibet is somewhere between the two, as some of the meals that are included are those that are part of the hotel costs, while other meals, such as lunch or dinner in places where dinner is not included in your hotel cost, are always extra. A good local meal can be had for very little in Tibet, though, and a day's eating can cost as little as 15 dollars per person.
How to budget the cost for hotel
In Bhutan, your hotel is normally included in the cost of the tour, as part of the Minimum Daily Fee, so you do not have to worry about it. The lowest hotel you can have is a three-star hotel, which is included in the 250 dollars per day, but for more expensive hotels, you will have to pay the additional costs up front before your tour.
In Tibet, most tours these days have hotels included in the overall cost, although you have more options in choosing the type of hotel or guesthouse you will stay in in cities like Lhasa and Shigatse. In Lhasa, the cost for 4-5 star hotels ranges from 56 USD to 301 USD. You will have plenty of options. While in the remote areas of Tibet, like Everest region in Shigatse, towns in western Tibet Ngari Prefecture, your choices are limited, and you may find that you only have the option of staying in very basic accommodations during parts of your tour.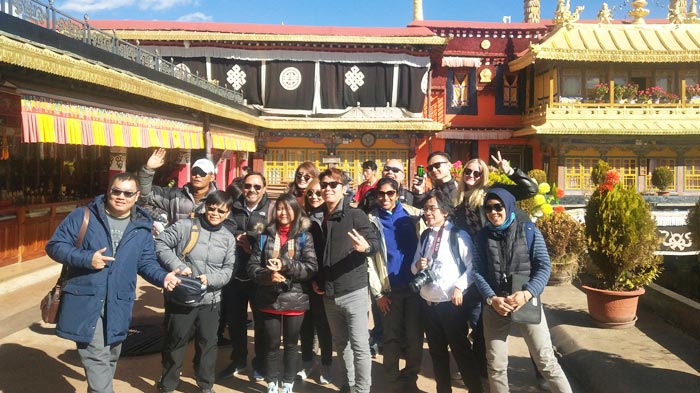 Join a small group for the India Nepal Tibet Bhutan Tour can help you have a wonderful journey.
If you are on a budget, you can get a low-cost hotel to keep costs down. However, the best option is to join the small group tour. Then you can share the tour cost with the whole group members.
India and Nepal are old-style backpacker locations that have been providing cheap accommodations to travelers for decades, and the propensity of low-cost accommodations is vast and expansive. Almost everywhere you go you can find cheap rooms and dorms that can cost as little as a few dollars a night, as long as you do not mind sharing the dorm and the bathrooms.
For some, this is a more real experience, living in the cheapest accommodations and getting your own food together to save money, rather than spending a lot more on fancy hotels and posh restaurants. India and Nepal do have higher-end hotels though, if that is what you are looking for, and in Delhi and Kathmandu, you can find many of the big international hotel chains with high-end accommodations.
Set aside extra money for souvenir, unexpected events, etc.
We all want to have a souvenir of our travels, and there are so many things that can be found for trinkets and gifts for loved ones and relatives that you want to take back with you. Setting aside a little extra cash for those reminiscent souvenirs or something for your family as a gift from your travels is an important part of traveling around the world. And in India, Nepal, Tibet, and Bhutan you can often find small trinkets that are not expensive, made by local handymen, and crafted in ancient styles and fashions.
Markets across all four locations have these stunning little artifacts for sale, and you can always bargain with the sellers to get the price down a little more. Bargaining is actually expected in most markets in Asia, as long as you do not try to go too low and make an issue of the price. Sellers have a minimum price they can accept for an item and still make profit, and once you reach that minimum price, they will not go lower. The trick is knowing when they get there and accepting it at that price.
How to choose the favorable time to cut the travel cost
Cutting the cost of the tour to India, Nepal, Tibet, and Bhutan can be done by choosing to travel in the low seasons for each country. The peak season for tourism in any destination is the most expensive, and once that season is over, and all the tourists have left, there are often discounts to be had on air fares, train tickets, and hotel accommodation, just to have someone staying there when everyone else has gone away. If you want to cut costs, then traveling in the low season, which is the best way to do it. Even in Bhutan, the cost is actually lower in the low season, with the Minimum Daily Fee dropping to just 200 US dollars per day. Check the different travel seasons for visiting India, Nepal, Tibet and Bhutan below:
India Travel Season:
High Season—Nov to Feb
Shoulder Season—March to May
Monson Season—June to Oct
Nepal Travel Season:
High Season—Oct to Nov; March to May
Monson Season—Mid-June to Sept
Tibet Travel Season:
High season—April to Oct
Shoulder/ Monsoon Season—Mid June to early Sep.
Off Season: Nov to early Feb
March is not available for international tourists.
Bhutan Travel Season:
High Season—March to May; Sept to Nov
Shoulder Season—Dec to Feb
Low Season—June to Aug
Other tour booking and flight booking advice for budget travelers
If you really want to cut down the cost of traveling in India, Nepal, Tibet, and Bhutan, then you need to think about where you can cut costs, and where you have to just accept the cost for what it is. Bhutan is one of those places where the cost is the highest, and you cannot skimp on it at all. Keeping to the bare minimum, by accepting the three-star hotels and not adding additional costs, can help with saving money.
In Tibet, another way to save money on the tour is to join a group of like-minded travelers that are already booked on one of our Join-in Small Group Tours. These tours often have other people traveling in a larger group, and are ideal for solo travelers, as the major costs of the tour are shared between all the members of the party, such as the driver, guide, and private vehicle.
Traveling in India and Nepal can be done cheaply if you are careful and do some research into the cost of transport and things before you go. It is common for traders and sellers to try and overcharge tourists, so the less you look like a tourist on an organized tour and the more you look like you have been there before and know the score, the less likely you are to be overcharged some ridiculous price for a cheap trinket.
Conclusion
Traveling to India, Nepal, Tibet, and Bhutan can be done on a budget, as long as you are careful, and balance the costs that you cannot control with the costs that you can. Bhutan and Tibet are not as flexible as Nepal and India when it comes to costs, so balancing the high for the low is the way to go.
You can save money on fares for transport by choosing the cheaper and often longer route, as long as you have the time to do so, and you can often get cheaper flights online. Accommodation can be basic, but as long as you have the basics, you can manage easily enough. Cutting a few costs can also make your holiday more interesting as well.