Travel to Tibet from Guangzhou
Why travel from Guangzhou to Tibet?
Guangzhou, also known as Canton, is the southern gateway of China, bordering on the South China Sea, adjacent to Hong Kong and Macao. This prosperous metropolis full of vigor and the third largest city in China is the gateway hubs of airports, railways and ports and home to 39 foreign consulates. For travelers, it shows much charm through famous Guangzhou attractions such as White Cloud Mountain, Pearl River, Yuexiu Park, Bright Filial Piety Temple and so on.
This modern metropolis located along the south coastline of China is the political, economic, sci-tech, educational and cultural hub of southern China. It serves as an excellent port on the Pearl River navigable to the South China Sea, with fast accessibility to Hong Kong and Macau. Its geographical features bestow the name "South Gate of China" upon Guangzhou. Benefited from China's Reform and Opening Up policy since 1978, Guangzhou also acts as the pioneer of the economic development of China, with thousands of large, small and medium-sized enterprises offering more job opportunities and making the city a heavily populated area.
How to travel from Guangzhou to Tibet?
Option 1. Guangzhou to Lhasa Train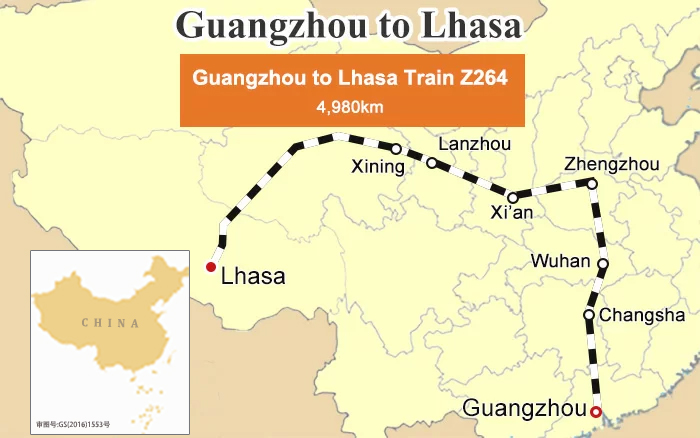 Guangzhou-Lhasa train route is the longest one among seven trains to Tibet from mainland China.
Taking a train to Tibet from Guangzhou is a popular way among tourists to travel Tibet from Guangzhou. Guangzhou Lhasa train ( Z264 ) departs every day at 11:45 from Guangzhou Train Station, and arrives at Lhasa Railway Station at 17:30 on the third day after 53:45 hours covering a distance of 4,980 kilometers.
See more at Guangzhou to Lhasa Train Schedule and Price
Option 2. Guangzhou to Lhasa Flight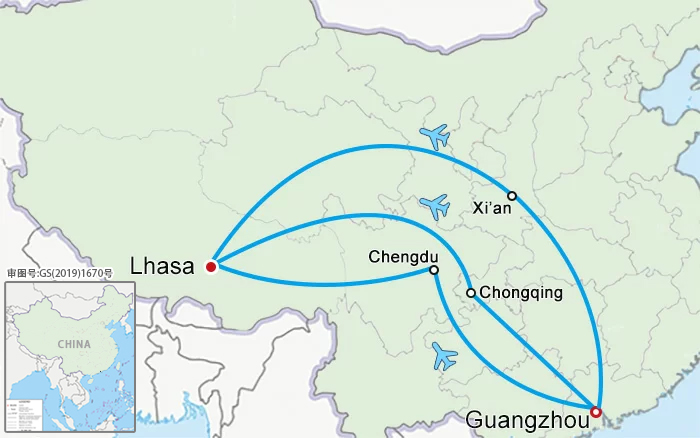 By air is another way for tourists to travel to Tibet from Guangzhou.
At present there are three direct flights with a stopover in Chongqing flying from Guangzhou to Lhasa, operated by China Eastern Airlines, China Southern Airlines and Xiamen Airlines. Guangzhou Lhasa flight takes off from New Baiyun International Airport and arrives at Lhasa Gonggar Airport every day. It takes about 6 hours for these direct flights to Tibet and about 1 hour for stopover at Chongqing.
What's more, some connecting flights would stop at Xian, Chongqing and Chengdu, thus you can transfer flights to Lhasa.
See more at Guangzhou to Lhasa Flight Schedule and Price
Facts about Guangzhou
1. Guangzhou has long been one of China's richest trading cities.
2. Guangzhou is a base for foreign merchants and traders.
3. Guangzhou is China's third largest city.
4. Guangzhou is one of the three major air transportation hubs in China.
5. Guangzhou is the "South Gate of China".
6. Guangzhou is the largest and most flourishing industrial and foreign trade center in south China.
What to See in Guangzhou?
White Cloud Mountain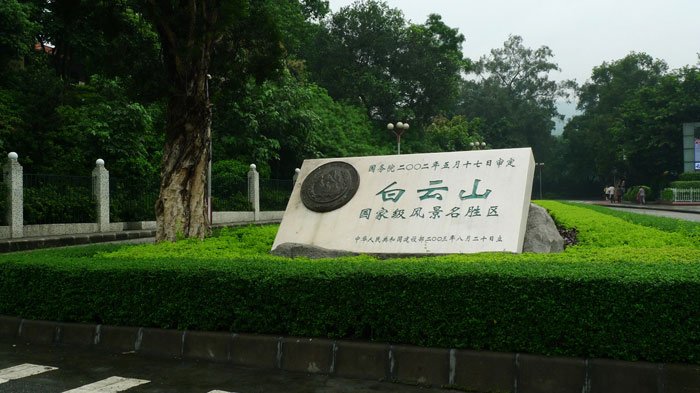 Known as the First Spectacular Scene of Guangzhou, White Cloud Mountain is an ideal place for people to relax.
The White Cloud Mountain has been one of the most famous spots of natural beauty in Guangzhou from ancient times. Every time the sun shines after the rain, and through late spring, a wreath of airy clouds circles the mountains. This is how White Cloud Mountain has won its name, and its reputation as a marvelous spectacle of nature. The White Cloud Mountain has six areas that are popular with visitors, Bright Pearl Building Park, the San tailing Summit Park, the Bird Spring Valley Park (Mingchun Valley), the Santailing Park, the Luhu Park and the Fei'eling Park.
Pearl River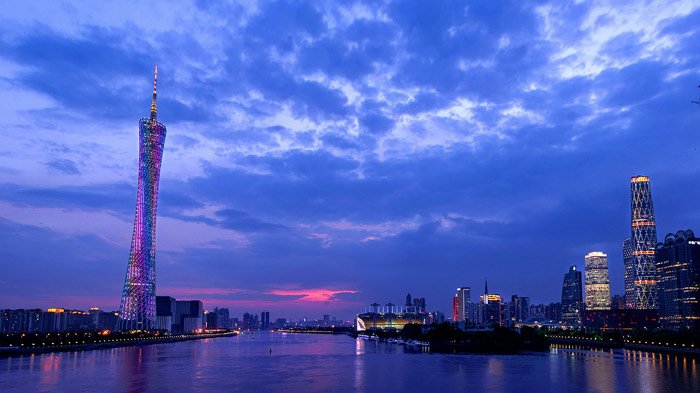 As the third longest river in China, the Pearl River has a length of more than 2,000 kilometers (about 1243 miles).
Pearl River consists of four separate river systems: the Xi River (originating from the Yunnan-Guizhou Plateau), the Liuxi River (originating from Conghua City in Guangdong Province), the Bei River, and the Dong River (both originating from Jiangxi Province). These four rivers join up in Guangzhou, flow for about 70 kilometers, and then pour into the South Sea. The name Pearl River is said to derive from a huge boulder in the river bed. This rock, with the name of 'Sea Pearl', is so round and smooth that it looks like a large, shining pearl.
Yuexiu Park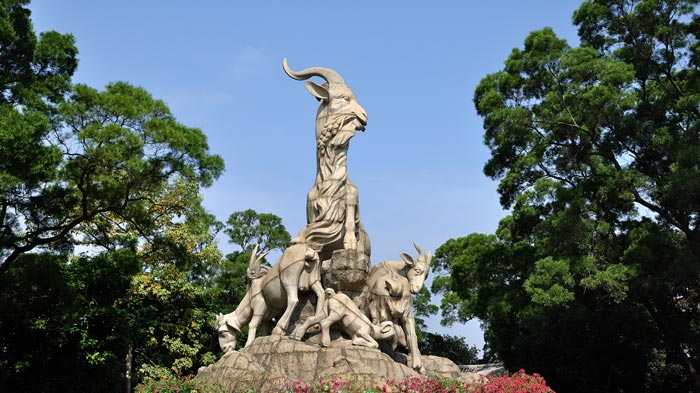 Reputed as the largest park in downtown Guangzhou, Yuexiu Park occupies an area of 860,000 square meters.
Yuexiu Park consists of three artificial lakes and seven hills of Yuexiu Mountain. It is a perfect combination of cultural relics and ecological tourism, reputed for its pretty water and hills as well as cultural relics. The main places of interest include the Five-Ram Sculpture that is one of the most famous structures in Guangzhou and has become the emblem of Guangzhou City, Zhenhai Tower which is one of the landmarks of Guangzhou city, the site of the Ming Dynasty City Wall, and Square Cannon Site.
Bright Filial Piety Temple (Guangxiao Temple)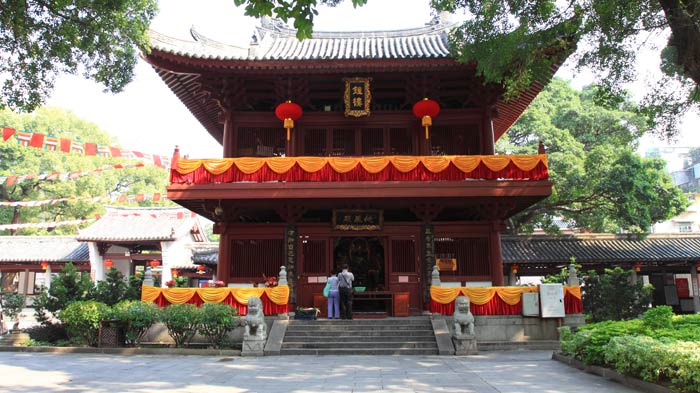 Bright Filial Piety Temple is also known as Guangxiao Temple, situated at the north end of Guangxiao Road.
Located to the west of the temple of Six Banyan Trees, the Bright Filial Piety Temple is among the grandest and most influential temples in China with a history dating back more than 1,700 years. In fact, it is said that Bright Filial Piety Temple existed before the birth of Guangzhou City.
The Bright Filial Piety Temple was first constructed here in the early 4th century although the building today is a recent construction after the original was destroyed by fire. Numerous famous and renowned Buddhists have visited the Temple in the past including the Indian founder of Zen Buddhism, Bodhidharma. The architecture of the temple and cultural relics provide insight into the history of Chinese Buddhism, culture, and architecture as well as the local history of Guangdong Province. The Guangxiao Temple mainly consists of Mahavira Hall, Sixth Ancestor Hall (Liuzudian), Samgharama Hall, Heavenly King Hall (Tianwangdian), the East and West Iron Towers, and the Mahakaruna Dharani Sutra Pillar.
Shamian Island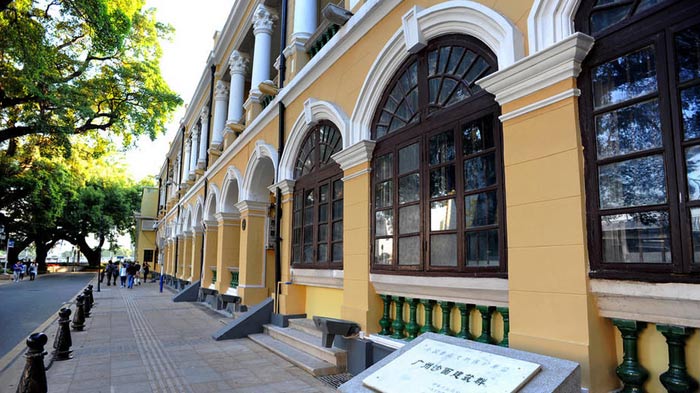 Shamian Island is an elliptic sandbar in the Liwan District of Guangzhou City.
The Island was previous known as Zhongliusha or Shicuizhou. Its name literally means "sandy surface" in Chinese. Shamian Island has great historic significance. From the Song and the Qing Dynasty, Shamian Island served as an important port for Guangzhou's foreign trade.
Surrounded by water, this island is just like a giant ship mooring alongside the wharf. Get further and one will find that the island is carefully planned. Three east-west avenues and five north-south streets divide the whole area into 12 parts, with various buildings scattering around, namely White Swan Hotel, Shamian Hotel, and Poland Consulate in Guangzhou.
Temple of Six Banyan Trees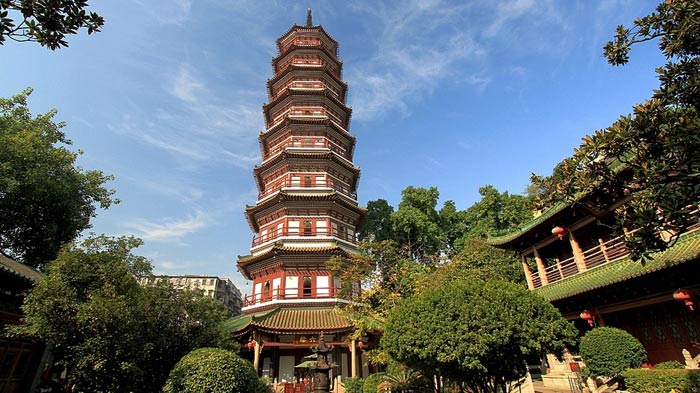 Temple of the Six Banyan Trees is one of the four best Buddhist temples in Guangzhou, with a long history of about 1,400 years.
It is located on the Liurong Road (meaning the Six Banyan Trees Road). It has a rich collection of cultural-relics and is renowned both at home and abroad. Its name was given by the great litterateur Su Dongpo in the Song Dynasty (960 - 1279). It is said that he visited the temple while returning to the north. During the visit, he found six banyan trees there particularly striking.
Lotus Hill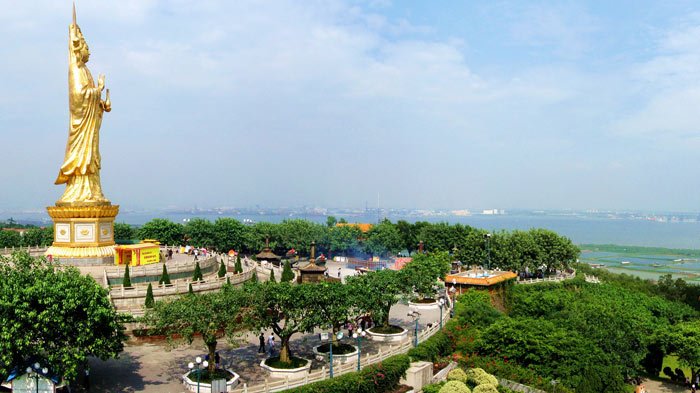 Lotus Hill is one of the famous hills of the Pearl River Delta, and a combination of ancient ruggedness and modern delicacy.
It is located in the eastern outskirt of Panyu City, 20km from Guangzhou and 60 sea miles from Hong Kong. Covering an area of 2.54sq km, Lotus Hill is composed of 48 red sandstone low hills, the highest of which is 108m tall. It has the best preserved ancient quarry site, with a history of 2000 years in China. The lotus city itself was built during the Kangxi's reign of the Qing Dynasty (1644-1911). There is also the gold statute of the Goddess of Mercy, which is the biggest in the world. The statue was cast in 1994 with 120 tonnes of bronze and 180 taels of gold coating and measures 40.88 m.
Sun Yat-sen Memorial Hall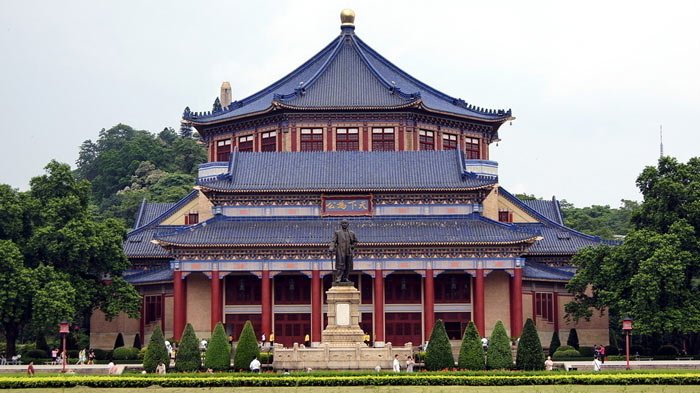 Sun Yat-sen Memorial Hall in Guangzhou was built to commemorate the contributions of Sun Zhongshan, the great predecessor of Chinese revolution for democracy.
The Memorial Hall is really a magnificent building in the shape of octangle. It is not only one of the symbolic constructions in Guangzhou with its majestic appearance and the infused rich Chinese national color, but also an important place for large scale meeting and performance. The 52 meter-high main hall accounts for a total of 12,000 square meters, standing on a 6.3 hectare parcel of inner-city land. Amazingly, the building spans a distance of 71 meters without a single pillar, using the structural combination of a steel framework with concrete reinforcement.
Ancestral Temple of the Chen Family (Chen Clan Academy / Chen's Lineage Hall)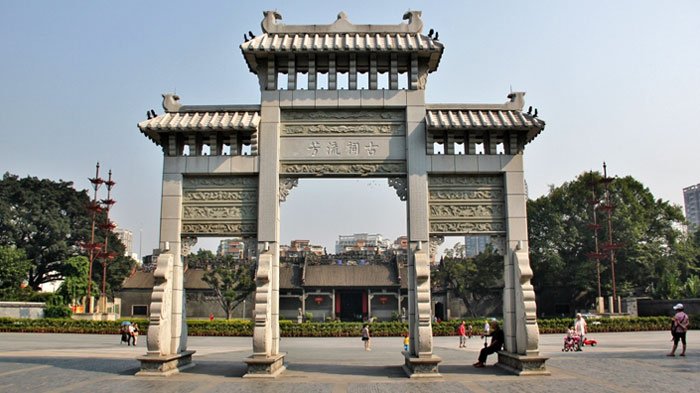 Ancestral Temple of the Chen Family was a place both for offering up sacrifices to ancestors and for study.
The building has been turned into a folk museum called the Guangdong Folk Art Museum to show the most characteristic Guangdong architecture. Two Chinese-Americans, Chen Ruinan and Chen Zhaonan, who had returned to Guangzhou organized the support for building a place where students in the Chen clan spread all over Guangdong and other places could reside and train for the Confucian Imperial Examinations.
Recommended Day Tours in Guangzhou
1. One Day Guangzhou Tour - Sun Yat-sen Memorial Hall, Yuexiu Park, Temple of Six Banyan Trees and Ancestral Temple of the Chen Family
We will start this day tour at 8:30 am to visit the Sun Yat-sen Memorial Hall at first to know this revolutionary forerunner in China. Then we will visit Yuexiu Park, the largest park in downtown Guangzhou, covering an area of 860,000 square meters (212.5 acres), then visit the Temple of the Six Banyan Trees, situated on Liurong Road. The temple is a world famous ancient Buddhist temple built in 537. We will move on to visit the Ancestral Temple of the Chen Family. This ancestral temple is the largest, best preserved, and best decorated ancient architecture existing in Guangdong province.
2. One day Guangzhou City Tour - Yuexiu Park, Nanyue Kingdom Tomb Museum, Ancestral Temple of the Chen Family, Hualin Temple
We will first visit the Yuexiu Park to take a look at how the local people spend their mornings and perhaps see some locals demonstrating their martial art skills. Continue the tour with a visit to the symbol of Guangzhou, The Five-Ram Sculpture, before viewing some of the many other attractions, including the Nanyue Kingdom Tomb Museum, a thousand-year-old Six Banyan Temple and the Ceramic exhibition center. We will then stop for a delicious lunch at a local restaurant. The tour then continues to the Ancestral Temple of the Chen Family, known as a pearl of Architecture in South China, as well as a visit to Hualin Temple, which has a worship hall with 500 golden Buddhist saints. Finally, experience the Lingnan culture on a Shangxiajiu pedestrian street before returning to hotel.
For more tour routes in and around Guangzhou and Tibet tours from Guangzhou, please contact us for free consulting service.
The Most Classic Guangzhou to Tibet Tour Routes