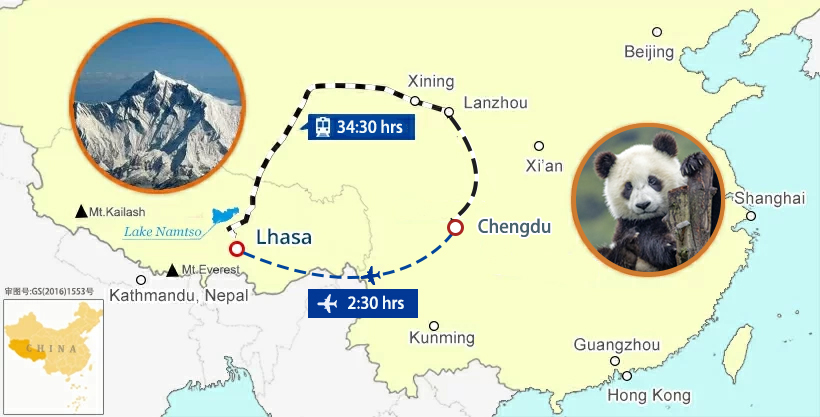 Chengdu Tibet Tours
Chengdu, the capital city of Sichuan Province in southwest of China, is the major overland gateway to Tibet. Affectionately known as "the Land of Abundance", Chengdu enjoys a great reputation for being the home to adorable giant pandas. The first-timers to Chengdu may find it surprising to see many locals, socializing in the small tea houses, joking with folks while masterfully playing Mahjong.
However, the seemingly slow pace of life can't hide the city's vibrancy and long history. Till 2016, 272 of Global Fortune 500 have taken root in Chengdu, for its favorable location of logistics, commerce, finance, science and technology, transportation, etc. Travelers will find it hard to stop savoring spicy and pungent Sichuan cuisine. The history of Three Kingdoms, Su civilization, and ancient streets, bustling nightclubs, many world-class natural heritage around are well worth a stop before travelling to Tibet.
Besides, Chengdu is the most important and nearest gate to Tibet. Everyday, around 10 flights fly form Chengdu to Lhasa, which is the capital of Tibet, 2 flights to Nyingtri which is in the west of Tibet, and 3 flights to Ali in east Tibet. It will take us only 2h 15min flying from Chengdu to Lhasa or from Chengdu to Nyingtri. There is also a train from Chengdu to Lhasa every 2 days. 43 hours, 2 nights on the train, we can enjoy fantastic views on the Qinghai-Tibet railway which is the highest railway in the world. Nowadays, our government is planning a rail directly from Chengdu to Lhasa., when finished , only 8 hours on the train. Taking a flight from Chengdu to Lhasa is an excellent choice if you planned to have more impression in China besides Tibet. Not only you can get cheap air tickets, you can enjoy the wonderful sightseeing in Sichuan Provinve.
Note:Chengdu (500m) is marked by humid and mild climate whereas climate of Tibet features dramatic temperature change between day and night, ample sunlight and dry and chilly wind. It takes about 43:07 hours to reach Lhasa by Qinghai-Tibet train; while by flight, it takes around 2h 15min.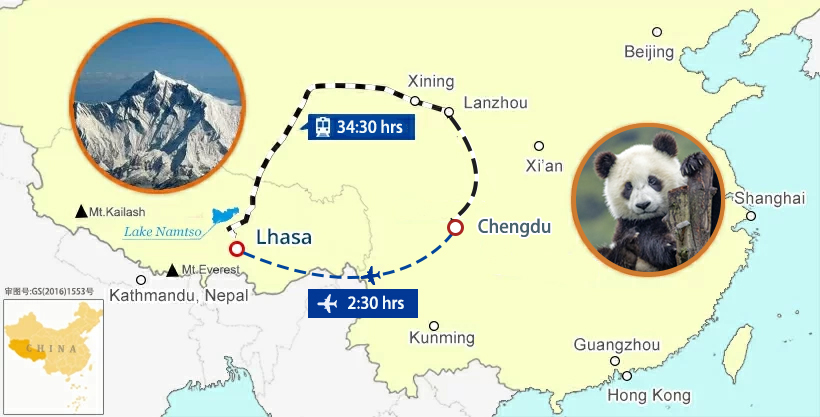 Most Popular Chengdu Tibet Tours by Train
Most Popular Chengdu Tibet Tours by Flight
How to Get to Lhasa Tibet from Chengdu
Chengdu - Lhasa Train (Z322/Z324) is one of the most frequently used overland means to travel to Tibet. The railway crosses 5 provinces and measures 3070 km. It takes about 43:07h to reach Lhasa from Chengdu. Travelers will be able to travel from fertile basin all the way to Qinghai-Tibet plateau. The highlight of the train ride will begin from Xining to Lhasa section. From Gobi desert, to soaring snow-capped mountains, incredible alpine river and prairie, Tibetan yaks and horses, etc, the window scene promises a spectacular visual feast. It's been told by 2015, with the complete construction of Kangding-Nyingchi Railway, the current travel hours will be expected to be shortened to 13 hours.

Travelling from Chengdu to Lhasa is fairly convenient. Of all the 34 flights to Lhasa from Chengdu, 99% of the flights are non-stop flight. The flight takes you about 2h and 20min to reach Lhasa. Since there is a huge altitude change, the first day of your arrival in Lhasa is advisable to have a good rest at your hotel. To acclimatize to high altitude in Lhasa, strenuous activities such as jumping, running and brisk walking, etc., shall be avoided. And the flight booking service is ready available for our clients.

Chengdu to Xining by Flight and Take Train to Lhasa

In fact, as to ticket price, taking flight to Lhasa from Chengdu seems to be more cost-effective since the cost for Chengdu-Lhasa flight and Chengdu-Lhasa train is quite close. However, during high season of Tibet tour (July-August; During Chinese Spring Festival in winter), and for those who determine to visit Qinghai Lake, the largest saline lake in Xining and enjoy the spectacular window view on the world's highest train, flying to Xining (or by train) first and later taking Xining train to Lhasa are a viable option.
Note: In addition to train and flight booking from Chengdu to Lhasa, we also offer bookings from other major cities to Lhasa, such as Kathmandu, Beijing, Shanghai Guangzhou, Chongqing, Xining, Xi'an, etc. For budget travelers, you can sign up for a variety of small group tours in Tibet. Not only can you enjoy relatively cheaper tour price, but also will make friends with global tourists within a group. To family with kids and elderly or other clients with special preference, you may work with us to customize your Tibet tour.
About Tibet Permit when Traveling from Chengdu to Lhasa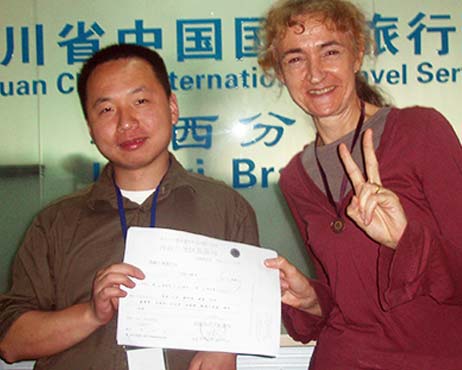 The prerequisite for Tibet travel is to get Tibet Visa (also known as Tibet Travel Permit). You may follow the easy steps below to get this indispensable travel document.
How to Apply for Tibet Visa
a. E-mail us the photo copy of your passport and Chinese Visa at least 20 days before your Tibet tour starts.
b. Normally, Tibet Visa will be issued after 2-5 days after we pass your documents to Tibet Tourism Bureau.
How to Get Your Tibet Visa in Chengdu
Since one of the offices of Tibet Vista is located in Chengdu, as usual, after we get your Tibet Visa, and we will mail it to your hotels in Chengdu or you are welcomed to take it yourself in our Chengdu office, 5-7 days prior to your departure for Lhasa. In some extreme cases, our staff will even deliver it to your hand before departure at airport or railway station.
Advantages about Booking a Chengdu and Tibet Tour Together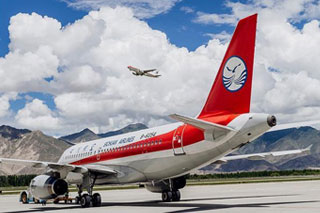 Have the most transportation options to Tibet from Chengdu
Offering over 10 non-stop flights to Lhasa every day, one direct train to Lhasa every other day, and two popular routes of Sichuan-Tibet highway, Chengdu provides the most convenient ways to get to Tibet.
Because of the close location and strong transfer network, Chengdu is not only the major gateway city for tourists coming to Tibet, but also an important transfer hub for Tibetans enter mainland China.
Indulge in the paradise of Giant Pandas before heading to Tibet
China is the home of the Giant Panda, and 70% of China's pandas live in Sichuan. Giant Panda Breeding Research Base, the most important panda breeding and research base in the world, attracts thousands of panda fans to the area from all over the world.
Here you can not only learn about the species of the panda, but also have chances to closely witness the lovely pandas and even baby pandas. If you are a panda lover, then choosing to enter Tibet from Chengdu is the best choice.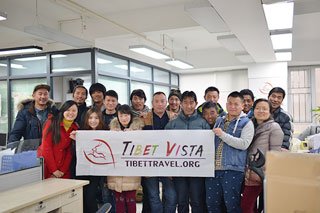 Meet Your Trip Consultant in Person and Have Problems Solved Instantly in Chengdu
Since one of Tibet Vista's offices is located in Chengdu, you can meet your travel consultant in person at the office. Face-to-face communication will allow us to get to know each other better and help you arrange a more satisfying travel itinerary. Whether you are traveling to Tibet or need local travel advice in Chengdu, our travel consultants will be eager to share it with you.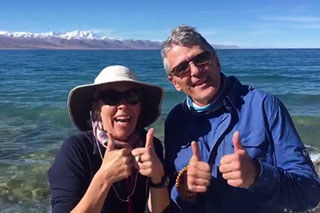 Get the Best Value of Money by a Packaged Tour from Chengdu to Tibet
A packaged tour always means include everything for less. Your local transfer, accommodation, travel guide and driver service, and attraction fees are all included in your Chengdu Tibet tour package. As the first Tibet tour operator to run Join-in Small Group tours, we can offer you more competitive prices and guaranteed services.
Compared with booking a Chengdu tour and a Tibet tour separately with different travel agencies, our packages can exempt you from the service fees charged by different travel agencies.
You only need to pay once and enjoy the same quality of high-standard service throughout your trip from Beijing to Tibet.
Travel Tibet from Other Cities of China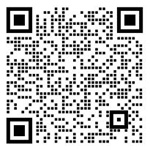 Tailor-made your Own Tour within
24 hours

.

Contact us via Wechat or simply express your tour needs online. We'll customize a trip plan for you. No deposit is required until you are totally satisfied with the trip plan. Tours departure 365 days a year!

Start Customizing Now!