Bhutan Weather
Like any other countries in the world, Bhutan has four seasons in a year: Spring (March to May), Summer (June to August), Autumn (September to November) and Winter (December to February). However, due to the location, Bhutan weather has its own climate features. It is typically affected by the altitudes and terrains.
With eastern Himalaya to its west and Tibet Plateau to its north, the terrain of Bhutan shows an obviously sudden elevation decrease from the north to the south, making huge weather and climate variations all year round.
Meanwhile, affected by this topographical characteristics, Bhutan weather has its distinctive regional features. Western Bhutan has heavier monsoon rains while southern Bhutan has sultry and humid summer and cool winter. Weather and climate in central and eastern Bhutan tends to be temperate and drier than that in the west with comparatively cool summers and warm winters.
From subtropical climate in the south to the temperate in the highlands and polar-type climate in the north, if you travel to as many as towns or villages during your stay in Bhutan, you may have deep feelings about this magical weather and climate change.
At the same time, adjacent to Bangladesh, Bhutan is to some extent affected by the remains of the tropical cyclones hitting Bangladesh, making plains of this county affected from heavy rains in summer as well as the mountain snowfalls in winter.
When is the best time to visit Bhutan?
If you are obsessed with its lovely valleys and want to have a real sense of trek or stun yourself by the awestruck Bhutan Himalaya Range, then spring and autumn should be the best time for you to visit Bhutan, for the sky is crystal clear, the valley rhododendrons are in their full blossom and the trekking routes are in perfect conditions. However, if you want to have an in-depth city tour or culture themed travel to find the mystery of Bhutan's traditional arts such as the carpentry, painting, weaving and papermaking or experience the Bhutanese living philosophy, then any time in the year can be appropriate even during the monsoon season (Typically from June to late September).
To help you time your visit at the right time, we show you a year-round guide to Bhutan weather and climate and the panorama of Bhutan weather in the highly popular tourist destinations and thematic tours in different seasons. Check the detailed guide below and get inspired for your perfect time for the visit.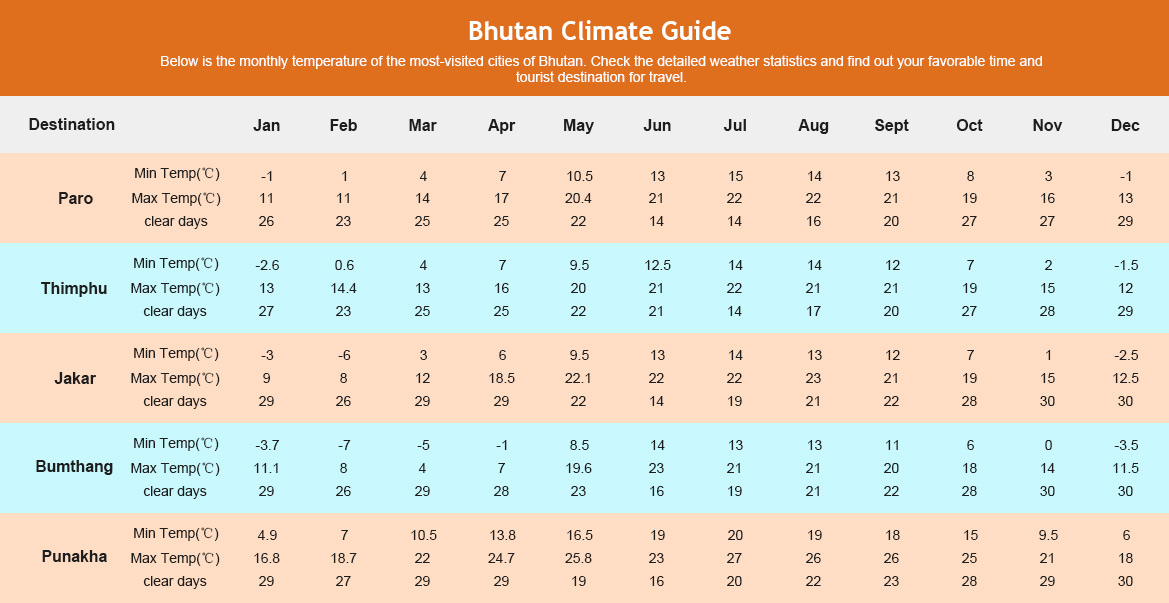 When is the best travel time to Bhutan?
Spring and autumn are considered as the best time to tour Bhutan for the enchanting rhododendrons, clear sky, and awesome trekking condition. Check the details offered by our experienced Bhutan travel expert.
See Best Time to Visit Bhutan
Monthly Bhutan Weather and Travel Plan
Need some Bhutan travel experts' tips for planning a mesmerizing journey in different months in Bhutan? You got it. Click your ideal tour month below and follow our Bhutan travel gurus' insider tips to plan your journey.
Weather and Climate in Popular Travel Destinations
Considering the regional features of Bhutan climate, different towns or villages during the same season may have totally different weathers. Here, we have geographically selected the most popular towns and areas and provided you a detailed weather information and recommendation in the whole year to help you enjoy a worry-free journey. By the way, here you can also find the ultimate climate guide to neighboring Himalayan Kingdoms, like Nepal, India and Tibet.
Best Time to Bhutan for Different Themes
For trekking, birding watching, and hilarious traditional festivals, etc. Bhutan promises an infinite chance of exploration. We help you find out the best travel month and meet the needs of your particular wanderlust.
Most Classic Bhutan Tour Packages
Wanna explore the last Shangrila in the Himalayan Kingdom? No problem! We handpick the most classic Bhutan tour itineraries for you. And you can send us your tour inquiry and a quick reply will reach you within 24 hrs.