Trekking in Tibet
Trekking in Tibet is a perfect way to explore Tibet and a wonderful experience of a lifetime that you can't get anywhere else on earth. By trekking Tibet, you can enjoy the unique scenery in secret places of Tibet and have a full insight of Tibetan culture.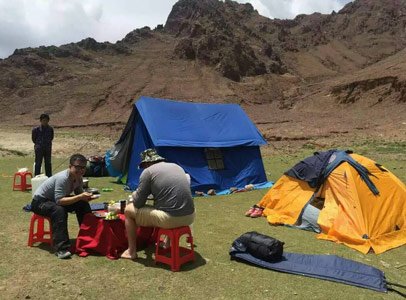 Our clients are camping during their Tibet trekking tour.
Tibet Trekking Types and Routes
Tibet trekking can be classified into Tibet pilgrimage trek, Tibet culture trekking and sightseeing trek. For instance, Mt. Kailash Trek is a typical pilgrimage trekking tour in Tibet. It is also a tour of hiking Tibet.
The inaccessible remote mountain areas of Tibet create lots of possibilities of trekking routes for adventure travelers. There are several popular trekking routes in Tibet, such as Mt. Kailash Trek, Tsurphu to Yangpachen Trek, Tingri to Everest Base Camp Trek, Shalu to Nartang Trek, Lake Manasarovar Kora,Ganden to Samye Trek, Nyenchen Tanglha Traverse, Everest Advance Base Camp Trek, etc.
For some trekkers, it is also a great challenge to trek at over 4000 meters above sea level in average. A hiking Tibet tour requires good fitness condition, well preparation and strong perseverance. Besides, Tibet trekking is not feasible from December to March as the temperature goes very low and also the days becomes much shorter. Generally from April to October is the best season for opting a Tibet tour. But it really depends on your route and a normal winter Tibet tour schedule is quite comfortable, because in winter, the tourist rush is not much and you can enjoy the beautiful scenery freely.
Tibet Trekking Tips
For foreign tourists, there are some special requirements. Chinese Visa issued by Chinese Embassy and Tibet Travel Permit issued by Tibet Tourism Bureau are indispensable trek permits in Tibet. Besides, no independent tours are allowed in Tibet. Therefore, even you want a budget trek tour in Tibet, a tour guide is a must. Of course, a professional trekking tour guide can be quite helpful for he/she is much more familiar with the route and experienced in getting rid of emergencies.
We offer various trekking tour packages in Tibet, combined with other tour routes in Tibet, like Lhasa tours, and tailor-made trekking tour to meet your specific requirements. It can be as short as one day and as long as one month. We also can offer you professional trekking support including expedition cook, well prepared meals, trekking animals and porters, high-quality trekking equipment, trained trekking tour guides.
Most importantly, we highly suggest you read the trekking advice and have a good preparation for your hiking in Tibet.
Just a Reminder
Joining in a small group tour is the very BEST way for solo travelers or traveling Tibet on a budget!
As the Pioneer of Tibet Tourism for global tourists since 1984, TIBET VISTA has been the FIRST TOUR OPERATOR of running join-in group tour business in local and with ability of organizing over 5000 visitors a year. For Tibet Vista's special contribution to Tibet Tourism especially to Mt. Everest Tour, we were the ONLY company awarded by Tibet Tourism Bureau Shigatse "THE EXCELLENT ORGANIZER OF MT. EVEREST TOUR "in 2015.
View our Tibet Small Group Tour