Namaste! Welcome to Nepal, the darling in the trekking world. Whether you are a novice trekker or a seasoned explorer, Nepal will surprise you with an eye-opening trek that you've long been dreaming of. Of all the top 6 trekking regions in Nepal, we single out 12 all-time favorite treks across Nepal and offer easy-to-use trekking guide below for you. To most of the travelers, Everest Region and Annapurna Region will remain the biggest draw for trekking in Nepal.
After spending a couple of days visiting Kathmandu Valley, you may fly from Kathmandu to Lukla and experience the most popular trek to EBC; For more experienced trekkers, certainly not to miss the detours to heavenly Gokyo Valley or travel to Pokhara and gear up for the trails of rhododendron along Annapurna Circuit Trek or Annapurna Base Camp Trek. If you have limited time, the entry-level Poon Hill Trek and leisurely day treks around Kathmandu Valley and Langtang Valley will fill your days with laughter and unexpected cultural and scenic discovery.
Besides, for more off-the-beaten paths, the Upper Mustang Trek and Manaslu Circuit Trek bring you the inner peace and take you to explore the rarely-seen landscape and untouched ethnic villages like Gurngs, etc. With the assistance of our seasoned trekking team, pro-active tour service, you will get pampered by a heady mixture of epic Himalayan treks and cultural exploration in Nepal.
Trek in Everest Region
Trek in Annapurna Region
Other Popular Treks in Nepal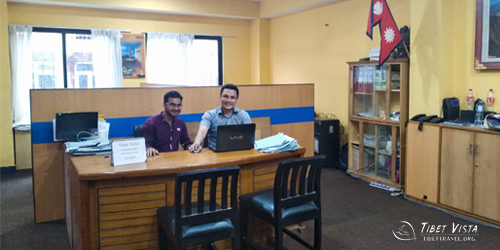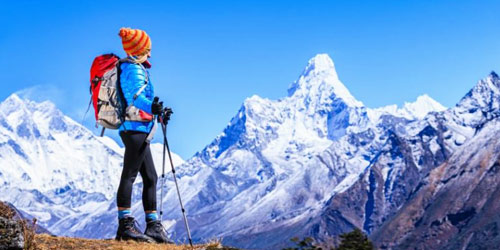 What Makes Us Different?
Specialize in trekking and other group & private tours in Tibet, Nepal, Bhutan and Mainland China
Awarding-winning EBC tour operator by Tripadvisor
Well-established tourist-centered service throughout your journey
Seasoned and dedicated Nepali guides speaking multiple languages
24/7 call service with emergency back-up team and travel safety guarantee
Frequently Asked Questions about Nepal Trek
1. Which is the best season for trekking in Nepal?
Answer: Overall, for the best Himalayan view and ideal trekking weather and road condition, do time your trek in Spring (March to May) and Autumn (Mid-Sept to Nov.) Starting from Mid-Sept, Nepal will enter its dry season, which marks the beginning of the prime season for trekking in Nepal. The air will be crisp and clear with high visibility for enjoying the majestic vista of Himalayas, esp. Mt. Everest and Annapurna, etc. Meanwhile, as it's the high season of trekking in Nepal, you do expect to see a rise of cost for accommodation, dining and transport, and more crowded mountain trails along some of the famous trekking routes.
If you travel on a budget and prefer fewer crowds, trekking in Dec and March to May can be a great choice. However, you do need to endure bitterly-cold wind in Dec. While trekking from March to May allows you to enjoy amazing rhododendron and richer bio-diversity in Annapurna circuit trek, etc.
From June to early Sept, the humid and annoying monsoon season starts to dominate the overall scene of Nepal. Trekking can be dangerous, given the sporadic landside, overshadowed mountain view and leech-infested mountain trails.
2. What are some of the best trekking regions in Nepal?
Answer: Over 90% of the trekkers come to Nepal under the spell to enjoy the jaw-dropping Himalayan View. And the best of the best Himalayan vista lies in Everest Region and Annapurna Region, where you are open to multiple trails to reach Everest Base Camp (5364m) or have a 360 degree view of incredible Mt. Annapurna (above 8000m) and explore enchanting Nepali villages and tribes rarely-touched by the outside world.
In addition, Mustang Region, especially, upper Mustang region close to Tibet, offers an adventurous escape to explore the profound bond between Tibetan Buddhism and Nepal and barren and undulating Himalayan ranges. While Manaslu Region is deemed as a superb off-the-beaten trek for a spectacular view of Mt. Manaslu and glaciers and remote Nepali villages, etc.
While Langtang Region, pretty close to Kathmandu Valley, features scenic trek to pristine forest, Mighty Himalayan peaks and more interestingly, a close exploration to Tamang culture.
Apart from these major popular trekking regions in Nepal, dozens of short treks around Kathmandu and Pokhara will meet the demand of trekkers of all ages and pockets.
3. Travel documented needed for trekking in Nepal
Answer: In addition to Nepal Visa for entering Nepal, you need to obtain TIMS Card (Trekking Information Management System) at Tourist Service Center in Kathmandu, around 20USD/person and pay for the entry fee for National park in the region you are about to trek. And additional trekking permits will be also needed in treks in Upper Mustang and Upper Dolpo and Tsum Valley, and Manaslu, etc. (Major trekking regions in Everest, Annapurna and Langtang are not affected.)
Latest Notice about Nepal Trekking Fee
Based on the new provision, international tourists trekking to Upper Mustang and Upper Dolpa have to pay $500 for the first 10 days. If you plan to extend their journey beyond 10 days, you will be charged $50 per day. While other trekking fees in Nepal remain unchanged.
4. Do I need a guide or porter to trek EBC?
Answer: Theoretically, as the most heavily trekked route in Nepal, as long as you have a thorough preparation and a sound fitness level and stick to the main trekking route, you are good to go yourself.
However, in reality the situation can be more complicated. Even if you are well-prepared, your knowledge to the weather in Everest region and ability to finding teahouse lodge and nice food and best viewpoint for the Himalayas, etc., are much inferior to the seasoned Nepali guide. So, it's highly recommended for you to find a licensed Nepali guide to enjoy the EBC Trek and other treks in Nepal. If you can secure the booking of teahouse lodge along the trekking route you choose and decide to travel light, a porter would be unnecessary.
5. Do I have to be worried about the altitude sickness?
Answer: In fact, the fear of altitude sickness due to the ignorance and hearsay is far worse than the real altitude issue. Admittedly, the physical response to altitude ascent varies from people to people. So long as you reach the elevation of above 3000m, you will naturally experience the fast pulse, dizziness, and headache, etc. However, there is a huge difference between natural response and acute mountain sickness. And the key to avoid AMS is the gradual ascent and to walk high and sleep low. Trekking on the plateau is never a marathon. Do stay in the designated places one more day for better acclimatization before hiking up. Simply by following the guidance of your guide and day-to-day trek arrangement will shield you from acute altitude sickness and other unwanted troubles. You may also prepare some medicines for easing the side effect of altitude sickness after consulting your doctor or pharmacist.
More Articles Concerning the All Aspects of Trekking in Nepal:
Quick Inquiry
Scan the QR code to get 1-on-1 consultation with our travel expert on Wechat.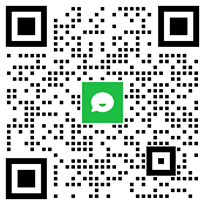 Or, leave your message below to get quick reply via email.
If you are planning to enjoy the trek in Nepal, yet have no ideas of how to sort it out the details, no worries! We would like to hear your tour plan and offer free professional consultancy and viable solutions. Please feel free to contact us.