Lhasa Day Tours: How to Arrange Day Trip in Lhasa
Lhasa, the capital of Tibet, is a culturally rich city on the Tibetan Plateau and the holy center for Tibetan people. Every day, Lhasa witnesses many devout Tibetan Buddhism followers from local and far places and tourists from all over the world. There are many tourist sites in and around Lhasa, including Potala Palace, Sera Monastery, Yamdrok Lake, Drak Yerpa, Namtso Lake , etc. which make many choices on Lhasa Day Trips.
As these places are not far away from each other, tourists can visit at least two of them within a day, such as Potala Palace-Jokhang Temple-Barkhor Street-Wencheng Musical Show, Drepung-Sera Monastery-Lhasa Bar, Drak Yerpa-Norbulingka, Ganden Monastery-Yamdrok Lake, Namtso Lake-Yangbajain Hot Spring and so on. Take a second for the most classic day tour routes in Lhasa below and choose the one suiting you best. Or you can also contact our Tibet travel guru to tailor-make your own one day tour in Lhasa.
Friendly Tips: upon your arrival at Lhasa City, you'd better go to hotel for a good rest first and let your body acclimate to the high altitude. Do not rush to visit tourist attraction. Kindly please trust our Tibet travel gurus and we'll make full use of your days in Lhasa.
Lhasa Day Tour - Option 1. Visit Potala Palace, Jokhang Temple and Barkhor Street ( enjoy princess wencheng musical at night)
The Potala Palace is located in the west of Lhasa on what is known as the Red Hill, from which you can get stunning views all around Lhasa. During Tibet's peak tourism season, tourists need to reserve the admission tickets to Potala Palace as there is a limitation on the number of tourists to visit the Potala each day. Thus, it is best to spare one day to visit the Potala Palace. Tourists can visit the Potala in the morning or afternoon according to the ticket reservation. World renowned for its magnificence and exquisiteness, the Potala is listed by UNESCO as a world heritage site.
The Potala consists of the White and Red palaces with more than 1000 rooms. The White Palace was for secular use and contained living quarters, offices, the seminary and the printing house. The Red Palace's function was religious. It contained gold stupas, which were the tombs of eight Dalai Lamas, the monks' assembly hall, numerous chapels and shrines, and libraries for Buddhist Scriptures.
Known as the spiritual center of Tibet, Jokhang Temple is the destination of millions of Tibetan pilgrims. The outer courtyard and porch of the temple are usually filled with pilgrims making full-length prostration towards the holy sanctum. Its innermost shrine contains the oldest, most precious object in Tibet - the original gold stature of Sakyamuni - the historical Buddha, which Princess Wen Cheng brought from Chang'an 1,300 years ago. This four story temple was built in the mid 10th century.
The Barkhor is a street circling the Jokhang temple. It is not only a market selling all kinds of Tibetan products, but also a popular pilgrimage circuit in Lhasa. It is said that Barkhor is both the spiritual heart of the holy city and the main commercial district for Tibetans. On this street, you will encounter with with monks, nomads, bent old women and men all making the pilgrimage around this ancient square. The Barkhor shows a colorful and vibrant picture of Tibetan life.
When the night falls, you may go with our Tibetan tour guide to enjoy the extravagant real-scene Princess Wencheng Musical Show. Under the starry sky of the plateau sanctuary, the love story of Tubo King Sontzen Gampo and Tang Princess Wencheng has been restored in front of your eyes. With natural mountains and rivers of Lhasa in the background, the Prince Wencheng trudged an arduous journey and underwent the twists and turns, finally got married with Sontzen Gampo. The real-scene show is a classic masterpiece of Tibetan culture, representing a moving epic of Han and Tibetan. (Show Time: 21:00pm from Monday to Sunday; Ticket Price: 380 to 1280CNY Per Person)
Lhasa Day Tour - Option 2. Enjoy the Drepung Monastery and Sera Monastery, (enjoy the bar in Lhasa at night)
Drepung Monastery lies 8 km west of Lhasa on a main road, then 3km north on a steep, unpaved road. It used to be the world's largest monastery with more than 10,000 monks, and now is still Tibet's largest monastery. You can visit biggest monastery kitchen inside the monastery and enjoy Buddhist Sculpture Carving workshop near Drepung. Every year, a Giant Buddha Show is held in this monastery during the Shoton Festival.
Located 5km north of Lhasa downtown, Sera Monastery is famed for its daily monk debating (Buddhism Scripture Debating) held at its courtyard in the afternoon. The debating is an effective way to help monks learn the scripture, just like an exam. Monks can be seen preparing for monastic exam by staging mock debates in the ritual way. Some sit cross-legged under the trees, while others run from group to group giving vigorous hand-claps to end a statement or make a point. Master and dignitaries sit on the raised tiers when a real exam takes place.
If you don't want to idle away your night, the bar in Lhasa is a good place to go, where you can experience local nightlife and culture and relax yourself with a drink with friends. Roaming around Barkhor Street, you can find various kinds of bars scattering in the alleys, like Low House Music Bar, Mayke Ame, Ganglamedo Cafe and Bar, Dunya Restaurant Bar, etc. If the music pubs are not your things, then I'd like to recommend you to stroll around Lhasa night markets, where you can taste exotic barbecues and mouthwatering snacks, and get some lovely Tibetan souvenirs at a very reasonable price.
Lhasa Day Tour - Option 3. Climb Drak Yerpa and Enjoy Linka(picnic) in Norbulingka
Tracing back to the ancient history, Drak Yerpa Monastery, constructed by Tubo King Songzan Gambo for his wife Nepali Princess Bhrikuti in the 7th century, already has a history of 1,500 years. After several rounds of expansion, Drak Yerpa has become one of the Four Great Hermitages in Tibet with sparkling feature of chapels into caves.
Completely different from the turf-covered mountains, Drak Yerpa is surrounding by thriving pines and cypresses with crystalline streams rolling at the foothill. The best time to climb Drak Yerpa falls on spring and summer with wildflowers blooming and birds singing.
After scenic Drak Yerpa trekking, you can walk around Norbulingka Park, located on the way to Drepung Monastery from Lhasa downtown. Norbulinka was the summer palace of Dalai Lamas. During summer, Dalai Lamas handled official business in Norbulingka. During the annual Shoton Festival, there are interesting Tibetan opera performances and family picnics in the garden.
Lhasa Day Tour - Option 4. Experience Ganden Kora and Drive to Visit Yamdrok Lake
Ganden Monastery, together with Drepung Monastery and Sera Monastery, are reputed as the Great Three Monasteries in Tibet. Located at about fifty kilometers east of Lhasa, Ganden Monastery is the first and primary monastery of Gelug sect in Tibet. Ganden Monastery is situated on the Wangpori Mountain with an elevation of 3,800meter above sea level. It is very interesting to go for the pilgrimage circuit around the monastery and you can also see the crack of rock which was magically done by Great Tsongkapa and devout believers from all the corner of Tibet walking the Ganden kora. If you have several day to spare, you're highly recommended to try to trek from Ganden to Samye Monastery to explore the beautiful alpine landscape and visit sacred Buddhist temples en route.
After that, we'll head toward to the turquoise Yamdrok Lake, one of the Great Three Holiest Lakes in Tibet. As the largest inland lake in the northern foothills of the Himalayas, Yamdrok Lake covers an area of 675 square kilometers at the altitude of 4,441 meters above sea level. Travel from Ganden Monastery to Yamdrok Lake, you need to climb over Gangbala Pass (5,030 meters), the best spot to capture the breathtaking pictures of Yamdrok Lake. Shinning under the brilliant sunshine, the lake is calm and crystal blue and looks like a sapphire on the Tibetan Plateau. What's more, you can also take memorial photos with the tamed Tibetan Yaks and Mastiffs on the lakeshore. Do please ask their owner's permission before taking action. Usually they'll charge you for Ten yuan for photography.
Lhasa Day Tour - Option 5. Namtso Sightseeing and Enjoy Hot Spring at Yangbajain
Sitting at the altitude of 4,718 meters above the sea level, Namtso Lake is the second largest lake in Tibet as well as the third largest salt water lake in China. It spans 70 km from west to east and 30km from north to south, covering a total area of 1,920 square kilometers. Located at around 220km northwest of Lhasa City, the Heavenly Namtso Lake is one of the three holy lakes of Tibet and also the highest salt lake. On the way to Namtso, you can get a view of snow-covered Nyenchen Thanglha Ranges, grassland dotted with tents and groups of sheep and yaks.
Apart from appreciating Lake Namtso itself, you have more to things to do, like trekking Tashi Byland Kora, walking Namtso Lake Kora with sincere pilgrims, visiting Shengxiangtianmen tourist attraction and Duoqia Temple, etc. By the way, do not forget to prepare your camera for the fascinating sunrise and sunset over Namtso Lake. After that, we'll head to Dumxung to have lunch. In the afternoon, we'll get back to Lhasa City via Yangbajain.
Located in Dumxung County, 90 kilometers northwest of Lhasa, Yangbajing Geothermal Hot Spring covers an area of over 7,000 square kilometers with the temperature maintaining at 47℃. The hot spring water here contains a lot of hydrogen sulfide, which has a therapeutic effect on many chronic diseases. The bathing place is an open-air swimming pool. Since the water temperature is too high, it needs to cool down through two open-air pools before serving tourists. The most beautiful moment come in the morning. When the air is still chilly, Yangbajing geothermal field (the world's highest geothermal power station) is always filled with white mist, seeming like a fairyland on the snow plateau. If you are lucky, you will encounter a spectacular hot water eruption with spring dashing straight into the air.
Covering an area of 29,274 square kilometers, Sunshine Lhasa City has loads of interesting things to do and experience. I just named a few one-day Lhasa trip above. With a history of 1400 years, ancient Lhasa City is home to the world's highest palace, the holiest temples and meditation sites, and the simplest people. Not only rich in cultural and historic sites, but also natural attractions, Lhasa is undoubtedly a wonderful place for tourists to stay for a couple of days. For your better understanding of this historic city, our Tibetan tour guides who were born and grown up in Tibet have designed some unique day tour programs with interesting places and things in Lhasa. Take part in Tibet Vista Private Day Tour Program, You will make your tour in Lhasa the most rewarding experience.
Find us in Lhasa
Located in Gyatso Road(Old district of Lhasa), next to Norbulingka, Tibet Vista's office in Lhasa can be easily spotted by tourists . Since 2008, Tibet Vista has received increasing tourists and the figure has kept growing at a considerable number annually. To provide quality and steady tourism service, Tibet Vista Cooperates with local Tibetans and builds a professional operating team to offer services like: Hotel and train ticket booking, Tour organizing, Tibet tour guide arrangement, Tibet Entry permit application, Emergent Evacuation etc. Our local team currently plays a vital role in Tibet travel industry and the customers we served annually have surpassed 6,000.
Address: Jia Cuo NO3-070 Beijing Xi Lu Lhasa Tibet,China
Tel: 15328001060, 86-891-6810381
Email: Inquiry@tibettravel.org
Contact Person: Lobsang Tsering
Local Tour Company License Number: L-XZ0002-LS01
Recommended Lhasa Tour Itineraries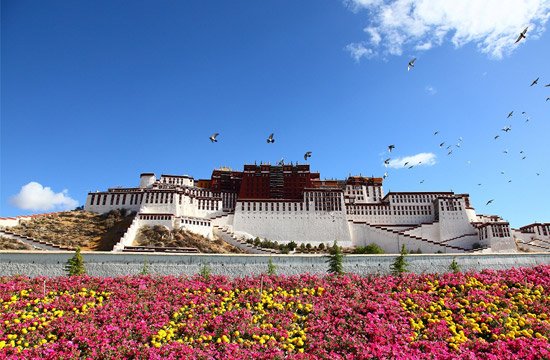 It couldn't be better to tour Lhasa famous tourist attractions when travelling in Tibet. Tibet Vista provides more than 10 Lhasa tour packages including these tourist attractions at the best price.
Popular Lhasa Tour Deals
Lhasa Tour Packages