What to Eat during Your Tibet Trip?
The food and drink in Tibet is very much like the people themselves - unique and with a very distinct character. While some of the food on offer in the region may not be to everyone's liking, it is a good idea to try it while you are there, as there are some very tasty dishes, and the cuisine makes for a very good diet in this high-altitude region. It is also a great way to learn more about Tibetan culture, and there is no better way to get to know someone than by breaking bread with them.
The typical Tibetan diet is mostly down to the remote geographic location of the region; very few things will grow in the almost-permanently frozen ground at such a high altitude. The harsh climate also plays its part, and for crops to survive, they must be very hardy, like the highland barley that is the staple of the Tibetan diet. Religious beliefs and local customs also have a hand in what Tibetans from the different areas of the region will eat and drink, although some things are the same across Tibet.
There are also some things that no one in Tibet eats, such as horse, dog, donkey, and fish. While horse, dog, and donkey are no surprise, fish may come as a shock to some, especially with the huge number of lakes in Tibet. The main reason Tibetans do not eat fish is because it is one of the Eight Auspicious Symbols of Tibetan Buddhism, and it is considered wrong. Many Tibetans also refuse to eat poultry and pork, as the tenets of Buddhism tell that all life is sacred, and for them it is better to take the life of a larger animal, for the meat to last longer, than several small animals and build up more bad karma.
A Typical Day's Meals during Your Tibet Trip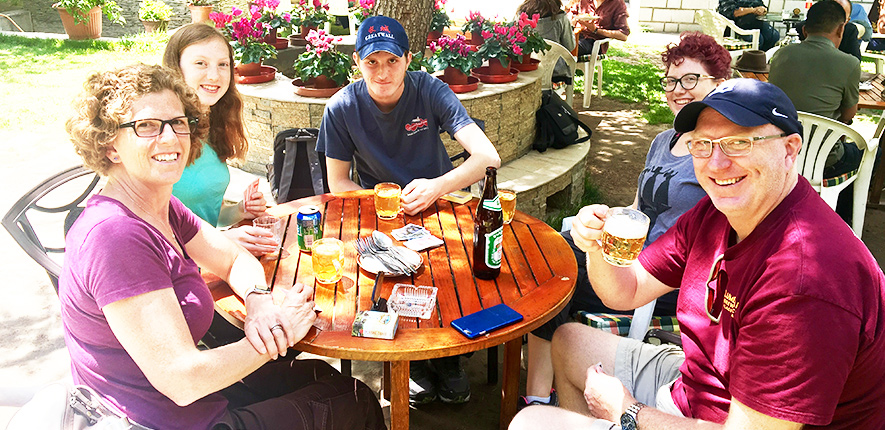 Enjoy the authentic Tibet food in the local restaurant while travelling around Tibet
During your trip to Tibet, some meals will be provided, while others will be paid for at your own expense. You tour normally includes breakfast, which comes with the accommodation you stay in each night as part of your tour package. Lunch and dinner, while not included in the tour package, can be arranged by your tour guide, or he can recommend places to eat that are suitable to your budget and group requirements.
Breakfast
Breakfast in your hotel in Lhasa will normally consist of a western-style meal of pancakes with honey and bananas, yogurt and cereal, or eggs and sausages with bread and tomatoes. They also offer a Chinese-style breakfast, which usually includes steamed dumplings, boiled or scrambled eggs with tomatoes, hot vegetables, and congee (a kind of watery rice pudding that can be sweet or savory). And there is the ever-present Tibetan Tea, although coffee is normally available in the hotels as well.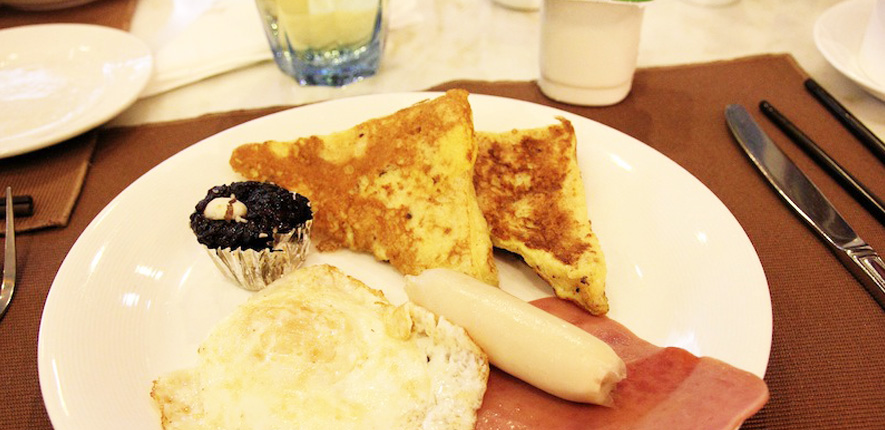 A simple western-style breakfast provided in the hotel
Outside Lhasa, breakfast may be a little simpler, and will often consist of Tibetan noodles cooked with a meat soup, a homemade bread with tea, or tsampa, either with tea or as a porridge. Some of the larger guest houses outside Lhasa also have some Chinese dishes available for breakfast.
Lunch
Lunch is not included in the price of the tour, but your guide can help you to find the best places to eat, that are also good value. Local restaurants are the best option, rather than tourist-oriented restaurants, as the food is tasty and nutritious and is not inflated in price to cater to the foreign tourists. Many restaurants include Chinese, Sichuan, and Indian cuisine, as well as some western-style dishes. While in Lhasa, ask your guide to take you to some local places away from the tourist-traps around Potala Palace and Jokhang Temple, as these will give you better value for money.
Out on the road, you will be hard-pressed to find a restaurant like the ones in Lhasa, although some in Shigatse are of similar style. The best places to eat when out and about in Tibet are the local eateries, and the guest houses, as they will have good value meals that are both nutritious and full of energy. Most towns in the countryside have a few small cafes where you can get a good, hot meal to fight the cold of the climate. It is also useful to carry some snack food with you, such as pot noodles or packet food that just requires hot water, as a precautionary measure in case you are not a big fan of local food.
Dinner
Dinner in Lhasa can be had in your hotel, since almost all offer restaurant facilities. There are also dozens of restaurants that cater to almost every taste, from western and Chinese restaurants to Indian, Nepalese, Sichuan, and other styles. You can also get good pizza, hotdogs, and burgers if you are missing the tastes of home.
Around the region, you can normally find a good place to eat dinner, and it is a good idea to discuss dinner requirements with others in your party, so you can all arrange to eat together in the same place, and get to break bread with your fellow travelers. Your guide can normally recommend a good place to eat at any of the locations where you will spend the night.
Most Recommended Tibetan Food You Should Try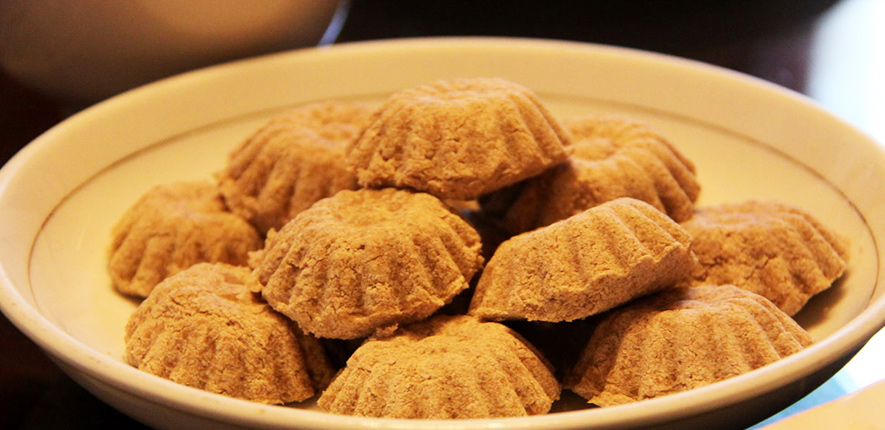 Tsampa is one of the most recommended Tibetan food for travellers
Tsampa
Made from roasted barley, tsampa is the main staple of every Tibetan's diet. Eaten with every meal, and even made and taken on trips as a snack, it is dough made from roasted barley flour that is mixed with some butter tea, and formed into balls before being eaten. While not especially tasty, the mild taste of the tea in the salty dough makes for a simple, yet filling snack.
Beef and Mutton
High-protein meats are essential for keeping out the cold in the high altitudes of Tibet. Beef, or more correctly yak meat, is the most popular meat eaten by Tibetans, and mutton, the meat of an adult sheep, is another main ingredient in their diet. While many boil the meats with salt, spices, and ginger, a few will take the most tender cuts from the freshly killed yak carcass and eat it raw. Strips of dried beef and mutton are also popular in the region, and this local form of jerky or biltong is becoming a popular snack with tourists. While the meat can be a little hard to chew, the salty taste is delicious, and the dried meats are easier to store when you do not have a refrigerator handy, such as in nomadic settlements and on long trips.
Tibetan Noodle (Thenthuk or Thukpa)
Tibetan noodles, also known as thenthuk or thukpa, are normally served with simple vegetables, diced beef, chopped scallions cooked in a pot together. In some of the larger cities, Tibetans will eat noodles with tea for breakfast, and noodle soup with shallots is an enjoyable meal, especially when eaten with tsampa.
Milk Curd and Yogurt
Living on a plateau where the main herds are yak or sheep results in Tibetans eating the produce of those animals in large quantities. Tibetans eat all kinds of dairy products that are also eaten in the west, and maybe a few that are not. Ghee, a form of butter made from milk, is used in much of the Tibetan foods, and they are huge lovers of yogurt and milk curd, the local form of cheese.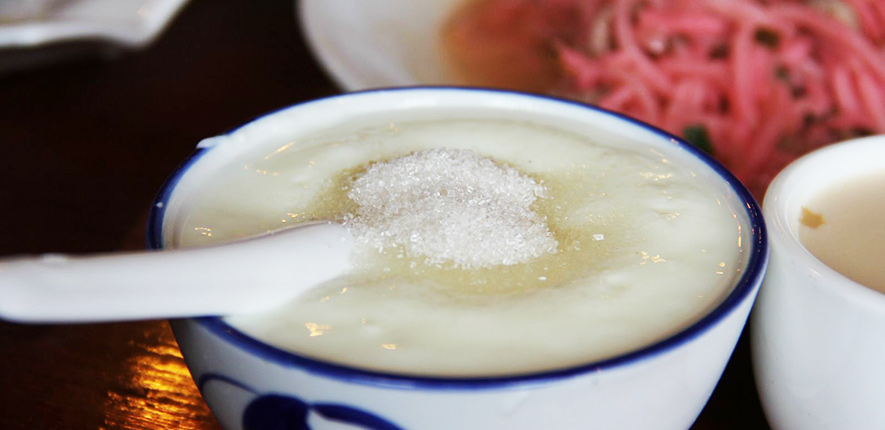 Tibetan yogurt
Milk curd is the sediment from the boiled milk, which has a sour taste and is eaten as a snack or used to make bread. It can also be fried, although it gets hard once cooked, and is often taken when traveling to another place as a staple food.
Tibetan yogurt is a must-eat thing for local people, and is so popular that they even have a Yogurt Festival every year, known as the Shoton Festival, one of the region's most important annual festivities. It has a milder, mellower taste than western yogurt, and is very creamy. Part of the Tibetan diet for over a thousand years, this delicious yogurt will surprise you with its taste.
Tibetan Sausages
With all that beef and mutton, it is no wonder Tibetans make great sausages. There are dozens of types of sausage in Tibet, including meat sausages, blood sausages, liver sausages, white sausages, flour sausages, and lung sausages. Tibetans are very fond of sausages, and the blood sausage and white sausage are the two most popular. These are very similar to the black pudding and hogs pudding (those are both sausages) that are eaten in the United Kingdom.
Momo
Momo are Tibetan dumplings made from either meat or vegetables. Half-moon shaped, they can be steamed or fried, and are normally served with a chili sauce. Momo are eaten all over Tibet, as well as Nepal, India (where they are called "samosa"), Japan (gioza), and many other South Asian countries, often with different names.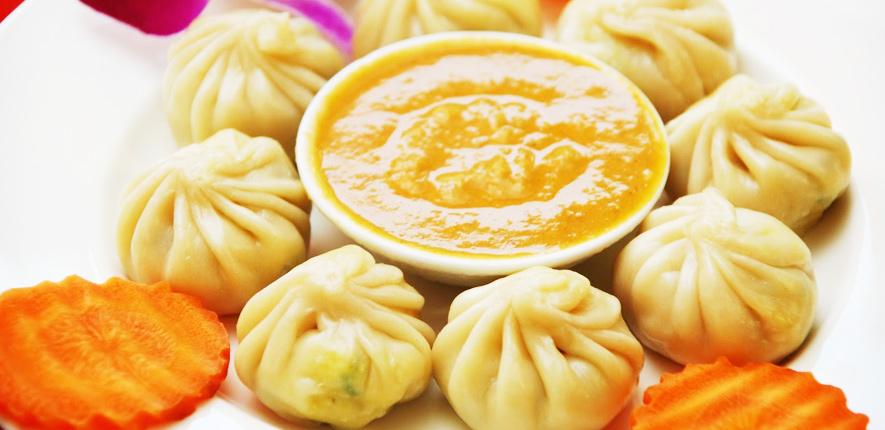 Momo as Tibetan dumplings
These are only some of the foods available throughout Tibet, and as you travel from one area to another, you can find many localized dishes that are very popular, which you should try. For vegetarians traveling to Tibet, there may be a little problem eating many of the local dishes. While Tibetans do try to eat as much vegetable foods as possible, the harsh environment makes it almost impossible for most to grow, meaning they have to be imported, and are expensive. And in the off-peak season, when it is colder, western areas of Tibet may not have any vegetables at all.
Butter Tea
Butter tea is normally served to guests in small bowls instead of cups, and it is the must-drink while you are in Tibet. Tibetans drink tea all day long, and it is another staple of the Tibetan diet. It is simple to make, just by adding strong tea leaves to the boiled water, and then adding ghee and salt. It is drunk to keep people warm in the cold, plateau climate, and is often accompanied by tsampa (made with the tea they are drinking).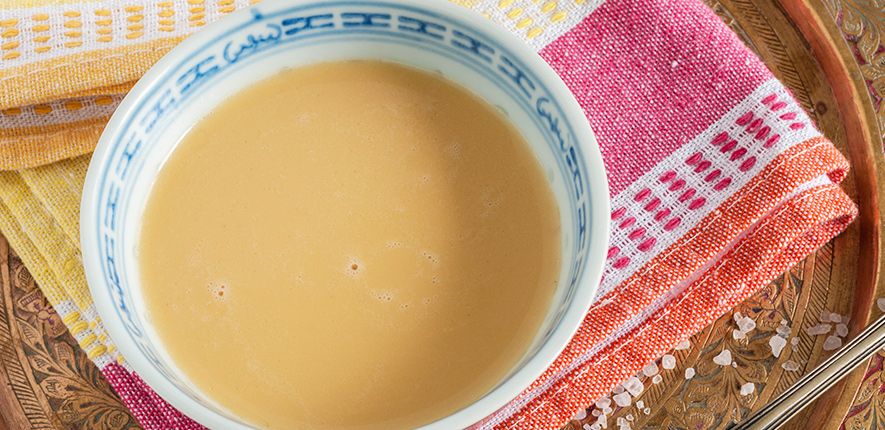 Yak butter tea
The tea is also useful to stop lips getting cracked in the bitingly cold wind, and can help a little with altitude sickness. However, as much as it is drunk everywhere by everyone, all the time, there are some rules to drinking tea in company in Tibet. When drinking tea in a Tibetan home, as you drink down the bowl, the minute you take it away from your lips the host will rush to fill it up. Do not rush to drink it, and chat with your hosts first, before sipping it slowly when the host comes in front of you looking to see if you need a refill. Ideally, to be properly polite to your hosts, you should only finish your tea when you are ready to leave.
One thing that is important about butter tea is that it is not "yak" butter tea, a mistake that is common among tourists. The yak is the male of the species, while the dri is the name given to the female. So, ideally, it should be called "dri" butter tea.
Tibetan Sweet Tea (Tibetan Milk Tea)
Tibetan sweet tea is another popular drink, and some will say that it is the "blood of Lhasa", from which you can see how important tea is in Tibetan lives. Very different from the butter tea, the sweet tea has a more pleasant taste to western tourists, and it is enjoyed a lot by them in Lhasa tea houses. Made by simply boiling brick tea in water with added sugar, strangely it only tastes aas good when it is a Tibetan making it. Add a little milk to taste, and the tea is ready. There are many tea houses in Lhasa, which have become popular haunts for tourists and Tibetans alike.
Tibetan Barley Wine (Chang)
Chang is the local name for Tibetan barley wine, a tasty brew made from fermented barley, and the favorite alcoholic drink of Tibet. A mild wine, with a somewhat sweet-yet-sour taste, it actually contains very little alcohol content. The taste can change from region to region, and brewer to brewer, as methods and durations of brewing differ greatly. After over 400 years of making chang in Tibet, almost every Tibetan can brew their own, and it is a good thing, since it is drunk during Losar (Tibetan New year), as well as all festivals, weddings, baby births, visits from relatives, visits from friends, and just about any other occasion they can think up.
Bars and Nightlife in Lhasa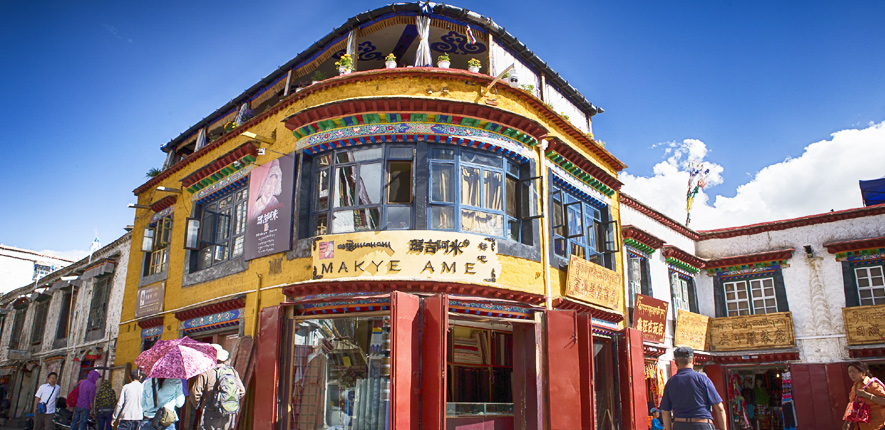 Makye Ame, the most popular in Lhasa
Traditionally, Tibetans would spend their evenings at Tibetan performances, or chatting with friends and visiting the night markets. More recently, it has become popular in Lhasa to adopt a more western approach to nightlife, which has given rise to a multitude of bars, resto-bars, and nightclubs, as well as the more sedate tea houses, cafes, and cinemas. However, they are still not the raucous, rowdy places that one sees in the west, and are more peaceful, with entertainment, food, and good music, as well as plenty of beer and spirits.
Makye Ame is the most popular, and comfortable bar in the city, and is a favorite with tourists. The food is a little pricey, but they have a wide selection, the beer is good, and the entertainment is superb. The bar area is painted in classic Tibetan style, and the furniture is heavy and comfortable. It also has good views of Barkhor Street, and the third floor is an open-air bar.
The Ganglamedo Café and Bar on Barkhor Street with a strong atmosphere and elaborate décor. The bar provides Tibetan, Nepalese, Chinese, and Western cuisine, as well as good beer, well-made coffee, and excellent music. Traditional folk artists give song, dance and opera performances nightly, and you can even view an ethnic Tibetan fashion show if you are lucky.
The Backpacker is one of the most popular bars in Lhasa, located in Beijing Middle Road, and is relatively new. Opened by two guys who fell in love with Lhasa, it has become a great place for tourists to gather and chat. The local beers they sell are tasty, and the food consists of delicious, Tibetan specialty dishes. It is the perfect place to catch up with travelers who are on their way out of Tibet, and find out about the places they visited, and which you are going to.
The Low House Music Bar is another place run by non-locals, and the two owners are originally from Lanzhou. The perfect place to go for any music lover, they have sets featuring traditional Tibetan music, Nepalese music, and Indian music, as well as more modern tunes to relax to.
While there are plenty of bars to visit in Lhasa, it is not a good idea to drink alcohol if you are not fully acclimatized, so beer should be avoided, at least on the first night in Lhasa. And even after that, in moderation. Alcohol and altitude do not normally mix well.
Now:

Got some basic ideas when to visit Tibet. Still need our pro advice? No worries!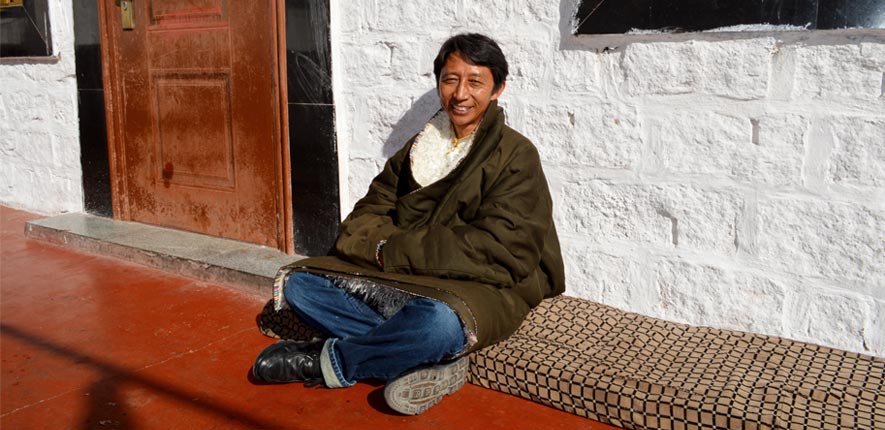 Probably, you are still planning your Tibet tour and yet decide any specific itinerary.
Only when you travel to the right place at the right time can you experience the best of Tibet. Why not?
Our travel consultants are readily available and will work with you to customize your Tibet tour.We have over 10-year experience running customized Tibet tour. Weather you choose our service or not, the consultancy is For Free.
One More Thing - Tibet Vista gives incentive policy to anyone who successfully gets other tourists to join a small tour group. The organizer gets a discount for his or her payment, or wins a free tour!
If you have some special interests or preferences, hopefully you will find the following travel guide useful.