Traveling to Tibet is the journey of a lifetime for many travelers. The chance to escape an overcrowded metropolis, and get away into the freedom of open spaces and experience the culture of a new place.
For Singaporean tourists, it's very easy and convenient to get to Tibet via Chengdu, Chongqing, Guangzhou, Beijing, Shanghai, Xian and more cities of mailand China. And a huge number of Singaporean tourists make the trip every year to learn about the culture and take in the spectacular scenery. And there are a lot of benefits to Singaporean travelers that other countries cannot avail of, such as the visa-free entry to China for short periods. This makes it even easier to take that once-in-a-lifetime trip to the land at the roof of the world.
Singaporean tourists just need to apply for a Tibet travel permit as well as an organized Tibet tour to make the lifetime dream come true.
Tibet Travel Permit Application for Singaporean Tourists
Singaporean citizens are entitled to enter China without a visa for a maximum period of 15 days. For visits longer than 15 days, obtaining a visa from the Chinese Embassy in Singapore is required, in order to obtain the Tibet Travel permit. Please tell us your Tibet travel plan, and we'll guarantee you a Tibet travel permit.
Most Popular Tibet Tour from Singapore
Entering Tibet from different cities brings utterly different experience. For Singaporean tourists, we handpick top five most popular gateway cities to Tibet from Singapore, i.e. Beijing, Chengdu, Chongqing, Guangzhou, Kathmandu. If you prefer to visit Tibet from Shanghai, Xian, etc., we'd like to hear your ideas and help you customize Singapore Tibet tour.
How to Get to Tibet from Singapore? Multiple ways to travel from Singapore to Tibet.
There are several ways to get to Tibet from Singapore, and the choice is up to you. While flying is the quickest way - it can take between four and a half and six hours, depending on the connections and destination - it is not as good for getting used to the increased altitude, and visitors can be more susceptible to altitude sickness. The Tibet trains are a very popular way to travel from China to Tibet (TAR), as they afford you amazing views of the landscape from the train as it passes along the world's highest railroad, the Qinghai-Tibet Railway. You will also pass through the world's highest tunnel through permafrost, and across the world's highest rail pass and railway station. It is not known as "The Roof of the World" for nothing.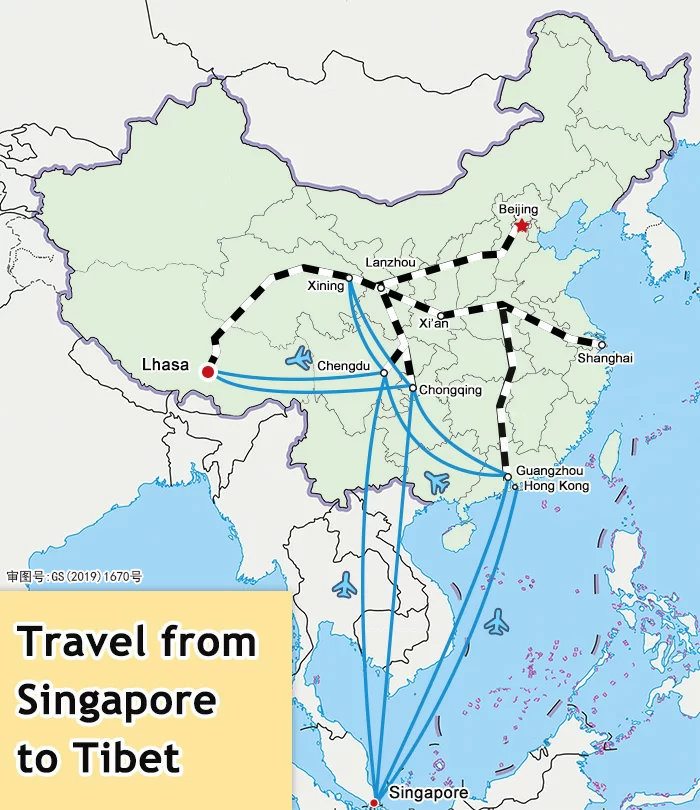 Singapore to Lhasa via Chengdu
Flights from Singapore's famous Changi Airport to Chengdu in China run several times a day, and cost around US$850 for a direct flight. Connections can be made through Hong Kong, which can reduce the cost of the flight to under US$500. The trains from Chengdu cost ¥668 for a hard sleeper berth and ¥1,062 for a soft sleeper berth.
The main difference between the two is that the hard sleeper has no door and sleeps six people, while the soft sleeper only sleeps four, and it has a door that can be locked to make it more secure. However, even though the crime rate on the train is very low - there are police officers on all trains to Tibet - it is advisable to keep valuable items on your person, rather than in your bag in the cabin. The trip from Chengdu takes around 44 hours, and the train covers over 3,360 kilometers.
Singapore to Lhasa via Beijing/Shanghai
Flying from Singapore to either Shanghai or Beijing takes around six hours, and costs approximately US$1,500. Both are major cities for getting the trains to Lhasa, which also follow the Qinghai-Tibet Railway for the last part of the journey after Xining, in Qinghai Province. Beijing-Lhasa trains take around 41 hours, and cost ¥720 for hard sleeper berths and ¥1,144 for soft sleepers. Shanghai-Lhasa trains cost ¥794 for hard sleeper and ¥1,263 for soft sleepers, and the trip is much longer at almost 48 hours.
For visitors coming from this side of China, the scenery going through the country is something to see, although there is still nothing to match the amazingly spectacular landscape of the Qinghai-Tibet Railway route. Whatever your preference for traveling to China, the train journey to Lhasa, and the experience of traveling on the world's highest railroad, is definitely worth the extra time.
Singapore to Lhasa via Kathmandu
For visitors flying to Nepal and then connecting to Lhasa, flights leave Changi Airport regularly and it is around a 5 hour flight. It is a little more expensive than Chengdu, at around US$1,100 per person. The flight from Kathmandu to Lhasa takes a little over an hour, and can cost around US$280 per person. However, one benefit of flying to Tibet from Nepal is the great aerial views of Mt. Everest as you pass over it, and it is advisable to choose your seats on the left side of the plane to enjoy the summit of Mt. Everest.
Quick Inquiry
We'll get back to you within 24 hours.
If you are planning to enjoy a trip to Tibet from Singapore, yet have no ideas of how to sort it out the details, no worries! We would like to hear your tour plan and offer free professional consultancy and viable solutions. Please feel free to contact us.