Shanghai is the most populous urban area and traditionally the most developed international metropolis of China. Many travelers prefer it as the top choice to enter into China thanks to the various international flights it provides. What's more, situated in Yangtze River Delta, Shanghai is also one of the most convenient transport hubs that offer flights and direct train to Tibet.
The air travel distance between Shanghai and Tibet is about 2,944 kilometers and takes about 6-7 hours for a flight, while the railway distance is around 4,373 kilometers and takes almost 48 hours to arrive at Lhasa West Railway Station. If you hope to arrive at Tibet earlier, you can fly from Shanghai to Xi'an or Xining and board the Qinghai-Tibet Railway there.
Besides offices in Chengdu, Lhasa and Kathmandu, we also have reliable cooperation partner in Shanghai, which enables us to arrange flexible Shanghai Tibet Nepal tours and offer you a panorama of these fabulous destinations without worrying about permits, tickets, routes, visas, and hotels.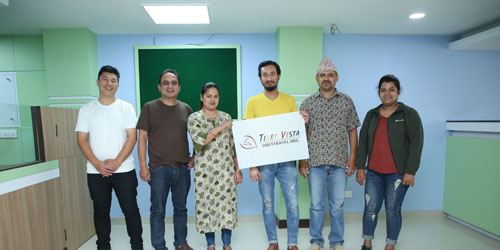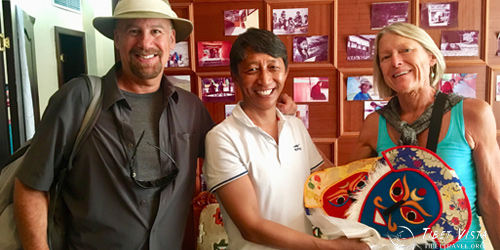 What Makes Us Different?
Well-established travel agency with offices in Chengdu, Lhasa and Kathmandu; Never use third party contractor
One-stop service with reliable booking for Tibet train, flight, travel documents in Tibet, Nepal
Life-saving gears for EBC travel, such as oxygen supply device, first-aid kit, etc.
Designated customer service manager, 24/7 call service
Friendly and seasoned travel guides in Shanghai, Tibet and Nepal
Professional team's support and trusty networking inside the industry
Most Common Questions about Shanghai Tibet Nepal Tour
1. What documents do I need if I join the Shanghai Tibet Nepal tour? How can I get those documents?
The basic documents you need is your passport, China Visa, Tibet Travel Permit and Nepal Visa.
Firstly you need to apply for China Visa yourself in your country, then email us the copy of your passport and China Visa. Then our travel expert will help you get the Tibet Travel Permit and related Alien's Travel Permit and Military Permit according to your destinations in Tibet. Since international travelers can only apply for the Tibet Travel Permit through a travel agency instead of by themselves, just feel free to contact us for a 100% guaranteed Tibet Travel Permit. Finally, when exiting Tibet to Nepal via Gyirong Port, you can apply for Nepal Visa at the custom.
2. Is there any direct flight from Shanghai to Lhasa?
The air distance between Shanghai and Lhasa is 2,944 kilometers and there is no direct flight from Shanghai to Lhasa. You must have a stopover or exchange of a flight during the whole trip. The only daily flight to Lhasa is China Eastern Airline MU2335 departing at 6:45 a.m. from Pudong International Airport Terminal 1, it will have a stopover at Xi'an Airport and arrive at Lhasa at 2:40 p.m. the same day. Other companies like China Air, Sichuan Airlines, Tibet Airlines offer connecting flights to Lhasa with a stopover in Chongqing, Kunming, Chengdu, etc according to their schedule. It usually takes 8 - 10 hours to reach Lhasa, and we can book the flight tickets for you.
3. How to get to Lhasa from Shanghai by train?
Shanghai is one of the four cities offering direct train to Tibet. Z164 departs every day at 20:10 from Shanghai Railway Station and arrives at Lhasa Railway Station at 19:44 on the third day, taking 47:34 hours to cross eight provinces in mainland China.
4. Flights from Lhasa to Kathmandu
You can take a direct flight from Lhasa Kongga International Airport (LXA Airport) to Tribhuvan International Airport (KTM Airport) every day. The direct flights are MU8720 - Sichuan Airline departing every Monday, Wednesday, Friday and Sunday, and CA408 - Air China departing every Tuesday, Thursday and Saturday. There are also connecting flights operated by other companies with a stopover in Chongqing, Kunming or Chengdu.
5. The ultimate guide about Lhasa to Kathmandu overland tour
The Lhasa to Kathmandu overland tour via the China-Nepal Friendship Highway is one of the most epic overland tours recommended by tourists all over the world. Besides presenting the spectacular high plateau landscape scenery along the way, it also brings you up close to the Himalayas and its unique cultures. Our ultimate guide about Lhasa to Kathmandu overland tour will give you the most detailed guide from tour itinerary to the documents, best traveling season and packing list.
6. How to deal with high altitude sickness in Tibet?
High altitude sickness is a group of symptoms that strike if you reach a higher altitude too quickly. The symptoms include headache, dizziness, nausea, vomiting, fatigue, and loss of energy, shortness of breath, loss of appetite, and usually can be felt within 12 to 24 hours after reaching a higher elevation and then get better within a day or two as your body adjusts to the change in altitude.
There is no need to worry too much about altitude sickness. Upon your arrival in Lhasa, don't do strenuous exercises nor walk too quickly. Slow down your pace, take a good rest, drink a lot of water and eat some fruit, all these are helpful to reduce the possibility of altitude sickness. We also suggest you not to take a shower in the first three days to avoid catching a cold.
We have prepared the oxygen cylinder for travelers, and our professional Tibetan tour guide and customer service manager in Lhasa office will be very helpful whenever you resort to them.
Quick Inquiry
We'll get back to you within 24 hours.
Travel Tibet and Nepal from Other Cities of China
If you are planning to enjoy a trip from Shanghai to Tibet and Nepal, yet have no ideas of how to sort it out the details, no worries! We would like to hear your tour plan and offer free professional consultancy and viable solutions. Please feel free to contact us.