Exploring the stunning birthplace of Buddha and taking a trip to the Land of the Thunder Dragon, where the Dragon King rules supreme, there is no better trip to combine the two major landlocked Himalayan Kingdoms of Nepal and Bhutan. The last two remaining countries in the Himalayas where a king still rules over his people, this amazing experience is second to none.
Starting in the beautiful Kathmandu Valley, and the amazing temples and monasteries of the area, as well as the busy and chaotic center of the most exotic city in Asia, this trip gives you an awesome experience of the true Nepalese people and culture. Visit some of the most sacred sites in Nepal, and experience the unique Buddhist-influenced Hindu religion of one of the world's top mountain destinations.
Across the Indian State of Sikkim lies the last true Shangri-La in the mighty Himalayas, the Kingdom of the Dragon King, Bhutan. Known as the Land of the Thunder dragon, this ancient and formerly isolated kingdom offers up a completely different experience of a truly Buddhist nation. With a policy of Gross National happiness, vast tracts of this beautiful country are protected, giving you the perfect unspoiled wilderness of high mountains, crystal-clear lakes, and beautiful valleys. And with the peaceful atmosphere of the style of living, there is no better way to end this tour.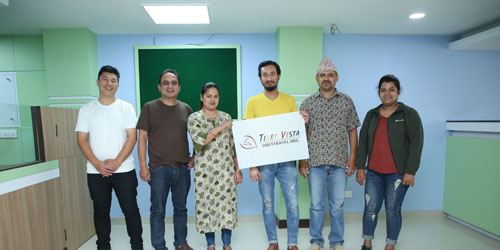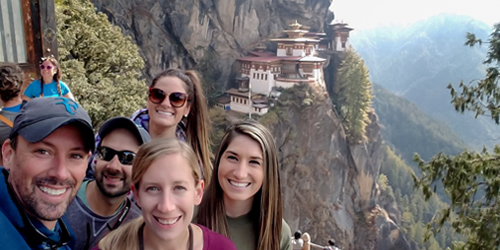 What Makes Us Different?
Several years experience of organizing tours to Nepal and Bhutan, with thousands of reviews from satisfied clients from all around the world.
Professional and friendly tour advisors who will help you to decide where you want to go and what you want to do, and will help you with every step of the booking process.
Easily customizable tours for private travel and a plethora of group tours for those tourists traveling through Asia on a budget.
Competent and professional local guides that know the history of their country and can give you all the information you need, as well as being able to cater to all of your travel needs on site.
Inclusive visa applications and permit processing to make your planning and execution as simple and hassle free as possible.
Modern and safe tour vehicles, from SUVs for larger groups to 4WD vehicles for smaller groups, which come with expert local drivers who know the roads in their areas.
Most Frequently Asked Questions about Nepal Bhutan Tour
1. When is the best time to visit Nepal and Bhutan?
Both Nepal and Bhutan have similar climates, with distinct wet and dry seasons, which occur at roughly the same time. Spring and autumn, from March to May and September to November, are the best times to visit these two Himalayan kingdoms, though it is possible to travel there at any time of the year, depending on what you want to do and where.
Winter is a time when it gets colder and snowy in the mountainous regions of Nepal and Bhutan. While high-altitude treks are often out at this time, there are plenty of places to visit and treks to do in the lower areas of the countries, where the winter is mild and the weather is still warm. The summer months are the monsoon season, and the time when most of the rain falls across the countries. However, there are areas in both Nepal and Bhutan where there is little to no rain, even in the middle of the monsoon, and it is still possible to trek or travel in these areas.
2. What travel documents are needed for Nepal Bhutan tour? And how to get them?
For Nepal, the travel documents required are simple. Since there are no requirements for tourism in Nepal, unlike in Bhutan, all travelers need is a valid passport and a visa. Visas can be applied for in advance, or you can wait until you get to the airport, and apply for the Visa on Arrival, which is available for the citizens of most countries. The visa application is done online or at a kiosk at the airport, and once you have paid the fee your visa will be issued within around an hour from handing your documents to the immigration desk.
For Bhutan, while there is a requirement to have a pre-booked tour, arranging it all is very simple. Once you have booked the tour, after deciding where to go in Bhutan, the tour operator does almost everything else for you, including applying for the visa. After providing a scan of your passport, we will make the application on your behalf, as well as arranging all the permits you will need for your tour. The visa approval letter will be sent for you to be able to book your flight to the kingdom, and your visa and permits will be issued once you arrive in Bhutan's Paro International Airport. Your tour guide and driver, who are a requirement, will meet you at the airport, and take you where your itinerary states in a private vehicle.
3. Can I travel independently in Bhutan and Nepal?
Traveling independently is allowed in Nepal, and there are no restrictions on where you can go in the country, with the exception of the trekking trails, which do require you to have a permit, but not to have a guide if you do not want one. Travel in Nepal is easy and you are free to roam anywhere in the country. However, in Bhutan, there are more severe restrictions due to the country's policy of environmental tourism. All tourists to Bhutan must be on a pre-booked tour with a private vehicle, driver, and guide, and even when trekking, you will have a guide and support team at all times. This is done to protect the environment of the kingdom from the harm that tourism often causes, and maintaining their unique experience for others.
4. Can I afford the cost of Bhutan Nepal tour?
Bhutan tours may seem expensive, but when you look at what is included in the US$ 250 or US$ 200 per day Minimum Daily Package, the cost of the trip is more than worth it. The tour cost includes your accommodation, meals, driver, guide, private vehicle, etc, which means you only have to pay the small fee for the visa and your flight to Bhutan. Your only other expenses in the kingdom are for personal items such as gifts, souvenirs, and tips, and for things like alcoholic drinks, etc.
5. How can I travel between Bhutan and Nepal?
The Tribhuvan International Airport in Nepal's capital of Kathmandu is one of the nine airports in five countries that have regular flights to Bhutan. This makes getting to Bhutan from Nepal very easy. Flights leave Nepal daily in the peak season, often with additional flights laid on when it is very busy, and at a cost of just US$ 230 per person for the flight, it is not too expensive. The flights take around 1 hour 15 minutes, and arrive in Paro in the late morning.
6. What are the must-see sites in Bhutan and Nepal?
In Nepal, there are thousands of things to see and do, but the top sites to visit have to be those in the Kathmandu Valley. Boudhanath Stupa in the Kathmandu Valley is one of the best places to see, and is the largest stupa in Nepal, built in the 14th century close to the ancient trade routes from Tibet. Known as the Monkey Temple, the Swayambhunath Temple is one of the most stunning landmarks in Kathmandu, and is topped by an imposing stupa with fascinating Buddha eyes and a gilded spire. In Bhutan, the best place to visit is the site of the beginnings of Buddhism, at the Tiger's Nest Monastery. Known as the Taktsang Monastery, this unique Goemba lies halfway up the cliff overlooking the Paro Valley, and was the site where Padmasambhava came to Bhutan, flying on the back of a giant tiger. Punakha Dzong is one of the most beautiful monasteries in Bhutan, and the stunning white walls are offset by the lilac Jacaranda trees that surround the temple.
7. What outdoor activities can we do in Nepal Bhutan trip?
Both Nepal and Bhutan are well known for their trekking trails, and for those with an interest in trekking at high altitudes, there is nowhere better to travel to. In Bhutan, you could also take a trip to visit the famous takin, the local version of the moose and the national symbol, which is a rare species that is only found in this one country in the world. Nepal, on the other hand, is also one of the top destinations in the world for adventure sports. From white-water rafting and bungee jumping to kayaking the many rivers and ice-climbing in the mountains, there are more than enough things to keep even the most hardened adrenaline junkie happy for years.
8. How about the foods and drinks in both Himalayan countries?
Cuisine in the Himalayas is pretty unique, and in Nepal, while influenced by both India and China, the food has a very distinct local flavor. The most popular dishes include: dal bhat is the national dish, and consists of a lentil soup with rice, and a host of side dishes, such as pickles, curry, meats, yogurt, and fish. Or you can try the famous momos, the local version of steamed dumplings, which come mostly filled with vegetables, but have meat varieties.
In Bhutan, the food is very unique, and the local dishes are renowned for being spicy. Chilies feature in many dishes, and cheese is another favorite ingredient. Ema Datshi is a popular dish made from chilies and cheese, and is a stew that can often be too spicy for most. Alternatively, the local version of spicy chicken, Jasha Maroo, is akin to an Indian curry, with more spice than you would think just to see it. Bhutan is also famous for its red rice, which is the main staple of all Bhutanese cuisine.
9. What kind of hotels can I expect in Nepal and Bhutan?
Nepal has a wide range of accommodation for you to stay in, from the cheapest backpacker hostels that can cost as little as 2 dollars per night, to 4-star hotels that can be as much as 150 dollars per night. This means that you have a wide range of places to stay that can always match your budget. Bhutan, however, is very different. Tourists are required to stay in hotels with a minimum rating of three stars, which is part of the inclusive package. There are also four and five star hotels in Bhutan, and for an additional cost, you can stay in those if you wish.
10. Where shall I go after touring Bhutan and Nepal?
If you are done with touring around Nepal and Bhutan, there is no place better than visit Tibet, the roof of the world and third pole of the earth. Lying on its own high-altitude plateau, the highest plateau in the world, Tibet is a unique destination that has one of the most spectacular landscapes in the world. It is also the home of Tibetan Buddhism, which is also the national religion in Bhutan, and is found in many parts of Nepal. While Buddhism was not born in Tibet, it has found its natural home there, and Tibetan Buddhists are like no other on the planet, incorporating their devout religion into every aspect of their culture and daily lives. And with Tibet being the neighbor to both Bhutan and Nepal, on the other side of the Himalayas, there is no better place to travel to to continue your Asian tour.
More articles giving you more information of Nepal Bhutan Tour in different perspectives:
Quick Inquiry
Scan the QR code to get 1-on-1 consultation with our travel expert on Wechat.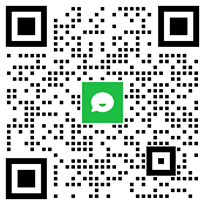 Or, leave your message below to get quick reply via email.
If you are planning to enjoy a trip to Nepal and Bhutan, yet have no ideas of how to sort it out the details, no worries! We would like to hear your tour plan and offer free professional consultancy and viable solutions. Please feel free to contact us.