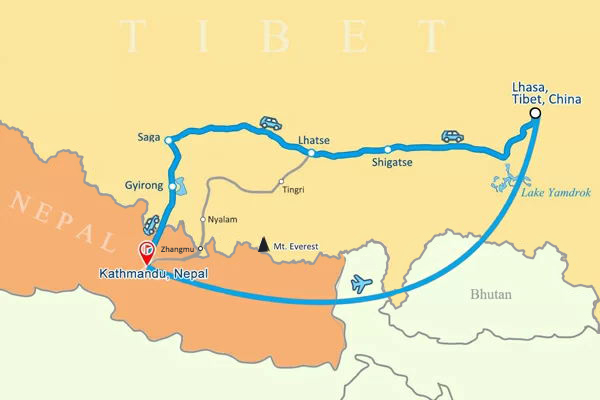 Flight from Kathmandu to Lhasa
The only international air route to Tibet, the Kathmandu to Lhasa flight takes about 1 hour and 25 minutes, with daily departures. It is operated by Sichuan Airlines and Air China, departing from Tribhuvan International Airport in Kathmandu and arriving at Lhasa Gonggar Airport. Besides, there are connecting flights with layovers in Chengdu or Kunming for those seeking alternative schedules.
Overland from Kathmandu to Lhasa
This world-class road trip spans roughly 1300 kilometers along the Sino-Nepal Friendship Highway, typically taking around 8 days. It allows for a gradual ascent from lowlands of Kathmandu Valley to the breathtaking heights of the Qinghai-Tibet Plateau. Along the way, you'll have the opportunity to witness the awe-inspiring beauty of Mount Everest and visit other enchanting Tibetan cities, including Shigatse, Gyantse, and Lhasa.