Ultimate Guide about How to Get to Tibet from Nepal and Mainland China
Located on the roof of the world, Tibet seems to be unreachable and mysterious for many tourists from afar. However, nowadays, it is extremely easy to visit Tibet from your country. Currently, you can get two easy access to Tibet, i.e. one is from its neighboring country Nepal and the other is from different gateway cities across mainland China. Please follow our local expert's advice for details.
How to Get to Tibet from Kathmandu, Nepal
Due to the proximity to Kathmandu, Nepal, Tibet Nepal Tour has long been a world-class tour route across the majestic Himalayas in Asia. Nepal is undoubtedly also the closest overland gateway for Nepali citizens and other international tourists to reach Tibet.
Key to Remember:
- To visit Tibet from Nepal, firstly you need to get China Group Visa and Tibet Permit via a guided tour with a local Tibet travel agency like us.
- Distance from Nepal to Tibet: the linear distance from Lhasa (3,658m) to Kathmandu (1,400m) is 609km, making Nepal the closest gateway to Tibet.
- Currently, only traveling overland and taking a flight is available for traveling between Nepal and Tibet.
- The classic Kathmandu to Lhasa overland tour takes 8 days, covering around 1,300km via Kyirong (or Gyirong) Border.
- Right now, traveling by train from Kathmandu to Lhasa is yet available.
Nepal to Tibet by Road
Travelling from Nepal to Tibet by car or tour bus via the Kyirong (Gyirong) border, the current Sino-Nepal border, is the easiest and most thrilling way for Nepalis and other international tourists to reach Lhasa, Tibet.
Kathmandu to Lhasa Overland Route(8 days, over 1300km):
Kathmandu(1400m) - 137km - Syabrubesi(1800m) - 40km - Kyirong(2700m) - 342km - EBC(5200m) - 138km - Tingri(4348m) - 280km - Shigatse(4000m) - 95km - Gyantse(3977m) - 280km - Lhasa (3658m)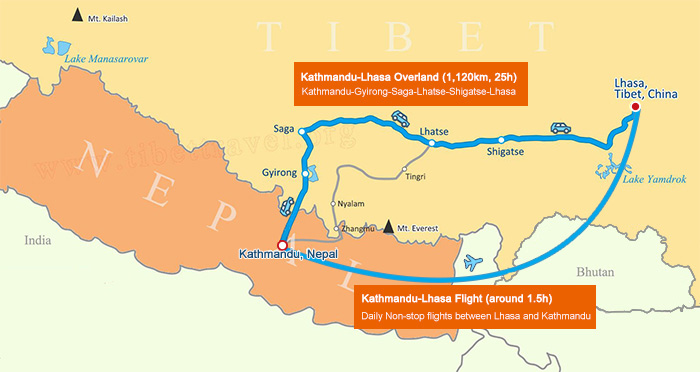 Lhasa Kathamandu Road Map via Gyirong Port
The road trip is spectacular because there are a great number of tourist attractions worth visiting on the way. And one of the biggest highlights is the visit of Everest Base Camp on Tibet's side, which is a must-visit site along the way. To the road trip lovers, you will be closely admiring the epic vista of Mt. Everest at its foothills and later enjoy the mind-blowing panorama of the mighty Himalayas, where the top 4 highest peaks (Mt. Makalu, Mt. Everest, Mt. Lhotse, Mt. Cho Oyu) on our planet can be seen.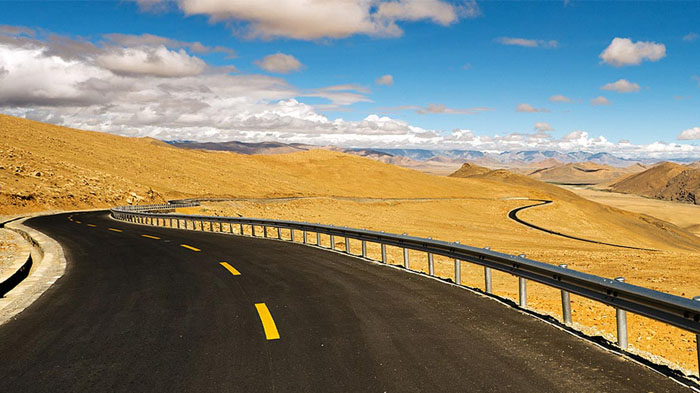 Travling from Lhasa to Kathamandu by overland is one of the most popular way among international friends.
Meanwhile, both as a crucial business and religious road connecting Nepal and Tibet, Kathmandu to Lhasa overland journey gives you a chance to meet the innocent local Tibetans and discover mysterious Buddhist traditions, while traveling past amazing alpine lakes and lofty peaks.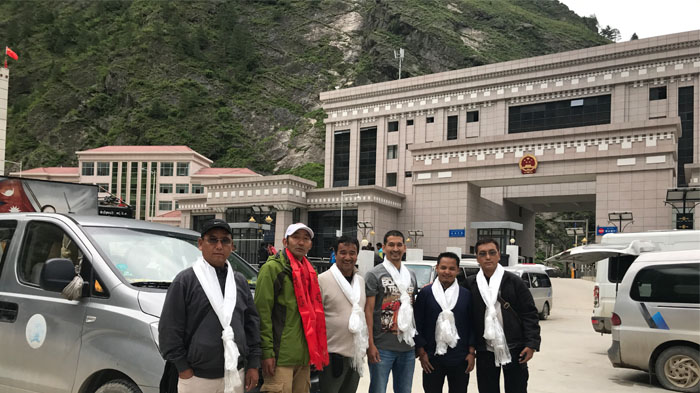 Our guide will meet you at Gyirong Border
Proudly being the only local Tibet travel agency, with offices in Kathmandu, Lhasa, and Chengdu, we are pleased to offer you a one-stop service for the entire Kathmandu to Lhasa overland tour. After you land in Kathmandu, our Nepali staff can help you get China Group Visa, which takes at least 3 business days and arrange the reliable jeep transfer service for crossing the Kyirong border directly to your hotel Kyirong County.
While our local Tibetan guide and friendly driver and clean and comfortable tour vehicle will be expecting you on Tibet's side. So, throughout your journey, you can enjoy a mesmerizing and seamless tour experience. Besides, our tour itinerary is expertly crafted, which guarantees steady and proper acclimatization to the altitude ascent. And oxygen supply, considerate travel kits, and designated customer service manager and flexible choice for hotels and food, and systematic tour management, etc. would bring you a once-in-a-lifetime adventure.
Recommended Lhasa to Kathmandu Tours
Nepal to Tibet by Air
If you have a limited holiday or are not really into the challenging overland journey, flying from Kathmandu to Lhasa could be a great choice. In fact, the only international flight to Tibet is from Kathmandu, Nepal.
So far, there are 2 direct flights between Lhasa and Kathmandu, run by Sichuan Airline and Air China respectively, while Sichuan Airlines departs every odd date and Air China flies on every even date. And there are 8 flights per week and please feel free to reach our seasoned travel consultants for professional suggestions and flight booking.

Sichuan Airline: Kathmandu and Lhasa Flight Schedule

| | | | | | |
| --- | --- | --- | --- | --- | --- |
| Flight | Airlines | Dep. | Arr. | Type | Schedule |
| Kathmandu-Lhasa 3U8720 | Sichuan Airline | 11:30 | 15:05 | 319 | Mon, Wed, Fri, Sun |
| Lhasa-Kathmandu 3U8719 | Sichuan Airline | 10:55 | 10:30 | 319 | Mon, Wed, Fri, Sun |

Air China: Kathmandu and Lhasa and Flight Schedule
| | | | | | |
| --- | --- | --- | --- | --- | --- |
| Flight | Airlines | Dep. | Arr. | Type | Schedule |
| Kathmandu-Lhasa CA408 | Air China | 12:10 | 16:00 | 319 | Tue, Thu, Sat |
| Lhasa-Kathmandu CA407 | Air China | 11:55 | 11:10 | 319 | Tue, Thu, Sat |
Insider Tips:
As Lhasa is 2h15min ahead of Kathmandu, please do double check your flight schedule to avoid missing your flight. Besides, the bonus of Nepal to Tibet flight is that you can enjoy the stunning bird's-eye view of the summit of Mt. Everest (8844.43m) and incredible Himalayan Range. Just pick the window seats on the left side of the plane.
Since there will be a huge ascent from Kathmandu Valley (1,400m) to Lhasa (3,658m), it's advisable to have a good rest in the first couple of days in Lhasa to acclimatize to subtle altitude change.
Nepal to Tibet by Train
In fact, so far there is no railway connecting Lhasa and Kathmandu at present. But a railway between Lhasa and Kathmandu is being designed by both the Chinese and the Nepalese governments. It is said that the famous Qinghai-Tibet Railway will be extended from Lhasa to Kathmandu.
Currently, the first extension of the Qinghai-Tibet Railway from Shigatse to Kyirong border is under construction. In the near future, it is possible to take a train from Beijing to Lhasa and then continue to head to Kathmandu or from other big cities of mainland China to the capital of Nepal.
China Group Visa and Tibet Permit for Tibet Entry from Nepal
- All international tourists have to get China Group Visa and Tibet Permit for entering Tibet from Nepal.
- The first and foremost thing is to get a Tibet Travel Permit.
- Firstly, you need to confirm the itinerary and tour services with us and later mail the scanned copy of your passport to us in Lhasa.
- Then, we will help you get the Tibet Travel Permit (8-9 business days; kept by your Tibetan guide) and China Group Visa invitation letter issued by Tibet Tourism Bureau to the Chinese Embassy in Kathmandu.
- Next, you fly to Kathmandu and leave at least 3 working days for the processing of China Group Visa.
- As you are in Kathmandu, contact the local office of Tibet Vista in Kathmandu, and leave your passport to them. Then, pay for the Chinese visa application and visa service. (Tibet Vista Kathmandu: Shiviji Niwash Kusumbiyalachi Marg Thaihiti Kathmandu 44600 Nepal)
- Our Nepali staff will deliver the issued Group Visa to your hotel in Kathmandu.
*For details please feel free to contact our Tibet travel consultants.
How to Get to Tibet from Mainland China
In addition to Kathmandu, mainland Chinese cities like Beijing, Shanghai, Chengdu, Guangzhou, Xining, etc. also offer easy access to Lhasa. You can get to Tibet from different gateway cities via Tibet train, Tibet flights or overland driving.
| | | | |
| --- | --- | --- | --- |
| Gateway Cities | Tibet Train | Tibet Flight | Tibet Overland |
| Beijing | √ | √ | N/A |
| Shanghai | √ | √ | N/A |
| Guangzhou | √ | √ | N/A |
| Chengdu | √ | √ | N/A |
| Chongqing | √ | √ | N/A |
| Lanzhou | √ | √ | N/A |
| Xining | √ | √ | √ |
| Xi'an | √ | √ | N/A |
| Kunming | N/A | √ | N/A |
| Kathmandu,Nepal | N/A | √ | √ |
There are hundreds of flights to Tibet, including flights to Lhasa, Shigatse, and Nyingchi every day, five direct Tibet trains carrying tourists over Qinghai-Tibet Railway, and five Tibet highways leading to Lhasa from different directions.
Key to Remember:
- To visit Tibet from mainland China, you need to get Tibet Travel Permit first.
- You can only visit Tibet via a guided tour with a local Tibet travel agency like us.
- Beijing, Shanghai, Chengdu, Guangzhou, Xi'an, Xining are the most popular gateway cities to enter Tibet.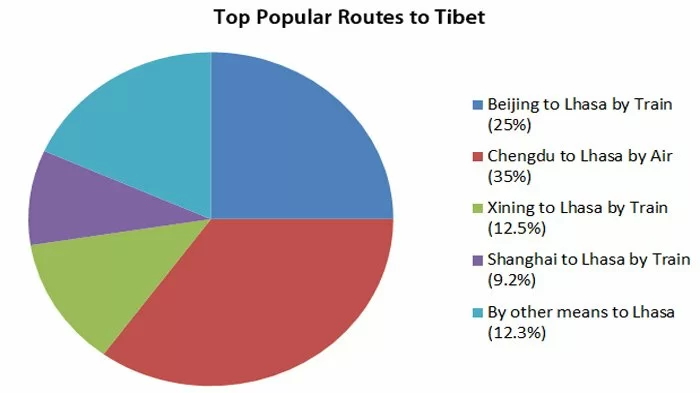 Popular travelers' choice for Tibet entry, from our statistics over the years
- Traveling by Tibet train to Lhasa is believed to be the best way to reach Tibet, for its cost-effectiveness, great window view, and punctuality and gradual ascent to Tibetan Plateau. Golmud-Lhasa train journey has the highlighted view.
- It's fairly easy to fly to Tibet domestically. You can take a direct flight from Beijing, Shanghai, Chengdu, Chongqing, Xining, Guangzhou, Diqing, Xi'an, Chamdo, Kunming, HK to Lhasa. Winter brings the best flight discount.
- Traveling overland from Chengdu to Lhasa via G318 Hwy is the best overland tour to Tibet in mainland China.
- We offer reliable Tibet train/flight ticket booking and expert overland tour service. Please keep on reading for more detailed expert advice.
Get to Tibet by Train
"The cheapest and one of the most rewarding ways to Tibet is by train."
Qinghai-Tibet Railway that is reputed as an engineering miracle by Forbes has attracted over 10 million tourists since this railway went into operation on July 1, 2006. And going to Tibet by train via the world's highest railway is also the most popular way for Tibet train journey itself is a wonderful trip full of countless scenic wonders, such as snow-capped mountains, boundless grassland, beautiful lakes, a flock of sheep, various wildlife, vast gobi and desert.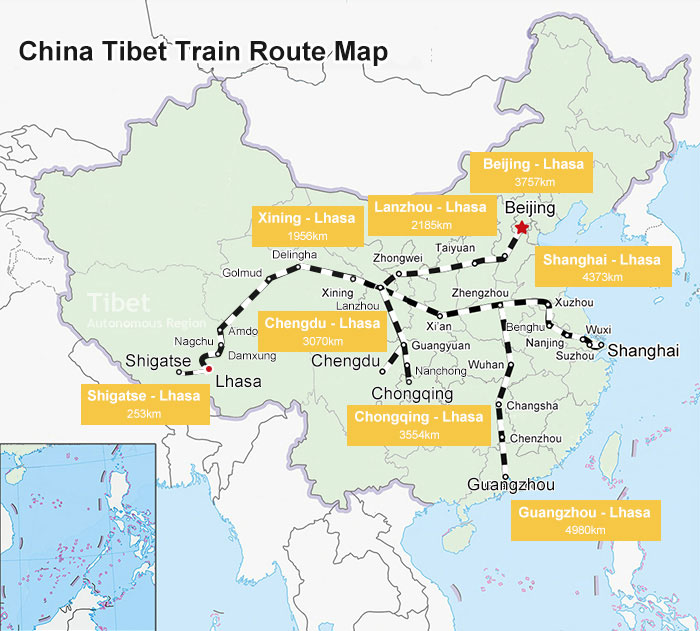 (Simple click to enlarge the map)
Tibet Railway Map
Compared with flying to Tibet, taking a train to Tibet will save as much as 3/5. The cheapest way to Tibet would be by train from other cities of China during the slack season. A hard seat ticket to Lhasa is the cheapest train ticket to Tibet. However, as it will take over 40 hours to get to Tibet by train from Beijing, Shanghai, Chengdu and other cities of China, tourists had better choose a soft sleeper.
You may choose the following popular Qinghai-Tibet Railway routes to Lhasa, Tibet.
Beijing to Tibet by Train
Beijing, the capital of China, is the major gateway and first stop for foreign tourists to travel in China. Foreign tourists can explore the historical and cultural heritage of China dating back to thousands of years ago. Normally, tourists stay in Beijing for 2-4 days and take a train bound for Tibet, which takes about two days to reach Tibet.
The number of tourists who leave from Beijing to Tibet accounts for a great proportion of overall tourists heading for Tibet. There is virtually no off-season of this popular Beijing-Lhasa train all year round. As Beijing-Lhasa Railway is also an important passage bridging Beijing, Tibet, Nepal and India, Some of the travelers would keep moving to Nepal or India by air or bus shortly after they arrive in Tibet.
Xining to Tibet by Train
Though Xining is an inland city of China, it serves as the starting point of Qinghai-Tibet Railway, a hot railway route only next to Beijing- Lhasa Railway. It takes 21 hours' ride from Xining to Lhasa. Tourists can avoid the unnecessary bumpy train ride by taking a flight from Beijing or Shanghai to Xining and then head directly towards Tibet.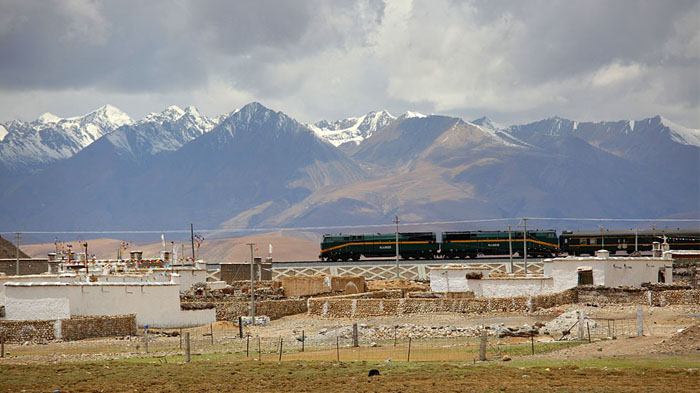 Scenery along Qinghai-Tibet Railway
While Xining-Lhasa train also covers the best window view of Tibet train journey, esp. as the train travels from Golmud to Lhasa. You may also add a couple of days for a side trip to renowned Taer Monastery or serene Qinghai Lake, the biggest salty lake in China.
Shanghai to Tibet by Train
Shanghai, one of the most vibrant and prosperous cities in China, has plenty of expatriates who settled down in this city. The city is also an important entry and exit gateway of China Tourism. Shanghai-Tibet Railway has changed from operation every other day to daily service since 2012, which to a great extent proves the surging tourists and great popularity of Tibet travel.
Chengdu to Tibet by Train
As a major gateway from Sichuan Province to Lhasa, Tibet, Chengdu-Tibet train departs every other day at 21:37 from Chengdu Train Station, and arrives at Lhasa Railway Station at 09:55 on the third day after nearly 36:18 hours, covering a distance of 3,070 kilometers, including 1110 km over the Qinghai-Tibet railway.
If you love adorable giant pandas and the ancient Shu Kingdom and a side trip to Jiuzhaigou Valley, then Chengdu is your best option for leaving for Tibet. Meanwhile, you can visit us at Tibet Vista Chengdu office.
Guangzhou to Tibet by Train
Guangzhou-Tibet train is the longest one of Qinghai-Tibet Railways, covering a distance of 4980 kilometers. It departs daily at 11:45 from Guangzhou Train Station, and arrives at Lhasa Railway Station at 16:45 on the third day after over 54 hours, covering a distance of 4980 kilometers, with 1110 km over the Qinghai-Tibet railway.
If you are a railfan, the Guangzhou-Tibet train journey would be your ultimate fantasy for the epic ride. While the long ride can be challenging to the elderly and small kids. So, if possible, securing a soft sleeper ticket is highly recommended.
>> Find out the latest Qinghai-Tibet Railway Schedules and Fare in detail.
Get to Tibet by Plane
"Taking a flight to Tibet is the most convenient way. Yet, tourists can see less scenery and may be more likely to have minor symptoms of altitude sickness, such as headache, shortness of breath, etc. However, normally all these symptoms will go way in a couple of days. "
Undoubtedly, nothing is more convenient than taking a flight to Tibet. Tourists can fly to Tibet from Beijing, Shanghai, Chengdu or Guangzhou, HK within 7 hours. Even in the low season of Tibet tourism, there are still a lot of flights flying to Tibet. Besides, many airlines would offer a discount in winter, especially like a flight from Chengdu to Lhasa. But there is always no discount for flights between Kathmandu and Lhasa.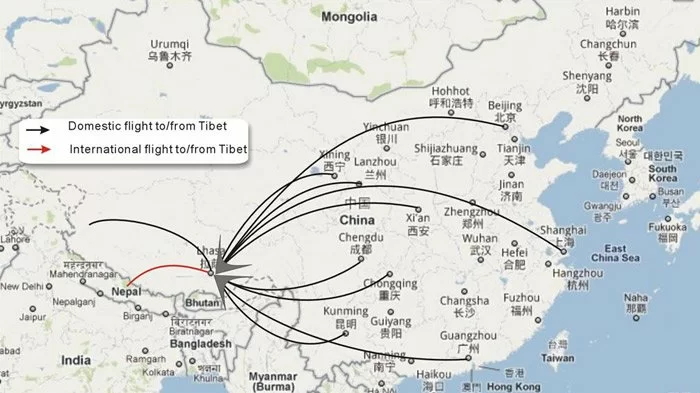 China has hundreds of flights to Tibet every day. The busiest air hub is Chengdu, which is 2 hours flying to Lhasa.
If you only have a short holiday, like a week, we recommend you a round-trip to Tibet by air. At present, there are direct flights to Lhasa from Beijing, Shanghai, Chengdu, Shangri-la, Kunming, Guangzhou, Chongqing, Xian, Xining, and HK. There are also several daily flights from Chengdu to Shigatse and Nyingchi in Tibet.
And to save your budget, off-season of Tibet travel (winter season) will bring you the best bargain for flight tickets.
Fly from Beijing to Tibet
There are ten direct flights a day Between Beijing and Lhasa, operated by Tibet Airlines, Air China, Shandong Airlines and Shenzhen Airlines. Some flights have a stopover in Chengdu or Xi'an. And it takes about 4 hours and 30 minutes from Beijing to Lhasa (from Lhasa to Beijing).
Both non-stop flights and direct flights with a layover in Chengdu or Chongqing are available. For the late flight ticket price, please refer to the different airlines' offical websites.
Fly from Shanghai to Tibet
Currently, there are three direct flights which go via Chengdu or Xi'an between Lhasa and Shanghai, operated by China Eastern Airline, Tibet Airline and Air China. It takes about 7 hours for the flight in which about 1 hour is for stopover in Xi'an.
Fly from Chengdu to Tibet
Chengdu, the economic and cultural center of southwest China, is the city closest to Lhasa. It takes only a two-hour fly from Chengdu to Lhasa. Over ten flights are busying flying between Chengdu and Lhasa from morning to night, which makes Chengdu the biggest gateway to Tibet. Chengdu is also home to giant pandas, which is one of the reasons why Chengdu is a major tourist draw to national and overseas tourists.
Fly from Guangzhou to Tibet
Currently, there are three direct flights between Lhasa and Guangzhou via Chongqing, operated by Xiamen Air, Eastern Airlines, and China Southern Airlines. It takes about 6 hours for these direct flights and about 1 hour for a stopover in Chongqing.
>> Find out other flights to Tibet from other cities here.
Get to Tibet by Highways
"Go into Tibet through by driving is the most expensive way and it takes 7 - 15 days, but one can enjoy the most spectacular view and definitely worth a try."
In addition, tourists can get to Tibet via one of the five highways to Tibet, namely Sichuan-Tibet Highway, Qinghai-Tibet Highway, Xinjiang-Tibet Highway, Yunnan-Tibet Highway and Friendship Highway ( also known as China-Nepal Highway).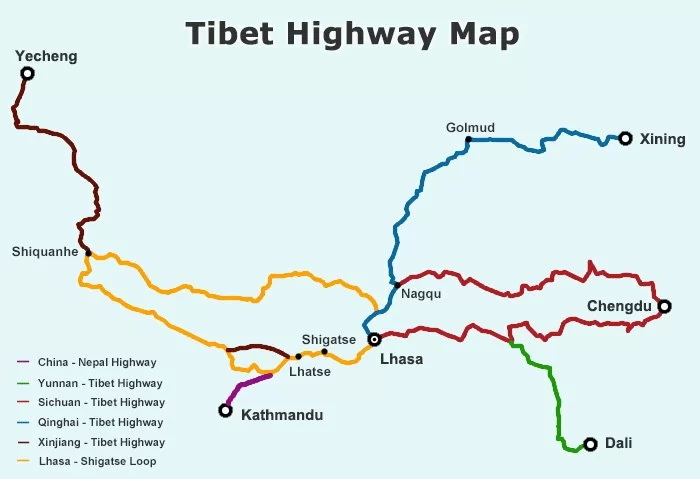 Major overland routes to Tibet
Though traveling overland to Tibet may take a much longer time, to road trip lovers who want to enjoy the real sense of "traveling on road", it is indeed a perfect choice for you to enjoy the otherworldly landscape and uncover exotic local customs and tasty local food.
Major highways connecting Tibet within China are shown as follows:
Sichuan-Tibet Highway via G318 (2146km, estimated 8 days)
Of all the 6 overland routes to Lhasa in China, Sichuan-Tibet highway via G318 Highway enjoys the greatest popularity amid worldwide travelers, for its diverse landscapes and adrenaline-packed road trip, growingly better road condition and sufficient hotels and supplies along the way.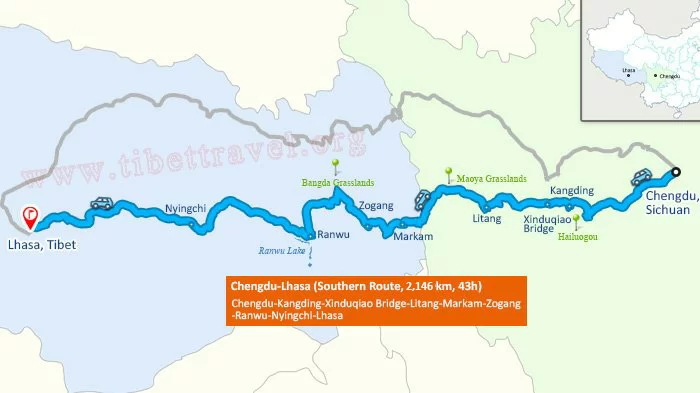 Famous Chengdu-Lhasa journey via G318
Overland Route:
Chengdu - Kangding - Xinduqiao Bridge - Litang - Markam - Zogang - Ranwu - Nyingchi - Lhasa
Kick off from Chengdu, the home town of giant pandas; you gradually move westward from Chengdu plain to the edge of eastern Tibetan Plateau. Take your time to photograph the enchanting village in Xinduqiao Bride, then travel past the highest city Litang (4020m).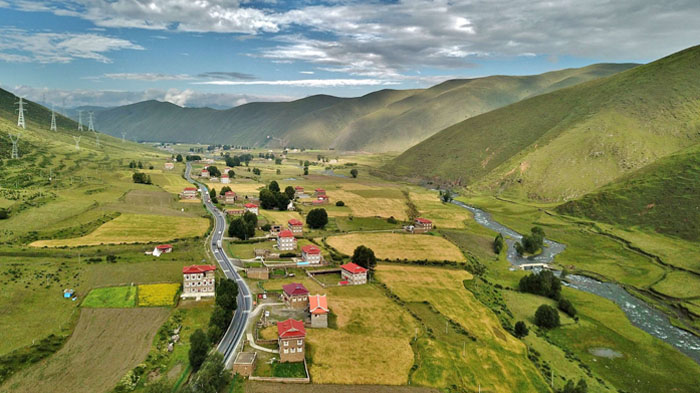 You will pass Xinduqiao during your Chengdu to Lhasa overland journey.
Next, get ready for the amazing vista of sister lakes at lofty mountain passes and marvel at 72 bends of Nujiang River at deep gorge or appreciate serene Ranwu Lake and explore Lulang Forest and turquoise Pagsum Lake in Nyingchi, dubbed "the Swiss-Alps of Tibet", and finally make it to Lhasa.
With offices based in Lhasa, Chengdu and Kathmandu, we can offer you both the guided small group tour and the private tour for this exhilarating adventure. Meanwhile, if you want to challenge yourself to cycle to Lhasa from Chengdu, we can also provide you with professional back-up support like an extra back-up truck, expert cycling team and tailored-made cycling itinerary and logistic supplies to help you tick off your bucket list. Please feel free to reach us for professional consultation.
Qinghai-Tibet Highway(1937km, an estimated 1 day)
Qinghai-Tibet Highway links from Golmud to Lhasa. Golmud is between Xining and Lhasa, the actual beginning point of Qinghai-Tibet Railway sightseeing and only takes 14 hours to Lhasa directly. As it is very remote and poor, travelers are not recommended to find their own way there, while most of the travelers start Tibet journey from Xining by Tibet train, the capital city of Qinghai Province.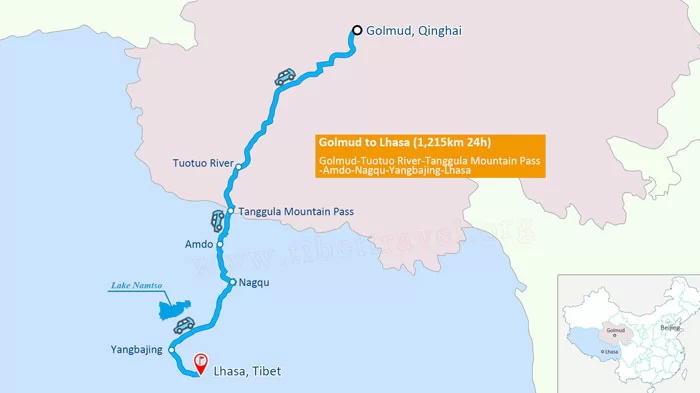 Part of the Qinghai-Tibet Highway from Golmud.
Overland Route:
Xining - DaotangRiver - Chaka - Golmud - WuDaoliang - Tuotuoheyan - Yanshiping - Tanggula Pass - Amdo - Nagqu - Damxung - Yangbajain - Lhasa
Xinjiang-Tibet Highway(4365km, an estimated 15-20 days)
Xinjiang-Tibet Highway starts from Yecheng (Kashgar) in the Xinjiang Uyghur Autonomous Region to Lhatse in the Tibet Autonomous Region. Covering a distance of 4,365 kilometers, it consists of three sections, namely Xingjiang-Tibet Highway, Northern Tibet Highway, and China-Nepal Highway and makes Kashgar Lhasa tour possible.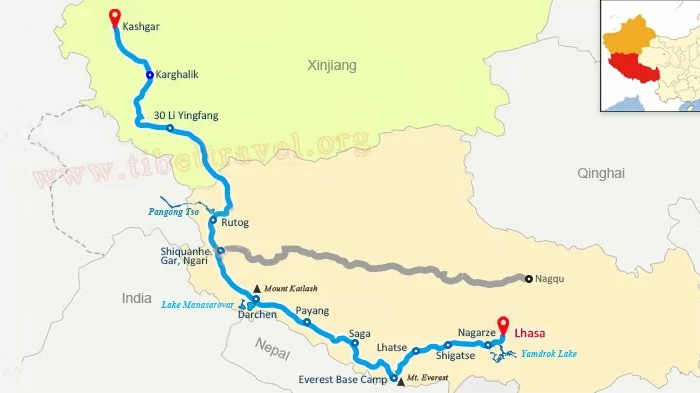 Xinjiang-Tibet Highway
Overland Route :
Yecheng(Kashgar) - Rutog - Gar - Darchen - Saga - EBC - Shigatse - Gyantse - Lhasa
The arduous long journey takes you to enter Tibet from the Ngari region, the highest region in Tibet, where you will be able to enjoy the magnificent Zanda Clay Forest and pass the holy Mt.Kailash and sacred Lake Manasarovar. Then you will follow parts of the Sino-Nepal highway and make a detour to EBC before traveling via Shigatse, historical Gyantse County, and holy Lake Yamdrok to Lhasa.
Since you will face extreme altitude for the initial part of the road trip, this challenging route to Lhasa is only recommended to professionals or expedition teams. While most of the travelers tend to choose travel in reverse from Lhasa to Kashgar for proper acclimatization to the high altitude.
>> Check more about all overland routes to Tibet.
Conclusion
No having discussed so much, we assume you may have a clear idea for your way of Tibet entry. Either traveling from Kathmandu or other mainland cities like Beijing, Shanghai, Chengdu, Guangzhou, Xining, etc. or whatever way of traveling, flight or Tibet train or overland tour, as an awarding-winning local Tibet travel agency based in Lhasa, Kathmandu and Chengdu, our staff and local group leaders in Tibet will match your interests and travel date with a perfect travel solution for you. Please do not hesitate to reach us for an expert consultation.