Ultimate Guide about How to Get to Tibet from Nepal and Mainland China
Located at the roof of the world, Tibet seems to be unreachable and mysterious for many tourists from afar. In fact, it is not difficult at all to get to Tibet from China or Nepal. There are hundreds of flights to Tibet, including flights to Lhasa, Shigatse and Nyingchi every day, five direct Tibet trains carrying tourists over Qinghai-Tibet Railway, and five Tibet highways leading to Lhasa from different directions.
In all, there are mainly two access to get to Tibet, i.e. one is from its neighboring country Nepal and the other is from different cities across mainland China.
How to Get to Tibet from Kathmandu, Nepal
Due to the proximity to Kathmandu, Nepal, Tibet Nepal Tour has long been a world-class tour route across majestic Himalayas in Asia. Nepal is undoubtedly also the closest overland gateway for Nepali citizens and other international tourists to reach Tibet.
Lhasa Kathamandu Road Map via Gyirong Port
Distance from Nepal to Tibet:
The linear distance from Lhasa (3,658m) to Kathmandu (1,400m) is 609km, while the overland distance is around 1,300km.
Nepal to Tibet by Air
Currently, the best and only way to get to Tibet is by flying from Kathmandu, Nepal to Lhasa, Tibet. So far, there are 2 direct flights between Lhasa and Kathmandu, run by Sichuan Airline and Air China independently, while the Sichuan Airline departs every other day. And there are 8 flights per week and please feel free to reach our seasoned travel consultant for the professional suggestions.

Air China: Lhasa and Kathmandu Flight Schedule
| | | | | | | |
| --- | --- | --- | --- | --- | --- | --- |
| Flight Route | Flight Code | Airlines | Dep. | Arr. | Type | Schedule |
| Lhasa to Kathmandu | CA407 | Air China | 12:10 | 11:10 | 319 | every day |
| Kathmandu to Lhasa | CA408 | Air China | 12:10 | 16:00 | 319 | every day |
Flight Information:
Air China cancelled their flight to Lhasa on Tuesday until 15 Oct, 2017. (updated July,13,2017)

Sichuan Airline: Lhasa and Kathmandu Flight Shcedule

| | | | | | | |
| --- | --- | --- | --- | --- | --- | --- |
| Flight Route | Flight Code | Airlines | Dep. | Arr. | Type | Schedule |
| Lhasa to Kathmandu | 3U8719 | Sichuan Airline | 11:15 | 10:10 | 319 | every other day |
| Kathmandu to Lhasa | 3U8720 | Sichuan Airline | 11:10 | 14:50 | 319 | every other day |
Travel Tips: The bonus of Nepal to Tibet flight will bring you the stunning bird's-eye view of the summit of Mt. Everest (8844.43m) and incredible Himalayan Range. Since there will be a huge ascent from Kathmandu Valley (1,400m) to Lhasa (3,658m), it's advisable to have a good rest in the first couple of days in Lhasa to acclimatize to subtle altitude change.
Recommended Lhasa to Kathmandu Tours
Nepal to Tibet by Road
Travelling from Nepal to Tibet by car or tour bus via Sino-Nepal border is the easiest way for Nepali and other international tourists to reach Lhasa, Tibet. Originally, the 943km road trip from Kathmandu via China-Nepal Highway(also known as Friendship Highway) takes about 3-5 days.
The road trip is spectacular because there are a great number of tourist attractions worth to be visited on the way. And Everest Base Camp is the must visit site among them. It usually takes three to five days with stops at tourists sights along the way.
Route(before Nepali Earthquake): Lhasa--Shigatse--Tingri--Nyalam--Zhangmu--Sino-Nepal Friendship Bridge--Kathmandu
However, till only the devastating damage to Zhangmu Border by 2015 Nepali earthquake and ongoing recovery and renovation of Gyirong Port, the overland access remains closed for safety concerns. When can tourists travel from Nepal to Tibet overland is still up in the air. If the Sino- Nepal border is accessible to international tourists, it is most likely that tourists will enter Tibet from Nepal via Gyirong Port. It's about 3-hour drive from Gyirong port to Kathmandu(roughly 131.5km).
Nepal to Tibet by Train
In fact, so far there is no railway connecting Lhasa and Kathmandu at present. But a railway between Lhasa and Kathmandu is being designed by both Chinese and Nepalese government. It is said that the famous Qinghai-Tibet Railway will be extended from Lhasa to Kathmandu.
Currently, the first extension of the Qinghai-Tibet Railway from Lhasa to Shigatse is under construction. In the near future, it is possible to take a train from Beijing to Lhasa and then continue to head to Kathmandu or from other big cities of mainland China to the capital of Nepal.
How to Get Tibet Visa (Tibet Travel Permit) from Nepal
To be able to have Nepal Tibet Tour, the first and foremost thing is to get a Tibet Travel Permit. Such document is so important that without it one will not be able to board a flight or train to Tibet and will not be able to secure the other permits you need to continue travelling throughout Tibet.
Follow the 3 steps to get Tibet Visa before entering Tibet from Nepal:
a.You need to confirm the itinerary and tour services with Tibet Vista and later mail the scanned copy of their passports to Tibet Vista in Lhasa. Then, Tibet Vista will get the Tibet Travel Permit and visa invitation letter issued by Tibet Tourism Bureau. It takes 5-7 working days to go through step one.
b.Be in Kathmandu at least 3 working days in advance. Contact the local office of Tibet Vista in Kathmandu, and leave your passport with them. Then, pay for the Chinese visa application and visa service.
c.The agency delivers the issued visa to your hotel in Kathmandu.
*For details please feel free to contact our Tibet travel consultants.
How to Get to Tibet from Mainland China
Get to Tibet by Train
"The cheapest and one of the most rewarding ways to Tibet is by train."
Qinghai-Tibet Railway that is reputed as an engineering miracle by Forbes has attracted over 10 million tourists since this railway went into operation on July 1,2006. And going to Tibet by train via the world's highest railway is also the most popular way for Tibet train journey itself is a wonderful trip full of countless scenic wonder, such as snow-capped mountains, boundless grassland, beautiful lakes, flock of sheep, various wildlife,vast gobi and desert.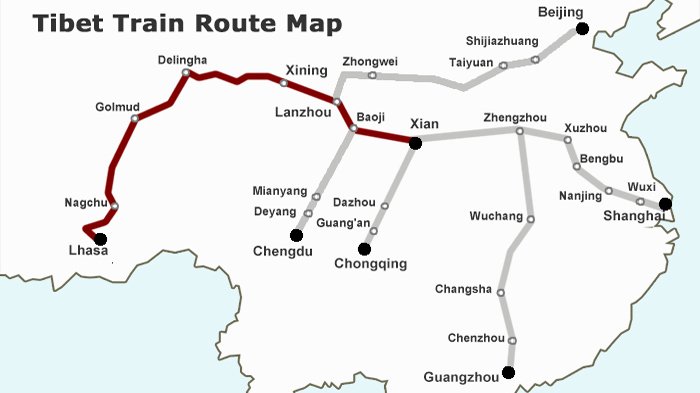 There are five routes that connect China and Tibet, tourists can take train to Tibet from five main cities in China like Beijing, Shanghai, Guangzhou...
Compared with flying to Tibet, taking a train to Tibet will save as much as 3/5. The cheapest way to Tibet would be by train from other cities of China during the slack season. A hard seat ticket to Lhasa is the cheapest train ticket to Tibet. However, as it will take over 40 hours to get to Tibet by train from Beijing, Shanghai, Chengdu and other cities of China, tourists had better choose a soft sleeper.
You may choose the following popular Qinghai-Tibet Railway routes to Lhasa, Tibet.
Beijing to Tibet by Train
Beijing, the capital of China, is the major gateway and first stop for foreign tourists to travel in China. Foreign tourists can explore the historical and cultural heritage of China dating back to thousands of years ago. Normally, tourists stay in Beijing for 2-4 days and take a train bound for Tibet, which takes about two days to reach Tibet.
The number of tourists who leave from Beijing to Tibet accounts for a great proportion of overall tourists heading for Tibet. There is virtually no off-season of this popular Beijing-Lhasa train all year round. As Beijing-Lhasa Railway is also an important passage bridging Beijing, Tibet, Nepal and India. Some of the travellers would keep moving to Nepal or India by air or bus shortly after they arrive in Tibet.
Xining to Tibet by Train
Though Xining is an inland city of China, it serves as the starting point of Qinghai-Tibet Railway, a hot railway route only next to Beijing- Lhasa Railway. It takes 21 hours' ride from Xining to Lhasa. Tourists can avoid the unnecessary bumpy train ride by taking a flight from Beijing or Shanghai to Xining and then head directly towards Tibet.
Shanghai to Tibet by Train
Shanghai, one of the most vibrant and prosperous cities in China, has plenty of foreigners who settled down in this city. The city is also an important entry and exit gateway of China Tourism. Shanghai-Tibet Railway has changed from operation every other day to daily service since 2012, which to a great extent proves the surging tourists and great popularity of Tibet travel.
Chengdu to Tibet by Train
As a major gateway from Sichuan Province to Lhasa, Tibet, Chengdu-Tibet train departs every other day at 14:48 from Chengdu Train Station, and arrives at Lhasa Railway Station at 09:55 on the third day after nearly 43:07 hours, covering a distance of 3,070 kilometers, including 1110 km over the Qinghai-Tibet railway.
Guangzhou to Tibet by Train
Guangzhou-Tibet train is the longest one of Qinghai-Tibet Railways, covering a distance of 4980 kilometers. It departs daily at 11:45 from Guangzhou Train Station, and arrives at Lhasa Railway Station at 17:30 on the third day after over 54 hours, covering a distance of 4980 kilometers, with 1110 km over the Qinghai-Tibet railway.
Find out other Qinghai-Tibet Railway Schedules and Fare in detail
Get to Tibet by Plane
"Taking a flight to Tibet is the most convenient way. Yet, tourists can see less scenery and may be more likely to have minor symptoms of altitude sickness, such as headache, shortness of breath, etc. However, normally all these symptoms will go way in a couple of days. "
Undoubtedly, nothing is more convenient than taking a flight to Tibet. Tourists can fly to Tibet from Beijing, Shanghai, Chengdu or Kathmandu within 7 hours. Even in the low season of Tibet tourism, there are still a lot of flights flying to Tibet. Besides, many airlines would offer discount in winter, especially flight from Chengdu to Lhasa. But there is always no discount for flights between Kathmandu and Lhasa.
If a tourist only gets a short holiday, like a week, Tibet Vista recommends a round-trip to Tibet by air. At present, there are direct flights to Lhasa from Beijing, Shanghai, Chengdu, Shangri-la, Kunming, Guangzhou, Chongqing, Xian, Xining and Kathmandu. There are also several daily flights from Chengdu to Shigatse and Nyingchi in Tibet.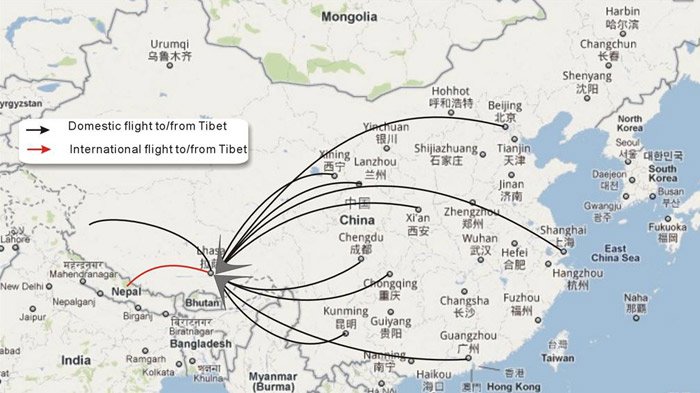 China has hundreds of flights to Tibet every day, the busiest hub is Chengdu, the economic center of southwest China, which is 2 hours flying to Lhasa, the capical of Tibet.
Fly from Beijing to Tibet
There are ten direct flights a day Between Beijing and Lhasa, operated by Tibet Airlines, Air China, Shandong Airlines and Shenzhen Airlines. Some flights have a stopover in Chengdu or Xi'an. And it takes about 4 hours and 30 minutes from Beijing to Lhasa(from Lhasa to Beijing). The full price for one way is about 406USD.
Fly from Shanghai to Tibet
Currently, there are three direct flights which go via Chengdu or Xi'an between Lhasa and Shanghai, operated by China Eastern Airline, Tibet Airline and Air China. It takes about 7 hours for the flight in which about 1 hour is for stopover.
Fly from Chengdu to Tibet
Chengdu, the economic and cultural center of southwest of China, is the city closest to Lhasa. It takes only two hours fly from Chengdu to Lhasa. Over ten flights are busying flying between Chengdu and Lhasa from morning to night, which makes Chengdu the biggest gateway to Tibet. Chengdu is also home to giant pandas, which is one of the reasons why Chengdu is a major tourist draw to national and overseas tourists.
Fly from Guangzhou to Tibet
Currently, there are three direct flights between Lhasa and Guangzhou via Chongqing, operated by Xiamen Air, Eastern Airlines, and China Soutern Airlines. It takes about 6 hours for these direct flights and about 1 hour for stopover.
Find out other flights to Tibet from other cities
Get to Tibet by Highways
"Go into Tibet through by driving is the most expensive way and it takes 7 - 15 days, but one can enjoy the most spectacular view and definately worth a try."
In addition, tourists can get to Tibet via one of the five highways to Tibet, namely Qinghai-Tibet Highway, Xinjiang-Tibet Highway, Sichuan- Tibet Highway,Yunnan-Tibet Highway and Friendship Highway ( also known as China-Nepal Highway). But it takes at least a week and costs a big sum of expense.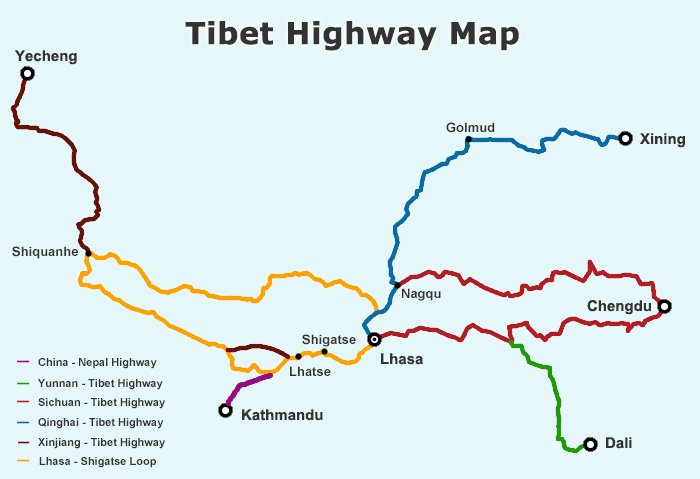 Overlanding to Tibet is another choice for you.
Major highways connecting Tibet within China are shown as follows:
Qinghai-Tibet Highway (1937km, an estimated 5-7 days)
Qinghai-Tibet Highway links from Golmud to Lhasa. Golmud is between Xining and Lhasa, the actual beginning point of Qinghai-Tibet Railway sightseeing and only takes 14 hours to Lhasa directly. As it is very remote and poor, travelers are not recommend to find their own way there, while most of the travelers start Tibet journey from Xining, the capital city of Qinghai Province.
Route : Xining--Daotang River--Chaka--Golmud--Wu Daoliang--Tuotuoheyan--Yanshiping--Tanggula Pass--Amdo--Nagqu--Damxung--Yangbajain--Lhasa
Xinjiang-Tibet Highway (2086km, an estimated 10-15 days)
Xinjiang-Tibet Highway starts from Yecheng (Karghilik) in the Xinjiang Uyghur Autonomous Region to Lhatse in the Tibet Autonomous Region. Covering a distance of 2,086 kilometers, it consists of three sections, namely Xingjiang-Tibet Highway, Northern Tibet Highway, and China-Nepal Highway and makes Kashgar Lhasa tour possible.
Route : Yecheng--Rutog--Gar--Drongpa--Saga--Ngamring--Lhasa
Read more about All Overland Routes to Tibet
Travel to Tibet from Different Gateway Cites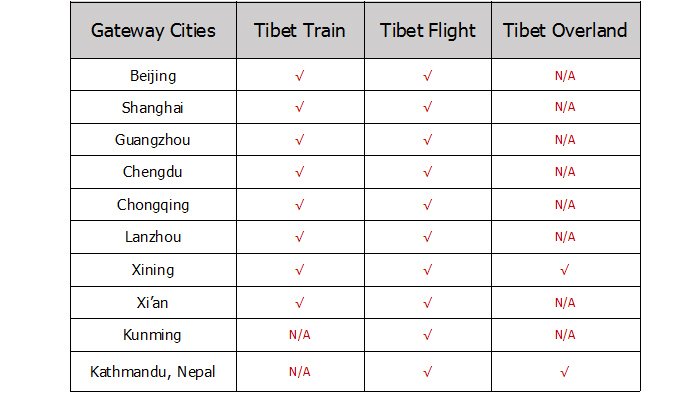 You can get to Tibet from different gateway cities via Tibet train, Tibet flights or overland driving.
The Trend of Tourists' Interest on Choosing Popular Routes to Tibet
According to the data provided by Tibet Vista Travel, which has organized more than 2000 foreign tourists to Tibet, the most popular way to get into Tibet is Chengdu to Lhasa by air and Beijing to Lhasa by train. Here are top 4 routes tourists chose mostly in past few years.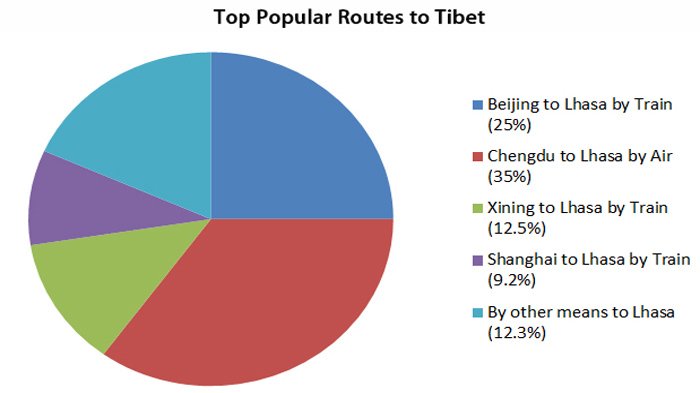 This diagram shows the specific percentage of top popular routes to Tibet.
How to Get Tibet Travel Permit
To have Tibet tour, having Tibet Travel Permit (or Tibet Visa) is a must. Follow the easy steps to get Tibet Visa with the help of Tibet Vista:
a.Book Tibet tour with Tibet Vista and email us the photo copy of your passport and Chinese Visa at least 20 days before your Tibet tour starts.
(Tip: If you work or live in China or visit China for business purpose, you will need to offer a certificate to prove your purpose for visiting China. Your Tibet Travel Permit will be issued within 2-5 working days after we pass your documents to Tibet Tourism Bureau.)
b.After Tibet Vista get your Tibet Visa and it will be delivered safely to your hotel or airport, train station before you head to Tibet from other cities